LETTER TO THE EDITOR
doi: 10.4103/0378-6323.125542
Pigmentation resembling cross-section of a mitochondrion
U. K. Sudhir Nayak, Handattu Sripathi
Department of Dermatology, Kasturba Medical College and Hospital, Manipal University, Manipal, Karnataka, India

Correspondence Address:
U. K. Sudhir Nayak
Asst. Professor, Department of Dermatology, Kasturba Medical College, Manipal University, Manipal - 576 104, Karnataka
India

How to cite this article:
Nayak US, Sripathi H. Pigmentation resembling cross-section of a mitochondrion. Indian J Dermatol Venereol Leprol 2014;80:70-71
Copyright: (C)2014 Indian Journal of Dermatology, Venereology, and Leprology
Sir,
An 8-year-old girl presented with an asymptomatic hyperpigmented area in the back since 2 days. There was no preceding history of any cutaneous lesions at the site of the hyperpigmentation or similar lesions elsewhere on the body. The patient was a known case of acral vitiligo and had received 10 sittings of narrow band ultraviolet-B (NB-UVB) prior to the onset of the lesions. The patient used to cover her trunk with two sets of clothes, one on top of the other during the NB-UVB irradiation and the same set of clothes were worn during each session. On examination, a 25 × 6 cm hyperpigmented macule was present in the midline of the back with criss-cross lines of normal skin in between, giving the appearance of a mitochondrial cross-section [Figure - 1]. Depigmented macules of vitiligo were present on the face and acral regions. Examination of the clothes worn during the sessions revealed a thin outer garment which covered the trunk completely, whereas the thicker inner garment had strings passing in the midline leading to a noncovered area which corresponds to the area of hyperpigmentation [Figure - 2]. The UV-B transmissibility of the fabrics was measured using the spectrophotometer. The outer fabric had 4.1% transmissibility, whereas the inner fabric had 8.3%, thus exposing the back to 50% more irradiation than the rest of the trunk.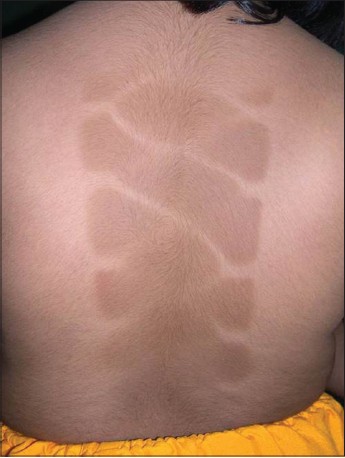 Figure 1: Mitochondrial pattern of pigmentation on the patient's back after phototherapy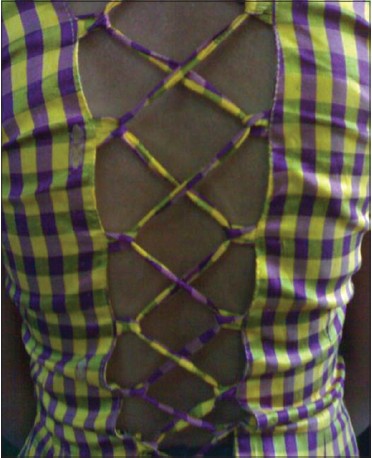 Figure 2: Inner fabric worn by the patient during narrow band ultraviolet-B therapy
Patterns of dermatoses often give a clue to the diagnosis especially the etiology but are perplexing at times. In our patient, the midline of the back was not adequately protected from UV rays as the rest of the trunk, thus exposing it to tanning. In view of the gap in the inner garment and strings running across the gap, a bizzare pattern of tanning was produced which resembled that of a mitochondrion. Both UV-A and UV-B induce tanning. [1] Clothes provide protection from the harmful effects of ultraviolet rays especially tanning. The measurement of the protective effect of clothes is measured by fabric ultraviolet protection (UPF). [2] Various parameters influence the UPF viz., fabric type/composition, weave, number of washes, color of fabric, shade of the color, hydration, optical whitener accumulation, and presence of UV absorbent molecules. [2],[3] When patients receive whole body phototherapy, especially for vitiligo, covering of nondepigmented skin is necessary. It is, thus, imperative on the clinician′s part to check the fabric for adequate protection. A simple way of checking is to cover the spectrophotometer with the fabric and measure the UV transmissibility. This should be especially done when the patients prefer to wear their own clothes for protection. We report this case for the bizarre and mitochondrial pattern of tanning induced due to inadequate protection from fabric, which served as a diagnostic challenge.
References
1.

Battie C, Verschoore M. Cutaneous solar ultraviolet exposure and clinical aspects of photodamage. Indian J Dermatol Venereol Leprol 2012;78:9-14.

[Google Scholar]
2.

Rai R, Srinivas CR. Photoprotection. Indian J Dermatol Venereol Leprol 2007;73:73-9.

[Google Scholar]
3.

Hatch KL, Osterwalder U. Garments as solar ultraviolet radiation screening materials. Dermatol Clin 2006;24:85-100.

[Google Scholar]
Show Sections