Translate this page into:

Letter to the Editor
doi: 10.4103/0378-6323.104685
PMID: 23254745
Pilonidal sinus of eyelids: A rare presentation
Ajay Ovhal
Department of Skin and VD, Government Medical College, Latur, India

Correspondence Address:
Ajay Ovhal
"Jijai", Anurag colony, Near SRT College, Parli Road, Ambajogai-431 517, Dist: Beed, Maharashtra
India

How to cite this article:
Ovhal A. Pilonidal sinus of eyelids: A rare presentation. Indian J Dermatol Venereol Leprol 2013;79:113-115
Copyright: (C)2013 Indian Journal of Dermatology, Venereology, and Leprology
Sir,
Pilonidal sinus (PS), a term first used by Hodges in 1880, is a lesion that arises in the midline, in a skin dimple, in relation to the tip of the coccyx. [1] PS is commonest at natal cleft, but it is also reported at various unusual sites like the interdigital clefts of hands and toes, umbilicus, axilla, inter-mammary area, penis, clitoris, scalp, nose, and ear etc. [2],[3],[4],[5] We report first extremely rare case of PS over both eyelids.
A 24-year-old female presented to dermatology department with complaint of skin tag-like protruded lesions over both eyelids since 4 years. She had itching and pain over left eyelid while its counterpart was asymptomatic. On examination, there were bilateral skin-colored protrusions like skin tag. [Figure - 1] On the left, there was a pustule adjacent to the protrusion. There was no history of trauma at the site of sinus. There was history of regular plucking and shaping of hairs (threading) of eyebrows. She had grade 3 acne treated with isotretinoin for 6 months.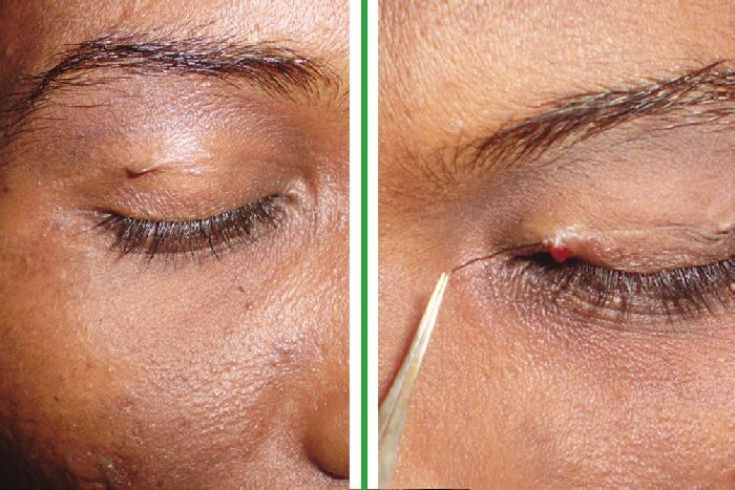 Figure 1: Evidence of skin tag-like protrusion with visible underlying loop of hair over Rt. eyelid and hair pulled with forceps making whole tract of sinus visible lying horizontally in the middle third of Lt. Eyelid
Initially, the diagnosis of PS was not suspected. The pustule was ruptured with sterile needle and while wiping the purulent discharge, a hair popping out of pustule was noticed. [Figure - 1] The hair was captured using forceps and as soon as it was slowly pulled, the whole tract of sinus was visible lying horizontally in the middle third of upper eyelid. Right upper eyelid revealed the subcutaneous loop of the hair lying in similar fashion [Figure - 1].
The sinus tract on being identified by steady pull over the hair was dissected superficially by radiofrequency machine in assistance with ophthalmic surgeon. It was not possible to excise whole of the tract without risk of scarring. The patient was explained complete procedure and was advised complete excision of tract, but she refused consent for risk of scarring. Hence, decision of superficial dissection along the tract and removal of hair was taken. A terminal, thick, coarse hair of length around 4 cm from left and 3.5 cm from right was removed, and curettage of the sinus tract was done. Proximal or distal end of the hair could not be identified. The sinus could not be examined for histopathology due to lack of consent for excision of sinus tract. The hair was examined under microscope and found to be terminal hair with medulla and cortex, but root was not seen. [Figure - 2] There was no recurrence or scarring 1 year after the procedure.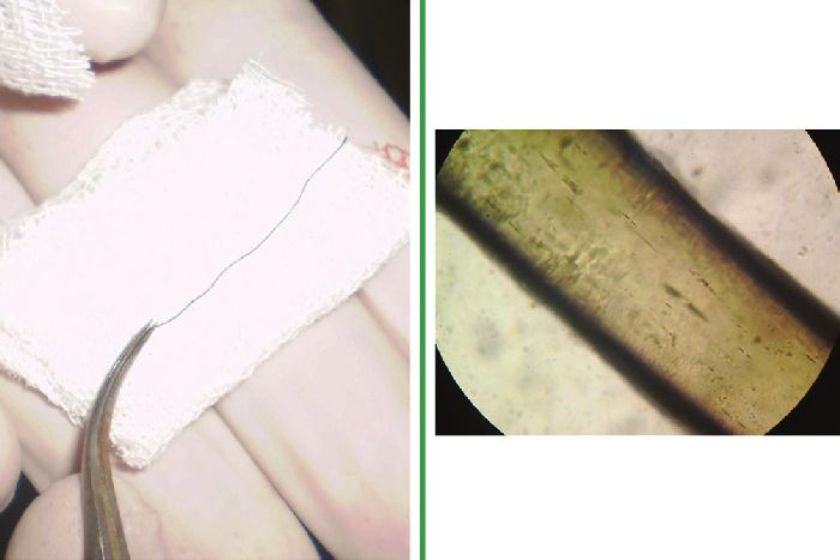 Figure 2: A terminal, thick, coarse hair of length around 4 cm and terminal hair with medulla and cortex (40 ×)
PS over eyebrows is very rare. Diagnostic criteria consist of a sinus tract or cyst containing hair follicles and inflammatory reaction in one or more partially or completely epithelized sinus tracts. Initially, congenital theories were suggested for pathogenesis of PS, but most recently acquired theory has been widely accepted by surgeons.
In our case, the origin of the 4 cm sized hairs is obscure since eyelash and eyebrow hairs are much shorter. There is presence of much longer hairs in PS over sacrococcigeal area or at other sites as compared to the hairs present in surrounding region. Therefore, with current knowledge, we hypothesize that the routine procedure of plucking (threading) of eyebrows may have initiated the suction force, which is required for pathogenesis. The wrinkled skin present over eyelids could have contributed to the penetration of hair. Three pieces are instrumental in this process: (1) The invader, hair; (2) the force, causing hair penetration; and (3) the vulnerability of the skin. [2]
We could not identify the proximal or distal end of the hair. This is similar to the finding mentioned in a study by Orin et al who suggested that penetration of shed hairs with their proximal or distal ends first could not be designated. They could not designate the penetration direction of hair in their 5 patients. [3]
Kurokava et al conducted a study to elucidate the pathogenesis of PS by evaluating its cytokeratin (CK) expression and suggested PS to be part of follicular occlusion disease based on CK expression. [4] Pitarch et al reported umbilical PS as a possible complication of depilation. [5]
There are number of different theories for pathogenesis, but none gives satisfactory explanation for the PS at unusual sites. The definitive pathogenesis in our case remains unanswered. With increasing reports of PS at unusual sites, the role of CK expression, genetic predisposition, and hormonal influences in the pathogenesis of PS should be studied to reach to the final conclusion.
Thus, review on pathogenesis of PS at unusual sites should be considered to confirm whether PS at sacrococcigeal area has the same pathogenesis as that at unusual sites. This is the first reported case of PS over eyelids. There is a need to emphasize on pathogenesis of PS at unusual sites. This was resected successfully with radiofrequency, and there was no recurrence after 1 year.
Acknowledgement
Dr. Santosh Tupdikar, Nakshtra eyecare clinic, Latur, Mahrashtra.
References
1.

Hull TL, Wu J. Pilonidal disease. Surg Clin North Am 2002;82:1169-85.

[Google Scholar]
2.

Patey DH, Scarff RW. Pilonidal sinus in a barber's hand: With observation on post anal pilonidal sinus. Lancet 1948;2:13.

[Google Scholar]
3.

Doll D, Petersen S. Trauma is not a common origin of pilonidal sinus. Dermatol Surg 2008;34:283-4.

[Google Scholar]
4.

Kurokawa I, Nishijima S, Suzuki K, Kusumoto K, Sensaki H, Shikata N, et al. Cytokeratin expression in pilonidal sinus. Br J Dermatol 2002;146:409-13.

[Google Scholar]
5.

Pitarch G, Latasa JM, Sánchez-Motilla JM. Umbilical pilonidal sinus as a possible complication of depilation. Actas Dermosifiliogr 2008;99:496.

[Google Scholar]
Show Sections