Translate this page into:

Letter to the Editor
doi: 10.4103/0378-6323.120737
PMID: 24177617
Preliminary experience of patch testing at Srinagar, Kashmir
Iffat Hassan, Parvaiz Anwar Rather, Yasmeen Jabeen, Zubair A Wani, Hinah Altaf, Nuzhatun Nisa, Umar Yaseen, Farhan Rasool
Department of Dermatology, STD and Leprosy, Government Medical College, Srinagar, Jammu and Kashmir, India

Correspondence Address:
Iffat Hassan
Department of Dermatology, STD and Leprosy, Government Medical College, Srinagar, Jammu and Kashmir
India

How to cite this article:
Hassan I, Rather PA, Jabeen Y, Wani ZA, Altaf H, Nisa N, Yaseen U, Rasool F. Preliminary experience of patch testing at Srinagar, Kashmir. Indian J Dermatol Venereol Leprol 2013;79:813-816
Copyright: (C)2013 Indian Journal of Dermatology, Venereology, and Leprology
Sir,
Allergic contact dermatitis (ACD), a delayed type of hypersensitivity reaction developing in sensitized individuals after environmental exposure to allergens, is a challenging problem with considerable morbidity and economic impact. [1],[2] Prevention of contact with the incriminating allergens forms the main component of management of ACD, and patch testing is a useful tool for detecting it. [2] The exposure to allergens and the type of allergens included in standard patch test series varies considerably from area-to-area, depending on the local experience. [1]
We conducted the study with the aim of having preliminary experience of patch testing in Kashmir, in the newly set-up contact dermatitis clinic of our department. All consecutive clinically suspected cases of ACD of all age groups visiting the clinic over a period of 7 months, from mid-May to mid-December 2012, were included in the study. Details regarding age, sex, occupation, residential background, duration and pattern of disease were recorded in case sheet after obtaining written informed consent. Personal or family history of atopy, present or past history of hypersensitivity and other dermatological and systemic illness was also recorded. Those with atopy, hypersensitive reactions were excluded in order to avoid false positive results. Cases were subjected to patch testing as per the standard guidelines, taking all necessary precautions. Patch test series used was Indian standard series (ISS), containing 25 allergens, and approved by contact and occupational dermatitis forum of India. Patch testing with conventional ISS was undertaken for convenience of getting a variety of allergens combined in a single battery. We did not select any particular occupational group or a specific patient group and so did not use any specific allergen series. Reading and grading of positivity was carried out according to International Contact Dermatitis Research Group guidelines. [3]
Out of 85 cases patch tested, 49 were males (57.6%) and 36 females (42.4%), with age ranging from 5 years to 72 years (mean age 40.47 years ± SD 14.84), as described in [Table - 1]. 51 (60%) cases were from urban and 34 (40%) from rural background [Table - 1]. The duration of illness ranged from 10 days to 10 years (mean ± SD = 28.6 ± 36.20 months). Dermatitis of hands and feet was seen in 45 (52.9%) cases; non-specific pattern in 27 (37.8%), air borne contact dermatitis (ABCD) in 10 (11.8%), and photo ACD in 3 (3.5%) cases.
Table 1: Age, sex, residential distribution of cases
Out of 85 cases patch tested, 33 (38.8%), 19 males and 14 females, showed positive reactions. 20 cases showed positive reaction to one allergen and 13 to more than one, giving a total of 56 reactions. Thirty-four positive reactions were seen in males and 22 in females. Most common allergens identified were potassium dichromate and nickel sulfate showing nine reactions (16.1%) each. Cobalt chloride showed 6 (10.7%), thiuram mix 5 (8.9%), P-phenylenediamine (PPD) 4 (7.1%), and colophonium 4 (7.1%) reactions.
In males, the most common reactions were observed with potassium dichromate showing nine reactions (26.5%), followed by 5 (14.7%) with thiuram mix. In females, the most common allergen was nickel sulfate with nine reactions (40.9%), followed by 5 (22.7%) with cobalt chloride. Positive reaction exclusively in males was seen with potassium dichromate, PPD, mercapto mix, 2-mercaptobenzothiazole, nitrofurazone, lanolin alcohol, thiuram mix, black rubber mix, formaldehyde, and parthenolide. Positive reactions exclusive to females were due to benzocaine, nickel sulfate, and polyethylene glycol 400. No reaction was seen with petrolatum, paraben mix, gentamicin, epoxy resin, p-chloro-m-cresol, and clioquinol. Overall present relevance rate was 55.4% (31 reactions out of 56) and the results are summarized in [Table - 2]. The occupational status of the study group and its relation with positive reaction is summarized in [Table - 3].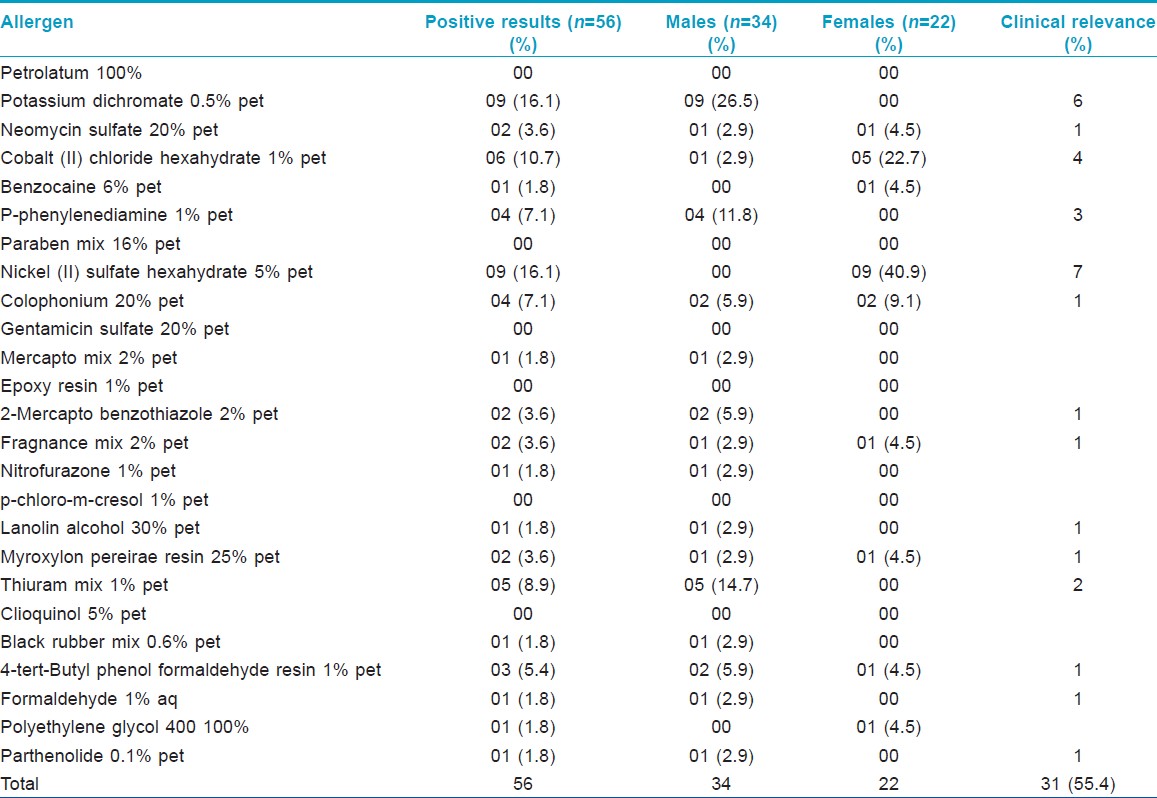 Table 2: Patch test results for each allergen of Indian standard series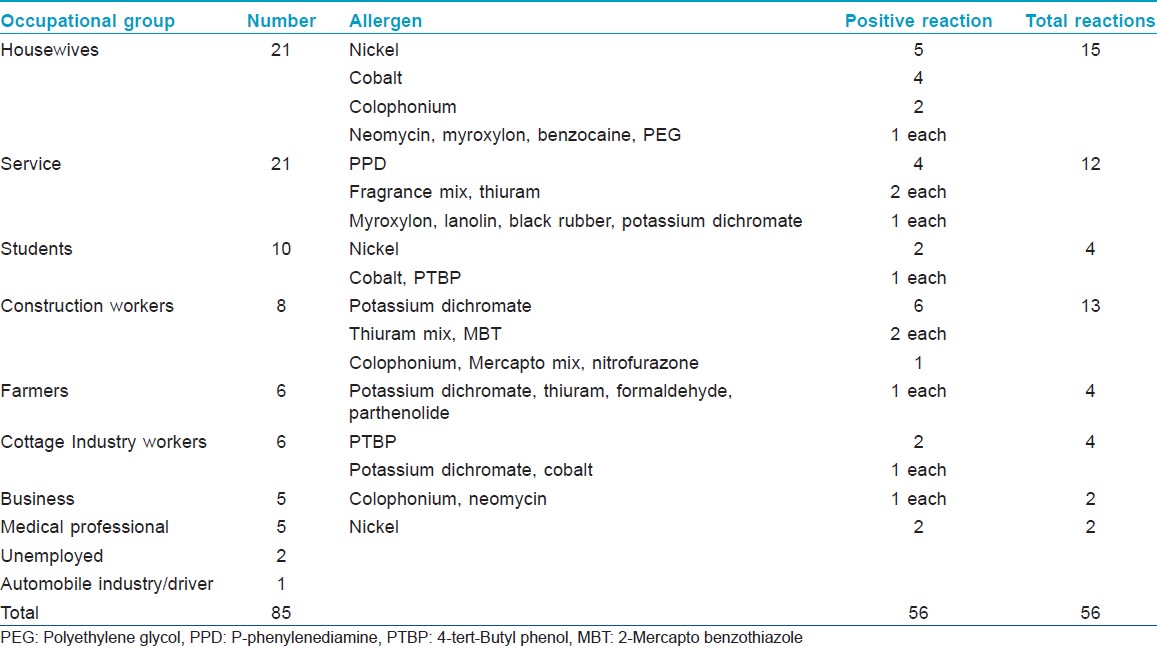 Table 3: Positive patch test reactions to various allergens in each occupational group
The age, sex and duration of illness variables in our study were similar to other studies. [1],[2],[4],[5],[6],[7] 60% cases were from urban background, probably because our hospital is located in the main city. Dermatitis of hands and feet was the most common clinical pattern in our study, similar to some studies from India and abroad [2] and different from other Indian studies where ABCD is common. [7]
Nearly 38.8% positive reaction in our study is similar to 32.3% by Akasya-Hillenbrand et al.; [6] however, differs from positive results of 63.5% by Davoudi et al., [1] 59% by Bajaj et al., [2] 63% by Handa and Jindal [7] and 64.7% by Sudhashree et al. [8] The low positive percentage tested with ISS may be because of different exposure patterns in our population than rest of the country.
The five most common allergens were potassium dichromate and nickel sulfate, followed by cobalt chloride, thiuram mix, PPD and colophonium, similar to other studies. [1],[2],[4],[5],[6],[7],[8]
In our study, all reactions to potassium dichromate, thiuram mix, and PPD were seen exclusively in males and all reactions to nickel sulfate and most to cobalt (5 out of 6), in females, similar to other studies. [1],[2],[7],[8] In Kashmir, most of the construction and outdoor labor work is carried out by males and females are not involved much in outdoor work especially, construction (cement) work. So all positive reactions to potassium dichromate in our study were found in males and no female was found positive because of the above reason.
We found only one positive reaction to parthenolide than the high positive percentage seen in other Indian studies. [2],[7] The positivity to parthenolide does not mean a definite implication of Parthenium weed for the ACD and does not have much sensitivity. Exposure level to Parthenium plant as such is very low in Kashmir, which could be the reason for low positivity in this preliminary study.
In conclusion, this preliminary study conducted to experience the results of patch testing at our center reveals results generally similar to that of other centers, both in country and abroad. Few differences, though, may be because of different climatic conditions, traditional, and cultural values in Kashmir causing different exposure patterns. We intend to carry forward the study in order to obtain larger data.
References
1.

Davoudi M, Firoozabadi MR, Gorouhi F, Zarchi AK, Kashani MN, Dowlati Y, et al. Patch testing in Iranian patients: A ten-year experience. Indian J Dermatol 2006;51:250-4.

[Google Scholar]
2.

Bajaj AK, Saraswat A, Mukhija G, Rastogi S, Yadav S. Patch testing experience with 1000 patients. Indian J Dermatol Venereol Leprol 2007;73:313-8.

[Google Scholar]
3.

Wilkinson DS, Fregert S, Magnusson B, Bandmann HJ, Calnan CD, Cronin E, et al. Terminology of contact dermatitis. Acta Derm Venereol 1970;50:287-92.

[Google Scholar]
4.

Shenoi DS, Srinivas CR, Balachandran C. Results of patch testing with a standard series of allergens at Manipal. Indian J Dermatol Venereol Leprol 1994;60:133-5.

[Google Scholar]
5.

Narendra G, Srinivas CR. Patch testing with Indian standard series. Indian J Dermatol Venereol Leprol 2002;68:281-2.

[Google Scholar]
6.

Akasya-Hillenbrand E, Ozkaya-Bayazit E. Patch test results in 542 patients with suspected contact dermatitis in Turkey. Contact Dermatitis 2002;46:17-23.

[Google Scholar]
7.

Handa S, Jindal R. Patch test results from a contact dermatitis clinic in North India. Indian J Dermatol Venereol Leprol 2011;77:194-6.

[Google Scholar]
8.

Sudhashree VP, Parasuramalu BG, Rajanna MS. A clinico-epidemiological study of allergens in patients with dermatitis. Indian J Dermatol Venereol Leprol 2006;72:235-7.

[Google Scholar]
Show Sections