Letter to the Editor - Observation Letter
doi: 10.4103/ijdvl.IJDVL_695_17
PMID: 29620044
Primary cutaneous histoplasmosis in an immunocompetent patient presenting with severe pruritus
Suman Patra1 , P Nimitha1 , Subuhi Kaul1 , Jineesh Valakkada2 , Kaushal K Verma1 , M Ramam1 , Neetu Bhari1
1 Department of Dermatology and Venereology, All India Institute of Medical Sciences, New Delhi, India
2 Department of Radiodiagnosis, All India Institute of Medical Sciences, New Delhi, India

Correspondence Address:
Neetu Bhari
Department of Dermatology and Venereology, All India Institute of Medical Sciences, New Delhi
India

How to cite this article:
Patra S, Nimitha P, Kaul S, Valakkada J, Verma KK, Ramam M, Bhari N. Primary cutaneous histoplasmosis in an immunocompetent patient presenting with severe pruritus. Indian J Dermatol Venereol Leprol 2018;84:465-468
Copyright: (C)2018 Indian Journal of Dermatology, Venereology, and Leprology
Sir,
A 60-year-old man presented with severe generalized pruritus of 1-year duration. In the initial 6 months, the pruritus was not associated with any skin lesions. The pruritus was severe enough to disturb his sleep and daily activities. It was not relieved by over-the-counter oral antihistamines and topical steroids. Over the next 6 months, he developed multiple erythematous papules on the trunk, followed by face and extremities. There was no history of fever, malaise, weight loss or other systemic symptoms. He did not report any comorbidities other than a single episode of angina 3 years back. At presentation, he had multiple monomorphic, shiny, erythematous-to-skin colored, 0.2 cm × 0.3 cm papules and small nodules on the face, upper trunk and upper limbs [Figure - 1]a,[Figure - 1]b,[Figure - 1]c. The papules coalesced to form plaques on the eyelids and nape of the neck. There was also diffuse infiltration of the face and ears. The scalp, flexures and mucosae were spared. Systemic examination revealed mild splenomegaly. Clinical diagnoses of lepromatous leprosy, post kala-azar dermal leishmaniasis and sarcoidosis were considered.
Figure 1:
Skin biopsy revealed a dense dermal inflammatory infiltrate of histiocytes, epithelioid cells and multinucleated giant cells with numerous ovoid-shaped yeasts with a peripheral halo which stained positively with Periodic Acid-Schiff stain, suggestive of Histoplasma capsulatum [Figure - 2]a. Potassium hydroxide preparation of a tissue sample also revealed yeasts. However, the fungus could not be isolated on culture. On further questioning, the patient reported living near a poultry farm, though he did not have any direct exposure to birds. Based on the presence of yeasts resembling Histoplasma in the biopsy, a clinical diagnosis of cutaneous histoplasmosis was considered and the patient was evaluated for systemic involvement.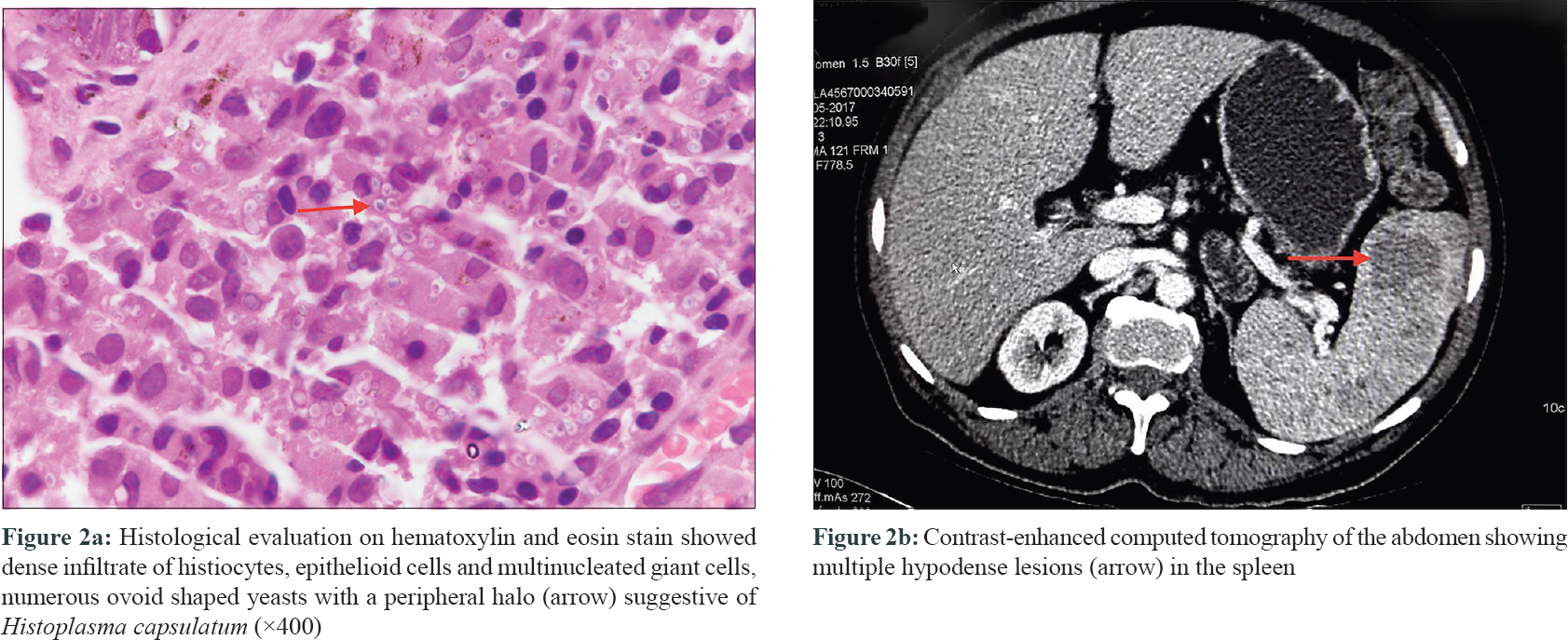 Figure 2:
Routine hematological and biochemical investigations were unremarkable. Serological evaluation for human immunodeficiency virus-1 and -2 were negative and CD4 counts were within normal limits. Contrast-enhanced computed tomography of the chest and abdomen revealed splenomegaly with multifocal splenic infiltrates [Figure - 2]b. Fine needle aspiration cytology from the spleen showed reactive hyperplasia. Bone marrow biopsy, serum cortisol, adrenocorticotropic hormone and thyroid stimulating hormone were within normal limits. The patient was treated with intravenous liposomal amphotericin 3 mg/kg/day. Within 3 days of initiation of treatment, there was significant flattening of papules, reduction of infiltration and erythema with a moderate improvement in pruritus. Amphotericin was stopped after 8 injections due to elevation in urea (90 mg/dl) and creatinine (2.3 mg/dl) and the patient was shifted to itraconazole, 200 mg twice daily. Two months later, there was near-complete resolution of lesions with significant improvement in pruritus [Figure - 1]d.
Histoplasmosis is a common granulomatous infection worldwide caused by Histoplasma capsulatum, a dimorphic fungus. Pulmonary involvement is the most common clinical presentation. Cutaneous manifestations are reported to occur in 10% to 25% of immunosuppressed patients with disseminated histoplasmosis.[1] The occurrence of cutaneous involvement in immunocompetent patients is rare and limited to a few case reports. Varied morphological patterns have been described in these reports causing a diagnostic dilemma [Table - 1].[2],[3],[4],[5] Inhalation of fungal conidia from soil contaminated by excreta of bats or birds is the primary mode of infection for histoplasmosis.[4]
Table 1: Various reported morphological patterns of cutaneous histoplasmosis in immunocompetent patients
Cutaneous lesions of histoplasmosis are usually asymptomatic, and we were unable to find previous reports of severe pruritus as a presenting sign preceding the development of skin lesions. The improvement in intractable pruritus after antifungal therapy indicates that it is probably related to histoplasmosis and not an independent or coincidental phenomenon. Interestingly, pruritus is diminished but persists even after skin lesions have cleared, providing us an additional clinical marker by which to monitor the length of the therapy. We plan to continue itraconazole for 6 months after pruritus subsides.
Declaration of patient consent
The authors certify that they have obtained all appropriate patient consent forms. In the form, the patient has given his consent for his images and other clinical information to be reported in the journal. The patient understand that name and initials will not be published and due efforts will be made to conceal identity, but anonymity cannot be guaranteed.
Financial support and sponsorship
Nil.
Conflicts of interest
There are no conflicts of interest.
References
1.

Chang P, Rodas C. Skin lesions in histoplasmosis. Clin Dermatol 2012;30:592-8.

[Google Scholar]
2.

Lacaz Cd, Del Negro GM, Vidal MS, Heins-Vaccari EM, Santos RF, Martins MA, et al. Atypical disseminated cutaneous histoplasmosis in an immunocompetent child, caused by an "aberrant" variant of histoplasma capsulatum var. capsulatum. Rev Inst Med Trop Sao Paulo 1999;41:195-202.

[Google Scholar]
3.

Gupta P, Bhardwaj M. Cytodiagnosis of disseminated histoplasmosis in an immunocompetent individual with molluscum contagiosum-like skin lesions and lymphadenopathy. J Cytol 2016;33:163-5.

[Google Scholar]
4.

Harnalikar M, Kharkar V, Khopkar U. Disseminated cutaneous histoplasmosis in an immunocompetent adult. Indian J Dermatol 2012;57:206-9.

[Google Scholar]
5.

Nair SP, Vijayadharan M, Vincent M. Primaty cutaneous histoplasmosis. Indian J Dermatol Venereol Leprol 2000;66:151-3.

[Google Scholar]
Show Sections