Translate this page into:

doi:
10.25259/IJDVL_998_2022
Prurigo nodularis with cornoid lamellation
Department of Dermatology & Venereology, All India Institute of Medical Sciences (AIIMS)

,

Delhi

,

India
Corresponding author: Dr. Sujay Khandpur, Professor, Department of Dermatology & Venereology, All India Institute of Medical Sciences (AIIMS), Delhi, India. sujay_khandpur@yahoo.com
Received: , Accepted: ,
© 2023 Indian Journal of Dermatology, Venereology and Leprology - Published by Scientific Scholar
Licence
This is an open-access article distributed under the terms of the Creative Commons Attribution-Non Commercial-Share Alike 4.0 License, which allows others to remix, transform, and build upon the work non-commercially, as long as the author is credited and the new creations are licensed under the identical terms.
How to cite this article: Gupta S, Khandpur S. Prurigo nodularis with cornoid lamellation. Indian J Dermatol Venereol Leprol doi: 10.25259/IJDVL_998_2022
Dear Editor,
Prurigo nodularis is a chronic skin condition characterized by multiple firm, itchy nodules typically involving the extensor surface of the extremities. It is a nodular form of lichen simplex chronicus with histopathological features of chronic dermatitis. Cornoid lamellation is a histomorphology involving tiers of parakeratosis invaginating into the epidermis with underlying dyskeratotic cells. It is typically seen in porokeratosis but has been reported in various dermatoses. We describe an interesting case of peno-scrotal prurigo nodularis with characteristic cornoid lamellation.
A 30-year-old atopic man presented with severely itchy, multiple, discrete papulonodular lesions on his scrotum, left thigh and glans penis for 7 years [Figure 1]. Our provisional clinical diagnosis was genital prurigo nodularis. Skin biopsy revealed massive hyperkeratosis, parakeratosis, hypergranulosis, irregular acanthosis, papillary dermal fibrosis and mild perivascular and interstitial lympho-histiocytic infiltrate. [Figure 2a]. In one focus, parakeratotic column invaginating into the epidermis with underlying dyskeratotic cells was present suggestive of cornoid lamellation [Figure 2b]. Biopsy was consistent with prurigo nodularis but with a conspicuous cornoid lamellation which prompted us to consider verrucous penoscrotal porokeratosis as a differential. The lesions significantly flattened after three intralesional injections of triamcinolone acetonide 5 mg/mL, 0.1–0.3 mL injected per lesion [Figure 3].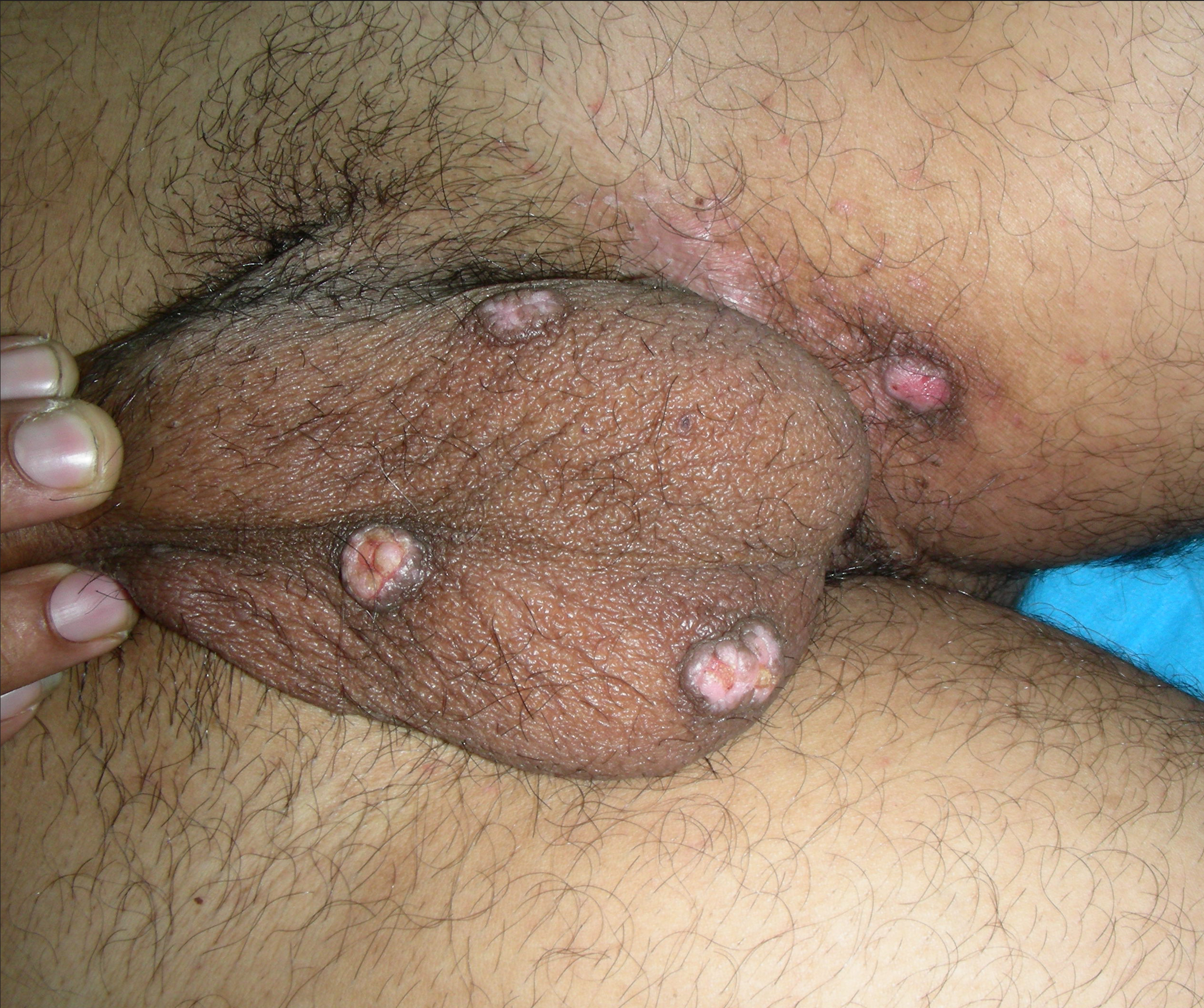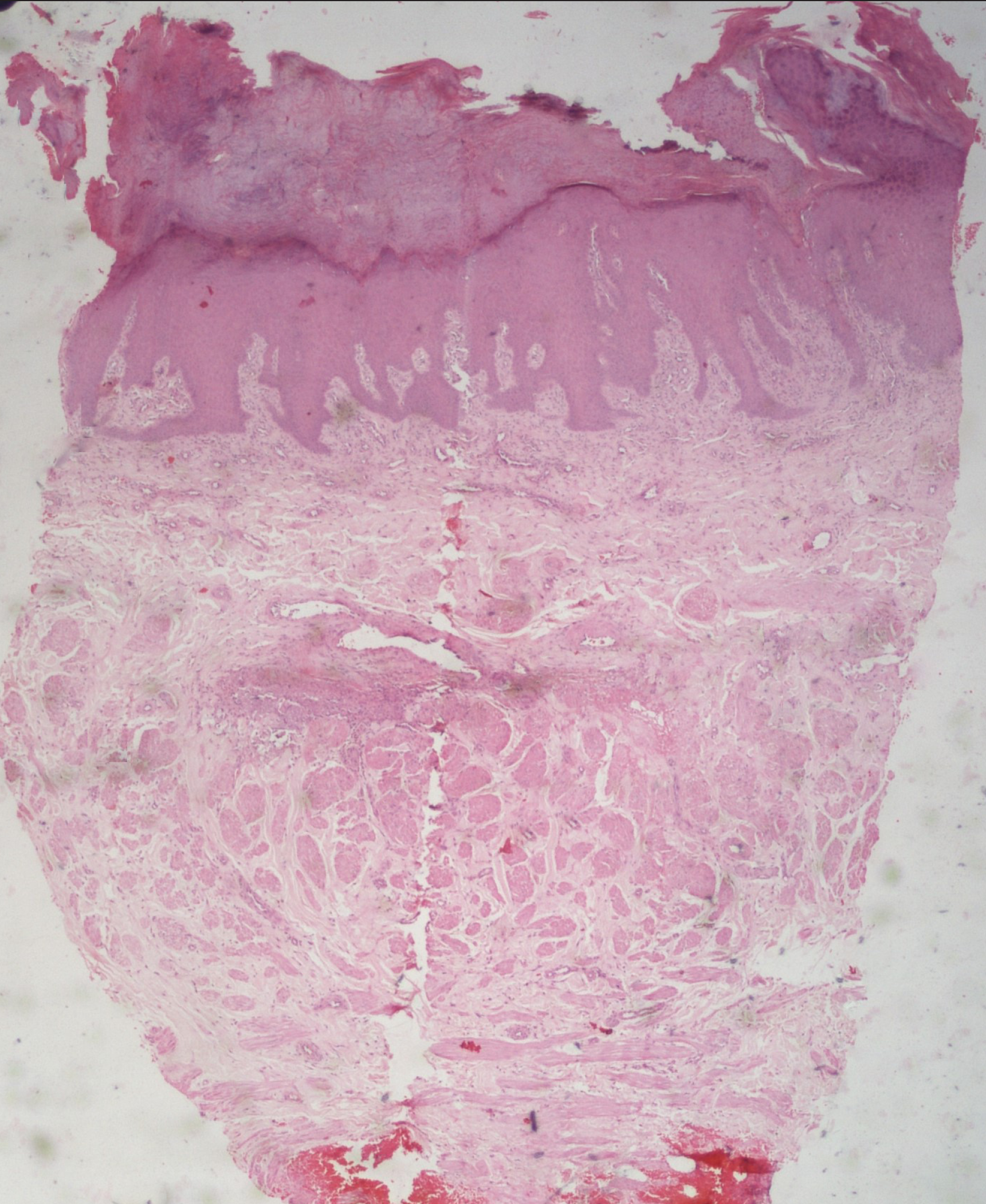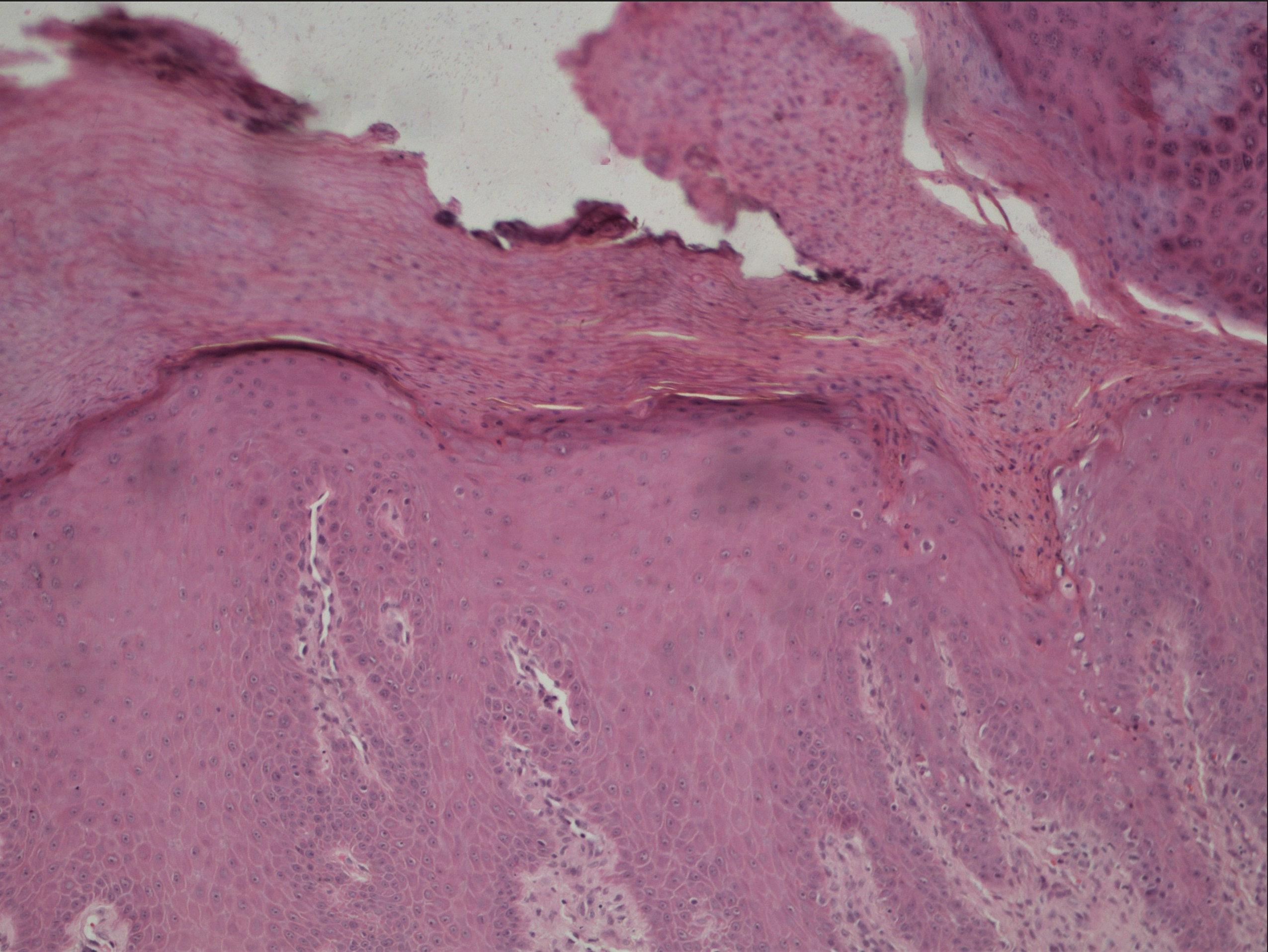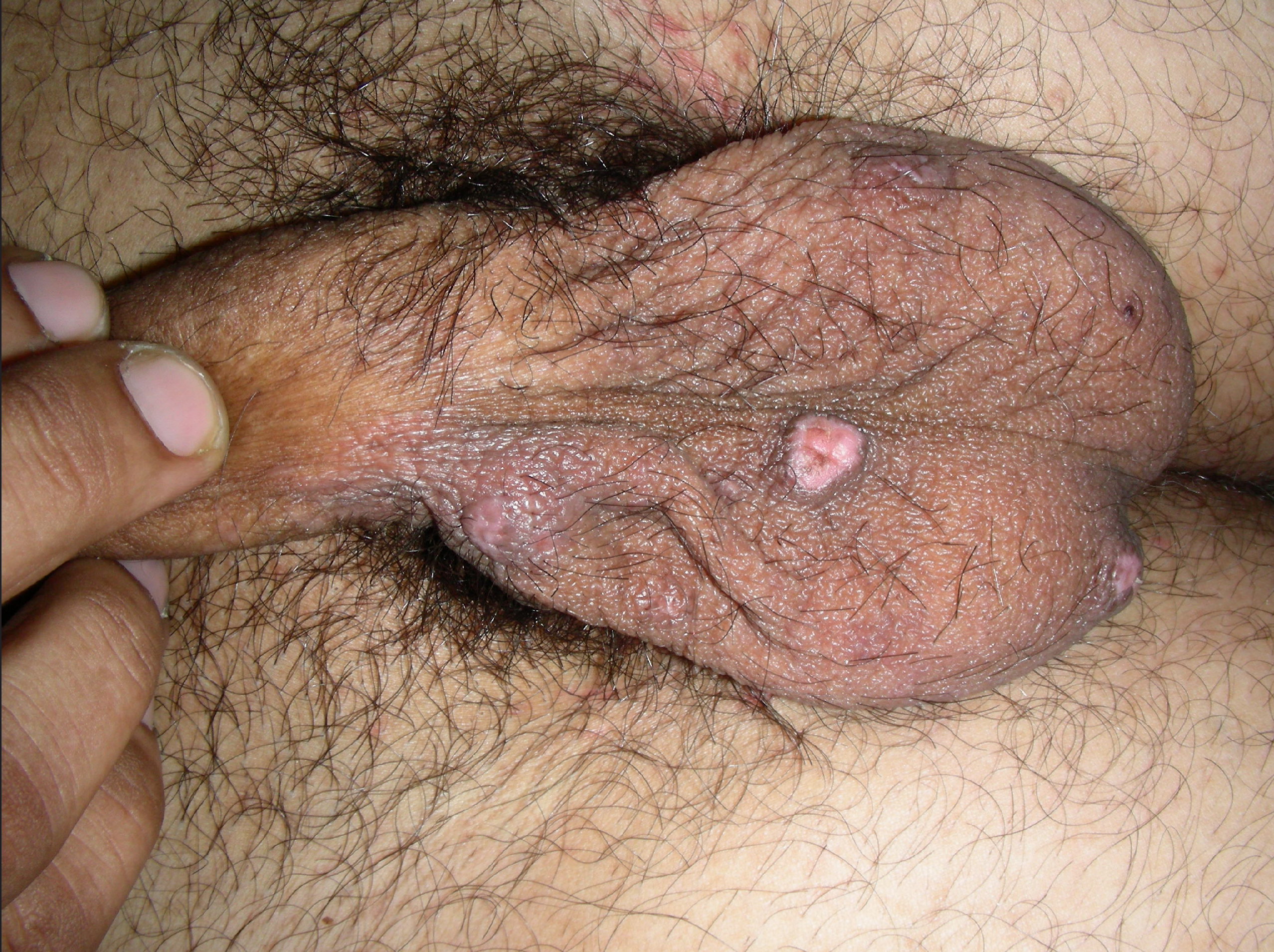 Prurigo nodularis is histologically characterized by thick compact hyperkeratosis, focal parakeratosis, hypergranulosis, irregular epidermal hyperplasia, papillary dermal fibrosis with vertically arranged collagen fibres, a superficial perivascular inflammatory infiltrate of lymphocytes, macrophages and sparse eosinophils and neutrophils. 1 Occassionally, epidermal erosions with a characteristic V-shaped configuration or superficial shedding of necrotic keratinocytes may be observed in the upper granular layer.
Cornoid lamellation, first described in 1893 by Mibelli, is characterized by a vertical column of parakeratosis extending obliquely into the epidermis, loss or marked diminution of the granular layer at the point where the parakeratotic column indents the epidermal surface and dyskeratosis and/or vacuolisation of the underlying cells of the stratum spinosum. 2 Cornoid lamellation is typically observed in porokeratosis, where it corresponds to the thread-like scale present at the lesional margin. The designation 'porokeratosis' was originally coined based on the erroneous assumption that cornoid lamellation emerged from the pores of sweat glands. 2
Cornoid lamellation, however, is not pathognomonic of porokeratosis and may be encountered in several inflammatory and neoplastic dermatoses like lichen planus, psoriasis, viral warts, actinic keratosis, ichthyosis hystrix, Wong-type dermatomyositis, atypical keratosis lichenoides chronica (atypical Nekam's disease), pachyonychia congenita, verrucous epidermal nevus, squamous and basal cell carcinoma.Thus, it is often regarded as one of the 'minor tissue reactions' in the pattern-based diagnostic approach of inflammatory skin disorders. 3
We were unable to find any report of cornoid lamellation in prurigo nodularis. A case of disseminated superficial actinic porokeratosis having prurigo-like lesions clinically with histopathologic cornoid lamellation has been described. 4 The histopathology in our patient also prompted us to consider verrucous/hyperkeratotic porokeratosis, penoscrotal variant. Joshi et al. have reported 10 cases with porokeratotic epidermal reaction pattern with multiple cornoid lamellae manifesting as pruritic penoscrotal plaques with an ill-defined rough granular surface. 5 They were poorly responsive to topical steroids and flattened with oral isotretinoin 20 mg/day. Our patient showed an excellent response to intralesional steroids, which made us consider prurigo nodularis with cornoid lamellation.
Declaration of patient consent
The authors certify that they have obtained all appropriate patient consent.
Financial support and sponsorship
Nil.
Conflict of interest
There are no conflict of interest.
Show Sections