Translate this page into:

doi:
10.25259/IJDVL_1376_20
Pseudodominant inheritance of self-improving collodion ichthyosis with homozygous mutation in the ALOX12B gene
Department of Pediatric Dermatology

,

Indira Gandhi Institute of Child Health, Bengaluru, Karnataka

,

India
1
Department of Pediatric Dermatology

,

Institute of Child Health, Kolkata, West Bengal

,

India
2
Department of Biochemistry

,

Indira Gandhi Institute of Child Health, Bengaluru, Karnataka

,

India
Corresponding author: Dr. Sahana M. Srinivas, Department of Pediatric Dermatology, Indira Gandhi Institute of Child Health, Bengaluru, Karnataka, India. sahana.bmc@gmail.com
Received: , Accepted: ,
© 2021 Indian Journal of Dermatology, Venereology and Leprology - Published by Scientific Scholar
Licence
This is an open-access article distributed under the terms of the Creative Commons Attribution-Non Commercial-Share Alike 4.0 License, which allows others to remix, tweak, and build upon the work non-commercially, as long as the author is credited and the new creations are licensed under the identical terms.
How to cite this article: Srinivas SM, Dhar S, Gowdra A. Pseudodominant inheritance of self-improving collodion ichthyosis with homozygous mutation in the ALOX12B gene. Indian J Dermatol Venereol Leprol 2021;87:714-7.
Sir,
Collodion baby is a common phenotype for several autosomal recessive congenital ichthyoses, rather than a distinct disease entity. These babies present with a parchment-like membrane at birth, which gradually sheds in two to four weeks revealing the underlying ichthyosis variant. Around 60–80% children eventually develop lamellar ichthyosis or non-bullous ichthyosiform erythroderma. However, in about 10–20% cases, they represent self-improving collodion ichthyosis, previously called self-healing collodion baby.1,2 It is associated with homozygous or compound heterozygous mutation in TGM1, ALOX12B, ALOXE3, NIPAL4, ABCA12and CYP4F22 genes.3,4 We describe a case of self-improving collodion ichthyosis with homozygous mutation in ALOX12B gene with a pseudodominant inheritance pattern.
We report a two-year-old boy, born to second-degree consanguineous, South Indian parents, Dravidian by origin, following an uneventful pregnancy. At birth, the child had collodion membrane associated with ectropion and eclabium [Figure 1]. The collodion membrane subsequently shed by four weeks, exposing a mildly xerotic skin. However, at the age of one year four months, the child developed fine generalized scaling with well- defined erythematous and scaly areas involving the the angles of mouth, neck, axillae, scalp and groin along with mild palmoplantar keratoderma, consistent with mild ichthyosiform erythroderma [Figures 2a-2d]. Systemic examination was unremarkable. Family history revealed similar dryness of skin in the child's father at birth which gradually improved with age, without any definite history of collodion membrane at birth. Paternal cutaneous examination revealed fine scaling all over his body with mild palmoplantar keratoderma. Skin biopsy was not done in our case.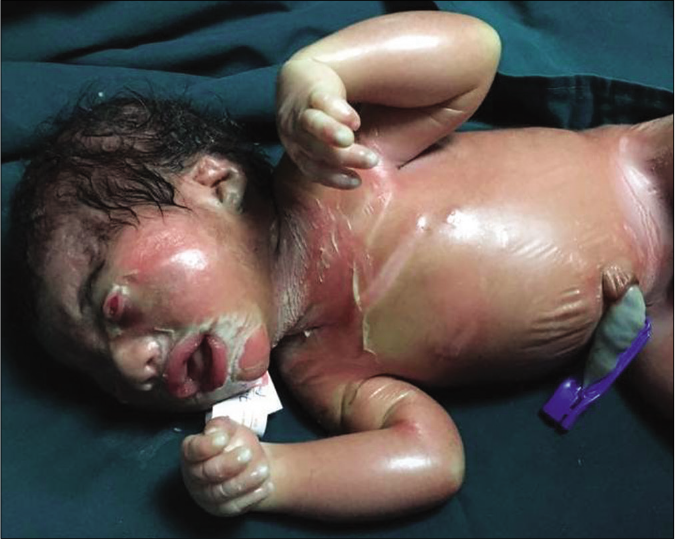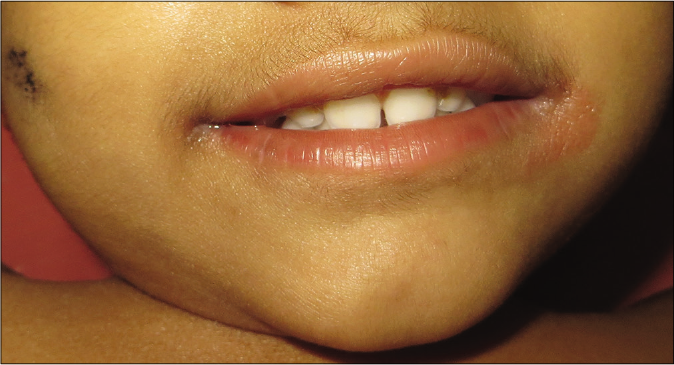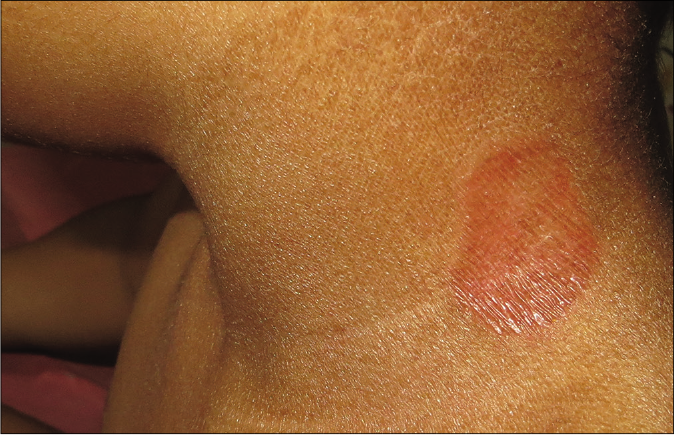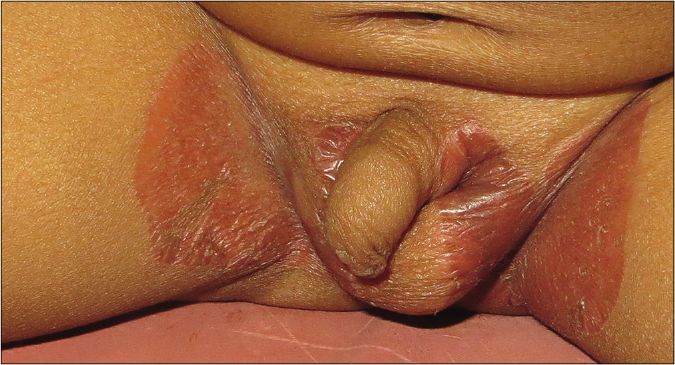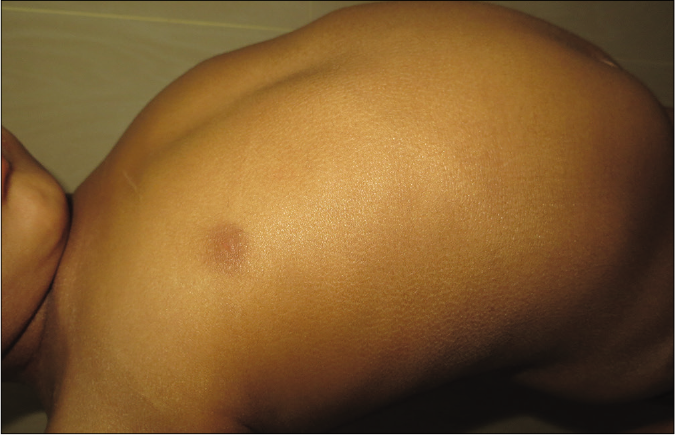 Next generation sequencing demonstrated a homozygous, missense variation in exon 12 of the ALOX12B gene which resulted in the amino acid substitution of tryptophan for arginine at codon 548, c.1642C>T (p.Arg548Trp;EN ST00000319144.4). The observed variation was noted in the lipoxygenase domain of the ALOX12B protein. The in silico prediction of this variant is probably damaging by PolyPhen-2 (Polymorphism Phenotyping v2), Sorting Intolerant From Tolerant, and Mutation Taster 2. The reference codon is conserved across species. We validated this mutant variant in the proband by Sanger sequencing [Figure 3a]. An identical mutation was detected by Sanger sequencing in the heterozygous state in mother and homozygous state in father [Figures 3b and 3c]. Figure 3d depicts the pedigree of study family.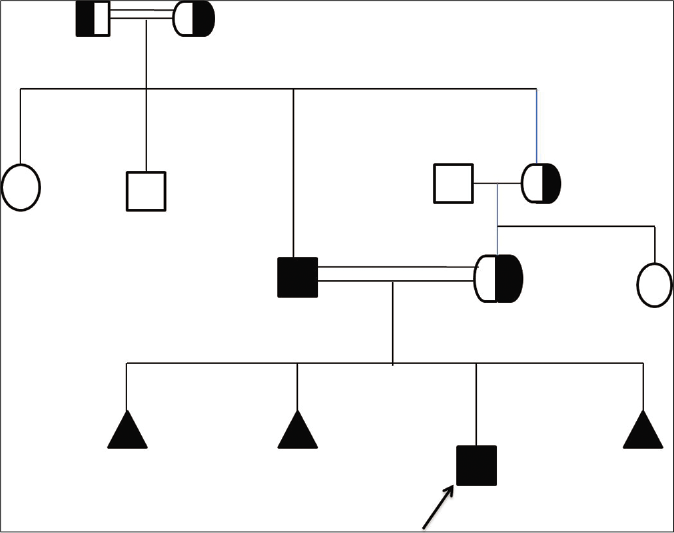 Most children with self-improving collodion ichthyosis present with a mild form of generalized ichthyosis or fine scaling with flexural accentuation. The exact cause underlying the variations in outcome of a collodion baby remains unclear and is primarily attributed to the varying residual enzymatic activities of TGM1 mutations. Functional studies of TGM1 missense mutations have shown complete enzymatic inactivity in utero, while environmentally induced partial enzymatic activations after birth have resulted in marked improvement of the condition.5,6
Harting et al., have reported a self-healing collodion child with similar phenotype as our case, with compound heterozygous state for two novel mutations in ALOX12B gene; IVS2-1 G>A base change in intron 2 and missense variation, c.1642 C >T (p.Arg548Trp) in a nonconsanguineous family.2 In our patient, we observed the same mutation in homozygous state in father and heterozygous state in mother, suggesting a pseudodominant inheritance pattern in the proband. (i.e., if a carrier of an autosomal recessive disorder marries an affected person, 50% of the children will be affected and the pedigree will resemble that of an autosomal dominant disorder) Pseudodominant inheritance occurs in an autosomal recessive disorder when a homozygote or compound heterozygote has an unaffected partner with similar heterozygous mutation and gives birth to a child with identical recessive disorder as the affected parent. Consanguinity and higher carrier frequency in a population promotes this phenomenon. This pattern mimicks a rare dominant trait and can be distinguished by molecular analysis.7Although self-improving collodion ichthyosis represents an autosomal recessive disorder with 25% chance of transmission to each offspring, the pseudodominant pattern of inheritance in our case increased the risk of transmission to future siblings to 50%.
Molecular confirmation is essential in any hereditary disorder for genetic counseling. Our limitation was inability to perform functional assays. This case adds to the existing literature regarding self-improving collodion ichthyosis with pseudodominant inheritance having a homozygous missense variation in ALOX12 B gene.
Acknowledgment
SMS would like to acknowledge Dr. Shyam Prasad AL, Professor of Dermatology, Ramaiah Medical College, Bengaluru, for his inputs and MedGenome Labs Ltd for performing genetic analysis for our patient.
Declaration of patient consent
The authors certify that they have obtained all appropriate patient consent.
Financial support and sponsorship
Nil.
Conflicts of interest
There are no conflicts of interest.
Show Sections