Translate this page into:

Letter to the Editor
doi: 10.4103/0378-6323.120746
PMID: 24177625
Psoriatic plaques with leukotrichia: A novel observation
Nidhi Jindal1 , Richa Jindal2 , Brahmita Monga1 , Sunita Singh3
1 Department of Skin and VD, PGIMS, Rohtak, Haryana, India
2 Department of Pathology, St. Stephen Hospital, New Delhi, India
3 Department of Pathology, PGIMS, Rohtak, Haryana, India

Correspondence Address:
Brahmita Monga
H-171, Ashok Vihar, Haryana - 110 052, Delhi
India

How to cite this article:
Jindal N, Jindal R, Monga B, Singh S. Psoriatic plaques with leukotrichia: A novel observation. Indian J Dermatol Venereol Leprol 2013;79:829-831
Copyright: (C)2013 Indian Journal of Dermatology, Venereology, and Leprology
Sir,
Hair is an important skin appendage as changes in hair color, volume and texture may be an indicator to many dermatological conditions. The myriad of hair colors include shades of grey, yellow, brown, red and black, produced by combinations of two primary pigments, eumelanin and pheomelanin, in varying proportions. These pigments are derived from melanocytes of the upper root of the hair bulb, which imparts color to the hair cortex during the anagen phase of the hair cycle.
The population density of melanocytes in the hair bulb is much greater than in the epidermis (approximately one melanocyte to four basal keratinocytes in the upper hair bulb compared with a ratio of 1:25 in the basal layer of the epidermis). [1] Leukotrichia, meaning "white hair", is caused by a variety of genetic and acquired disorders culminating in the loss of these hair bulb melanocytes. The dermatological conditions usually associated with leukotrichia include vitiligo, alopecia areata, Vogt-Koyanagi-Harada syndrome, Allezandrini syndrome, Piebaldism, Waardenburg syndrome, Tuberous sclerosis etc. [1] However, leukotrichia has never been reported on psoriatic plaques unless as a part of co-localized vitiligo.
We present a case of 45-year-old, HIV negative male with generalized stable plaque psoriasis.
The patient presented in dermatology OPD with history of red, raised, scaly lesions all over the body for the last 15 years. He reported that the hair over the lesions was initially black but five years ago, turned white rapidly over a span of three months. On examination, well demarcated, variable sized, erythematous, raised, indurated scaly plaques with leukotrichia strictly restricted to the plaques were present over the extremities. Hairs elsewhere were black [Figure - 1]. Grattage test and Auspitz sign were positive. Skin biopsy revealed hyperkeratosis, parakeratosis, suprapapillary thinning and elongation of rete ridges, which favored the clinical diagnosis of psoriasis [Figure - 2]a. Staining with HMB (Human melanin black) - 45 revealed scattered melanocytes in the basal layer [Figure - 2]b and c; this ruled out co-localized vitiligo. Melanocytes were conspicuously absent from the hair follicles [Figure - 2]c and d. Methotrexate was started after routine hematological and biochemical investigations, following which the psoriatic plaques improved but the hair color remained unchanged.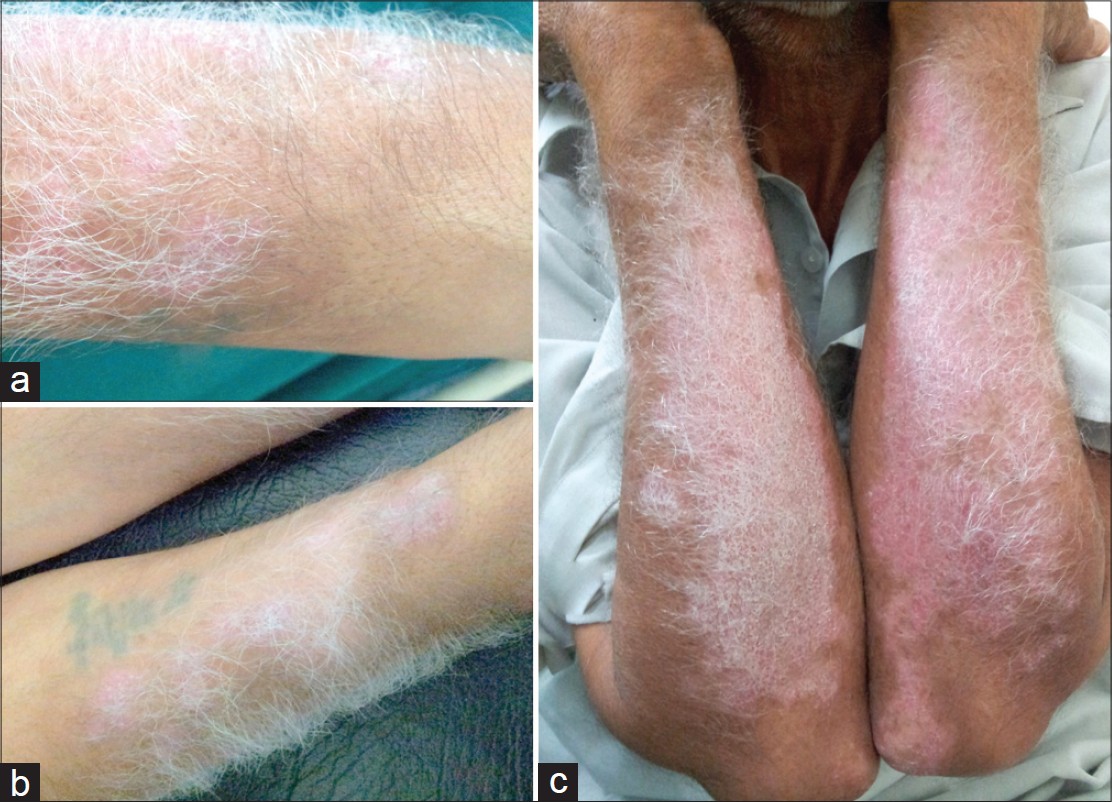 Figure 1: (a-c) Psoriatic plaques with white hair and surrounding black hair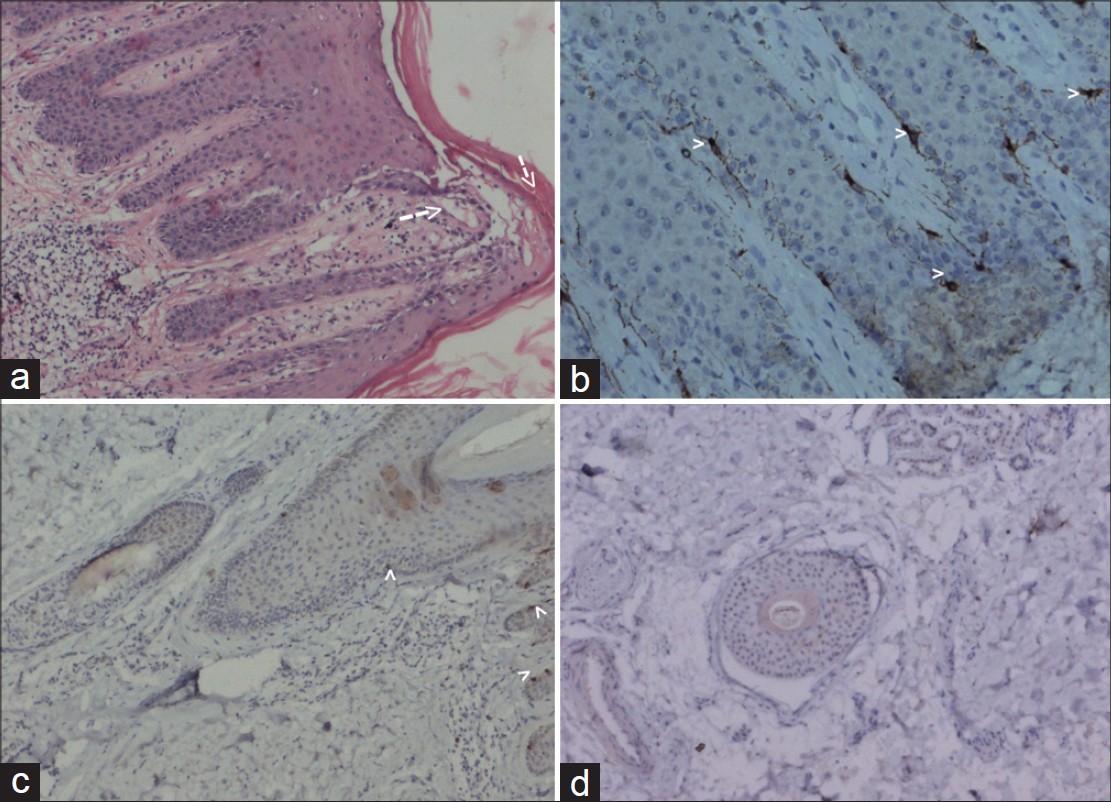 Figure 2: (a) (H and E, ×40) - Hyperkeratosis, parakeratosis, suprapapillary thinning and elongation of rete ridges. (b-d) (HMB45 stain, ×100) - Presence of melanocytes in basal layer of epidermis (2b, 2c) and absence of melanocytes in the hair follicle (c and d)
Psoriasis is a chronic, recurrent, T cell mediated disorder of keratinization; characterized by red, scaly, sharply demarcated, indurated plaques particularly affecting the extensors. The underlying mechanism is still debatable; though most of the recent literature points to an immune mediated mechanism, implicating Th17-type helper T cell. [2]
Several studies and case reports have documented the coexistence and co-localization of psoriasis and vitiligo. [3] Koebner′s phenomenon is common to both the disorders.
Increased level of tumor necrosis factor alpha (TNF-α) has been demonstrated in both psoriatic plaques and perilesional skin of vitiligo patients. Even if we try to explain the presence of white hair over the psoriatic plaques through a similar mechanism, the selective destruction of follicular melanocytes with sparing of epidermal melanocytes poses a mystery which is hard to solve. The fact, that ′follicular-melanin unit′ resides in the immune privileged proximal anagen hair bulb, [4] makes this observation even more intriguing. Selective loss of follicular melanocytes without concomitant destruction of epidermal melanocytes has only been noticed in acute alopecia areata in which the inflammation is concentrated in and around the bulbar region of anagen hair follicles [5]
Follicular pigmentation is governed by numerous intrinsic and extrinsic factors including hair cycle-dependent changes, racial and gender differences, environmental influences, genetic defects and age-associated changes. Recently, there has been tremendous research to elucidate mechanisms of age related selective destruction of follicular melanocytes, evidenced by graying of hair with sparing of epidermal melanocytes. It has been observed that the follicular-melanin unit of greying hair is associated with increased melanocyte apoptosis and oxidative stress, which could be the result of impaired antioxidant mechanisms. [6] A similar free radical injury can possibly explain our finding of white hair in the psoriatic plaques, since psoriasis is an inflammatory disorder with increased cell turnover. However, the fact that this observation has never been reported previously in psoriasis, which is a relatively common disease, remains an enigma.
Thus, this case is unique as the current knowledge of the pathogenesis of psoriasis fails to explain leukotrichia restricted to psoriatic plaques. Whether this novel finding signifies any change in prognosis or course of the disease in the relevant patient can only be explained with advanced molecular and further observational studies.
References
1.

Messenger AG, Berker DA, Sinclair RD. Disorders of hair. In: Burns T, Breathnach S, Cox N, Griffiths C, editors. Rook's Textbook of Dermatology, 8 th ed. West Sussex: Wiley Blackwell; 2010. p. 66.90-66.93.

th ed. West Sussex: Wiley Blackwell; 2010. p. 66.90-66.93.'>[Google Scholar]
2.

Sabat R, Philipp S, Höflich C, Kreutzer S, Wallace E, Asadullah K, et al. Immunopathogenesis of psoriasis. Exp Dermatol 2007;16:779-98.

[Google Scholar]
3.

Inamadar AC, Sampagavi VV, Athanikar SB, Patil MN, Deshmukh NS. Vitiligo and psoriasis: Coexistence with colocalization. Indian J Dermatol Venereol Leprol 2001;67:214-5.

[Google Scholar]
4.

Christoph T, Müller-Röver S, Audring H, Tobin DJ, Hermes B, Cotsarelis G, et al. The human hair follicle immune system: Cellular composition and immune privilege. Br J Dermatol 2000;142:862-73.

[Google Scholar]
5.

Messenger AG, Berker DA, Sinclair RD. Disorders of hair. In: Burns T, Breathnach S, Cox N, Griffiths C, editors. Rook's Textbook of Dermatology, 8 th ed. West Sussex: Wiley Blackwell; 2010. p. 66.33.

th ed. West Sussex: Wiley Blackwell; 2010. p. 66.33.'>[Google Scholar]
6.

Arck PC, Overall R, Spatz K, Liezman C, Handjiski B, Klapp BF, et al. Towards a "free radical theory of graying": Melanocyte apoptosis in the aging human hair follicle is an indicator of oxidative stress induced tissue damage. FASEB J 2006;20:1567-9.

[Google Scholar]
Show Sections