Translate this page into:

doi:
10.25259/IJDVL_209_2021
Pustular lesions in the neonate: Focused diagnostic approach based on clinical clues
Department of Dermatology, IQRAA International Hospital & Research Centre

,

Kozhikode, Kerala

,

India
1
Department of Dermatology, Venereology and Leprology, Postgraduate Institute of Medical Education & Research

,

Chandigarh

,

India
Corresponding author: Dr. Rahul Mahajan, Department of Dermatology, Venereology and Leprology, Postgraduate Institute of Medical Education & Research, Chandigarh, India. drrahulpgi@yahoo.com
Received: , Accepted: ,
© 2022 Indian Journal of Dermatology, Venereology and Leprology - Published by Scientific Scholar
Licence
This is an open-access article distributed under the terms of the Creative Commons Attribution-Non Commercial-Share Alike 4.0 License, which allows others to remix, transform, and build upon the work non-commercially, as long as the author is credited and the new creations are licensed under the identical terms.
How to cite this article: Afra T, Daroach M, Mahajan R, De D, Handa S. Pustular lesions in the neonate: Focused diagnostic approach based on clinical clues. Indian J Dermatol Venereol Leprol 2022;88:708-16.
Abstract
Pustules in a neonate can be due to various causes. Though the majority of conditions causing pustules in a neonate are benign, it is essential to clearly differentiate these from serious ones. A systematic approach based on detailed history and clinical examination of the neonate along with basic laboratory evaluation narrows down diagnostic possibilities and aids in the correct diagnosis. This review outlines a step-by-step approach so as to avoid clinical dilemmas and unnecessary intervention.
Keywords
Pustules
neonate
diagnosis
benign
infectious
Introduction
The first four weeks of extrauterine life constitute the neonatal period. Neonates may develop pustules due to innocuous causes or serious reasons. The presence of pustules in a newborn can cause apprehension in the parents and the neonatologists leading to extensive investigations to find the etiology.
The diagnostic approach to pustular lesions in a neonate should be focused as relevant to the clinical presentation. Meticulous clinical evaluation supported by simple bedside laboratory tests can narrow diagnostic possibilities and help differentiate between the benign and more sinister possibilities. This review is aimed at outlining a diagnostic approach to pustular lesions in the neonate based on clinical findings and basic laboratory evaluation [Figures 1a and b]. While this approach encompasses the more common etiologies manifesting as pustules in the neonatal period, the list herein (Table 1) is not exhaustive and we do not attempt to detail the clinical and epidemiologic characteristics of each dermatosis individually.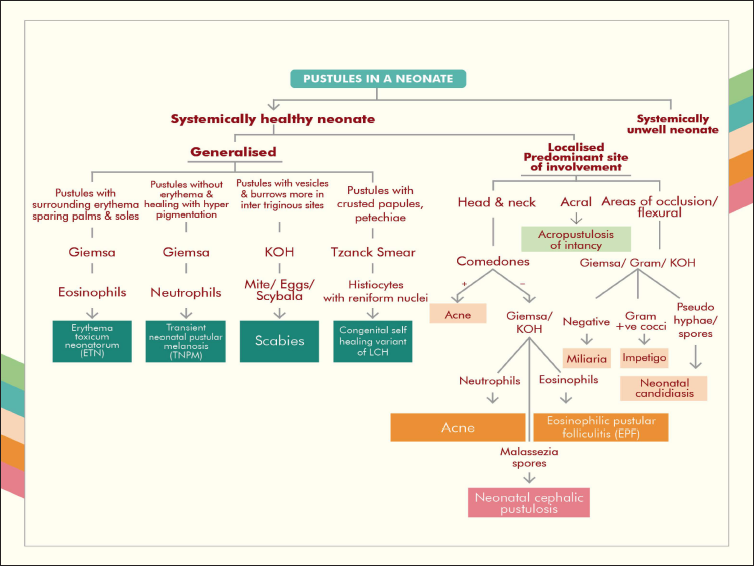 Category
Etiology
Benign self-limiting dermatoses5
Common causes
Erythema toxicum neonatorum
Transient neonatal pustular melanosis10
Miliaria/heat rash
Neonatal cephalic pustulosis
Neonatal acne
Uncommon causes
Acropustulosis of infancy
Eosinophilic pustular folliculitis
Infections
Bacterial
Impetigo
Congenital syphilis
Listeria monocytogenes infection
Pseudomonas aeruginosa infection
Hemophilus influenzae infection
Viral
Herpes simplex virus infection (intrauterine, neonatal)
Varicella (foetal varicella syndrome/congenital varicella/varicella embryopathy, neonatal varicella, neonatal herpes zoster)
Fungal
Candidiasis (congenital, neonatal)
Dermatophytosis
Aspergillosis
Parasitic
Scabies
Associated with neoplasm
Neonatal pustulosis of transient myeloproliferative disorder
Langerhans cell histiocytosis (congenital Langerhans cell histiocytosis, Hashimoto-Pritzker disease or congenital self-healing reticulohistiocytosis)
Inflammatory dermatosis
Pustular psoriasis
Primary immunodeficiency disorders
Hyper-IgE syndrome/Job syndrome
Deficiency of interleukin-1 receptor antagonist
Miscellaneous
Incontinentia pigmenti
Autoimmune blistering diseases (neonatal pemphigus, gestational pemphigoid, pemphigus foliaceous)
Conclusion
Even though there are numerous causes for pustules in a neonate, these are benign in a large proportion and resolve without much intervention and without any complications. Most of the common causes can be diagnosed during the initial clinical evaluation. Extensive laboratory evaluation may be needed if the clinical presentation is suggestive of a more serious or systemic disease presenting as pustules in the neonatal period and can be managed accordingly. Overenthusiastic labeling of a benign condition as serious can lead to unnecessary parental distress and iatrogenic complications, and should be avoided.
Acknowledgement
We thank the parents of the patients for granting permission for clinical photography. We also thank Mr. Sansin Dulkifl, Bachelor of Multimedia Communication for the technical assistance in flow chart preparation and Dr.Vinay Keshavmurthy for providing Figure 6.
Declaration of patient consent
The authors certify that they have obtained all appropriate patient consent.
Financial support and sponsorship
Nil.
Conflict of interest
There are no conflicts of interest.
Show Sections