Net Letter
doi: 10.4103/ijdvl.IJDVL_453_17
PMID: 29798936
Rapid response of Kasabach–Meritt phenomenon to a combination of oral prednisolone and sirolimus
Sanjay Singh, Neetu Bhari, Snehal Agrawal, Kaushal K Verma
Department of Dermatology and Venereology, All India Institute of Medical Sciences, New Delhi, India

Correspondence Address:
Kaushal K Verma
Department of Dermatology and Venereology, All India Institute of Medical Sciences, New Delhi
India

How to cite this article:
Singh S, Bhari N, Agrawal S, Verma KK. Rapid response of Kasabach–Meritt phenomenon to a combination of oral prednisolone and sirolimus. Indian J Dermatol Venereol Leprol 2019;85:348
Copyright: (C)2019 Indian Journal of Dermatology, Venereology, and Leprology
Sir,
A 4-month-old male child presented with rapidly progressing, tender, erythematous edematous swelling on the left side of the face and scalp since 10 days. The mother had noticed a mildly erythematous macule on the lateral part of the neck on the 10th day of life which was asymptomatic and nonprogressive for initial 3 months and 20 days. He was born of nonconsanguineous marriage with no similar history in the family. On mucocutaneous examination, there was a dusky purpuric plaque with moderate induration and edema involving left side of the face, periorbital area and scalp extending up to the nape of the neck [Figure - 1]a. There was no bruit, thrill or increase in the size of the lesion with crying. Examination of vitals and anthropometric evaluation were within normal limits for child's age.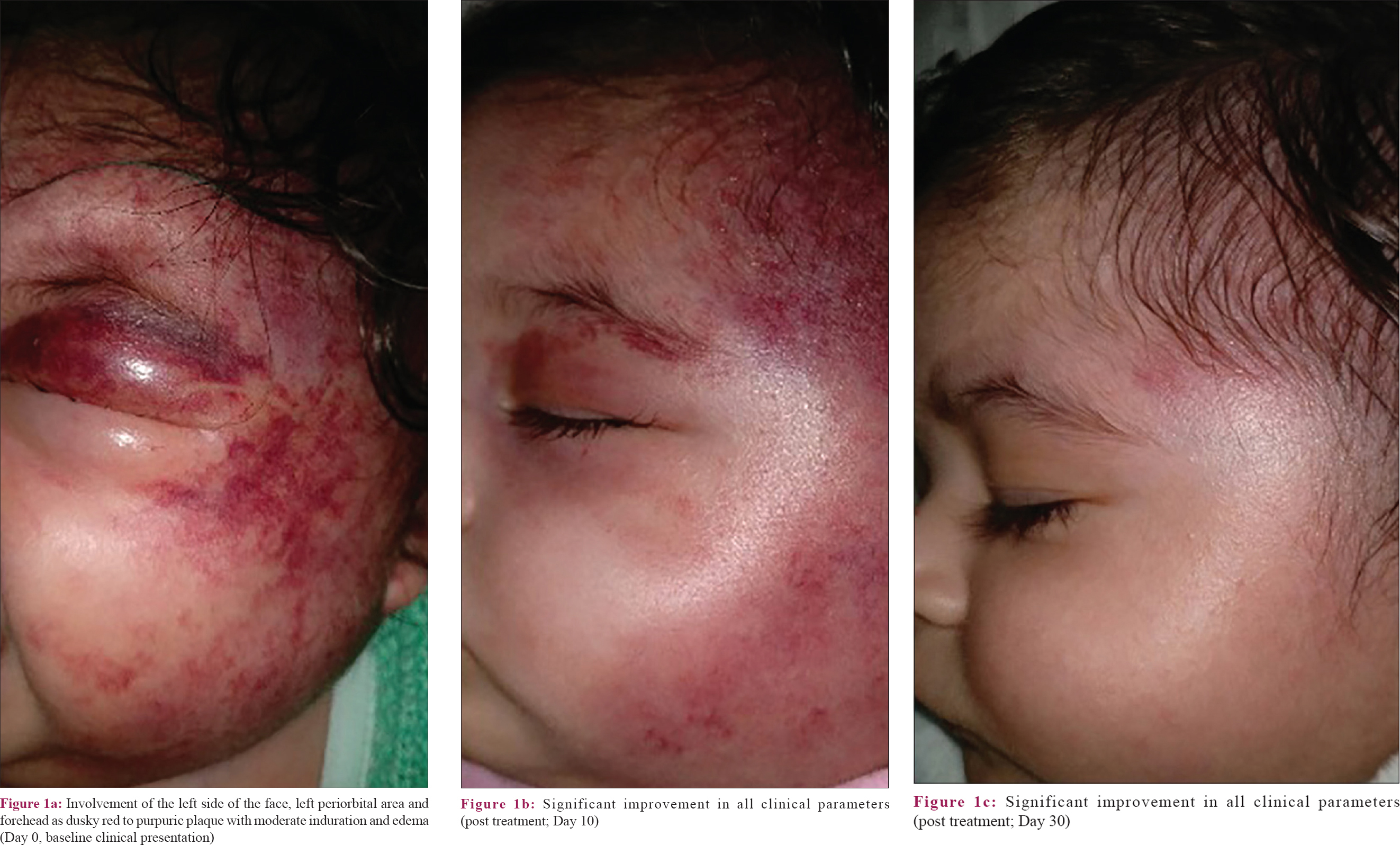 Figure 1:
Biochemical investigations revealed anemia (hemoglobin: 6.9 g/dl), thrombocytopenia (platelets: 16,000/mm[3]), markedly elevated D-dimers, hypofibrinogenemia (<80 mg/dl) with prolonged prothrombin time and activated partial thromboplastin time. Contrast-enhanced magnetic resonance imaging showed diffuse thickening of the soft tissue of left side of the scalp, preseptal tissue of left orbit and left side of the face without intraorbital or intracranial extension [Figure - 2]. Ultrasound abdomen and pelvis was done to rule out the involvement of liver and spleen and was found to be normal. Based on clinical and biochemical findings, a diagnosis of Kasabach–Meritt phenomenon was considered and the child was treated with prednisolone 20 mg per day (2.5 mg/kg/day) orally along with 1 mg sirolimus once daily under blood pressure and biochemical monitoring. Besides this, the child received 2–3 units of random donor platelets transfusion per day in initial 7 days to maintain a platelet count above 20,000/mm[3]. Sirolimus troughs were measured after 2 weeks which was within the target levels (8–12 ng/ml). After day 10 of therapy, there was a significant improvement in clinical and biochemical parameters [Figure - 1]b. By day 30, only minimally perceptible residual erythema on lateral part of left half of the face was present and the hematological and coagulation profile returned to normal [Figure - 1]c. Following this, the dose of prednisolone was rapidly tapered and stopped at 2 months, while sirolimus was continued at the same dose. There was no recurrence of Kasabach–Meritt phenomenon at 4 months of follow-up. Biopsy of the lesion was deferred as trauma has been implicated as a perpetuating factor.[1]
Figure 2: Contrast.enhanced magnetic resonance imaging showed diffuse thickening of soft tissue of left side of scalp, preseptal tissue of left orbit and left side of the face (red arrow)
Kasabach–Meritt phenomenon is a potentially life-threatening condition characterized by thrombocytopenic consumptive coagulopathy with a reported mortality of 20–30%.[2],[3] This phenomenon is almost exclusively associated with Kaposiform hemangioendotheliomas and tufted angiomas.[4] Abnormal platelet activation and aggregation, secondary to interaction with abnormal tumor endothelium, results in localized trapping of the platelets. This leads to consumption of clotting factors that has been hypothesized as the pathomechanism.[2],[4] Platelet activation and aggregation is itself a self-perpetuating process. Dense bodies of activated platelets release adenosine diphosphate which acts locally to activate more platelets. Besides this, turbulent blood flow in small slit-like capillaries can also lead to Kasabach–Meritt phenomenon, especially in Kaposiform hemangioendothelioma.[4]
Kasabach–Meritt phenomenon has been treated with various interventions such as corticosteroids, vincristine, interferons, aspirin, embolization, radiotherapy and surgery.[4] Oral corticosteroids have been frequently used; however, larger case series have shown a success rate of steroid monotherapy range from 0 to 27% on long term.[4] Vincristine, a vinca alkaloid, is widely used because of good efficacy and considered as the first line of medical therapy but has the drawback of neurological complications and relatively late response with average response time of 4 weeks.[4],[5] Recently, sirolimus has been tried. It acts by inhibiting mammalian target of rapamycin which leads to downstream signaling for vascular endothelial growth factor-1/2 and 3 receptors—the growth receptors for angiogenesis and lymphangiogenesis. Recent reports have shown its efficacy in Kasabach–Meritt phenomenon as rapid stabilization of hematological parameters as well as a reduction in tumor size. In a series of six patients of Kaposiform hemangioendothelioma with Kasabach–Meritt phenomenon treated with oral sirolimus, there was an improvement in thrombocytopenia at 5.3 days and stabilization of platelet counts at 15.1 days of therapy which was almost similar to our case.[4],[6] Though the response to treatment in Kasabach–Meritt phenomenon is usually rapid, the duration of treatment is yet to be optimized as the vascular tumor continues to be present even after stoppage of therapy in most of the cases.
We used a combination therapy of prednisolone and sirolimus in our case and found significant improvement within a short period. Thus, this combination can be used for rapid regression of Kasabach–Meritt phenomenon.
Declaration of patient consent
The authors certify that they have obtained all appropriate patient consent forms. In the form, the legal guardian has given his consent for images and other clinical information to be reported in the journal. The guardian understands that names and initials will not be published and due efforts will be made to conceal patient identity, but anonymity cannot be guaranteed.
Financial support and sponsorship
Nil.
Conflicts of interest
There are no conflicts of interest.
References
1.

Kim T, Roh MR, Cho S, Chung KY. Kasabach-Merritt syndrome arising from tufted angioma successfully treated with systemic corticosteroid. Ann Dermatol 2010;22:426-30.

[Google Scholar]
2.

Bhari N, Jangid BL, Pahadiya P, Singh S, Arava S, Kumar A, et al. Tufted angioma with recurrent Kasabach-Merritt phenomenon. Indian J Dermatol Venereol Leprol 2016; 84:121.

[Google Scholar]
3.

Arunachalam P, Kumar VR, Swathi D. Kasabach-Merritt syndrome with large cutaneous vascular tumors. J Indian Assoc Pediatr Surg 2012;17:33-6.

[Google Scholar]
4.

O'Rafferty C, O'Regan GM, Irvine AD, Smith OP. Recent advances in the pathobiology and management of Kasabach-Merritt phenomenon. Br J Haematol 2015;171:38-51.

[Google Scholar]
5.

Haisley-Royster C, Enjolras O, Frieden IJ, Garzon M, Lee M, Oranje A, et al. Kasabach-Merritt phenomenon: A retrospective study of treatment with vincristine. J Pediatr Hematol Oncol 2002;24:459-62.

[Google Scholar]
6.

Oza VS, Mamlouk MD, Hess CP, Mathes EF, Frieden IJ. Role of sirolimus in advanced Kaposiform hemangioendothelioma. Pediatr Dermatol 2016;33:e88-92.

[Google Scholar]
Show Sections