Quiz
doi: 10.4103/ijdvl.IJDVL_634_16
PMID: 28485309
Reticulate erythema with ulceration
Rajsmita Bhattacharjee1 , Keshavamurthy Vinay1 , Dipankar De1 , Anindita Sinha2 , Uma Nahar Saikia3
1 Department of Dermatology, Venereology, and Leprology, Postgraduate Institute of Medical Education and Research, Chandigarh, India
2 Department of Radiodiagnosis, Postgraduate Institute of Medical Education and Research, Chandigarh, India
3 Department of Histopathology, Postgraduate Institute of Medical Education and Research, Chandigarh, India

Correspondence Address:
Dipankar De
Department of Dermatology, Venereology, and Leprology, Postgraduate Institute of Medical Education and Research, Chandigarh - 160 012
India

How to cite this article:
Bhattacharjee R, Vinay K, De D, Sinha A, Saikia UN. Reticulate erythema with ulceration. Indian J Dermatol Venereol Leprol 2017;83:622-624
Copyright: (C)2017 Indian Journal of Dermatology, Venereology, and Leprology
Report of a Case
A 60-year-old woman presented to the dermatology outpatient department of the Postgraduate Institute of Medical Education and Research, Chandigarh with a painful, erythematous lesion of 1-year duration on the right buttock. There were superficial ulcerations at two places for 2 months. The lesions had not responded to multiple therapeutic agents, including oral antibiotics and topical corticosteroid cream. Her medical history was not significant for any systemic disease including underlying thromboembolic events and she had never smoked.
On examination, lacy, nonblanchable, reticular erythema diffusely involving the right buttock was seen. Two ulcers of size 5 cm × 3 cm and 2 cm × 2 cm covered with hemorrhagic crust were present [Figure - 1]. There was no local raise in temperature or any underlying bruit. Femoral, popliteal, posterior tibial and dorsalis pedis pulsations were palpable on both sides. No gangrene or clinical signs of chronic venous insufficiency were observed. There was no lymphadenopathy. A skin punch biopsy was obtained and submitted for histopathological examination [Figure 2a] and [Figure 2b].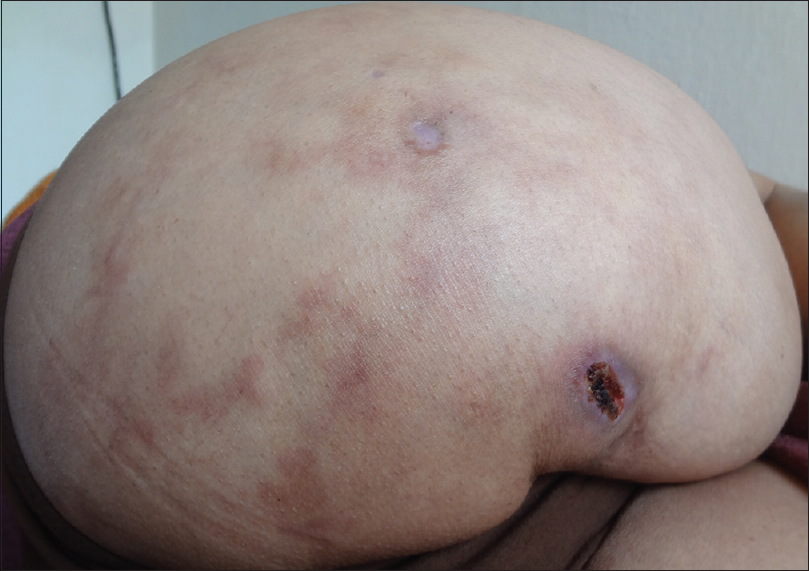 Figure 1: Lacy reticular erythema diffusely involving the right buttock. Two ulcers of size 5 cm × 3 cm and 2 cm × 2 cm covered by hemorrhagic crust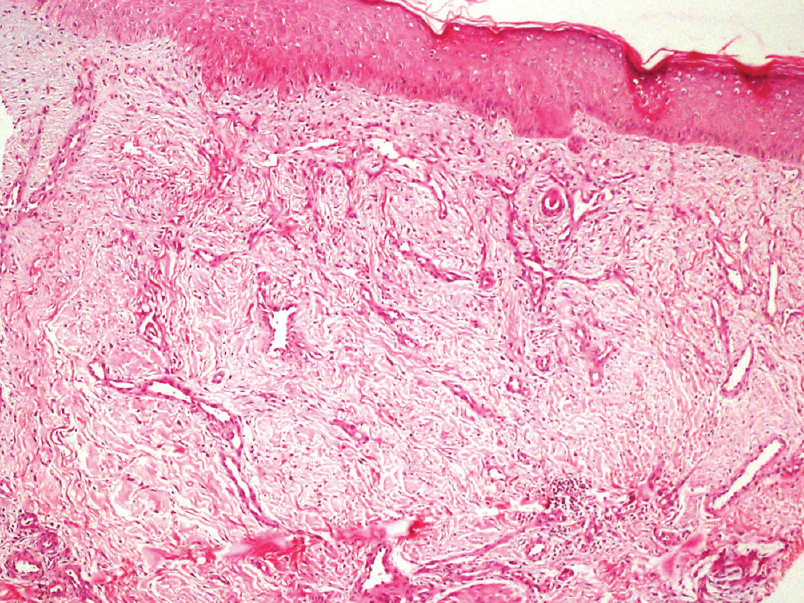 Figure 2a: Photomicrograph showing epidermis with flattened rete pegs, with proliferating and anastomosing small vessels in the dermis (H and E, ×100)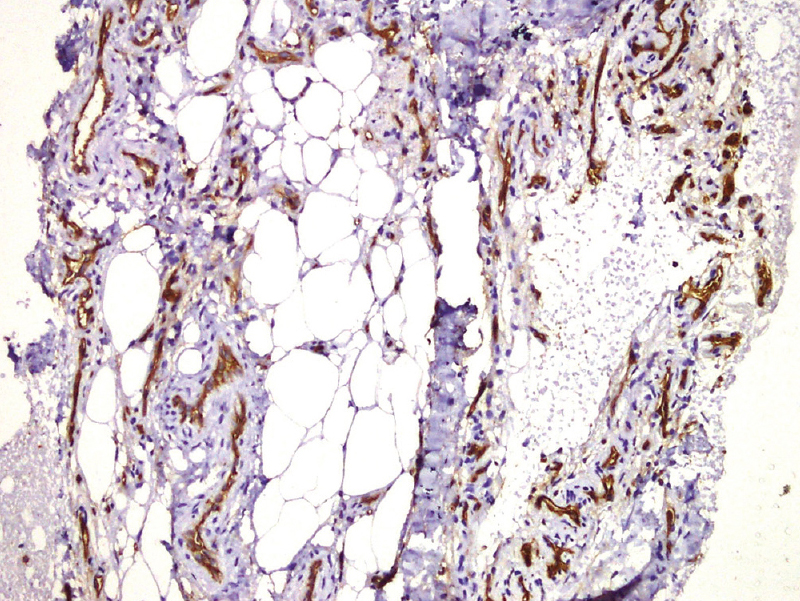 Figure 2b: Photomicrograph showing CD31 positivity in the endothelial cells of the vessels (IHC, ×200)
Investigations and Follow-Up
Biopsy showed diffuse proliferation of CD31 positive endothelial cells throughout the dermis [Figure - 2]. Direct immunofluorescence was negative. Serum antinuclear antibody and antiphospholipid antibody were negative. Coagulogram, kidney function tests and serum lipid profile were normal. Computed tomographic angiography of abdominal aorta and lower limb vessels revealed short segment partial thrombosis of the anterior division of right internal iliac artery.
Question
What is the diagnosis?
References
1.

Rongioletti F, Rebora A. Cutaneous reactive angiomatoses: Patterns and classification of reactive vascular proliferation. J Am Acad Dermatol 2003;49:887-96.

[Google Scholar]
2.

Kim S, Elenitsas R, James WD. Diffuse dermal angiomatosis: A variant of reactive angioendotheliomatosis associated with peripheral vascular atherosclerosis. Arch Dermatol 2002;138:456-8.

[Google Scholar]
3.

Kimyai-Asadi A, Nousari HC, Ketabchi N, Henneberry JM, Costarangos C. Diffuse dermal angiomatosis: A variant of reactive angioendotheliomatosis associated with atherosclerosis. J Am Acad Dermatol 1999;40:257-9.

[Google Scholar]
4.

Pichardo RO, Lu D, Sangueza OP, Guitart J. What is your diagnosis? Diffuse dermal angiomatosis secondary to anitcardiolipin antibodies. Am J Dermatopathol 2002;24:502-3.

[Google Scholar]
5.

Ely H. Pentoxifylline therapy in dermatology. A review of localized hyperviscosity and its effects on the skin. Dermatol Clin 1988;6:585-608.

[Google Scholar]
Show Sections