Translate this page into:

Letter to the Editor
doi: 10.4103/0378-6323.93645
PMID: 22421658
Rhabdomyolysis associated with roxithromycin hypersensitivity syndrome
Qingtao Kong, Hong Sang, Min Zhang, Meihua Zeng, WX Hu, DQ Deng, XL Wang, F Liu, GF Wang
Department of Dermatology, Jinling Hospital, Medical School of Nanjing University, Nanjing, China

Correspondence Address:
Hong Sang
Department of Dermatology, Jinling Hospital, Medical School of Nanjing University, Nanjing 210002
China

How to cite this article:
Kong Q, Sang H, Zhang M, Zeng M, Hu W X, Deng D Q, Wang X L, Liu F, Wang G F. Rhabdomyolysis associated with roxithromycin hypersensitivity syndrome. Indian J Dermatol Venereol Leprol 2012;78:197-199
Copyright: (C)2012 Indian Journal of Dermatology, Venereology, and Leprology
Sir,
Roxithromycin, a macrolide antibiotic, is effective against acne associated with inflammation. Moreover, it has anti-androgenic activity in the treatment of acne. [1] Roxithromycin hypersensitivity is a very rare complication. [2] We now describe a patient who had a generalized erythema with fever, lymphadenopathy, hepatic cytolysis and rhabdomyolysis (RM) caused by the antibiotic roxithromycin.
A 20-year-old female was hospitalized for fever and a generalized erythematous skin rash for 7 days. She had no significant past medical history or other drug use. The patient had taken roxithromycin for 2 weeks because of acne. After taking 1 week of roxithromycin, she developed a fever (39.2°C) and generalized erythema with itching, nonpitting edema, myalgias and limb weakness.
Physical examination indicated pea to walnut-sized enlarged axillary and inguinal lymph nodes, all with clear boundaries and movable. Skin examination demonstrated nonpitting edema, flushing over the face area and extremities, slight scaling and erythema scattered on the whole body [Figure - 1]. Laboratory tests showed eosinophil count 1.67 × 10 9 /L, alanine transaminase (ALT) 214 U/L, aspartate aminotransferase (AST) 105 U/L, creatine kinase (CK) 926 U/L, CK-MB 53 U/L, lactate dehydrogenase (LD) 519 U/L, myoglobin 608 ng/ml, serum creatinine 155 μ mol/L and serum urea 13.4 mmol/L. The other blood chemistries and urinalysis were normal. Right inguinal lymphnode biopsy and immunohistological examination ruled out malignancy. Bone marrow smears suggested eosinophilia. Electromyogram revealed myogenic damage. A putative diagnosis of roxithromycin hypersensitivity syndrome accompanied by RM was made.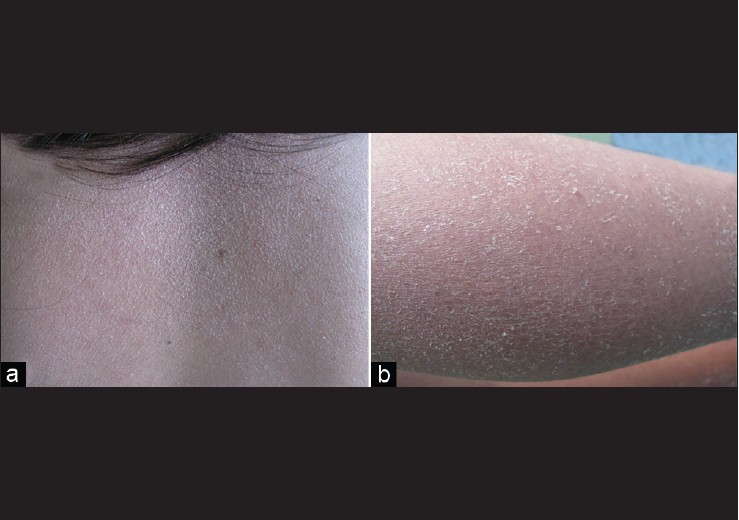 Figure 1: The skin lesion in the back (a) and right lower extremity (b) of the girl with flushing, slight scaling and erythema
The roxithromycin was discontinued. She was given methylprednisolone injection (40 mg daily), compound glycyrrhizin injection and fluid replacement therapy. After a week′s treatment, the patient′s clinical symptoms disappeared, the fever resolved completely, liver function (ALT 39 U/L, AST 19 U/L) and renal function (serum creatinine 76 μ mol/L, serum urea 6.7 mmol/L) tests returned to normal, her CK level was 36 U/L and her CK-MB level was 13 U/L. She was discharged afterwards and required follow-up, which showed a stable healthy state.
Drug hypersensitivity syndrome (DHS) is a severe, multi-system reaction to a medication. It is defined by the triad of fever, skin eruption and internal organ involvement (e.g., hepatitis, nephritis or pneumonitis). The most frequent etiologic agents are allopurinol, anticonvulsants and sulfonamides. In addition, atenolol, captopril, dapsone, isoniazid, trimethoprim and nonsteroidal anti-inflammatory drugs can cause hypersensitivity.
RM is a syndrome of rapid breakdown (lysis) of striated muscle due to multiple reasons (e.g., ischemic, pharmaceutical, toxic or infectious) that leads to the release of myoglobin, CK and LD into the systemic circulation. It presents a triad of muscle pain, weakness and reddish-brown urine. It is often associated with life-threatening complications, such as metabolic disorders as well as acute renal failure (ARF). CK is the most sensitive indicator; it indicates RM when it is higher than 500 U/L. Urine myoglobin test is both sensitive and specific for the early diagnosis of ARF.
DHS accompanied by RM is very rare. We reviewed all the reports available online through MEDLINE and found only three cases of the two diseases occurring together described [Table - 1]. [3],[4],[5] In the present case, the patient developed a rash and a fever accompanied with elevated liver enzymes and swollen lymph nodes after drug exposure, consistent clinically with DHS. At the same time, the patient experienced limb weakness and myalgias and standard blood test revealed a elevation of CK, myoglobin and LD, in addition to a renal damage, which confirms RM. [5] Both conditions can be produced by roxithromycin. The treatment of choice for DHS is methylprednisolone. For RM, an infusion of 5% sodium bicarbonate 500-700 ml/d can effectively prevent the myoglobin sedimentation in renal tubules. The supporting treatment is also necessary. In this case, we used compound glycyrrhizin injection to protect the liver, along with methylprednisolone, and supporting treatments included fluid replacement, rectification of acidosis and diuretics. After a week′s treatment, the patient was cured and discharged, with no recurrence during a follow-up of 6 months. This case suggests that special attention should be paid to signs of drug hypersensitivity syndrome and RM during prescription of drugs in clinic.

Table 1: The patients' information statistics of drug hypersensitivity syndrome accompanied by rhabdomyolysis
References
1.

Inui S, Nakao T, Itami S. Modulation of androgen receptor transcriptional activity by anti-acne reagents. J Dermatol Sci 2004;36:97-101.

[Google Scholar]
2.

Chew GY, Hawkins CA, Cherian M, Hurwitz M. Roxithromycin induced hypersensitivity pneumonitis. Pathology 2006;38:475-7.

[Google Scholar]
3.

Rahman Z, Weinberg J, Scheinfeld N. Minocycline hypersensitivity syndrome manifesting with rhabdomyolysis. Int J Dermatol 2002;41:530-1.

[Google Scholar]
4.

Compton MR, Crosby DL. Rhabdomyolysis associated with azathioprine hypersensitivity syndrome. Arch Dermatol 1996;132:1254-5.

[Google Scholar]
5.

Fontaine C, Guiard-Schmid JB, Slama L, Essid A, Lukiana T, Rondeau E, et al. Severe rhabdomyolysis during a hypersensitivity reaction to abacavir in a patient treated with ciprofibrate. AIDS 2005;19:1927-8.

[Google Scholar]
Show Sections