Translate this page into:

Letter to Editor
PMID: 23974594
Rubinstein-Taybi syndrome: A report of two siblings with unreported cutaneous stigmata
Shuchi Bansal, Vineet Relhan, Vijay K Garg
Department of Dermatology, Maulana Azad Medical College and Lok Nayak Hospital, New Delhi, India

Correspondence Address:
Vineet Relhan
35-F, Sector-7, SFS Flats, Jasola Vihar - 110 025, New Delhi
India

How to cite this article:
Bansal S, Relhan V, Garg VK. Rubinstein-Taybi syndrome: A report of two siblings with unreported cutaneous stigmata. Indian J Dermatol Venereol Leprol 2013;79:714-717
Copyright: (C)2013 Indian Journal of Dermatology, Venereology, and Leprology
Sir,
Rubinstein-Taybi syndrome is a rare congenital neurodevelopment disorder characterized by facial dysmorphism, growth retardation, mental deficiency and a variety of systemic abnormalities. [1] Less than 30 cases have been reported so far in the published Indian literature. Diagnosis is often delayed due to non-familiarity with the classical diagnostic features of the syndrome. Dermatological stigmata like hirsutism, hemangiomas, keloids and pilomatricomas have been described but there is not enough evidence to support their consistent association with the syndrome. [2] We report multiple exuberant keloids, dermatoglyphic abnormalities and vitiligo along with other classical features in two siblings with Rubinstein-Taybi syndrome. Cutaneous stigmata seen in the previous reports have also been reviewed.
A 18-year-old male born out of consanguinous marriage presented to the outpatient department of our tertiary care hospital with multiple raised scars over the body for 8 years. The lesions appeared spontaneously without any history of preceding trauma, pustular lesions, injections, or burns. There was history of occasional itching in the lesions. Patient gave history of similar lesions, though of a lesser severity in the elder brother.
On examination, there were multiple keloidal scars present over the chest, abdomen, shoulders, back and thighs [Figure - 1]. The patient had distinct facial features with an antimongoloid slant of palpebral fissures, thick eyebrows, long eyelashes, a prominent beaked nose and less developed alae nasi [Figure - 2]a. The columella extended well below the nares. The ears were small, and posteriorly rotated. Microstomia with hypoplastic maxilla were present. Intraoral examination revealed a high arched palate. The teeth in the upper jaw were malpositioned and most of them showed caries, though talon cusps, a distinct finding in this syndrome was not observed in our patient [Figure - 2]b.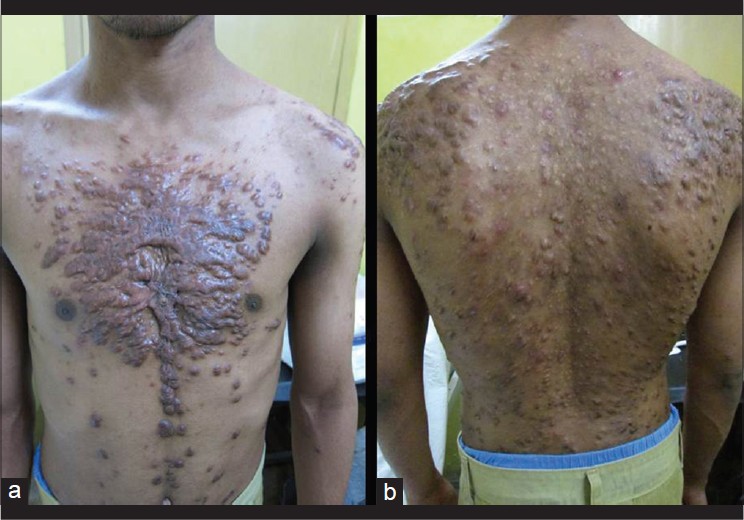 Figure 1: Patient showing multiple keloidal scars over chest, abdomen and back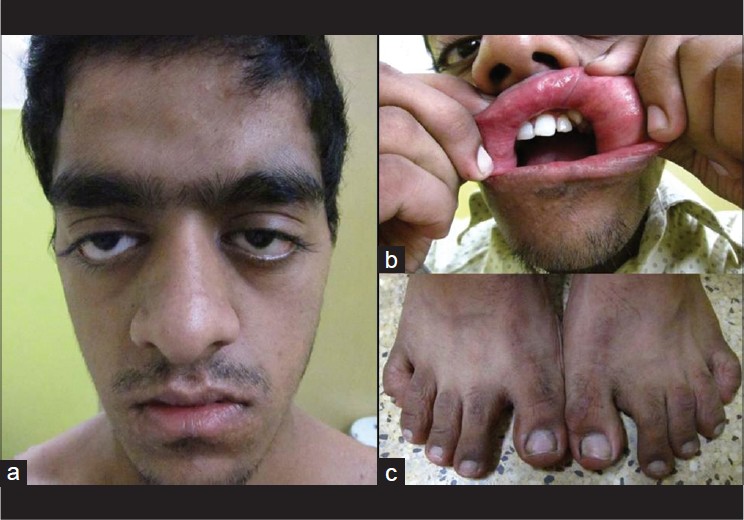 Figure 2: (a) Dysmorphic facial features with antimongoloid slant of palpebral fi ssures, thick eyebrows, prominent beaked nose and hypoplastic maxilla (b) Intraoral examination showing malpositioned teeth in the upper jaw (c) Examination of the feet revealing short and broad halluces
The gait, muscle tone and overall anthropometric measurements of the patient were within normal limits. He had broad thumbs and broad short halluces [Figure - 2]c. The middle finger of the left hand was slightly deviated towards the ulnar side [Figure - 3]a. The patient also showed supernumerary digital flexion creases on the middle finger of right hand, and index and ring fingers of left hand [Figure - 3]b.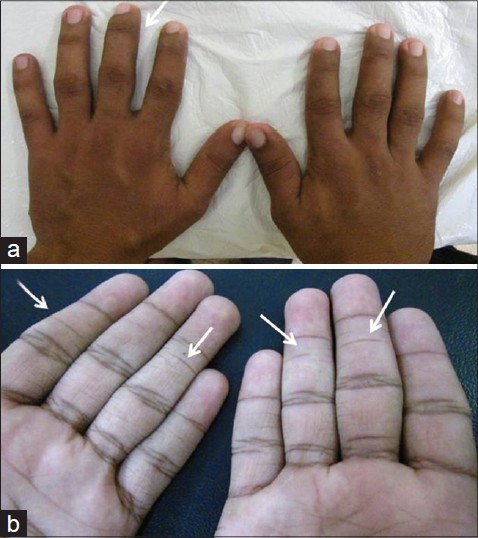 Figure 3: (a) Middle finger of left hand showing deviation towards ulnar side (arrow) (b) Supernumerary digital flexion creases appreciated on the index and ring fingers of left hand and middle and ring fingers of right hand (arrows)
There was mild mental retardation. The electrocardiography and echocardiography did not show any abnormality. Rest of the neurological, ophthalmological, genitourinary, audiological and skeletal examinations were normal.
The patients′ elder brother also showed multiple keloidal scars over the chest and back, though the extent and severity was lesser. He also had broad thumbs and broad toes and showed dysmorphic facial features, including antimongoloid slant of palpebral fissures, ptosis of the left upper eyelids, a prominent beaked nose and low set ears [Figure - 4]. The patient also had a high refractive error in both eyes for which he had to wear high power spectacles. He had mild mental retardation and speech difficulty, including articulatory problem and stuttering. Interestingly, he also had vitiligo involving the areolar area of both nipples [Figure - 4].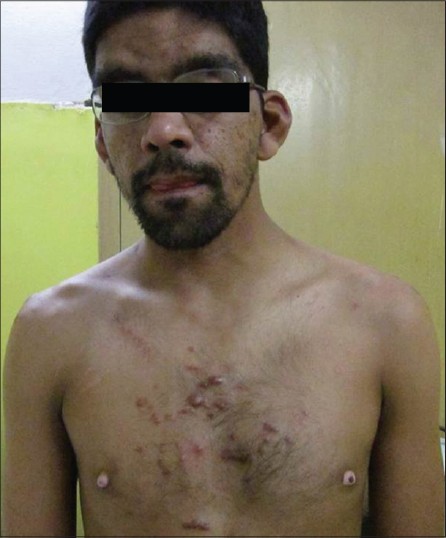 Figure 4: Elder brother of the patient showing dysmorphic facial features (antimongoloid slant of palpebral fi ssures, ptosis of left upper eyelid, prominent beaked nose and low set ears) with multiple keloidal scars over the chest and vitiligo involving areolar area of both nipple
The parents and the other three siblings of the affected patients did not have keloids or any other features of the syndrome.
Rubinstein-Taybi syndrome or Broad Thumb-Hallux syndrome was first described by Michail et al. in 1957 and then reported by Rubinstein and Taybi in a series of seven cases in 1963. Since then, a number of reports have come up and many new features have been added to the syndrome. Mutations and chromosomal rearrangements in the gene encoding the CREB (cAMP response element binding protein), also known as (CREBBP/CBP) located on 16p13.3 have been found in few patients diagnosed with the syndrome. [3] The gene functions as a transcriptional co-activator and in the regulation of cell growth, cellular differentiation, tumor suppression, and long-term memory. The disease commonly occurs sporadically; very few cases have been reported to occur in more than one member of the family. [4] The presence of disease in siblings born to apparently unaffected parents and the finding of consanguinity strongly suggests autosomal recessive transmission in our patients.
Apart from the classical facial and skeletal anomalies, various other features have been described like stiff gait, hypotonia, hyperextensible joints, congenital heart defects, cryptorchidism, feeding problems, constipation and increased risk of tumors.
Cutaneous features have also been described, but due to paucity of literature, further evidence is required to confirm if the findings are a consistent part of the syndrome or not. The most frequent associations have been hirsutism and capillary malformations. Keloids were first described by Kurwa [5] and then subsequently reported in few other patients. Pilomatricomas have also been described in a few reports but whether the association is due to a contiguous gene syndrome or a mere coincidence is difficult to assess. [6]
Another interesting finding seen is the dermatoglyphic abnormalities like increase in frequency of arches, additional apical triradius on the thumb or great toe, single transverse palmar crease and deep plantar crease in first interdigital area. The presence of supernumerary digital flexion creases as in our patient has not been described in previous cases of Rubinstein-Taybi syndrome, though the finding has been reported in few cases of Alagille syndrome. [7]
The presence of vitiligo as in our patient has also not been reported in association with the syndrome before. Since genetic factors play an important role in the development of vitiligo lesions, a possible common genetic etiology cannot be excluded for the occurrence of vitiligo in our patient.
Diagnosis primarily rests upon the classical clinical features of the syndrome. Treatment requires a multidisciplinary approach. In the first year of life, specific attention should be paid to feeding problems, constipation, lacrimal duct stenosis and congenital heart defects. Undescended testes in males can be surgically corrected. Treatment of extensive keloids is often disappointing. Early recognition of malignancy increases the chances of successful intervention.
This report demonstrates two cases of Rubinstein-Taybi syndrome with their unique dermatological features. Though keloids have been reported before, further evidence is required to confirm if vitiligo and dermatoglyphic findings seen in our patients are regularly associated with the syndrome. The report also favors an autosomal recessive mode of inheritance, which has rarely been reported for the syndrome, and encourages further genetic studies to substantiate this finding.
References
1.

Stevens CA, Carey JC, Blackburn BL. Rubinstein-Taybi syndrome: A natural history study. Am J Med Genet Suppl 1990;6:30-7.

[Google Scholar]
2.

Hsiung SH. Rubinstein-Taybi syndrome (broad thumb-hallux syndrome). Dermatol Online J 2004;10:2.

[Google Scholar]
3.

Bartsch O, Schmidt S, Richter M, Morlot S, Seemanová E, Wiebe G, et al. DNA sequencing of CREBBP demonstrates mutations in 56% of patients with Rubinstein-Taybi syndrome (RSTS) and in another patient with incomplete RSTS. Hum Genet 2005;117:485-93.

[Google Scholar]
4.

Hennekam RC, Lommen EJ, Strengers JL, Van Spijker HG, Jansen-Kokx TM. Rubinstein-Taybi syndrome in a mother and son. Eur J Pediatr 1989;148:439-41.

[Google Scholar]
5.

Kurwa AR. Rubinstein-Taybi syndrome and spontaneous keloids. Clin Exp Dermatol 1979;4:251-4.

[Google Scholar]
6.

Cambiaghi S, Ermacora E, Brusasco A, Canzi L, Caputo R. Multiple pilomatricomas in Rubinstein-Taybi syndrome: A case report. Pediatr Dermatol 1994;11:21-5.

[Google Scholar]
7.

Kamath BM, Loomes KM, Oakey RJ, Krantz ID. Supernumerary digital flexion creases: An additional clinical manifestation of Alagille syndrome. Am J Med Genet 2002;112:171-5.

[Google Scholar]
Show Sections