Soaks and compresses in dermatology revisited
Dermatology, Venereology and Leprology, KMC Manipal

,

Manipal

,

Karnataka
1
Department of Dermatology and Venereology, All India Institute of Medical Sciences

,

New Delhi

,

India
Corresponding author: Dr. Geetali Kharghoria, Department of Dermatology and Venereology, All India Institute of Medical Sciences, New Delhi, India. geetalikharghoria@gmail.com
Received: , Accepted: ,
© 2022 Published by Scientific Scholar on behalf of Indian Journal of Dermatology, Venereology and Leprology
Licence
This is an open-access article distributed under the terms of the Creative Commons Attribution-Non Commercial-Share Alike 4.0 License, which allows others to remix, transform, and build upon the work non-commercially, as long as the author is credited and the new creations are licensed under the identical terms.
How to cite this article: Kayarkatte MN, Kharghoria G. Soaks and compresses in dermatology revisited. Indian J Dermatol Venereol Leprol doi: 10.25259/IJDVL_580_2021
Soaks have been one of the traditional methods of treatment as evidenced by the use of potassium permanganate soaks dating to the late 19th century to treat an infection. Current practice advocates the use of various types of soaks in clinical practice, and it poses a tricky question to answer for a beginner.
Condy's soaks
History
The use of potassium permanganate dates back to the 1850s when Henry Bollman Condy advocated it as a surface disinfectant, water purifier and cleanser for infected wounds. It became popular as Condy's fluid.1
Mechanism of action
Astringent: it draws water out of the cells leading to drying of oozy lesions.

It is an oxidising agent liberating nascent oxygen, responsible for its antibacterial and anti-fungal properties.2

Anti-pruritic and anti-inflammatory properties.
Indications
Weeping lesions of dermatitis atopic dermatitis, allergic contact dermatitis or irritant contact dermatitis.3

Chronic leg ulcers—venous ulcers and diabetic ulcers.4

Oozing lesions of bullous disorders like pemphigus foliaceus or vulgaris.

Haemorrhagic crusts over the vermillion lip in Stevens-Johnson syndrome.

Condy's gargles may be used for the management of oral ulcers. However, extra dilutions are needed for mucosal surfaces to prevent irritation and paradoxical ulceration.
Available form
Crystals are available in India and some companies provide 400 mg sachets of crystals. In the United Kingdom, it is available in the form of 400 mg tablets for dissolution, and liquid.3
Storage
It is advisable to store it in a dry and airtight packet.
Preparation of soaks
The preparation used for medicinal purposes is diluted to 1:10,000 which is usually achieved by dissolving 400 mg of potassium permanganate in 4 L of water.5 However, in clinical practice an easy way to educate patients is to dilute the solution to reach a colour that matches the pink colour of ones nail bed [Figure 1]. Caution should be exercised that the bottom of container remains visible, i.e., the colour becomes hazy to semi-transparent due to dilution without any visible crystals. Some may even recommend a separate smaller container to dissolve the crystals, followed by pouring of stronger concentrate into the bucket/tub for soaking. This avoids crystals in the bucket as they settle in the smaller container. The contact time for soak solution should be < 15 minutes as oxidation makes it ineffective.5 There is no need to rinse with water at the end of procedure.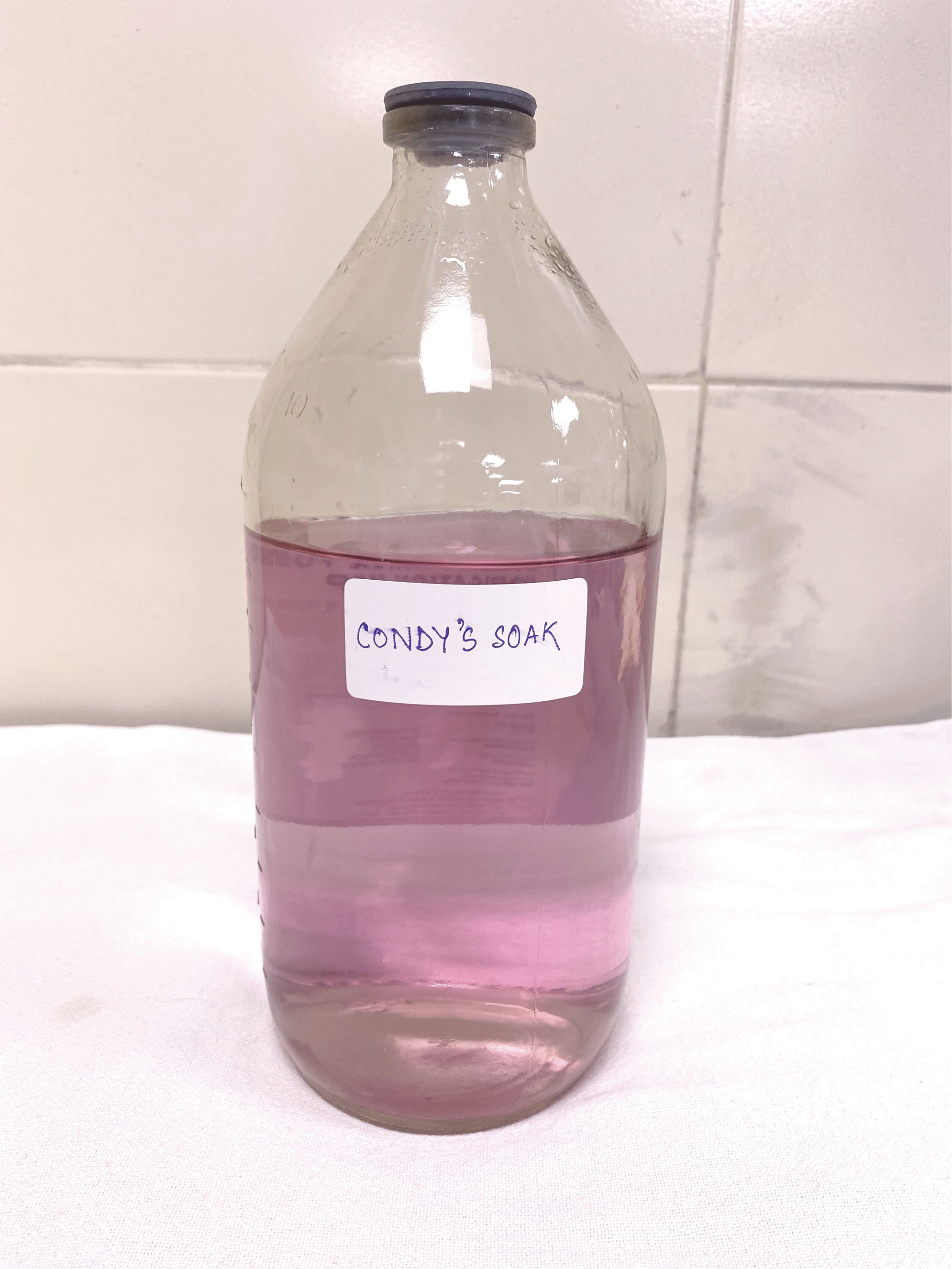 The soak maybe applied by dipping the affected area in the solution in a bucket or bath depending on the size and site of involved area. Extra care is necessary for genitals. Another effective method is the application of gauze swabs or clean cotton soft cloth folded in several layers soaked in Condy's solution on the affected areas, called Condy's compresses (preferably dipping/soaking the gauge piece every 3-4 minutes for 10-15 minutes [Figure 2]. Yellowish-brown discoloration of the solution indicates its end of effectiveness.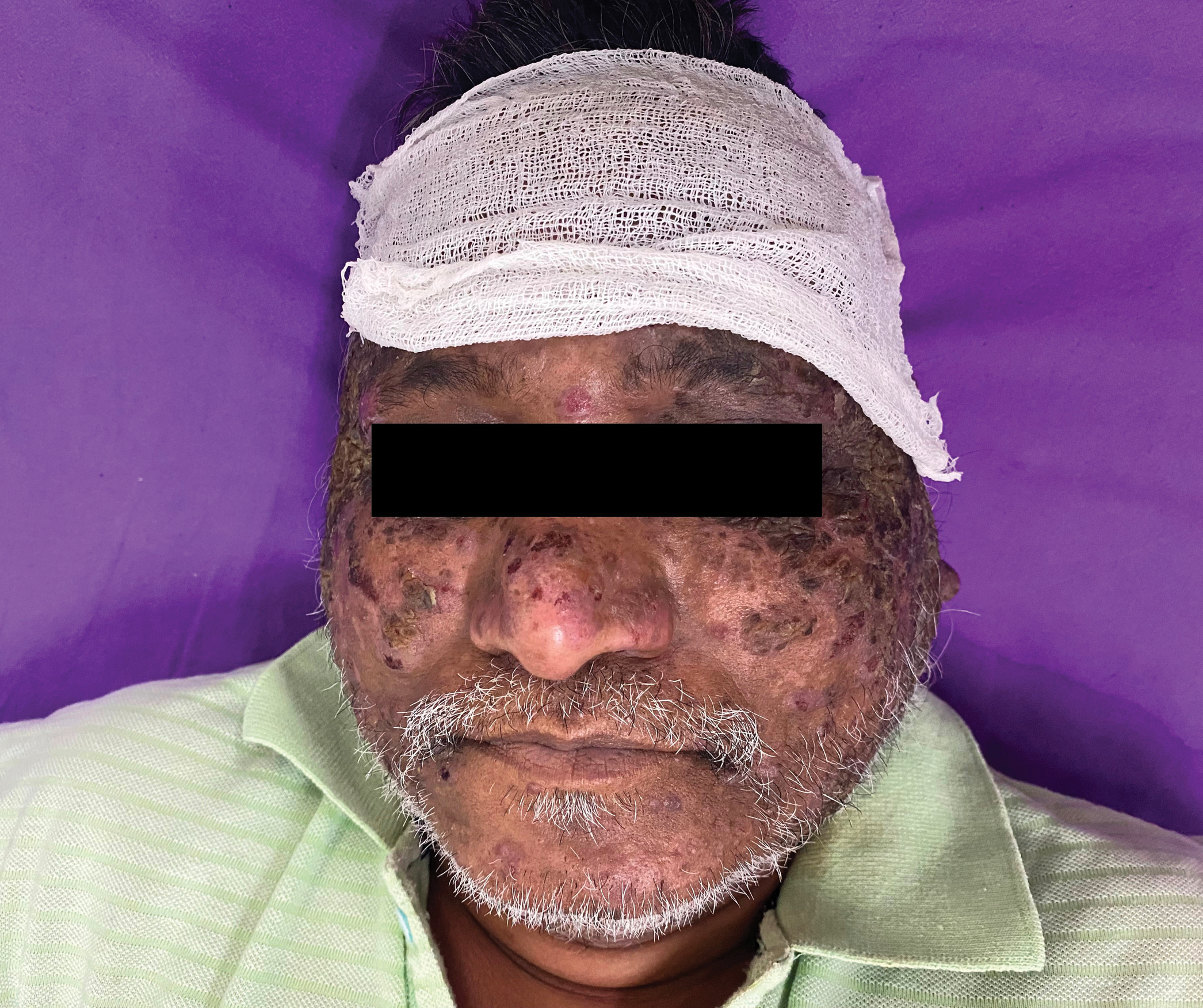 Side effects and their prevention
It is corrosive and maycause burns; hence the extra precaution for dilutions and ensuring complete and uniform dissolution of the crystals [Figure 3]. Special care is needed to avoid its contact with mucosae.

Temporary skin and nail discolouration are common. Nails can be covered with paraffin to prevent this. Fresh stains over the skin can be removed by rubbing a damp tablet of vitamin C over the affected areas.

Patients should be warned about the staining of fabrics and ceramic vessels/bathtubs.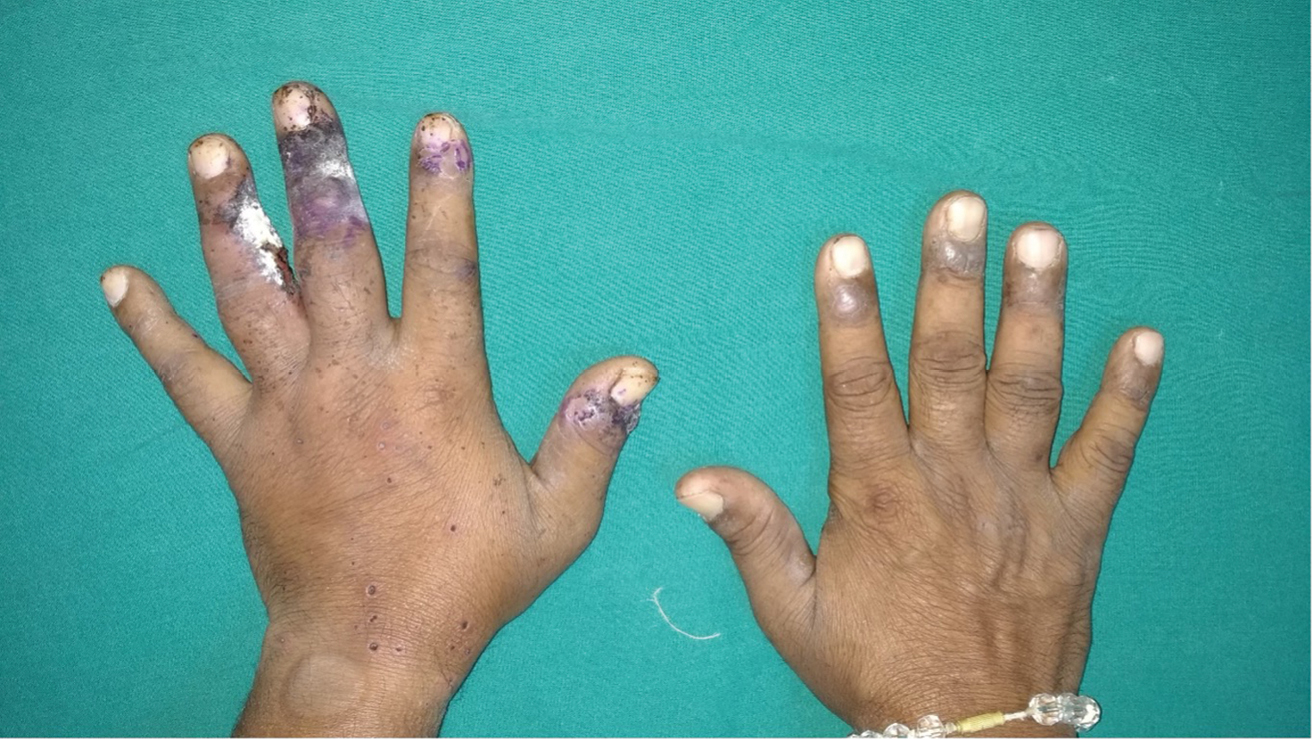 Declaration of patient consent
The authors certify that they have obtained all appropriate patient consent.
Financial support and sponsorship
Nil.
Conflicts of interest
There are no conflicts of interest.
Show Sections