Translate this page into:

Letter to the Editor
doi: 10.4103/0378-6323.152304
PMID: 25751350
Sweet's syndrome associated with chronic neutrophilic leukemia
Sukhjot Kaur1 , Amit Bery2 , Bhavna Garg3 , Neena Sood3
1 Department of Dermatology and Venereology, Dayanand Medical College and Hospital, Ludhiana, India
2 Department of Internal Medicine, Dayanand Medical College and Hospital, Ludhiana, India
3 Department of Pathology, Dayanand Medical College and Hospital, Ludhiana, India

Correspondence Address:
Sukhjot Kaur
Department of Dermatology and Venereology, Dayanand Medical College and Hospital, Ludhiana
India

How to cite this article:
Kaur S, Bery A, Garg B, Sood N. Sweet's syndrome associated with chronic neutrophilic leukemia. Indian J Dermatol Venereol Leprol 2015;81:203-206
Copyright: (C)2015 Indian Journal of Dermatology, Venereology, and Leprology
Sir,
Sweet′s syndrome is characterized by fever, leucocytosis, tender erythematous plaques and nodules, and a dense dermal neutrophilic infiltrate. [1] It has been reported in association with both hematologic malignancies and solid organ tumors. [2] We report a patient of chronic neutrophilic leukemia (CNL), presenting with Sweet′s syndrome. We were able to find only one previous report of this association. [3]
A 33-year-old male presented with a 3-week history of skin lesions over face, neck, and upper limbs accompanied by intense burning sensation, fever, anorexia, and myalgia. His past medical history was unremarkable. Examination revealed multiple, well defined, violaceous, edematous, papules and plaques, over the entire face, front and back of neck, retroauricular area, extensor aspect of arms, dorsal aspect of both hands, and fingers. The surface showed pseudovesiculation and marked edema [Figure - 1] and [Figure - 2]. Similar lesions developed over dorsum of both feet and lower legs over the next few days. There was conjunctival congestion, hepatomegaly and marked splenomegaly, but no lymphadenopathy or oral erosions. Investigations revealed leucocytosis of 71.8 × 10 9 /L (reference range 4-10 × 10 9 /L) with a differential count of 81% neutrophils, 7% lymphocytes, 1% monocytes, 3% eosinophils, 5% myelocytes, and 3% metamyelocytes. The immature myeloid precursors were less than 10%, without blasts, and basophils or toxic granules were not seen. Hemoglobin was 10.2 g/dL, and platelet count was 9 × 10 9 /L (reference range 150-410 × 10 9 /L). Erythrocyte sedimentation rate (ESR) was 115 mm/h (reference range 0-20 mm/h), C-reactive protein was 171.2 mg/L (reference range 0-6 mg/L), and serum lactate dehydrogenase was 463 U/L (135-225 U/L). Leukocyte alkaline phosphatase (LAP) score was 120 (reference range: 20-120). Serum vitamin B 12 levels were 2000 pg/ml (reference value 191-663 pg/ml). Liver and renal function tests, urine analysis, thyroid profile were normal; screening for antinuclear antibodies and serology for Hepatitis B, C and human immunodeficiency virus was negative. Blood and urine cultures were sterile and test for stool occult blood was negative. Chest X-ray was normal while computed tomography (CT) scan of abdomen revealed marked splenomegaly with peripheral hypo-dense, non-enhancing areas suggestive of infarcts. Histopathology of skin lesions showed a diffuse neutrophilic infiltrate within the upper dermis, dermal edema, and prominent leucocytoclasia [Figure - 3]. No immature or atypical cells, granuloma formation or microorganisms were detected. Based on these features, the diagnosis of Sweet′s syndrome was established [Table - 1]. Peripheral blood findings were suggestive of a leukemoid reaction or a chronic myeloproliferative neoplasm. Bone marrow aspiration smears showed a hypercellular marrow exhibiting myeloid hyperplasia with myeloid: erythroid ratio of 8:1. The myeloid series showed an orderly cell maturation having no prominence of blast cells, eosinophils or their precursors. Erythroid series showed normoblastic maturation and megakaryocytes were normal in number and morphology. There was no prominence of plasma cells or dysplasia in any lineage [Figure - 4]a. Bone marrow biopsy showed a hypercellular marrow exhibiting marked myeloid hyperplasia. Both megakaryocytes and erythroid precursors were identified. No fibrosis was noted [Figure - 4]b. BCR/ABL gene translocation assay showed negative results, thus excluding the major, minor, and micro breakpoints corresponding to p210, p190, p230 kDa proteins. No mutations were observed in the JAK2 gene.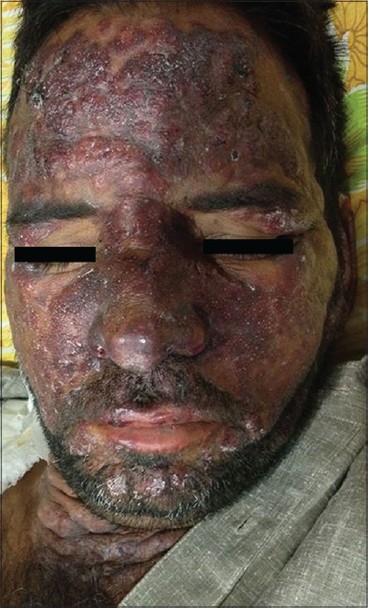 Figure 1: Violaceous plaques with pseudovesiculation over face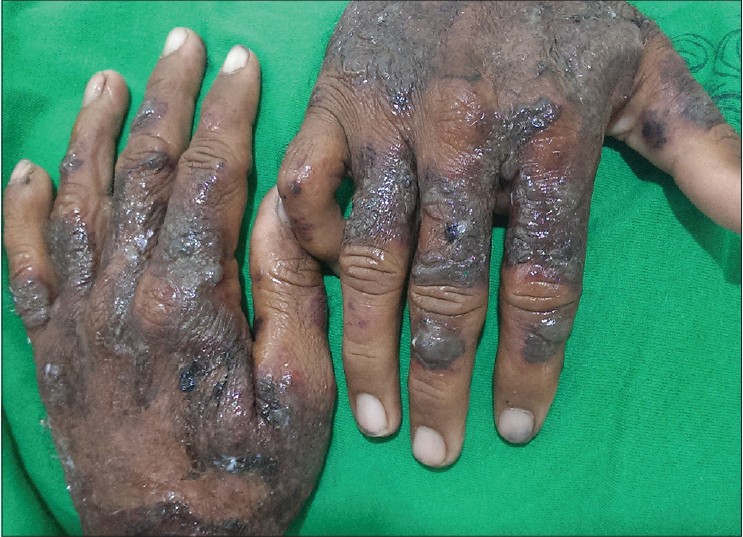 Figure 2: Well defined violaceous plaques and vesicobullous lesions on dorsal surface of hands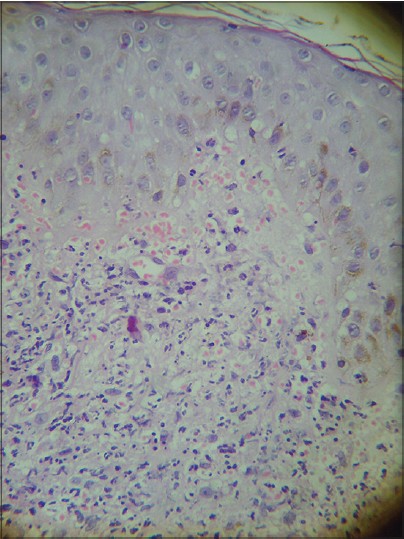 Figure 3: Histopathology of skin lesion showing a dense neutrophilic infiltrate in the dermis (H and E 400×)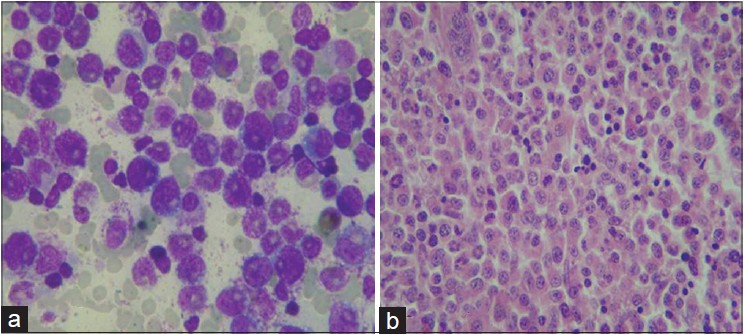 Figure 4: (a) Bone marrow aspiration showing marked myeloid hyperplasia. No prominence of blast cells seen (Giemsa stain 1000×). (b) Bone marrow biopsy exhibiting hypercellular marrow and myeloid hyperplasia without blasts (H and E 400×)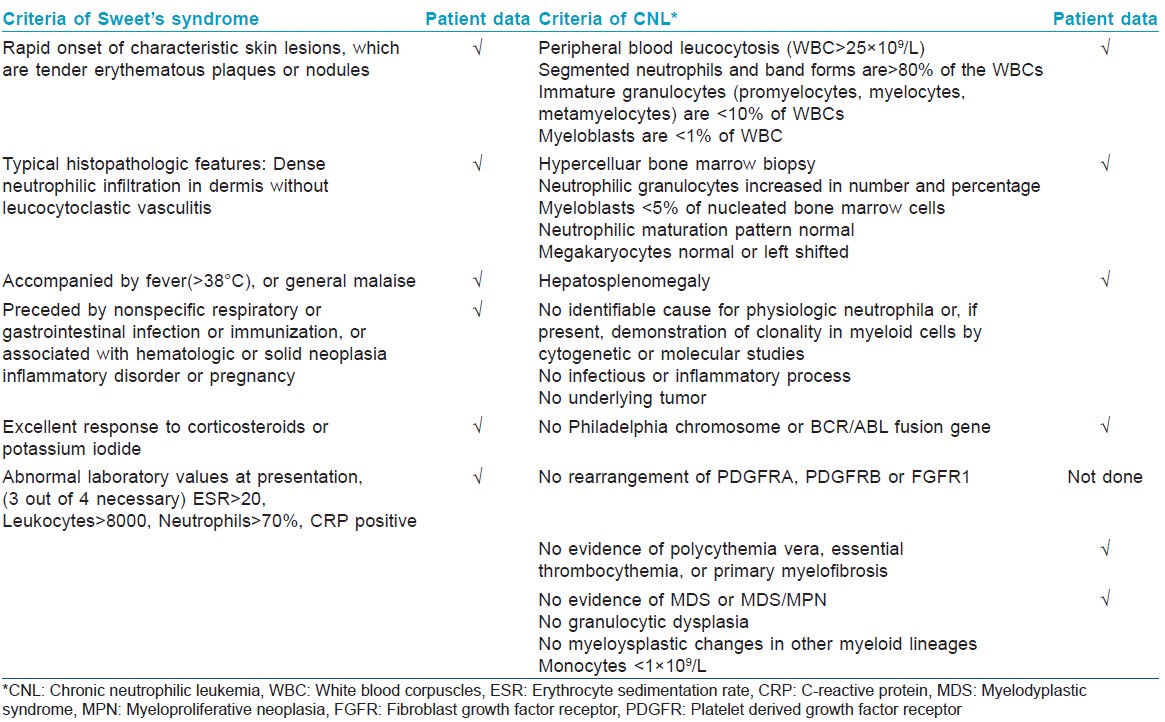 Table 1: Diagnostic criteria of Sweet's syndrome and Chronic Neutrophilic Leukemia and the corresponding patient data
Among the myeloproliferative neoplasms, chronic myeloid leukemia (CML), atypical CML, and chronic neutrophilic leukemia were the most important conditions in the differential diagnosis. The first two conditions were excluded in view of mature neutrophilic leucocytosis, absence of immature precursors, or basophilia, normal leukocyte alkaline phosphatase score and negative results for BCR/ABL. Absence of thrombocytosis, megakaryocytic hyperplasia in bone marrow and negative JAK2 mutation excluded polycythemia vera and essential thrombocythemia. Absence of fibrosis ruled out primary myelofibrosis and absence of eosinophilia excluded chronic eosinophilic leukemia. Lack of evidence of any infective pathology or solid malignancy based on histopathology, microbiology and imaging studies, lack of toxic granules and a normal leukocyte alkaline phosphatase score, went against the diagnosis of leukemoid reaction.
With these findings, a final diagnosis of chronic neutrophilic leukemia associated with Sweet′s syndrome was established [Table - 1]. Prednisolone 1 mg/kg/day and hydroxyurea 500 mg/day was initiated along with supportive therapy. Corticosteroids were gradually tapered and his skin lesions regressed. Currently he is in remission, with normal blood counts and is continuing treatment with hydroxyurea 500 mg/day.
Malignancy associated or paraneoplastic Sweet′s syndrome, in which either the onset or recurrence of the dermatosis is temporally associated with the presence of malignancy, is currently considered a distinct subset. [1] It has an equal incidence in males and females and is characterized by recurrent episodes, more frequent extracutaneous manifestations and a lack of preceding upper respiratory tract infection. [1],[2] Clinically, ulcerated plaques, nodules, vesicles, and bullae are noticed more often. [2] A hematologic malignancy or a solid tumor was present in approximately 21% of patients newly diagnosed with Sweet′s syndrome. [2] About 85% patients had underlying hematopoetic neoplasia, while 15% had solid malignancies. [2] A good response is observed with systemic corticosteroids. Several other drugs are useful in these patients [Table - 2]. [1],[2]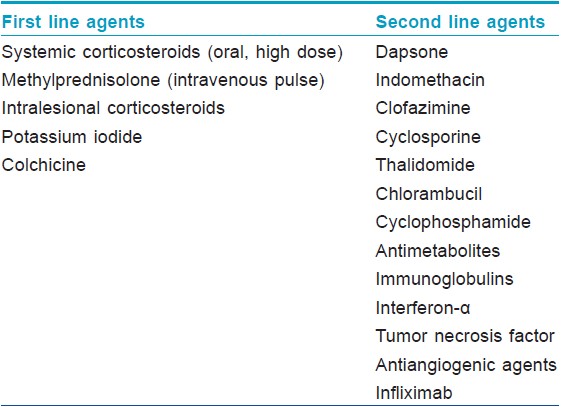 Table 2 [1,2] : Drugs used for treatment of malignancy associated Sweet's syndrome
Chronic neutrophilic leukemia is a rare myeloproliferative neoplasm characterized by sustained peripheral blood neutrophilia, bone marrow hypercellularity due to neutrophilic granulocyte proliferation, hepatospenomegaly and no Philadelphia chromosome or BCR/ABL 1 fusion gene. [4] Prognosis is poor with a mean survival time of approximately 2 years. [4] The diagnosis requires exclusion of reactive neutrophila and other myeloproloferative neoplasms, [5] which were ruled out by appropriate laboratory investigations in our case.
References
1.

Raza S, Kirkland RS, Patel AA, Shortridge JR, Freter C. Insight into Sweet's syndrome and associated-malignancy: A review of the current literature. Int J Oncol 2013;42:1516-22.

[Google Scholar]
2.

Cohen PR, Kurzrock R. Sweet's syndrome and Cancer. Clin Dermatol 1993;11:149-57.

[Google Scholar]
3.

Castanet J, Lacour JP, Garnier G, Perrin C, Taillan B, Fizibet JG, et al. Neutrophilic dermatosis associated with chronic neutrophilic leukemia. J Am Acad Dermatol 1993;29:290-2.

[Google Scholar]
4.

Bain BJ, Brunning RD, Vardiman J, Thiele J. Chronic neutrophilc leukemia. In: Swerdlow, Campo E, Harris NL, editors. International Agency for research on cancer. WHO Classification of Tumours of Hematopoeitic and Lymphoid tissue. Geneva, Switzerland: World Health Organization; 2008. p. 38-9.

[Google Scholar]
5.

Neureiter D, Kemmerling R, Ocker M, Seidhofer C, Faber V, Stocher M, et al. Differential diagnostic challenge of chronic neutrophilic leukemia in a patient with prolonged leucocytosis. J Hematop 2008;1:23-7.

[Google Scholar]
Show Sections