Switching immune sensitizer agents in refractory alopecia areata as a valuable therapeutic strategy a retrospective case series
Department of Dermatology, University Hospital Dr. José Eleuterio González, Madero y Gonzalitos S/N Col. Mitras Centro

,

Monterrey, Nuevo León

,

Mexico
Corresponding Author: Dr. Maira Elizabeth Herz-Ruelas, Department of Dermatology, University Hospital Dr. José Eleuterio González, Madero y Gonzalitos S/N Col. Mitras Centro, Monterrey, Nuevo León, Mexico. mairaherz@yahoo.com
Received: , Accepted: ,
© 2022 Indian Journal of Dermatology, Venereology and Leprology - Published by Scientific Scholar
Licence
This is an open-access article distributed under the terms of the Creative Commons Attribution-Non Commercial-Share Alike 4.0 License, which allows others to remix, transform, and build upon the work non-commercially, as long as the author is credited and the new creations are licensed under the identical terms.
How to cite this article: Herz-Ruelas ME, Ocampo-Candiani J, Gómez-Flores M, Martínez-Rico JC, Chávez-Alvarez S, Rivera-Izaguirre BC. Switching immune sensitizer agents in refractory alopecia areata as a valuable therapeutic strategy a retrospective case series. Indian J Dermatol Venereol Leprol 2022;88:845-8.
Sir,
Alopecia areata is an autoimmune hair disorder that can affect any hair-bearing region of the body. Treatments include topical, intralesional, and systemic medications.1 When considering immunotherapy, guidelines suggest using diphenylcyclopropenone, with subsequent consideration of squaric acid dibutylester in nonresponders.2
After approval by the local research and ethical committee (DE21-00004), a retrospective analysis of cases from the immunotherapy clinic database of the dermatology department at the Dr. José Eleuterio González University Hospital of the U.A.N.L., in Monterrey, Mexico was conducted. Patients who had been treated with both diphenylcyclopropenone and squaric acid dibutylester were identified. Medical records were examined and several variables were evaluated [Table 1]. Informed consent had been obtained prior to treatment. Patients were sensitized with 2% diphenylcyclopropenone or squaric acid dibutylester in a 5 cm2 alopecic patch. After eight hours the immune sensitizer was removed and the patient returned to the clinic three weeks later for treatment starting with a low concentration such as 0.001% and gradual increments according to the patient's response and tolerance.
Characteristic
Patient #
1
2
3
4
5
6
7
8
9
10
Gender
F
M
F
F
M
F
F
F
M
F
Age (years)
8
10
20
17
16
35
17
8
10
47
Personal medical history
Allergic rhinitis, generalised anxiety disorder
-
Vitiligo
Allergic rhinitis
-
-
Obesity, separation anxiety disorder, hypertriglyceridemia, hypothyroidism
Atopic dermatitis
Major depression
Syphilis
Duration (years)
4
5
19
3
11
20
15
2
4
7
# Episodes
1
1
2
1
1
1
2
1
1
2
Clinical variant of AA
AU
AU
AT
AT
AU
AT
AU
AS
AV
AT
Primary immune sensitizer
SADBE
SADBE
SADBE
SADBE
DPCP
DPCP
DPCP
SADBE
DPCP
DPCP
# Application treatments
72
80
41
47
44
45
18
35
49
26
Secondary immune sensitizer
DPCP
DPCP
DPCP
DPCP
SADBE
SADBE
SADBE
DPCP
SADBE
SADBE
# Application treatments
23
70
120
32
35
83
30
37
39
35
SALT score prior to primary sensitizer
S5
S5
S4
S4
S5
S5
S5
S4
S2
S4
SALT score prior to secondary sensitizer
S5
S5
S3
S4
S4
S4
S3
S3
S2
S3
Reason to switch to secondary contact sensitizer
Tolerance, relapse with first sensitizer
Tolerance, relapse with first sensitizer
Minimal response, lack of cosmetically acceptable outcome
Lack of response with first sensitizer
Tolerance, relapse with first sensitizer
Lack of response with first sensitizer
Development of urticaria
Minimal response, lack of cosmetically acceptable outcome
Lack of response with first sensitizer
Minimal response, lack of cosmetically acceptable outcome
Final SALT score
S5
S5
S1
S4
S4
S1
S1
S1
S1
S1
Response category after switch
Non responder
Non responder
Partial
Non responder
Non responder
Excellent
Partial
Partial
Partial
Partial
Assessment of therapeutic regrowth was based on the Severity of Alopecia Tool (SALT): S0 = no hair loss, S1 = <25% hair loss, S2 = 25-49%, S3 = 50-74%, S4 = 75-99% and S5 = 100% hair loss. Clinical response was classified as excellent (>75% reduction in SALT score), partial (reduction 25-74%), and minimal response (reduction of <25%). Patients were classified as non-responders when the SALT score remained unchanged.3,4 If there was no hair regrowth, nor a cosmetically acceptable outcome, patients were switched to a second sensitizer, depending on which one they received initially. Ten patients treated with both agents were identified from a total of 54 patients treated at the immunotherapy clinic from September 2009 to November 2020, seven females and three males, ages ranging from 8 to 47 years. The alopecia areata pattern was universalis in 5 (50%), totalis in 3 (30%), sisaipho in 1 (10%) and vulgaris in 1 (10%).
The SALT score before squaric acid dibutylester as initial treatment was S5 in two patients and S4 in three. The SALT score at the time of switching, was S5 in two, S4 in one and S3 in two. Two initially responded to the primary sensitizer but developed tolerance, two had a minimal response and one had no improvement. When switched to secondary agent, three continued to be unresponsive and two improved from S3 to S1 achieving a partial response.
Before treatment with diphenylcyclopropenone as the first sensitizer, the SALT score was S5 in three, S4 in one and S2 in one. The SALT score at the time of switching to squaric acid dibutylester was S4 in two, S3 in two and S2 in one. One patient developed tolerance to diphenylcyclopropenone, one had minimal improvement, two had lack of response and one was switched to squaric acid dibutylester because of urticaria. Four improved to S1, including the latter achieving an excellent response in one and a partial response in the other three, thus one continued to be unresponsive.
Switching was done after 18-80 treatments corresponding to 5-20 months. Side effects were observed in all patients, the most common being pruritus and erythema. Patients showing benefit with the second sensitizer, continue to have adequate disease control and are scheduled every 2-3 months for immunotherapy of limited affected areas.
Alopecia areata is a chronic relapsing disease with an unpredictable course. Patients with <40-50% patchy scalp involvement may present spontaneous regrowth within one year from onset without treatment. In more severe cases, topical immunotherapy has been used with encouraging results.
Information is lacking regarding the real benefit and expectations when treating with a secondary agent when unresponsive to a first sensitizer.1 Van der Steen et al. reported the use of squaric acid dibutylester in 15 patients who developed tolerance to diphenylcyclopropenone showing total regrowth in three and cosmetically acceptable regrowth in four, helping almost half of re-treated patients.5
In our study, six patients had excellent outcomes achieving a final S1 score and remarkable cosmetic results [Figures 1a-e]. Although an S0 score was not achieved, and limited lesions remained, the quality of life was strikingly improved. While more studies are required to reach definitive conclusions, it seems that trying a second sensitizing agent after an initial failure to respond, might help nearly half of re-treated patients according to our experience and the Van DerSteen report.5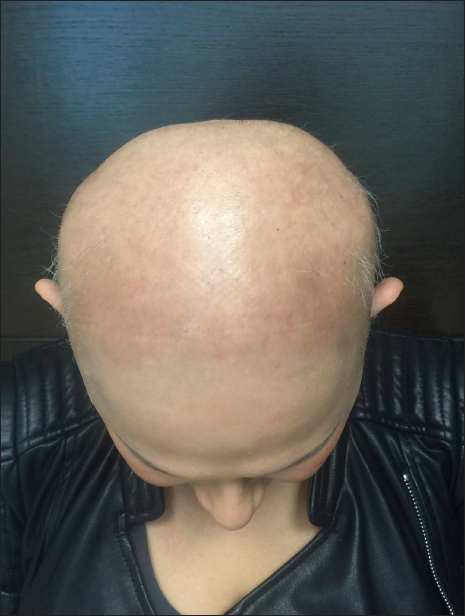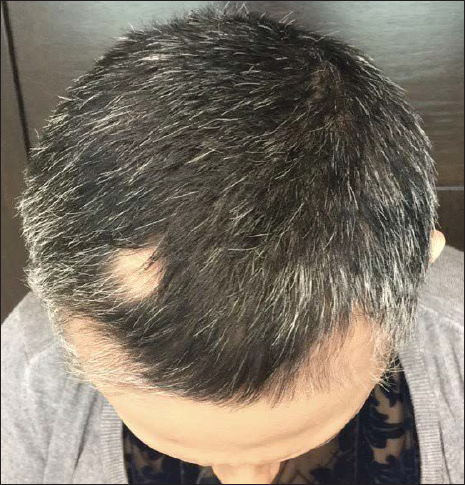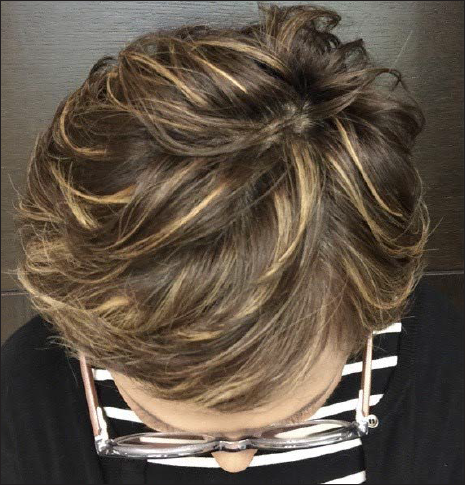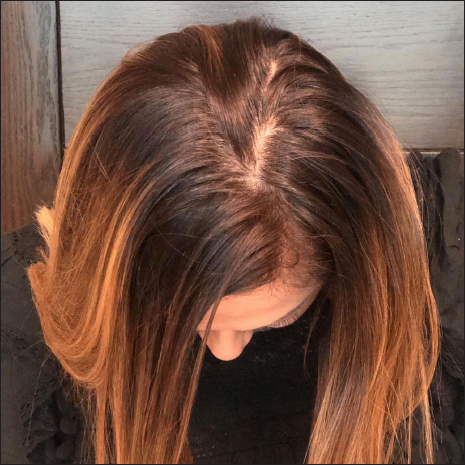 Immunotherapy continues to be a first-line therapeutic alternative due to its excellent safety profile and adequacy for long-term use. It seems that there is a potential value in re-treatment with a second contact sensitizer in non-responders or in those who have developed tolerance. Based on our small study, we could suggest that switching to squaric acid dibutylester might provide better results than switching to diphenylcyclopropenone.
Acknowledgement
We thank Sergio Lozano-Rodriguez, M. D. for his help in editing the manuscript.
Declaration of patients consent
The authors certify that they have obtained all appropriate patient consent.
Financial support and sponsorship
Nil.
Conflicts of interest
There are no conflicts of interest.
Show Sections