Net Quiz
doi: 10.4103/0378-6323.37083
Symmetrical erythematous annular and scaly patches
Najeeba Riyaz, Uma Rajan, KB Anuradha
Department of Dermatology, Medical College, Calicut, India

Correspondence Address:
Najeeba Riyaz
Arakkal Chalapuram, Calicut - 673002, Kerala
India

How to cite this article:
Riyaz N, Rajan U, Anuradha K B. Symmetrical erythematous annular and scaly patches. Indian J Dermatol Venereol Leprol 2007;73:446
Copyright: (C)2007 Indian Journal of Dermatology, Venereology, and Leprology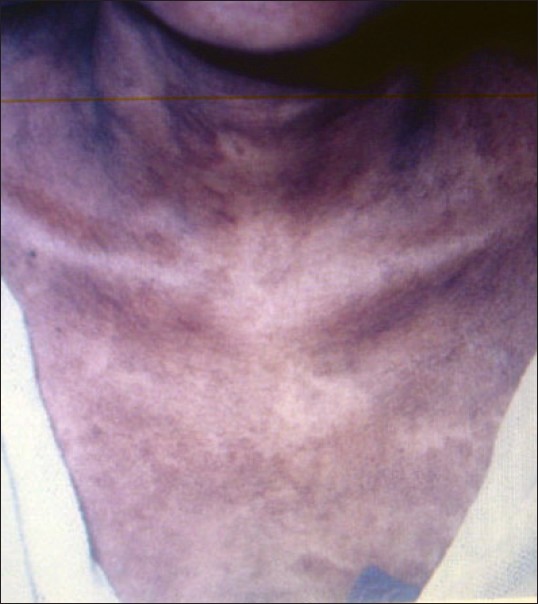 Figure 4: Improvement of skin lesions after surgery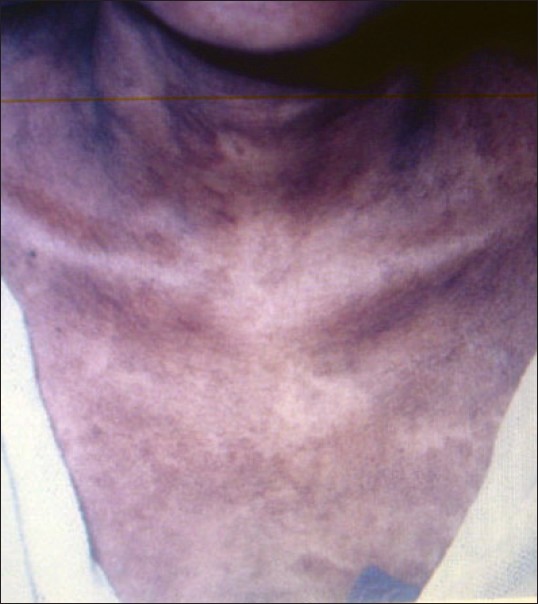 Figure 4: Improvement of skin lesions after surgery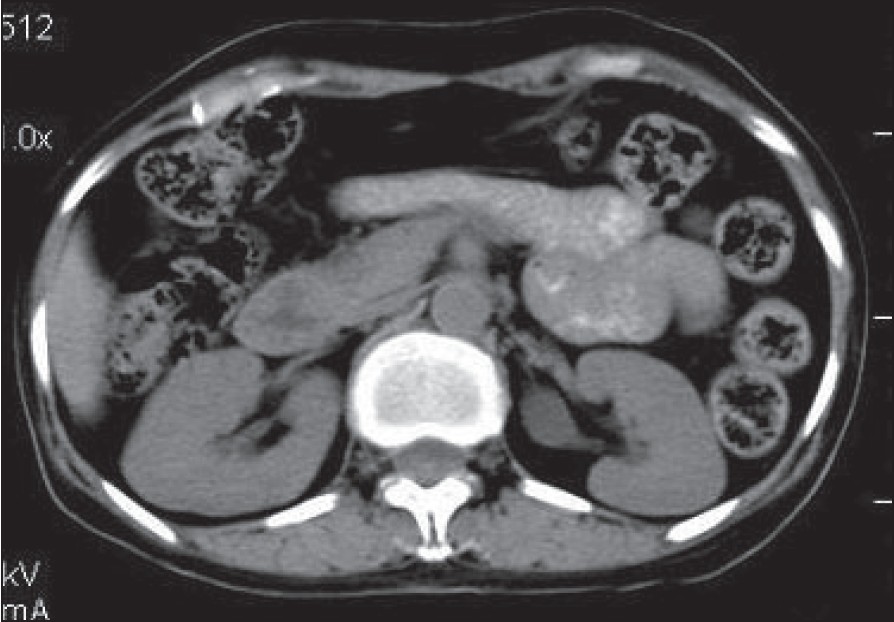 Figure 3: CT scan of the abdomen showing a well-enhanced, soft tissue lesion 56 x 40 x 30 mm in size with a speck of calcification in the tail of the pancreas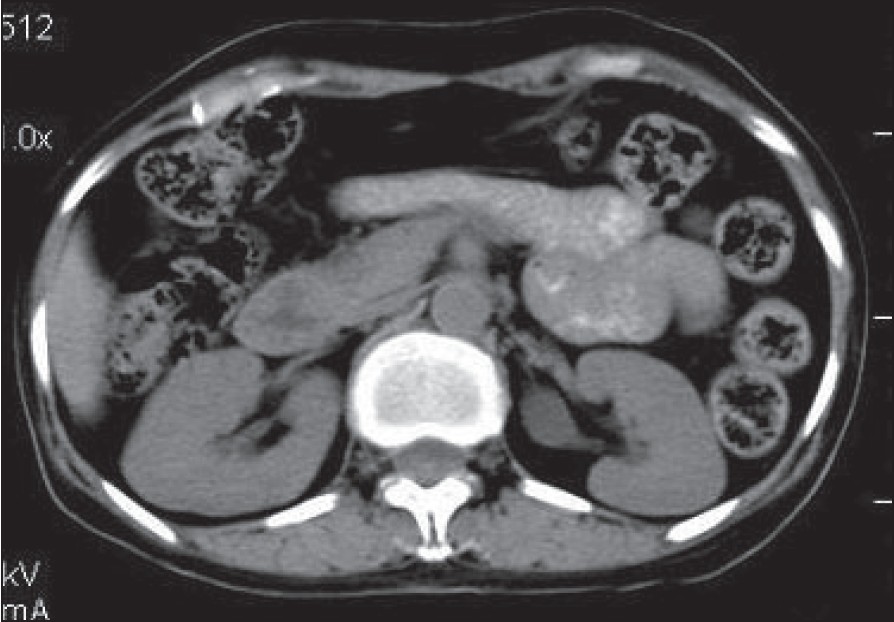 Figure 3: CT scan of the abdomen showing a well-enhanced, soft tissue lesion 56 x 40 x 30 mm in size with a speck of calcification in the tail of the pancreas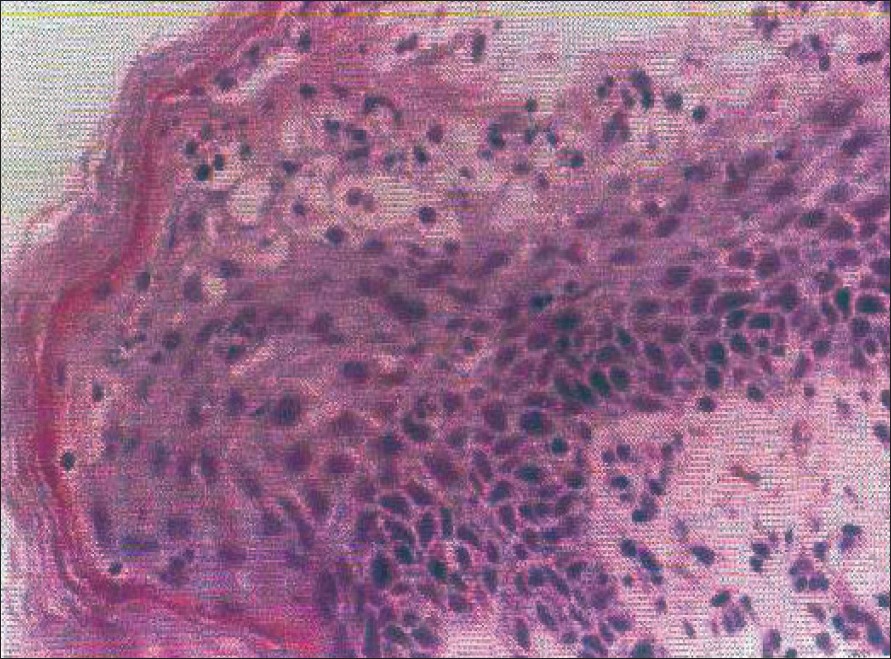 Figure 2: Intraepidermal cleft and vacuolated pale epidermal cells (H and E, x400)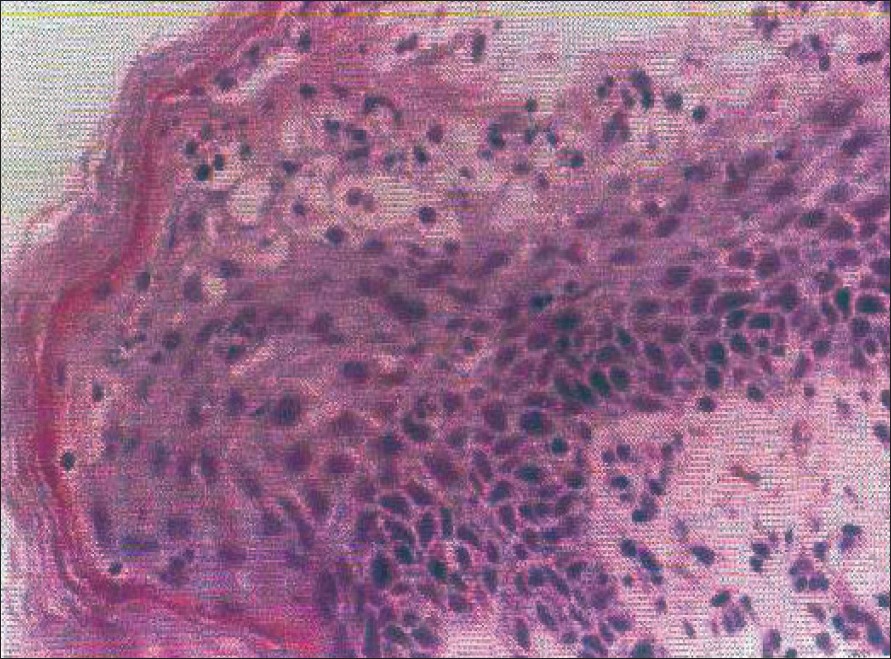 Figure 2: Intraepidermal cleft and vacuolated pale epidermal cells (H and E, x400)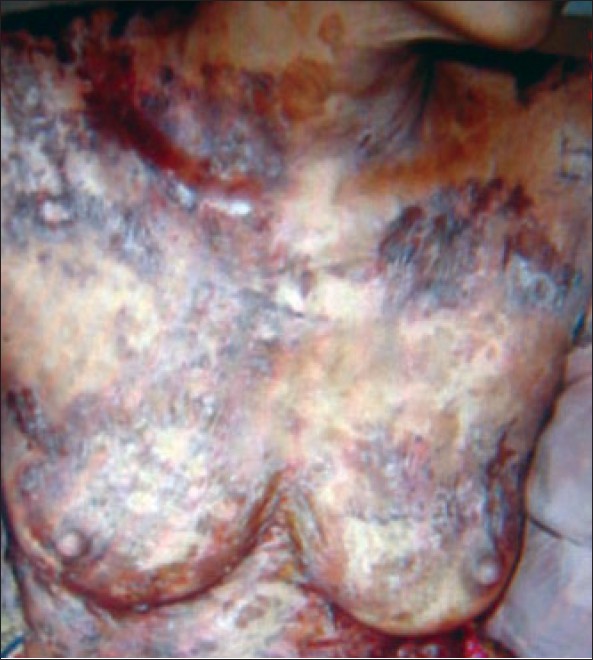 Figure 1: Erythematous scaly annular and serpiginous plaques with areas of erosions and pigmentation on the trunk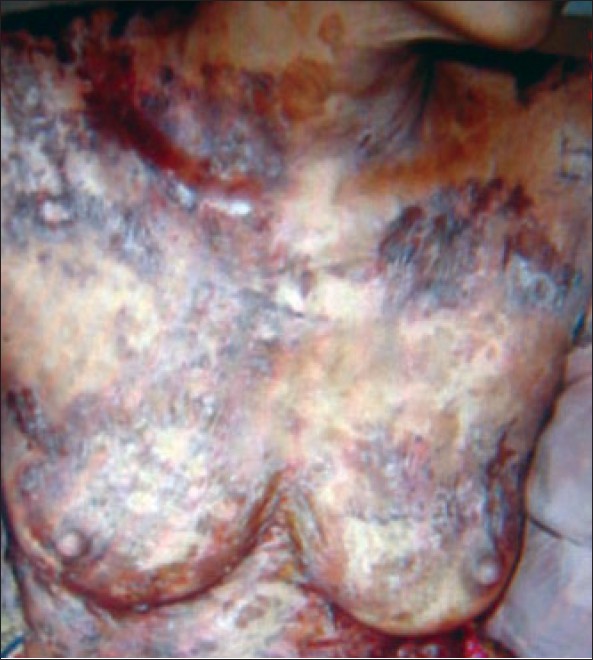 Figure 1: Erythematous scaly annular and serpiginous plaques with areas of erosions and pigmentation on the trunk
A 52 year-old woman presented with a two-year history of pruritic, burning and expanding red rings involving the entire body. She had marked fatigue, anorexia and weight loss. Examination revealed a cachectic woman with symmetrical erythematous annular and scaly patches involving the trunk [Figure - 1], lower limbs and back. A few pustules and vesicles were present on the trunk. Intertriginous areas showed erosions. Glossitis and stomatitis were also present.
Investigations revealed a hemoglobin (Hb) value of 7.5 gm%, hyperglycemia (postprandial blood sugar, PPBS = 320 mg%), abnormal glucose tolerance test results and aminoaciduria. Skin biopsy showed intraepidermal cleft, vacuolated pale epidermal cells with pyknotic nuclei and neutrophils in the upper epidermis [Figure - 2].
What is your Diagnosis ?
References
1.

Sweet RD. A dermatosis specifically associated with tumour of pancreatic alpha cells. Br J Dermatol 1974;90:301-8.

[Google Scholar]
2.

Wilkinson DS. Necrolytic migratory erythema with pancreatic carcinoma. Proc R Soc Med 1971;64:1197-8.

[Google Scholar]
3.

Marinkovich MP, Botella R, Datloff J, Sangueza OP. Necrolytic migratory erythema without glucagonoma in patients with liver disease. J Am Acad Dermatol 1995;32:605-9.

[Google Scholar]
4.

Blacford S, Wright S, Roberts DL. Necrolytic migratory erythema without glucagonoma: The role of dietary essential fatty acids. Br J Dermatol 1991;125:460-2.

[Google Scholar]
5.

Kelly CP, Johnson CF, Nolan N, Keeling PW, Weir DG. Necrolytic migratory erythema with elevated plasma enteroglucagon in celiac disease. Gastroenterology 1989;96:1350-3.

[Google Scholar]
6.

Mullans EA, Cohen PR. Iatrogenic necrolytic migratory erythema. A case report and review of non-glucagonoma associated necrolytic migratory erythema. J Am Acad Dermatol 1998;38:866-73.

[Google Scholar]
7.

Peterson LL, Shaw JC, Acott KM, Mueggler PA, Parker F. Glucagonoma syndrome: In vitro evidence that glucagon increases epidermal arachidonic acid. J Am Acad Dermatol 1984;11:468-73.

[Google Scholar]
8.

Bewly AP, Ross JS, Bunker CB, Staughton RC. Successful treatment of a patient with octreotide-resistant necrolytic migratory erythema. Br J Dermatol 1996;134:1101-4.

[Google Scholar]
9.

van der Loos TL, Lambrecht ER, Lambers JC. Successful treatment of glucagonoma related necrolytic migratory erythema with dacarbazine. J Am Acad Dermatol 1987;16:468-72.

[Google Scholar]
Show Sections