Translate this page into:

Letter to the Editor - Therapy Letter
doi: 10.4103/0378-6323.168328
PMID: 26515857
Tacrolimus for treatment of toxic epidermal necrolysis
Pavitra M Dogra1 , Manas Chatterjee2 , Shekhar Neema2
1 Department of Nephrology, Command Hospital, Kolkata, West Bengal, India
2 Department of Dermatology, Command Hospital, Kolkata, West Bengal, India

Correspondence Address:
Pavitra M Dogra
Department of Nephrology, Fourth Floor, Command Hospital (EC), Alipore, Kolkata - 700 027, West Bengal
India

How to cite this article:
Dogra PM, Chatterjee M, Neema S. Tacrolimus for treatment of toxic epidermal necrolysis. Indian J Dermatol Venereol Leprol 2015;81:642-644
Copyright: (C)2015 Indian Journal of Dermatology, Venereology, and Leprology
Sir,
Toxic epidermal necrolysis is an aggressive and progressive skin eruption involving more than 30% of the body surface area and carries a high mortality (30%).[1] The cytotoxic T-cell is believed to play an important role in pathogenesis and is blocked by intravenous immunoglobulin and cyclosporine, agents that are effective in treatment.[2] We report a patient with toxic epidermal necrolysis who was managed using tacrolimus, another drug that shares this action.
A 56-year-old woman was admitted with generalized tonic-clonic seizures. She was known to be hypertensive for 10 years and had proteinuria for which she was being managed by the nephrologist. At admission, her pulse was 128/min, blood pressure was 120/90 mmHg and she was in the postictal phase. She was given injectable phenytoin sodium 20 mg/kg in the emergency room as per the hospital protocol for seizure management. Approximately 4h later, she was noted to have a developing erythematous rash on the face, all limbs, trunk and abdomen that became confluent within the next 8h and vesiculobullous in the ensuing 6h [Figure - 1]a. There was involvement of conjunctival mucosa and buccal mucosa in addition to urethral inflammation. Nikolsky's sign was positive. More than 70% of body surface area was involved. Her laboratory investigations revealed a normal hemogram and serum biochemistry (hemoglobin 12.8 gm/dL, total leukocyte count 14200/mm 3 with polymorphs 76%, eosinophils 10%, blood urea nitrogen 14 mg/dl, serum creatinine 0.8 mg/dl, serum bilirubin 0.8 mg/dl, serum aspartate aminotransferase 14 IU/L, and serum alanine aminotransferase 19 IU/L). Urinalysis showed trace albumin, 2–4 white blood corpuscles, 2–4 red blood corpuscles per high power field; however, no organisms were grown. Her blood pH was 7.23 and serum bicarbonate 16 mmol/L. Score for toxic epidermal necrolysis (SCORTEN score) was 4 (age >40 years; heart rate >120 beats/min, detached surface >10%, serum bicarbonate <20 mmol/L).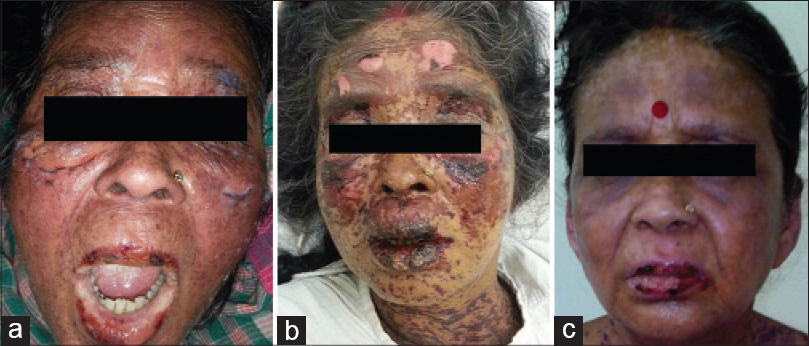 Figure 1: (a) Erythema over face with blistering and mucosal involvement. (b) Thirty-six hours after tacrolimus initiation. (c) On day 9, prior to discharge from hospital
Since cyclosporine and intravenous immunoglobulin were unavailable in the hospital, we began treatment with the immediately available oral tacrolimus, 0.12 mg/kg/day in 2 divided doses. In addition, she received 4 L of normal saline daily, intravenous sodium bicarbonate, 80 mEq over 6 h followed by 80 mEq over next 18 h on first day and then 80 mEq per day for 4 days, amlodipine and atenolol for blood pressure control, intermittent Ryle's tube feeds to maintain nutrition and moisturizing eye drops for conjunctival involvement. Her lesions stopped progressing and blistering stopped within 36h of starting treatment with tacrolimus [Figure - 1]b. Re-epithelization started in 72h. Her urine output, hemodynamic and renal parameters were normal. She steadily improved over the next 48h and became ambulant and started taking oral feeds. The dose of tacrolimus was tapered after 3 days, at the rate of 0.5 mg/kg body weight per day. She received tacrolimus for a total duration of 5.5 days. Her skin condition improved considerably [Figure - 1]c and she was discharged 10 days after admission. The disease behavior and its response to tacrolimus is depicted in [Figure - 2].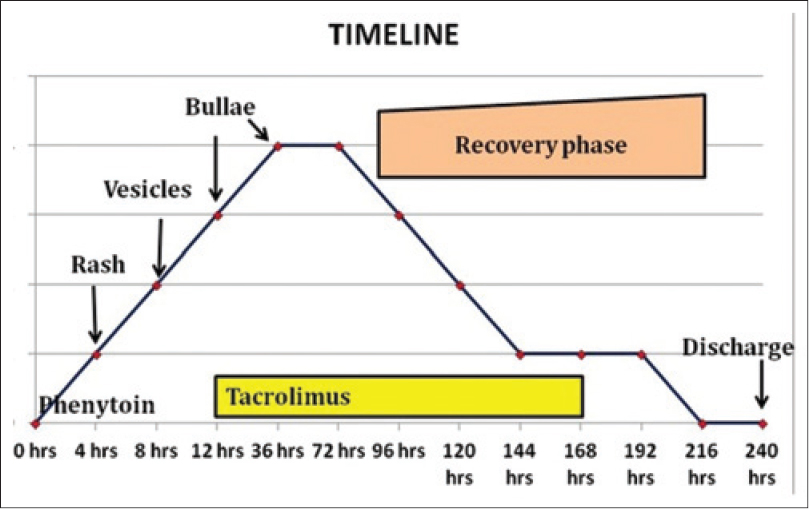 Figure 2: The disease behavior and its response to tacrolimus
Toxic epidermal necrolysis is a severe illness that may be complicated by sepsis, shock and multiorgan failure and is hence associated with a high mortality. Our patient had a SCORTEN score of 4, indicating a mortality risk of 58.3%.[3]
Cyclosporine has been used in the treatment of toxic epidermal necrolysis.[4],[5] Calcineurin inhibitors such as cyclosporine and tacrolimus act on the cyclophilin pathway to eventually block interleukin-2 receptors, thus inhibiting the T-cell mediated immune pathway. This mechanism has led to their extensive use in renal transplantation. In this setting, tacrolimus is more potent than cyclosporine, has a more favorable cardiovascular risk profile and leads to better long-term renal allograft function after renal transplantation.[6] When administered tacrolimus in the absence of cyclosporine, our patient tolerated the drug well without any gastrointestinal side-effect or renal derangement despite having dehydration. At August 2014 costs in India, the treatment of a 50 kg patient of toxic epidermal necrolysis with cyclosporine 6 mg/kg/day for 7 days (capsule Neoral ® from Novartisd) was INR 2408.00 whereas tacrolimus, 0.12 mg/kg/day for 4 days followed by taper over 2 days (Capsule Tacsant ® from Novartis) was INR 1112.80 making the latter treatment significantly cheaper.
Phenytoin had never been used by our patient earlier. We were unable to find any previous reports of such a short time gap between first exposure to phenytoin and the onset of toxic epidermal necrolysis as was noted in our patient. For this reason, we feel that phenytoin is unlikely to be the cause of Steven Johnson syndrome-toxic epidermal necrolysis. It is likely that one of her other medications precipitated the eruption. However, we cannot exclude the possibility that the parenteral route of administration of a high dose of phenytoin in a setting of renal compromise was responsible for the rapid onset of Steven Johnson syndrome-toxic epidermal necrolysis. We did not undertake rechallenge to establish the causative drug.
Tacrolimus appears to be effective in Steven Johnson syndrome-toxic epidermal necrolysis though studies in larger numbers of patients are needed to substantiate its therapeutic role.
Declaration of patient consent
The authors certify that they have obtained all appropriate patient consent forms. In the form the patient(s) has/have given his/her/their consent for his/her/their images and other clinical information to be reported in the journal. The patients understand that their names and initials will not be published and due efforts will be made to conceal their identity, but anonymity cannot be guaranteed.
Financial support and sponsorship
Nil.
Conflicts of interest
There are no conflicts of interest.
References
1.

Schöpf E, Stühmer A, Rzany B, Victor N, Zentgraf R, Kapp JF. Toxic epidermal necrolysis and Stevens-Johnson syndrome. An epidemiologic study from West Germany. Arch Dermatol 1991;127:839-42.

[Google Scholar]
2.

Fernando SL. The management of toxic epidermal necrolysis. Australas J Dermatol 2012;53:165-71.

[Google Scholar]
3.

Guégan S, Bastuji-Garin S, Poszepczynska-Guigné E, Roujeau JC, Revuz J. Performance of the SCORTEN during the first five days of hospitalization to predict the prognosis of epidermal necrolysis. J Invest Dermatol 2006;126:272-6.

[Google Scholar]
4.

Valeyrie-Allanore L, Wolkenstein P, Brochard L, Ortonne N, Maître B, Revuz J, et al. Open trial of ciclosporin treatment for Stevens-Johnson syndrome and toxic epidermal necrolysis. Br J Dermatol 2010;163:847-53.

[Google Scholar]
5.

Singh GK, Chatterjee M, Verma R. Cyclosporine in Stevens Johnson syndrome and toxic epidermal necrolysis and retrospective comparison with systemic corticosteroid. Indian J Dermatol Venereol Leprol 2013;79:686-92.

[Google Scholar]
6.

Abou-Jaoude MM, Najm R, Shaheen J, Nawfal N, Abboud S, Alhabash M, et al. Tacrolimus (FK506) versus cyclosporine microemulsion (neoral) as maintenance immunosuppression therapy in kidney transplant recipients. Transplant Proc 2005;37:3025-8.

[Google Scholar]
Show Sections