Translate this page into:

doi:
10.25259/IJDVL_301_20
The unprecedented epidemic-like scenario of dermatophytosis in India: I. Epidemiology, risk factors and clinical features
Corresponding author: Dr. Resham Vasani, Bhojani Clinic, Earth Classic, Ground Floor, Babasaheb Ambedkar Road, Matunga, Mumbai, Maharashtra, India. dr.resham@gmail.com
Received: , Accepted: ,
© 2021 Indian Journal of Dermatology, Venereology and Leprology - Published by Scientific Scholar
Licence
This is an open-access article distributed under the terms of the Creative Commons Attribution-Non Commercial-Share Alike 4.0 License, which allows others to remix, tweak, and build upon the work non-commercially, as long as the author is credited and the new creations are licensed under the identical terms.
How to cite this article: Verma SB, Panda S, Nenoff P, Singal A, Rudramurthy SM, Uhrlass S, et al. The unprecedented epidemic-like scenario of dermatophytosis in India: I. Epidemiology, risk factors and clinical features. Indian J Dermatol Venereol Leprol 2021;87:154-75.
Abstract
Dermatophytosis has attained unprecedented dimensions in recent years in India. Its clinical presentation is now multifarious, often with atypical morphology, severe forms and unusually extensive disease in all age groups. We hesitate to call it an epidemic owing to the lack of population-based prevalence surveys. In this part of the review, we discuss the epidemiology and clinical features of this contemporary problem. While the epidemiology is marked by a stark increase in the number of chronic, relapsing and recurrent cases, the clinical distribution is marked by a disproportionate rise in the number of cases with tinea corporis and cruris, cases presenting with the involvement of extensive areas, and tinea faciei.
Keywords
Fixed-dose combination creams
superficial dermatophytosis
tinea
topical steroids
Introduction
We aim to comprehensively cover various aspects of the current epidemic-like scenario of dermatophytosis in India. The disease has attained a significant magnitude and is now being observed in other distant nations as well1,2 often as an extensive and difficult to treat entity with diverse morphology. Recalcitrant superficial dermatophytosis has the potential to become a public health issue in many parts of the world if we do not make an active attempt to understand it in its entirety, take timely measures, and involve public health agencies and the World Health Organization.
This review intends to concentrate on the commonest clinical types of dermatophytoses in the current scenario and will not deal with all clinical variants (e.g., tinea unguium, tinea pedis, tinea capitis). A comprehensive English language literature search was performed across multiple search engines (PubMed, EMBASE, MEDLINE and Cochrane). MeSH terms ("tinea," " Dermatophytosis," "epidemiology," "clinical features," "diagnosis of dermatophytosis,""antifungal resistance," "topical" and "systemic") alone and in combination were considered. Available literature pertaining to dermatophytosis in the last 7 years (2014–2020) with particular emphasis on Indian studies was included.
The phenomenon under review is recent and treatment options are still evolving. Studies on it are lacking, and we have included many previously undescribed but now common clinical observations of the authors and a large number of dermatologists in India. There is a strong need to study this entity and its various treatment options in greater detail.
This review is divided into three parts: Part I covers epidemiology, risk factors and clinical features; Part II will discuss diagnostic methods and taxonomical aspects of the causative dermatophytes of this outbreak; Part III will deal with antifungal resistance, a very important feature of this current phenomenon, and prevailing treatment options.
Epidemiology of dermatophytosis in India
Superficial dermatophytosis affects 20-25% of the world population and is a common infective dermatoses in clinical practice.3 What was once considered an innocuous, easy-to-treat infection of tropical and subtropical countries, mainly seen during the summer and rainy seasons, has now become a perennial and difficult to treat entity in India. According to recent studies, there has been an increase in the incidence of dermatophytosis across the country in the past decade and especially so over the past 5–6 years.4,5 This increase has been at an alarming rate and has resulted in an epidemic-like situation in the country.
Immunopathogenesis of Chronic Dermatophytosis
Fungal cells evade host immune responses to survive. Mechanisms include masking of cell wall-associated carbohydrates, shielding of stimulatory surface recognition molecules, prevention of toll-like receptor recognition, shedding of decoy components and downregulation of the complement cascade.31-33
A recent study from India demonstrated a higher expression of Th17 and Treg cell markers on CD4+ cells of patients with chronic dermatophytosis as compared to controls.34 It was speculated that the interaction between the cell wall antigen mannan with the host cell receptor triggers a cascade of dysregulated cytokines eliciting Th17 mediated inflammation but also leads to the unhindered activation of Treg cells undergoing a phenotype change to an alternate lineage. Hence, despite antifungals, the high fungal burden becomes detrimental to a beneficial effector T-cell response. This perpetuates the imbalance with an altered Th17/Treg ratio preventing fungal clearance.
Clinical Features of Superficial Dermatophytosis
The clinical changes in the appearance of dermatophytic infections observed in India have been summarized in Box 1.
Changes in the distribution of lesions in dermatophytosis
Tinea corporis et cruris - the most common presentation
Tinea facei - much more common than earlier
Multiple lesionsseen, multiple body sites involved
No concomitant increase in tinea unguium, tinea pedis or tinea capitis reported
Erythrodermic variants seen – not infrequently
Changes in the clinical behavior of dermatophytosis
Rapid spread of lesions to form large, bizarre- shaped patches
Early involvement of distant areas compared to the past
Varying degrees of inflammation
Easy spread to other family members often causing the entire family to suffer.
Post tinea eczema/dryness leading to persistence of itch
Flare of lesions with increased inflammation within the lesions of tinea after starting oral potent antifungal, with occasional systematization
Concomitant bacterial infections like furunculosis have become common
Chronic dermatophytosis, recurrences, relapses common
Changes in morphology
Steroid-modified tinea
Varying morphology – arcuate, dumb-bell shaped, bizarre geographic lesions
Double-edged tinea
Tinea pseudoimbricata
Tinea incognita – ill-defined borders, unclear borders – difficult to recognize tinea
Eczematous lesions
Tinea mimicking other dermatoses
Involvement of unusual locations
Genital dermatophytosis of males and females
Superficial dermatophytosis of scalp skin
Tinea auricularis
Tinea labialis
Tinea blepharitis and ciliaris
Tinea of vellus hair
Tinea over immunocompromised districts /sites affected by tinea being recognized as immunocompromised districts
Signs of topical/oral/injectable steroid abuse and irritant applications
Characteristics of itch in dermatophytosis
Often disabling itch ,frequent nocturnal aggravation
Persistent itch after the resolution of lesions
Changes in the impact of disease on society
Distressing to the patient and family; high impact on quality of life
Major financial burden
Confusing profusion in the manufacture of available topical and oral antifungals agents by pharmaceutical companies
Changes in clinical behavior
Changes in the morphology of lesions
Well-defined, centrifugally spreading lesions with central clearing and an advancing border, as described in textbooks, are not the rule now. A plausible explanation for this is that treatment-naïve cases are now uncommon.
The following are the morphological forms encountered in the current scenario:
Steroid-modified tinea
Lesions were labeled tinea incognita/tinea incognito in the past because their appearance was different from that of a "classic" lesion of tinea38 due to the application of steroid creams. Though a majority of patients now present with altered lesional morphology after having used fixed-dose combination creams with steroids (most often clobetasol propionate or betamethasone dipropionate), most such lesions are not "incognito" in a strict sense.39 It is usually possible in such cases to discern an active border with or without scaling, as typical in superficial dermatophytosis. Therefore, "steroid-modified tinea" is a more accurate term.39 True cases of tinea incognita are fortunately uncommon.
Varying morphology
Unusually large lesions are seen, either due to centrifugal spread or by coalescence of multiple lesions. Circular or annular lesions, [Figure 3], arcuate and dumbbell-shaped lesions where two annular or circular lesions coalesce, annular lesions with pustular borders [Figure 4], and bizarre geographic lesions are common. Erythrodermic presentations of dermatophytosis are seen in immunosuppressed as well as immunocompetent individuals [Figure 5a and b].40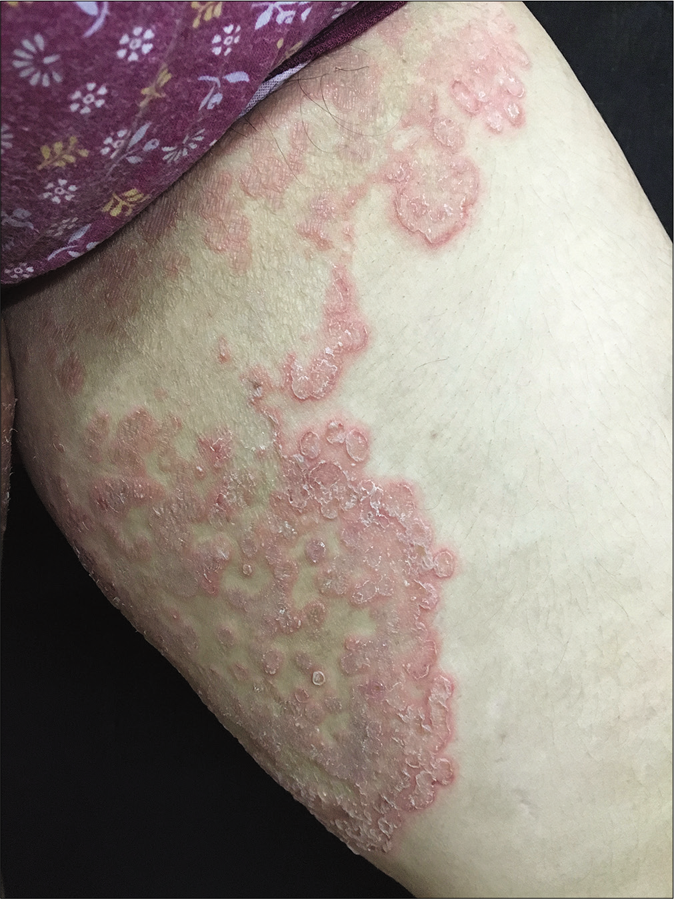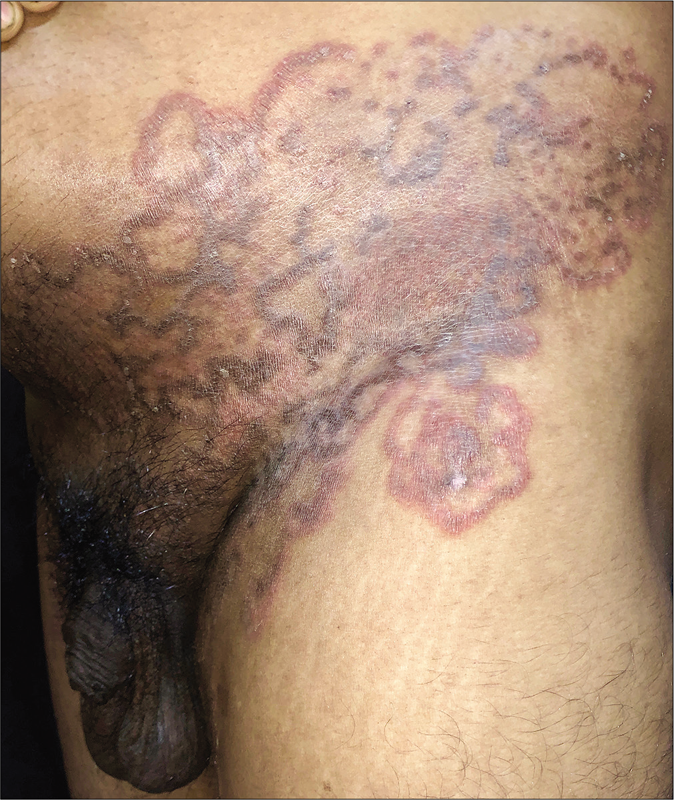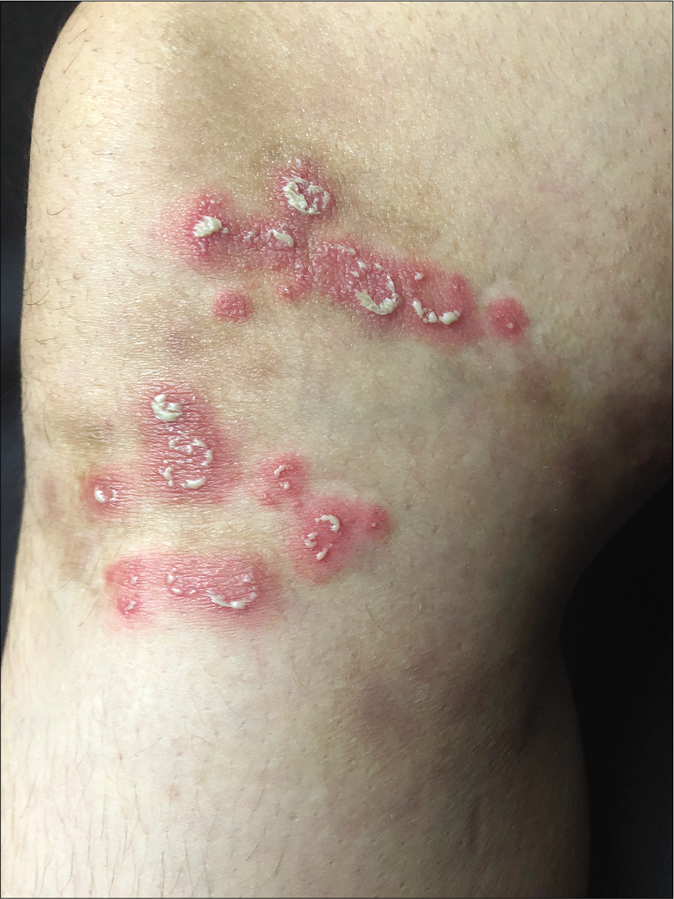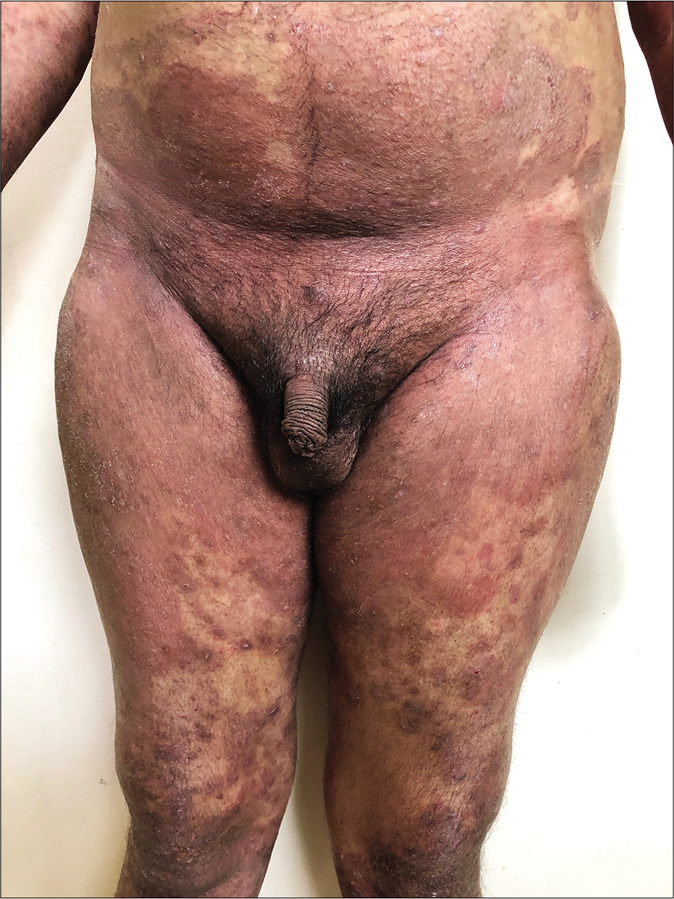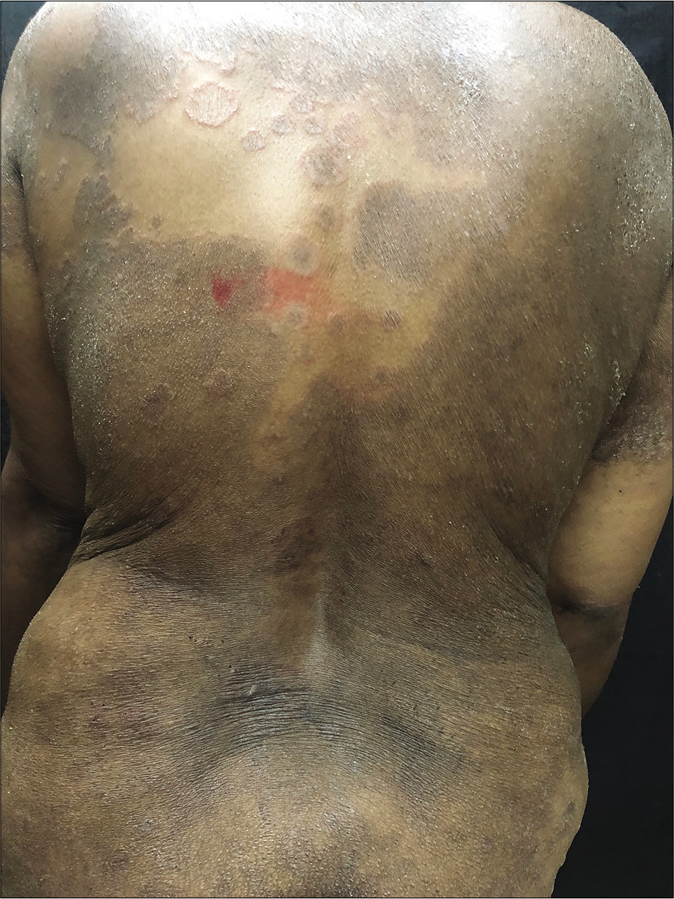 Incomplete central clearance and eczematous appearance
It is common to see incomplete clearing in the centre of lesions leading to variably defined areas of erythema with or without scaling i.e.,"eczematous tinea" [Figure 6a and b]. The natural course of the disease is for cell-mediated immunity to mount an inflammatory response and increase the epidermal cell turnover to eliminate the fungus by shedding the stratum corneum41. Lesions treated with steroids show activity in the centre as well as in the peripherally spreading margins.5 Topical steroid abuse slows down cell turnover and downregulates beneficial proinflammatory mediators, aiding survival of the fungus.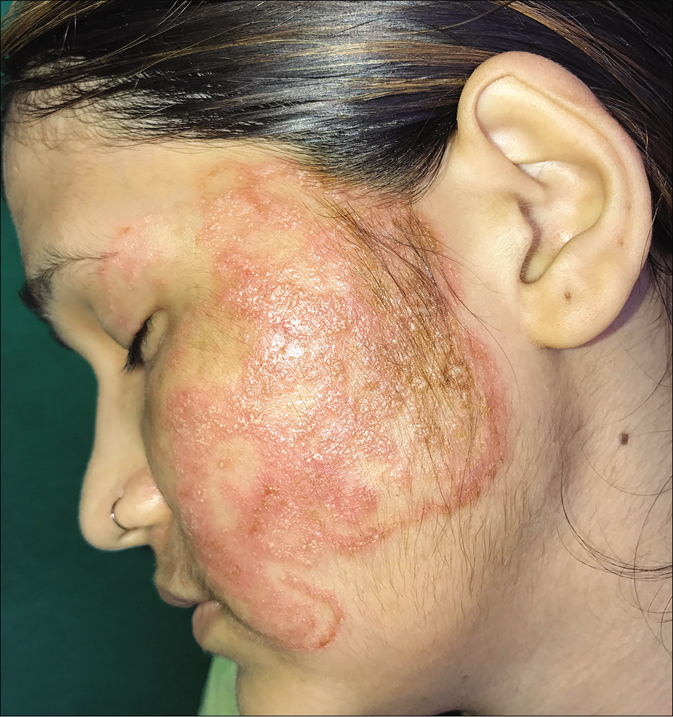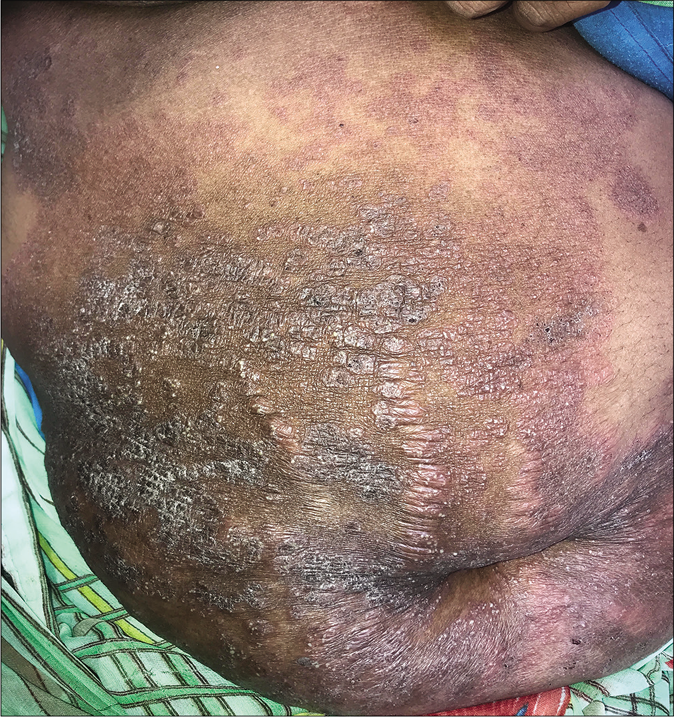 "Double-edged tinea" and tinea pseudoimbricata
Erratic application of fixed-dose combinations and steroid creams in tinea switches inflammation on and off, leading to "double-edged" tinea [Figure 7 ].42 The degree of inflammation in such cases often is high, and residual post-inflammatory hyperpigmented "double edges" persist for a long time after successful treatment too [Figure 7]. At times, the double edges are well-defined, running parallel to each other and with central crusting and erosions, resulting in a pseudoporokeratotic appearance [Figure 8a and b]. Repeated on-and-off cycles of inflammation for long periods can lead to concentric rings of tinea described as "tinea pseudoimbricata"[Figure 9a and b]. A "rings within a ring" appearance is also not uncommon and is characterized by smaller scaly lesions of tinea within a centrifugally spreading larger annular lesion, often with more than one border.43 Double-edged tinea, tinea pseudoimbricata and tinea "rings within rings" lesions are all highly suggestive of steroid abuse, especially erratic use of steroid-containing fixed-dose combinations.44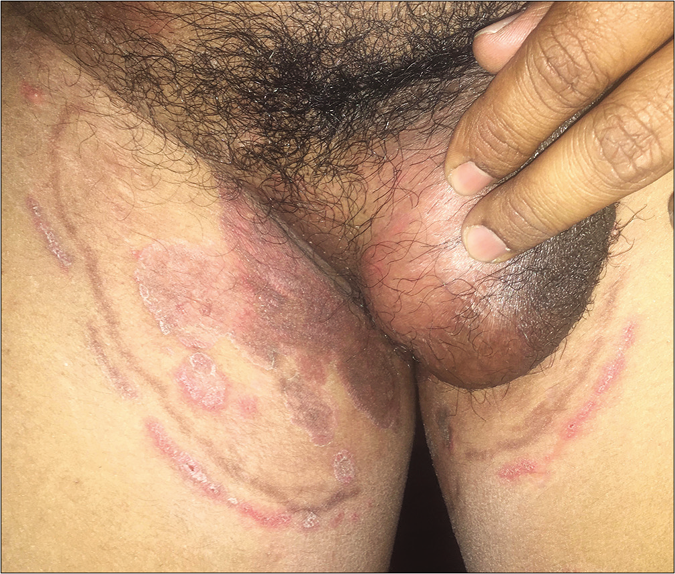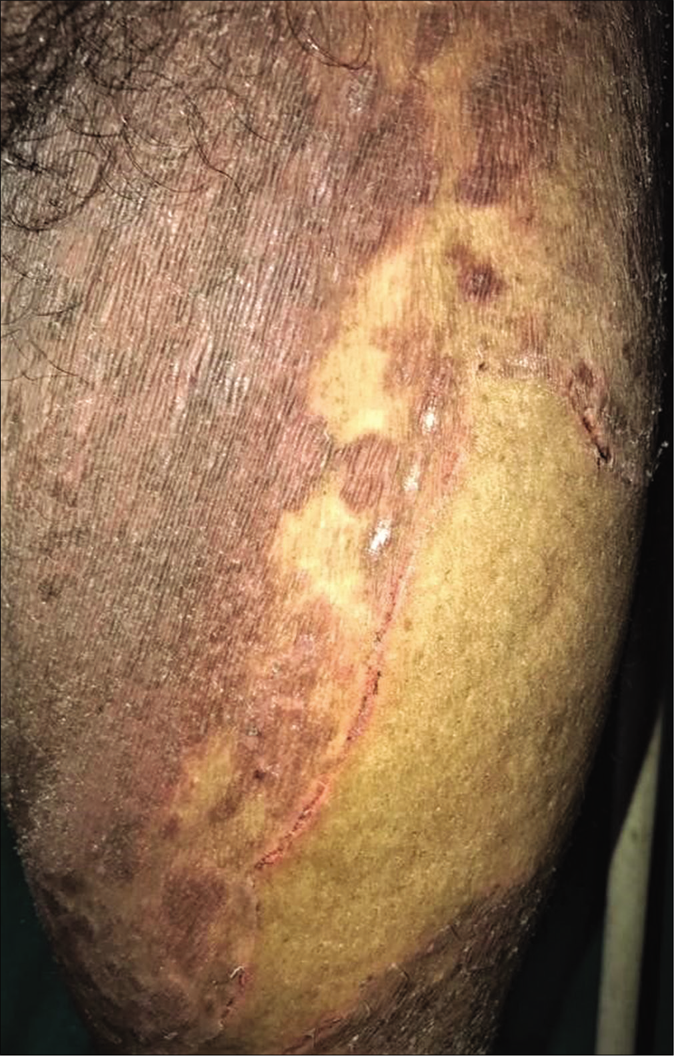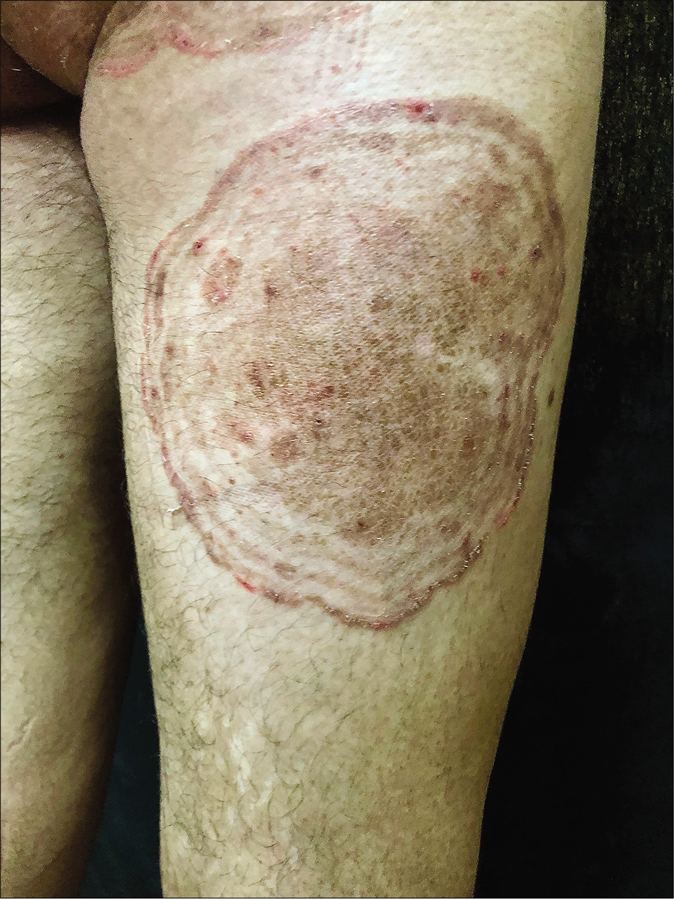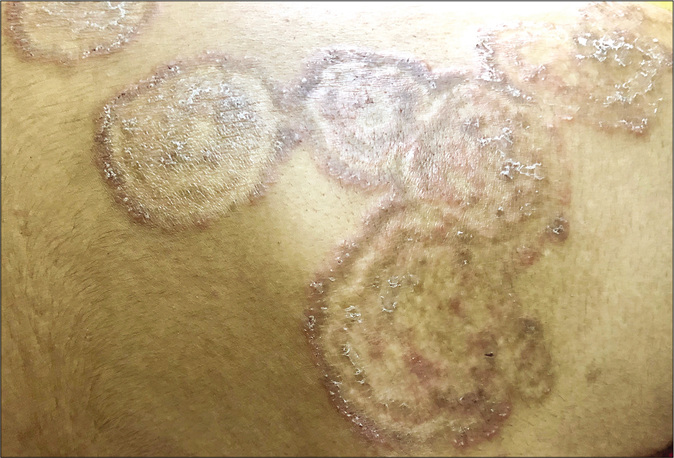 Another uncommon entity is tinea recidivans that describes the appearance of lesions at the periphery of a healed lesion [Figure 10a and b].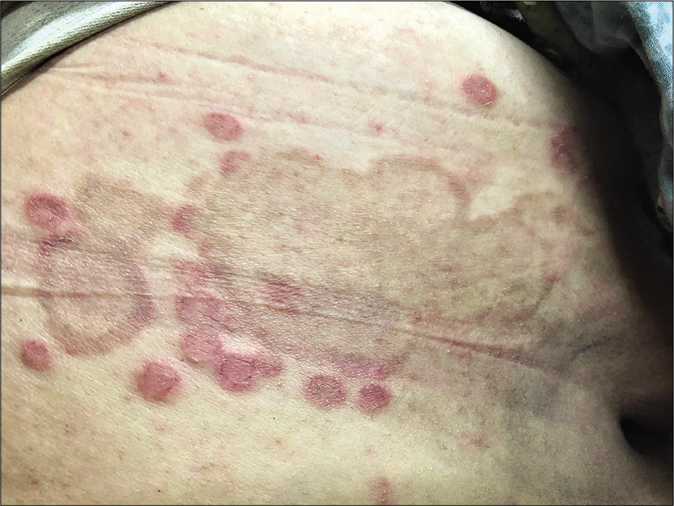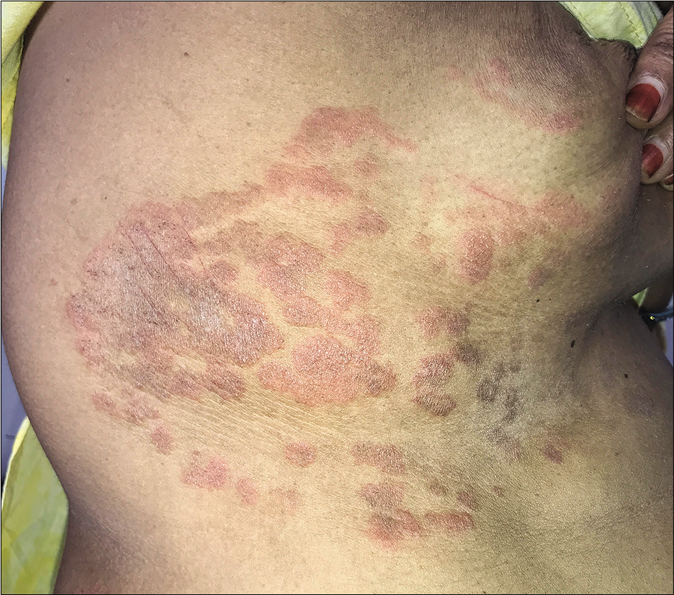 Pustular lesions in tinea
Pustular lesions are often seen at the periphery of inflammatory erythematous lesions of tinea being treated with potent topical steroids. In some cases, each ring of a tinea pseudoimbricata lesion can be studded with pustules, giving rise to a cockade pattern [Figure 11].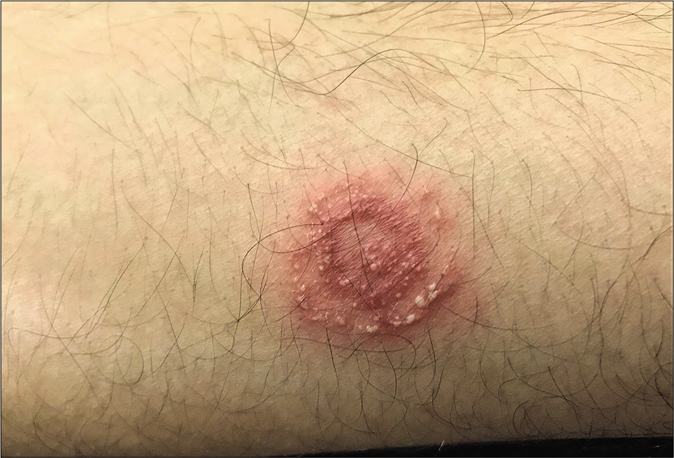 Majocchi's granuloma
Rarely, dermatophytes may invade the dermis owing to the reduced local immunity induced by abuse of topical steroids. Such cases show pruritic papules, pustules and nodules in the areas of preexisting dermatophytic infection [Figure 12], and granulomatous perifollicular inflammation on histology.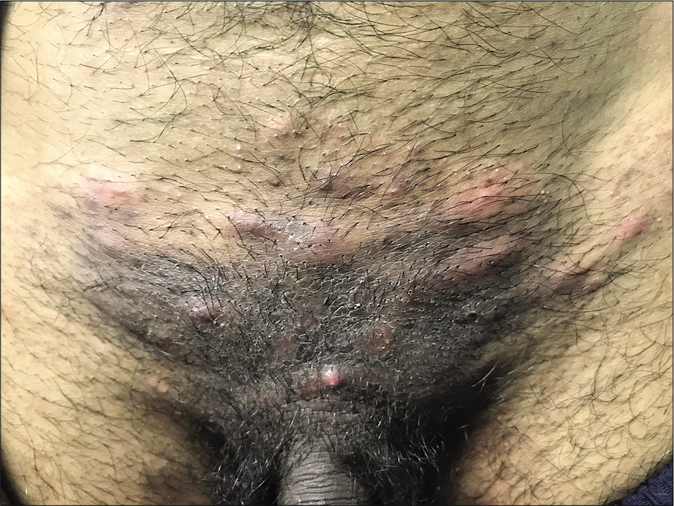 Bullous tinea
Intense inflammation caused by the zoophilic Trichophyton mentagrophytes and a heightened delayed type of hypersensitivity reaction are thought to be causes of a vesicular or bullous presentation. This is characterized by annular lesions with raised, vesicular edges.45
Superficial dermatophytosis mimicking other dermatological conditions
Tinea has been observed to mimic a wide variety of conditions including lupus erythematosus,46 psoriasis, lichenoid lesions, atopic eczema,47 nummular eczema, erythema multiforme,48 granuloma annulare, granuloma faciale, lymphocytic infiltration of the skin, pityriasis rosea, seborrheic dermatitis,49 leprosy,50 molluscum contagiosum,51 rosacea52 and annular secondary syphilis,37 pustular psoriasis, Sweet's syndrome and impetiginized herpes.53 Cutaneous dermatophytosis caused by Trichophyton mentagrophytes mimicking bullous pemphigoid clinically, histopathologically and on direct immunofluorescencehas been recently reported.54 Though many of these are isolated cases described in the Western literature, it is now perhaps prudent tokeep in mind the possibility of dermatophytosis when encountering such presentations in our patients.
Change in sites of skin involvement
The involvement of multiple body sites is common. Tinea corporis et cruris is the most common presentation;3 individual tinea corporis and tinea cruris are the next two commonest. Lesions at sites of occlusion like the waist and inframammary areas are frequent in female patients [Figure 13a,b].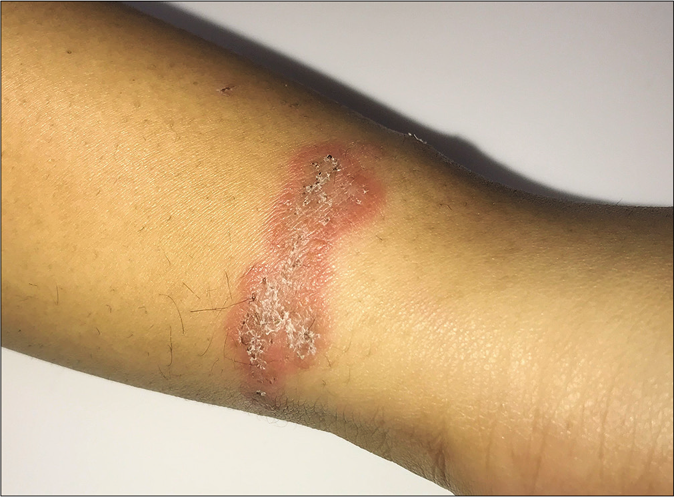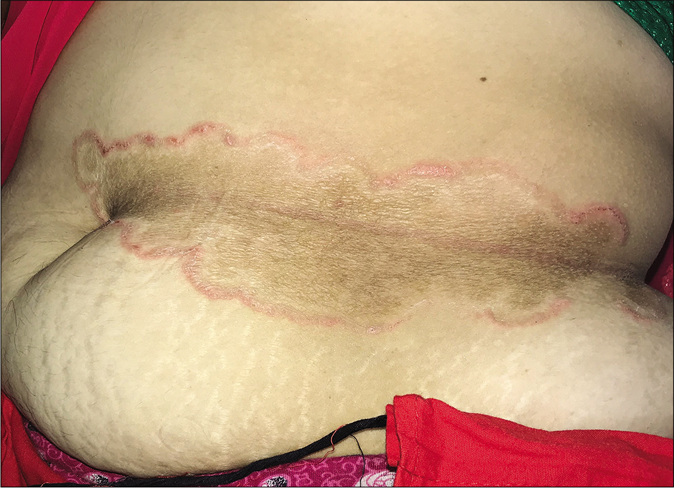 An interesting observation is the absence of a proportionate increase in tinea unguium, tinea pedis and tinea capitis.5
Involvement of unusual locations
Signs of topical/injectable corticosteroid use and irritant applications
Patients show much individual variation in the time taken to develop cutaneous adverse reactions, irrespective of the potency of the steroid molecule. It is also common to see patients seeking treatment of multiple stigmata of potent topical steroid abuse, like striae and hypopigmentation.
One of the commonest side effects of topical steroids is striae. They mostly occur early following the application of fixed-dose combinations containing clobetasol propionate and are most pronounced in the flexures and where the skin is thin, like the inner thighs. They are often initially erythematous (striae rubra) and eventually turn whitish (striae alba). Some striae may ulcerate making them prone to secondary bacterial infection [Figure 24].67 Some gradually worsen and ulcerate because patients continue to apply the same creams that caused them. Some striae assume a pseudoedematous appearance [Figure 25].68 Others may continue to grow despite the patient having stopped applying fixed-dose combinations. This is indicative of high potency topical steroids having adepot effect.69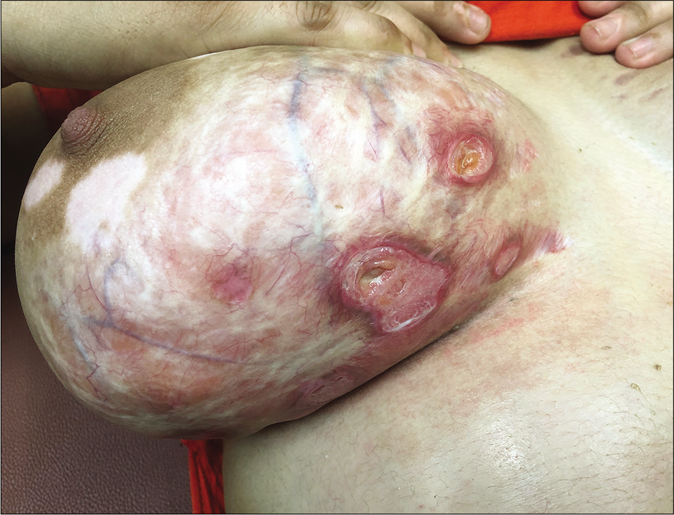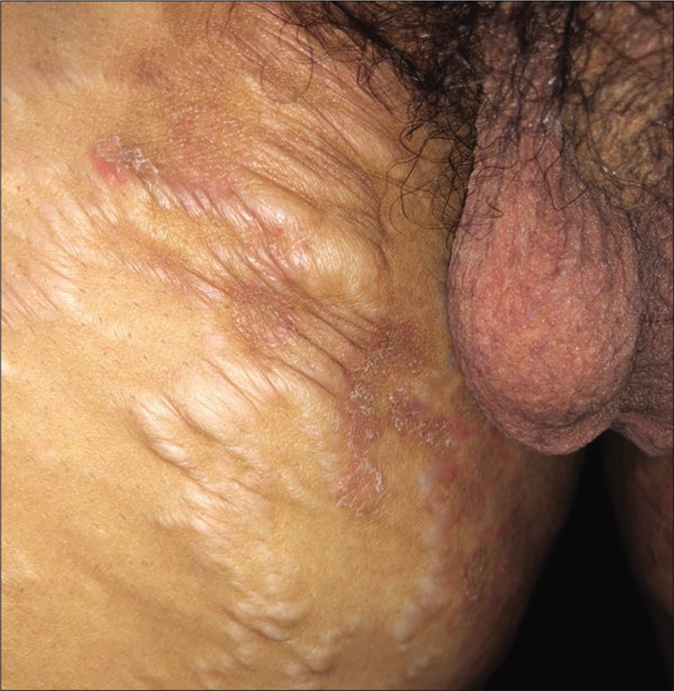 Striae may even occur in distal areas, where the fixed-dose combinations have not been applied. A clinical picture akin to red scrotum syndrome is also seen in some patients applying fixed-dose combinations containing topical steroids for tinea cruris, due to passive transfer of the creams.
Another common side effect of fixed-dose combinations with topical steroids is lesional and perilesional hypopigmentation; this can be seen within 3–4 weeks and is likely to be accompanied by atrophy and telangiectasia later on. Hypopigmentation and depigmentation can also be seen in patients treated with intralesional injections of triamcinolone acetonide [Figure 26a and b] by unqualified practitioners. These lesions are often linear or follow the course of lymphatics.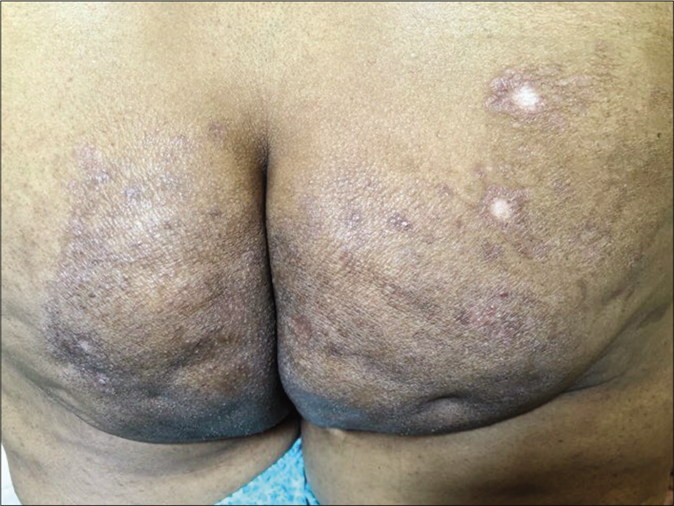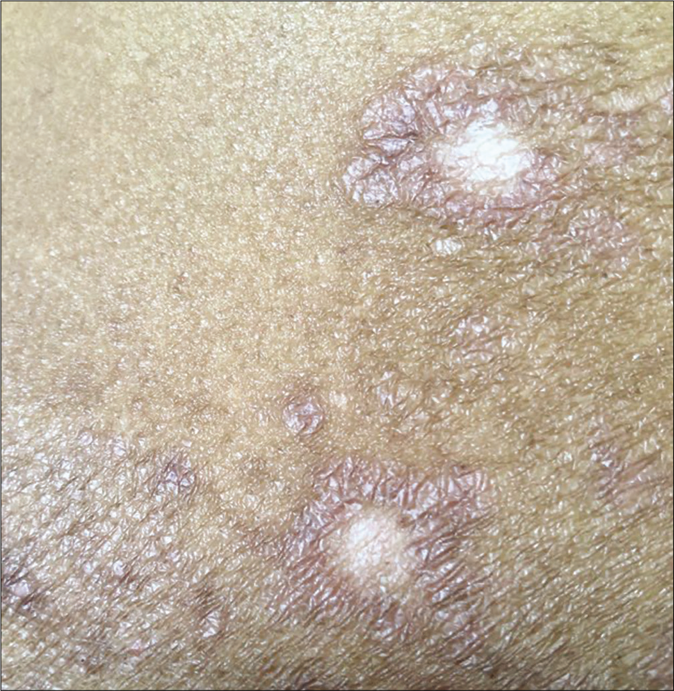 Concomitant bacterial infections such as recurrent furunculosis and abscesses can complicate thedermatophyte-infected sites, due to local immunosuppression induced by topical steroids [Figure 27].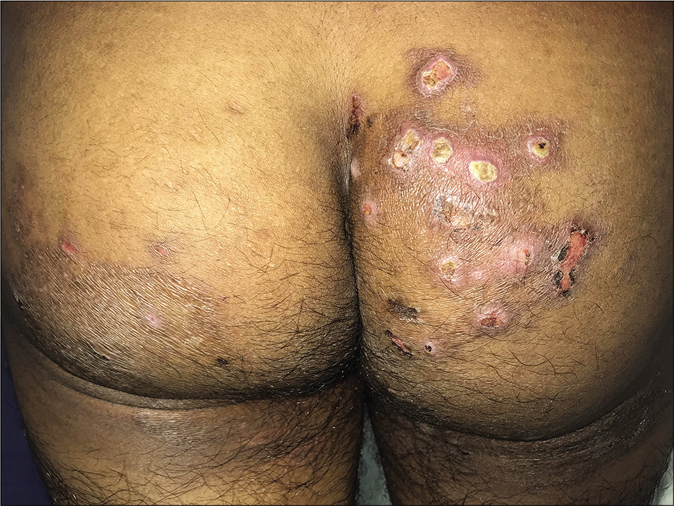 Many patients present with signs of irritant dermatitis over and around the infected sites induced by home remedies made of crushed plants, flowers, balm, battery fluid, or over-the-counter preparations containing salicylic acid, sulfur, or anthralin with salicylic acid. The last combination is particularly irritant, especially in the flexures, leading to erythema, brownish discoloration, scaling and exfoliation, along with burning, pain and tenderness [Figure 28a and b].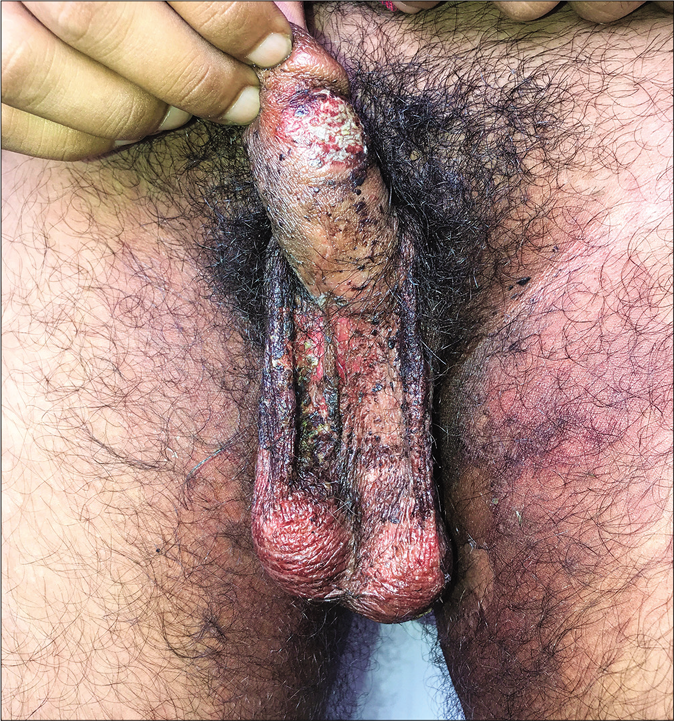 Iatrogenic cushingoid syndrome in patients of tinea
Dermatologists are seeing an increasing number of patients, including children, presenting with longstanding lesions of tinea in multiple locations that usually wax and wane. These patients give a prolonged history of applying fixed-dose combination creams containing clobetasol propionate or beclomethasone propionate, sometimes running into hundreds of units. Many also give a history of taking weekly intramuscular injections of triamcinolone for several weeks or small doses of oral prednisolone, methylprednisolone or betamethasone for weeks to months. Many are overweight with truncal obesity and have striking striae (often in areas away from the sites of application of creams), hypopigmentation, telangiectasias, acneiform eruptions, local hypertrichosis and sometimes hirsutism [Figure 29]. Their 8 am and 4 pm serum cortisol levels are often very low, even less than 1 microliter per decaliter.70 Further studies are needed to quantify the proportion of patients so affected and the amount/duration of application of topical steroids to induce this phenomenon.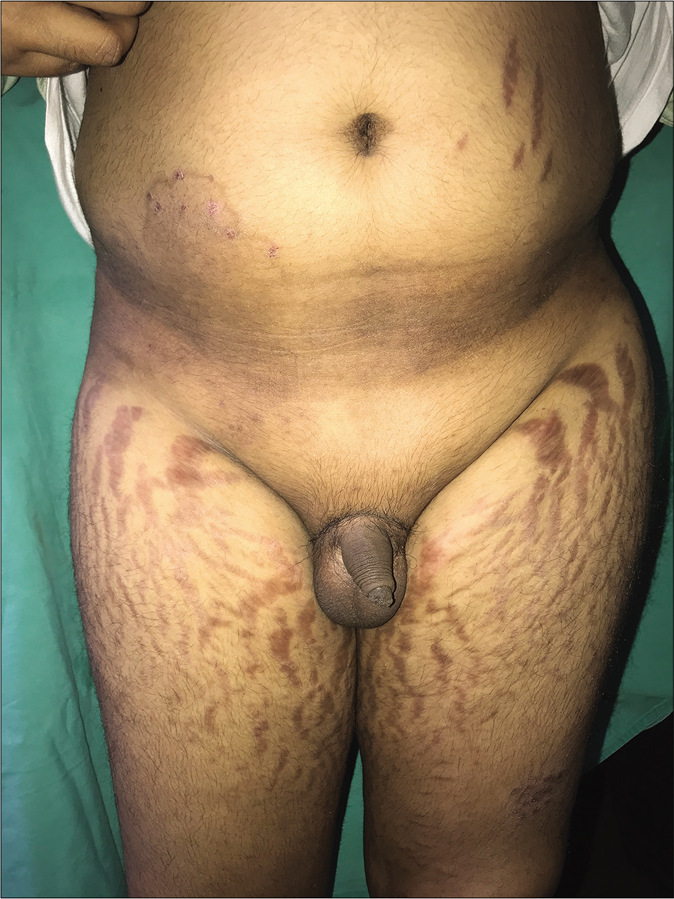 Stopping steroid creams and instituting appropriate antifungal therapy is recommended in these patients. In our observation of a limited number of cases, the serum cortisol levels then return to normal within 3 to 5 months. The infection in such cases may take a much longer time to fully clear despite appropriate treatment.71 We have had some patients needing treatment for 6–9 months before the infection finally resolved.
Characteristics of itch
Itching is one of the cardinal features of superficial dermatophytosis. It is graded severe in studies and can be very bothersome for adults and children alike. Patients complain of paroxysms of pruritus lasting for a few minutes a few times a day; some have it for longer periods. Another common symptom is 'burning and itching." In many cases, it gets aggravated by sweating, heat, hot water and after disrobing (atmokinesis), and can disturb sleep.72 A significant number of patients complain of nocturnal exacerbation of pruritus.73 Some fully treated patients complain of persistent itching which is often due to xerosis or impaired barrier function due to scratching and topical corticosteroid abuse. Topical antifungal agents like luliconazole have been anecdotally observed by many dermatologists to cause xerosis which can contribute to itching.
Change in the quality of life of patients
Superficial dermatophytosis is now to be viewed like other chronic and recurrent disorders because of its altered nature. The disease is now seen to have a significant bearing on the quality of life, emotions and personal relationships of affected individuals. It is the experience of dermatologists that many patients with chronic recalcitrant dermatophytosis develop feelings of hopelessness, shame and anger; a minority even express suicidal ideation. It is important to give adequate time to each patient, understand disease impact, and educate the patient about the disease, its management and prognosis in order to improve adherence to treatment and hence their quality of life.19
Financial impact
Though dermatophytosis in the current context does not spare any socioeconomic group, it is a common observation that chronic widespread dermatophytosis often affects those from the lower socioeconomic strata of society. A majority of these patients have multiple, similarly afflicted household contacts, resulting in a magnification of the financial burden of treatment. Such patients usually start with self-treatment and are later advised inappropriate medication (including steroid-containing creams) by non-dermatologists or unqualified individuals. The treatment continues with little or no benefit, compelling the patient to finally visit a dermatologist. Oral antifungals like itraconazole and topical molecules like luliconazole, sertaconazole, oxiconazole, amorolfine and ciclopirox olamine are currently preferred by dermatologists. They are perceived as more efficacious but are also much more expensive than the older antifungal drugs and are a significant financial burden to the patient, especially when multiple family members are affected. Cheaper brands manufactured by companies with uncertain credentials may lack efficacy, necessitating multiple visits to dermatologists and adding to the financial burden. In widespread disease, extensive application of the newer topical antifungals listed above is inconvenient and expensive. Patients often buy less than the required quantity to cut costs and discontinue treatment upon getting symptomatic relief. Other affected members of the household also may use these medications erratically. Such erratic treatment ironically results in their spending larger amounts of money over long periods. This particular patient population harbors smoldering, inadequately treated tinea that becomes an important pool of infection in the community.74
Conclusion
The epidemiology and clinical presentations of superficial dermatophytosis in India have undergone a sea change. This importantly includes the rather abrupt change from the Trichophyton rubrum to Trichophyton mentagrophytes as the predominant species in less than a decade. The disease now occurs irrespective of climatic changes, age, sex and educational or socioeconomic status, and is notable for its unprecedented high rate of transmission amongst family members and close contacts. There is a change in the morphology of individual lesions with varying degrees of inflammation, and a significant number of cases present with steroid-modified dermatophytosis. Despite many years of discussion and documentation of the adverse role of topical steroid containing fixed-dose combination creams, these irrational and often hazardous creams continue to be freely available in the market and are being abused by patients.
There is a stark increase in chronic, recurrent and relapsing dermatophytosis that impairs the quality of life due to severe pruritus. The disease also has financial implications for families with multiple affected members.
Declaration of patient consent
The authors certify that they have obtained all appropriate patient consent.
Financial support and sponsorship
Nil.
Conflicts of interest
There are no conflicts of interest.
Show Sections