Letter To Editor
doi: 10.4103/0378-6323.39715
PMID: 18388389
Treatment of actinomycetoma with combination of rifampicin and co-trimoxazole
Rajiv Joshi
P. D. Hinduja National Hospital, Veer Savarkar Road, Mahim, Mumbai, India

Correspondence Address:
Rajiv Joshi
P. D. Hinduja National Hospital, Veer Savarkar Road, Mahim, Mumbai - 400 016
India

How to cite this article:
Joshi R. Treatment of actinomycetoma with combination of rifampicin and co-trimoxazole. Indian J Dermatol Venereol Leprol 2008;74:166-168
Copyright: (C)2008 Indian Journal of Dermatology, Venereology, and Leprology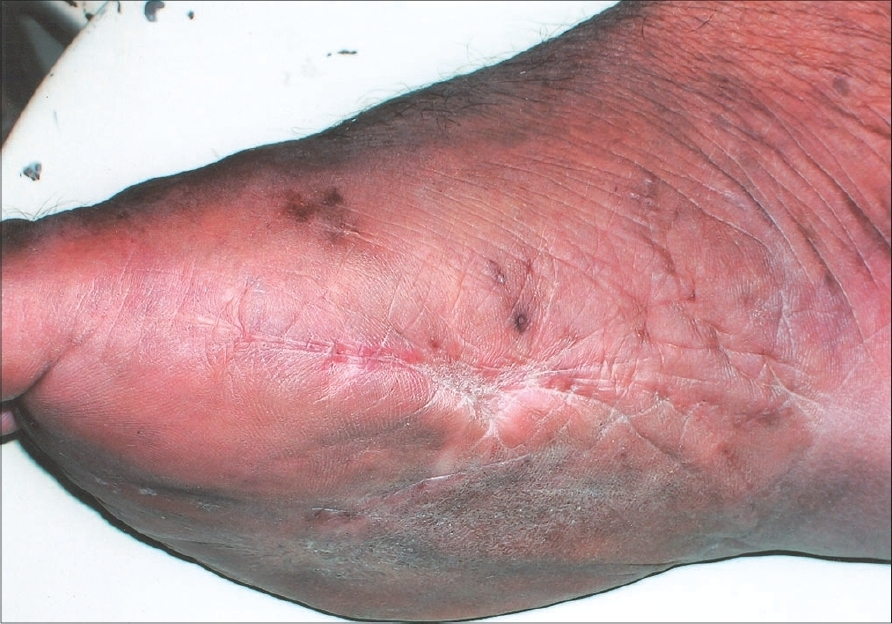 Figure 2: Complete healing at 4 months with previous surgery scar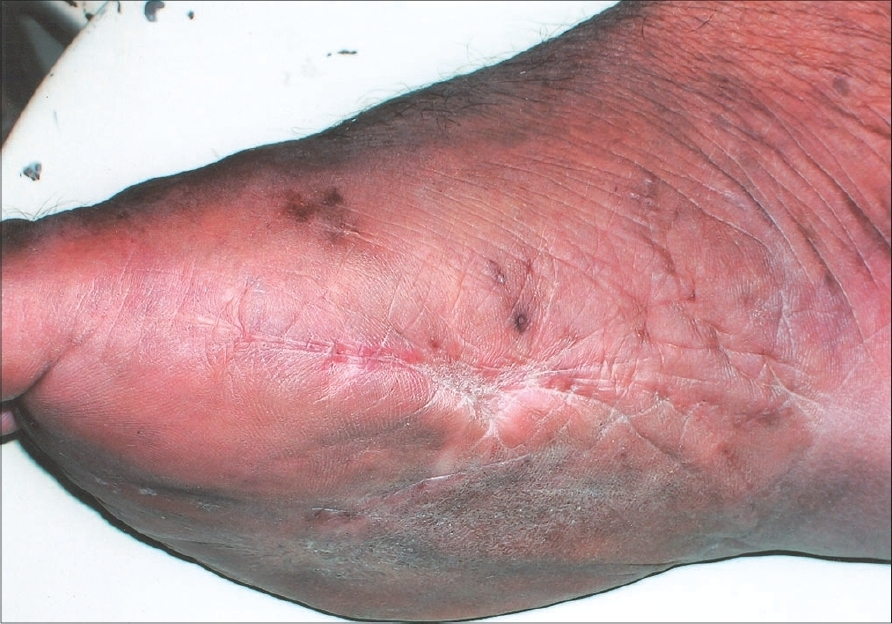 Figure 2: Complete healing at 4 months with previous surgery scar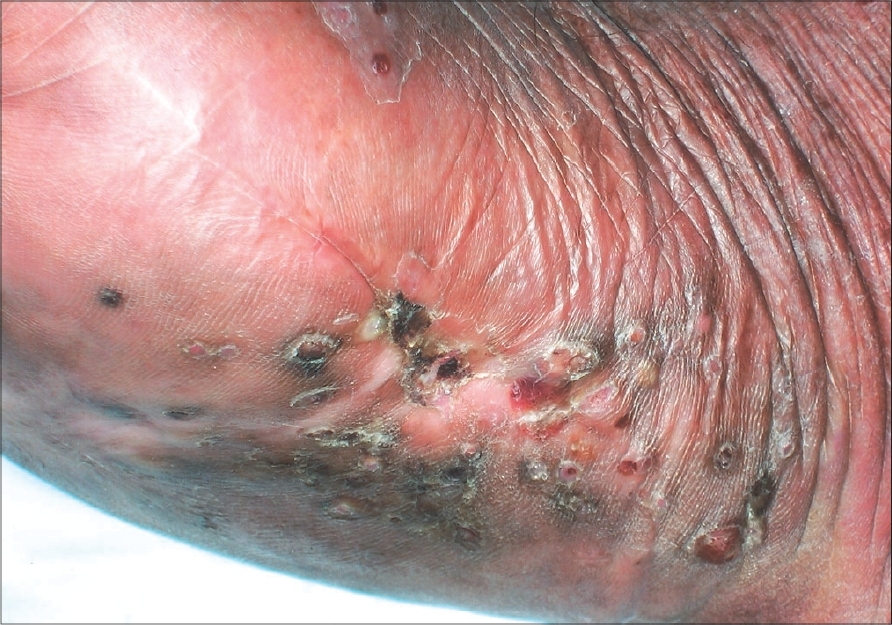 Figure 1: Actinomycetoma with sinuses on instep of right foot at presentation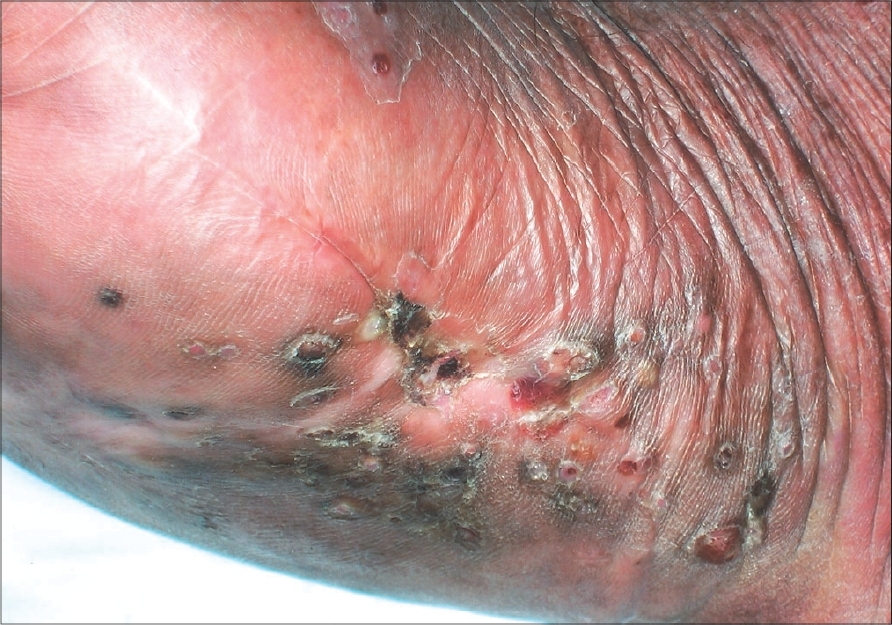 Figure 1: Actinomycetoma with sinuses on instep of right foot at presentation
Sir,
I read with interest the article ′A modified two-step treatment for actinomycetoma′, which appeared in the July-August 2007 issue of the IJDVL . [1]
The article illustrates vividly the difficulty in definitive microbiological diagnosis of mycetomas faced by clinicians in practice as even the authors could demonstrate actinomycetes in only half of their cases and that too in a premier teaching institute.
The choice of antibiotics used in such cases is, therefore, often based on reports of previous clinical studies or reports of laboratory studies of in vitro sensitivity of human isolates of actinomycetes. Combinations of two or more drugs are often used to prevent resistance and persistence of infection. However, no single regimen has given consistent good results, and successful treatment of actinomycetomas in general remains really speaking ′a matter of chance′.
Of the 16 patients reported by the authors, 7 patients were lost to follow-up before complete healing had occurred, indicating a very high rate of drop-outs and possible waste of intensive therapy that they had received earlier. Of the other 9 who did follow-up, one patient relapsed later with development of new lesions. Because mycetoma affects predominantly poor people from rural communities who often are daily wage earners, admission to hospital for intensive intravenous regimens puts them under great financial strains and results in high levels of drop-outs. I would like to report the efficacy of the combination of rifampicin and cotrimoxazole in a case of actinomycetoma.
A 58-year-old shopkeeper from a semi-rural region, about 100 km north of Mumbai, presented with swelling and induration of the right foot with discharging sinuses on the instep and the dorsum of the right foot [Figure - 1]. He had been diagnosed clinically with mycetoma of the right foot 5 years back and was treated with several courses of various antibiotics (details of treatment were not available with the patient), and due to lack of response to medical treatment, he underwent surgery 1 year back to remove the affected tissue. Six months after the surgery, he started developing new sinuses and induration of the surrounding tissue.
A biopsy from one of the new sinuses revealed suppurative-granulomatous nodules within the dermis, one such area of suppuration had at its centre a collection (grain) of actinomycetes. The patient was investigated; complete haemogram, tests for G6PD function, liver and renal functions, blood sugars, urine routine and chest X-rays were found to be within normal limits. The patient had no past history of tuberculosis.
He was started on rifampicin 600 mg daily and cotrimoxazole double strength tablets (DS 1-1 or 2-2 320/1600) twice daily along with multivitamins and folic acid supplements.
He was instructed to repeat all investigations at monthly intervals at his home town and follow up for clinical examination after 2 months or earlier if he experienced any side-effects from the medication. At the first follow-up at 2 months, the lesions had started healing and by end of 4 months all lesions had healed and no new sinuses had developed [Figure - 2]. Therapy was continued for a further 6 months for a total treatment period of 10 months, at the end of which he was symptom-free and continued to be so for a further follow-up period of 6 months. No adverse effects of the medication were seen.
Rifampicin is a highly bactericidal antibiotic and has been shown to be the most effective antibiotic in terms of lowest MIC amongst 13 antibiotics tested for in vitro studies against Streptomyces somaliensis , which is a cause of human actinomycetoma. [2] Rifampicin has also been used along with amikacin and co-trimoxazole in the successful treatment of nocardiosis of the chest wall that developed 10 years after untreated mycetoma of the right hand. [3]
Therefore, in my opinion, rifampicin along with cotrimoxazole for extended periods of time may be a rational initial choice for treatment of actinomycetomas, as this combination is fairly cheap and can be used at home by the patient without the need for admission to a hospital.
Most patients do not receive therapy for adequate period of time (several months to even years of treatment may be needed), and for patients who do not improve even after a reasonable trial with these two drugs, intensive therapy with intravenous penicillin and gentamicin or amikacin may be attempted.
References
1.

Ramam M, Bhat R, Garg T, Sharma VK, Ray R. A modified two step treatment for actinomycetomas. Indian J Dermatol Venereol Leprol 2007;73:235-9.

[Google Scholar]
2.

Nasher MA, Hay RJ, Mahgoub ES, Gumaa SA. In vitro studies of antibiotic sensitivities of Streptomyces somaliensis: A cause of human actinomycetoma. Trans R Soc Trop Med Hyg 1989;83:265-8.

[Google Scholar]
3.

Saarinen KA, Lestringant GG, Czechowski J, Frossard PM. Cutaneous nocardiosis of chest wall and pleura: 10 year consequences of a hand actinomycetoma. Dermatology 2001;202:131-3.

[Google Scholar]
Show Sections