Net Letter
doi: 10.4103/0378-6323.174413
PMID: 26924412
Treatment of prurigo nodularis with dexamethasone-cyclophosphamide pulse therapy
Ramji Gupta
Department of Dermatology, Indraprastha Apollo Hospital, Sarita Vihar, New Delhi, India

Correspondence Address:
Ramji Gupta
47-C Pocket B Siddhartha, Extension New Delhi - 110 014
India

How to cite this article:
Gupta R. Treatment of prurigo nodularis with dexamethasone-cyclophosphamide pulse therapy. Indian J Dermatol Venereol Leprol 2016;82:239
Copyright: (C)2016 Indian Journal of Dermatology, Venereology, and Leprology
Sir,
Prurigo nodularis is a chronic, intensely pruritic nodular condition usually found on the lower extremities, though it can occur anywhere on the body. It was first described by Hardway in 1880 and named by Hyde and Montgomery in 1909. [1] The aetiology of the disease is still not clear. Three types have been described: (i) atopic (ii) non-atopic and (iii) human immunodeficiency virus (HIV) associated. [2] Treatment modalities that have been tried with limited success include antihistamines, topical and intralesional corticosteroids, calcipotriol, capsaicin, thalidomide, lenalidomide, cyclosporine, narrow-band UVB, cryotherapy, pulsed dye laser and recently pregabalin and roxithromycin with tranilast.
Dexamethasone-cyclophosphamide pulse (DCP) therapy has been widely used to treat a large number of autoimmune diseases such as pemphigus, [3] systemic sclerosis [4] and systemic lupus erythematosus [5] with prolonged or permanent remission in several patients. Therapy is administered as 100 mg of dexamethasone dissolved in 500 mL of 5% dextrose, infused over 1-1.5 hours on three consecutive days to which cyclophosphamide 500 mg is added on day 2. These intravenous "pulses" are repeated every 28 days, while oral cyclophosphamide is given daily in a dose of 50 mg. The whole regimen is divided into four phases. [5] Phase I is continued until all lesions clear. In phase II, nine more pulses are given. In phase III, only oral cyclophosphamide is given for 9 months. In phase IV, patients are followed up for any recurrence.
We report three cases of prurigo nodularis unresponsive to various therapies which subsequently responded to Dexamethasone-cyclophosphamide pulse (DCP) therapy. All had itching of unknown aetiology before developing prurigo with no history of atopic dermatitis.
Case 1 was a 41-year-old female with itchy nodules on both legs [Figure - 1] and lower back since 15 years. Histopathology was consistent with prurigo nodularis [Figure - 2]a and b. Prior intermittent treatment with dapsone, methotrexate, levocetrizine, betamethasone and flucinolone acetonide for 3 years gave mild, transient improvement. Itching disappeared within 15 days after the first Dexamethasone-cyclophosphamide pulse (DCP) pulse and following the second pulse all lesions cleared, leaving behind depigmentation [Figure - 3], Subsequently, the patient was administered seven more pulses while remaining asymptomatic. Afterwards, a biopsy showed no signs of prurigo nodularis [Figure - 4]. There was no recurrence in a year of follow-up after the last pulse.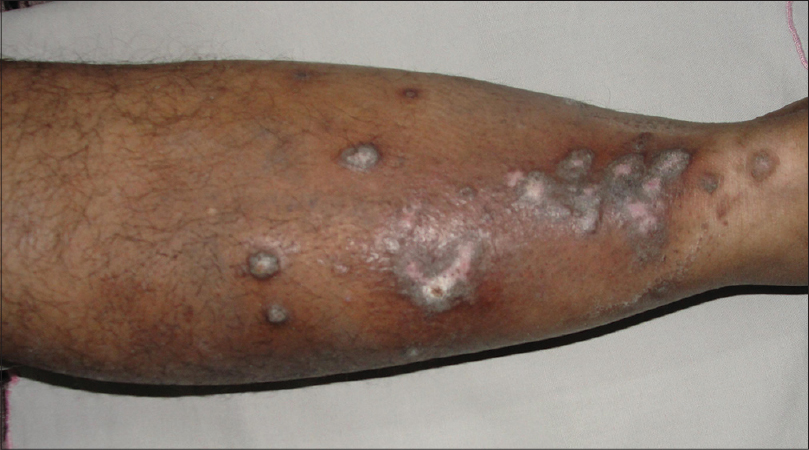 Figure 1: Prurigo nodularis, leg before treatment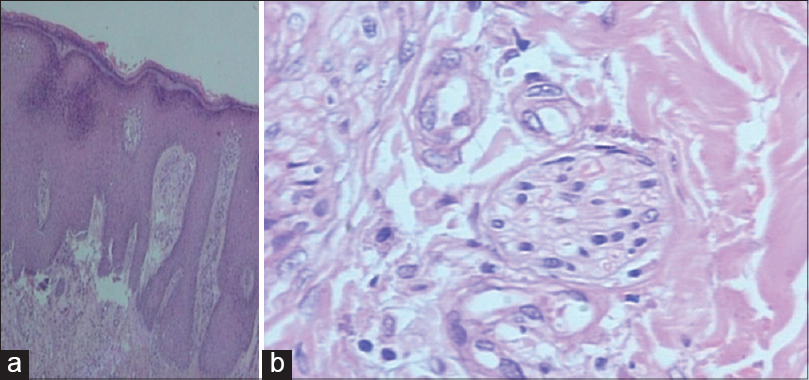 Figure 2: (a) Prurigo nodularis before treatment (H and E, ×10), (b) Nerve hypertrophy (H and E, ×100)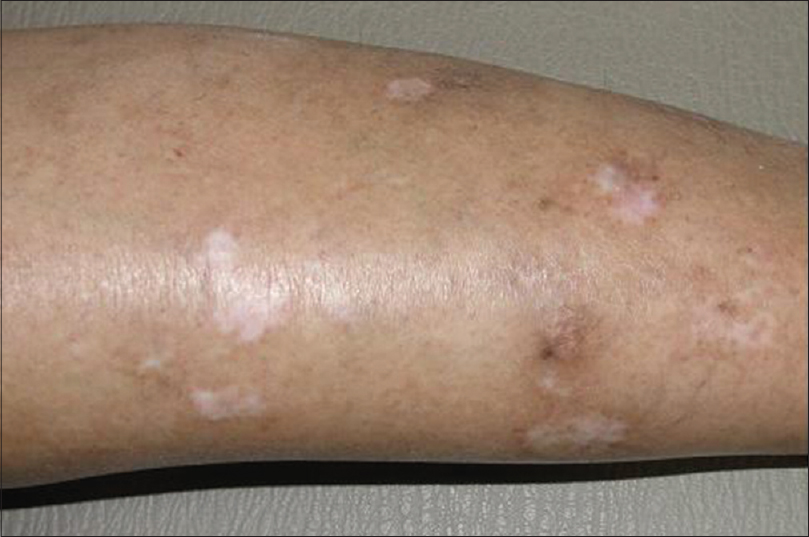 Figure 3: Prurigo nodularis, leg after treatment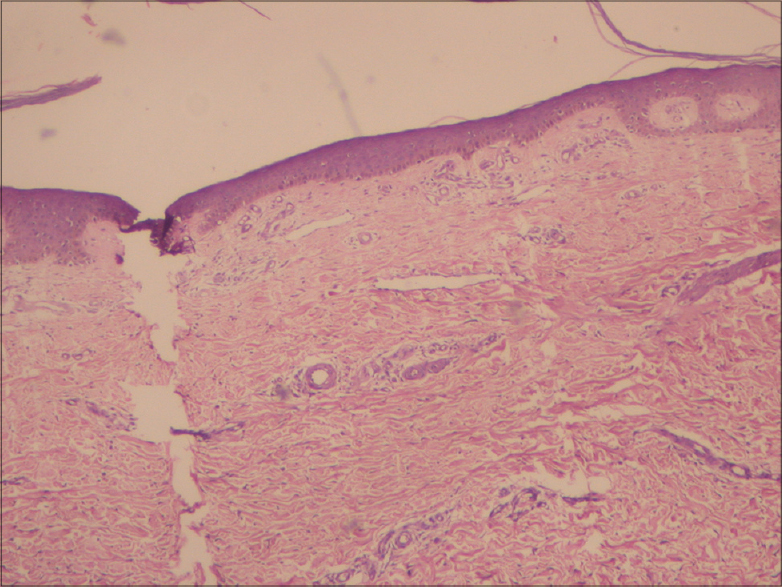 Figure 4: Prurigo nodularis, after treatment (H and E, ×10)
Case 2 was a 71-year-old male with itchy papules all over the body for 2 months. Histopathology supported the diagnosis of prurigo nodularis. There was no improvement after treatment for a month with prednisolone, dapsone, cyproheptadine hydrochloride and topical urea 10%. Dexamethasone-cyclophosphamide pulse (DCP) therapy was started and itching disappeared after the second pulse and lesions after the third pulse. A skin biopsy after the third pulse showed no evidence of prurigo nodularis and the patient discontinued the therapy on his own. However, he developed clinical and histopathological recurrence after 3 months. Pulse therapy was restarted with reduced pruritus and complete clearance of papules following six pulses. Subsequently, he was given seven more pulses and there was no recurrence during 2 years of follow-up.
Case 3 was a 51-year-old male with itchy papules on his legs, arms and abdomen for 1 year. The biopsy findings were consistent with prurigo nodularis. Betamethasone tablets and clobetasol cream were prescribed for a month with no response. Dexamethasone-cyclophosphamide pulse (DCP) pulse therapy was started, with complete clearance of lesions after the third pulse. However, the patient subsequently discontinued the therapy. After 3 months, the condition relapsed and the patient was lost to follow-up.
Many modalities of therapy have been claimed to be effective in clearing lesions of prurigo nodularis but frequently, relapse occurs after discontinuation. With Dexamethasone-cyclophosphamide pulse (DCP) therapy in prurigo nodularis, unlike the classical four-phase regime as given in pemphigus and other autoimmune disorders, response was seen with the initial two to three pulses itself but required seven more pulses to prevent relapse. We infer that Dexamethasone-cyclophosphamide pulse (DCP) therapy could be a valuable therapeutic alternative in cases of prurigo nodularis.
Financial support and sponsorship
Nil.
Conflicts of interest
There are no conflicts of interest.
References
1.

Hyde JN, Montgomery F H A. Practical treatise on diseases of the skin for the use of students and practitioners. Philadelphia: Lea and Febiger; 1909 p. 174-5.

[Google Scholar]
2.

Tanaka M, Aiba S, Matsumura N, Aoyama H, Tagami H. Prurigo nodularis consists of two distinct forms: Early-onset atopic and late-on-set nonatopic. Dermatology 1995;190:269-76.

[Google Scholar]
3.

Pasricha J S, Dass S S. Curative effect of dexamethasone -cyclophosphamide pulse therapy for the treatment of pemphigus vulgaris. Int J Dermatol 1992;31:875-7.

[Google Scholar]
4.

Gupta R. Systemic sclerosis treated with dexamethasone pulse. Indian J Dermatol Venereol, Leprol 2003;69:191-2.

[Google Scholar]
5.

Gupta R, Gupta S, Khera V. Dexamethasone cyclophosphamide pulse therapy in systemic lupus erythematosus: A case report. J Dermatol Treat 2009;20:55-8.

[Google Scholar]
Show Sections