Letter to the Editor
doi: 10.4103/0378-6323.72460
PMID: 21079328
Unilateral nevoid acanthosis nigricans and neurofibromatosis1: An unusual association
AS Krishnaram
Department of Dermatology, Madurai Medical College, Madurai, Tamil Nadu - 625 009, India

Correspondence Address:
A S Krishnaram
Department of Dermatology, Madurai Medical College, Madurai, Tamil Nadu - 625 009
India

How to cite this article:
Krishnaram A S. Unilateral nevoid acanthosis nigricans and neurofibromatosis1: An unusual association. Indian J Dermatol Venereol Leprol 2010;76:715-717
Copyright: (C)2010 Indian Journal of Dermatology, Venereology, and Leprology
Sir,
A 28-year-old male examined in our skin department was diagnosed as neurofibromatosis 1 (NF1) based on the presence of multiple Café au lait spots, neurofibromatous nodules, axillary freckling and Lisch nodules.
He developed multiple pigmented plaques in a linear pattern over the left side of the chest for the past 6 years. It progressed for a period of 4 years and remained inactive thereafter. Dermatological examination showed multiple broad, irregular, zosteriform plaques with pigmentation, corrugation with velvety thickening and ill-defined margins merging with the normal skin. Arising strictly from the midline, it extended for a length of 15 cm and revealed a tendency for segmental configuration [Figure - 1].
Figure 1: A 28-year-old male showing neurofibromatosis and multiple broad zosteriform-pigmented plaque of unilateral nevoid acanthosis nigricans
The family history was negative and systemic examinations were normal. Biopsy from the nodule showed Schwann cells with serpentine nuclei arranged in a fascicular pattern, consistent with the diagnosis of neurofibromatosis [Figure - 2].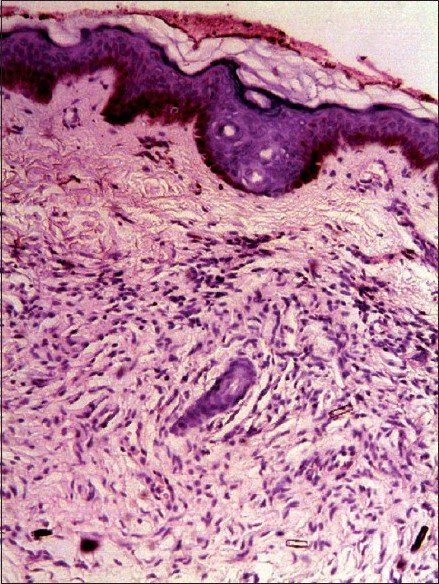 Figure 2: Histopathology section showing Schwann cells with serpentine nuclei arranged in a fascicular pattern (H and E, ×100)
Biopsy of the pigmented plaque showed hyperkeratosis, papillomatosis and interpapillary valleys with keratotic material above and minimal acanthosis below [Figure - 3].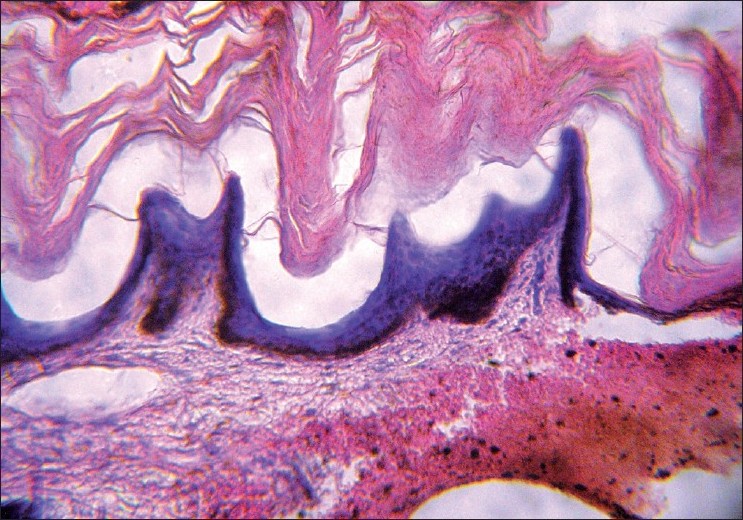 Figure 3: Histopathology section showing hyperkeratosis, papillomatosis and interpapillary valleys filled with keratin (H and E, ×200)
A diagnosis of unilateral nevoid acanthosis nigricans (UNAN) was made and investigations including blood sugar, hormonal assay and ultrasonogram of the abdomen were performed, which were found to be normal. Fasting insulin level and body mass index (BMI) showed normal values of 10.5 IU/ml and 20.5. UNAN was considered. Epidermal nevus (EN) was close differential diagnosis.
UNAN is a recently described form of acanthosis nigricans (AN), with the morphology of AN having unilateral/localized distribution manifesting during childhood or later.
It has a short period of activity for 4-5 years and remains stable, with no tendency to resolve. It is not associated with systemic, endocrine or syndromic conditions and, unlike classical AN, the literature review did not show a valid cross-reference on familial involvement in UNAN. Since its first description in 1991, very few cases (<10) have been documented in the world literature. [1],[2] It was first included in the classification of AN by Schwartz. [3]
EN and AN share many clinical and histopathological features commonly. A potential overlap between the two disorders is acknowledged as both AN type of EN and nevoid AN have been described. Although it is logical to think of EN in this case, a diagnosis of UNAN is made due to its morphological resemblance to AN, late onset, velvety thickening of the skin and ill-defined margins merging with normal skin. The streaky, curvilinear pattern so commonly seen in EN was also absent. Although the histopathology of AN is not diagnostic, lack of significant acanthosis excluded EN.
Unlike the classical symmetrical AN that normally involves the flexural areas, UNAN does not have a predilection for intertrigenous areas, as revealed from the available case reports in the literature. [1],[2],[4] A majority of the cases had their origin from the midline with unilateral distribution.
Zosteriform/segmental tendency, as observed in this case, is analogous to the historical diagnosis of Type 2 segmental AN, described by Happle, to an otherwise AN form of EN described by Curth. [4] The same historical case had an initial diagnosis of congenital unilateral EN with the histopathology of AN.
Genetic studies attribute AN to occur due to a mutation of the FGFR3 gene located at 4p16.35 and NF1 to the mutation of NF1 gene located in Chromosome 17 at band q11.2. [5] NF1 has the highest rate of new mutation, with an incidence of 1 in 10,000, with unpredictable geno-phenotype expression. It is interesting to note that NF1 Noonan syndrome is one of the phenotypic expression of NF1 occurring due to a mutation of the NF1 gene, unlike the classical Noonan syndrome, which follows mutation of gene PTPN11. [6]
Similarly, a new mutation of NF1 is proposed as a cause for NF1-UNAN association. However, it needs genetic study for confirmation and, until then, it will be considered as a simple association since this is the first case of UNAN to be associated with NF1 in the world literature.
AN and NF1 do not have anything in common but, however, UNAN and segmental neurofibromatosis share certain common features like localized distribution, benign course, lack of systemic or other tumor association and occurrence due to somatic mosaicism of post-zygotic gene mutation.
To conclude, documentation of UNAN itself is interesting and its association with NF1 could be a preliminary report of a new phenotypic syndrome of NF1 or just a simple coexistence. However, it could indicate an underlying genetic cause for the manifestation of UNAN.
References
1.

Krishnaram AS. Unilateral nevoid acanthosis nigricans. Int J Dermatol 1991;30:452-3.

[Google Scholar]
2.

Das JK, Sengupta S, Gangopadhyay A. Nevoid acanthosis nigricans. Indian J Dermatol Venereol Leprol 2008;74:279-80.

[Google Scholar]
3.

Schwartz RA. Acanthosis nigricans. J Am Acad Dermatol 1994;31:1-19.

[Google Scholar]
4.

Happle R. Type 2 segmental acanthosis nigricans: a historical case explained by a new concept. Arch Dermatol 2008;144:1637.

[Google Scholar]
5.

Berk DR, Spector EB, Bayliss SJ. Familial acanthosis nigricans due to K650T FGFR3 mutation. Arch Dermatol 2007;143:1153-6.

[Google Scholar]
6.

De Luca A, Bottillo I, Sarkozy A, Carta C, Neri C, Bellacchio E, et al. NF1 gene Mutations represent the major molecular event underlying neurofibromatosis-Noonan Syndrome. Am J Hum Genet 2005;77:1092-101.

[Google Scholar]
Show Sections