Translate this page into:

Letter to the Editor
doi: 10.4103/0378-6323.98088
Unilateral psoriatic onychopachydermoperiostitis
Biju Vasudevan, Rajesh Verma, Vijendran Pragasam, Disha Dabbas
Department of Dermatology, Command Hospital (Southern Command), Wanowrie, Pune, Maharashtra, India

Correspondence Address:
Biju Vasudevan
Department of Dermatology, Command Hospital (Southern Command), Wanowrie, Pune- 411040, Maharashtra
India

How to cite this article:
Vasudevan B, Verma R, Pragasam V, Dabbas D. Unilateral psoriatic onychopachydermoperiostitis. Indian J Dermatol Venereol Leprol 2012;78:499-501
Copyright: (C)2012 Indian Journal of Dermatology, Venereology, and Leprology
Sir,
Psoriatic onychopachydermoperiostitis (POPP) is a very recently-described uncommon variant of psoriatic arthritis. It is characterized by psoriatic onychodystrophy or onycholysis, soft tissue thickening over distal phalanx and periosteal reaction with absence of distal interphalangeal joint (DIP) involvement. POPP may involve nails of any finger or toe. However, nails of great toes are involved in most reported cases in literature. [1] We herein report a case of POPP involving only the right great toe, and this could be an early marker for development of psoriatic arthritis.
A 37-year-old man, a known case of psoriasis vulgaris for the last 4 years, presented with complaints of pain over right great toe since the last 3 months. It was associated with swelling of the toe and destruction of the nail plate. His skin lesions had episodic remissions and relapses since the time of onset. He had been treated for the skin lesions in the past with Psoralens and ultraviolet light (PUVA) and topical steroids with good response. He gave no history of any joint pains or swelling. He denied history of sustaining trauma to the right great toe.
General, physical and systemic examination was normal. Dermatological examination revealed multiple, discrete, polysized, erythematous, scaly plaques over trunk and extremities involving approximately 15% of the body surface area. Grattage and Auspitz signs were positive. Finger nails showed pitting, subungual hyperkeratosis, distal onycholysis and onychodystrophy. The right great toe was swollen and mildly tender [Figure - 1] and [Figure - 2]. Left great toe and all other toes were normal. All joints including spine and sacroiliac joints were normal, and there was no evidence of any enthesitis.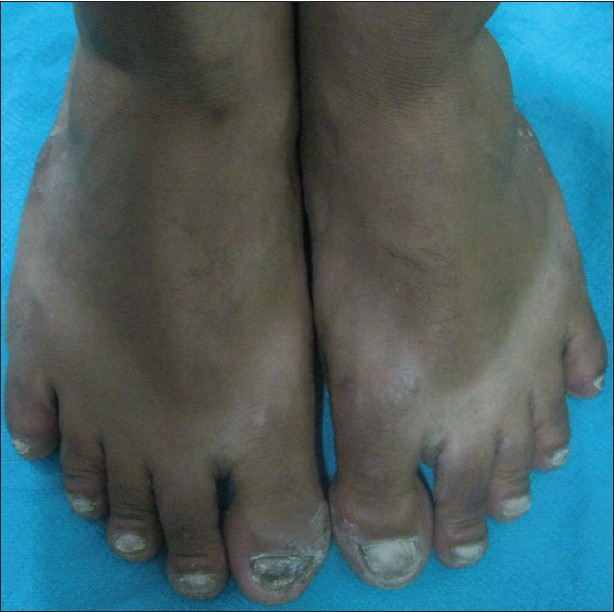 Figure 1: Right great toe nail showing onychodystrophy and swelling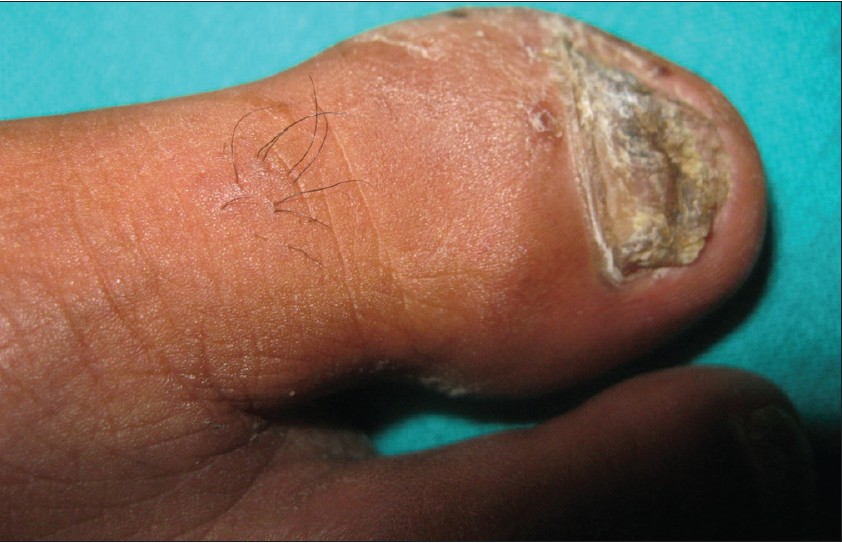 Figure 2: Closer view of right great toe showing onychodystrophy and soft tissue swelling
X-ray of the right great toe revealed periostitis, involving the medial aspect of the distal phalanx along with soft tissue swelling of the same toe [Figure - 3]. The interphalangeal joint was normal as were the other toes. Rest of the joints and articular spaces were normal. Complete blood counts and liver function tests were normal. Potassium hydroxide preparations from the thickened skin and toenail were negative for fungal elements. With the triad of onychodystrophy, soft tissue swelling and radiological evidence of periostitis, a diagnosis of POPP was made. He has been started on oral methotrexate 15 mg per week for the cutaneous and bone lesion.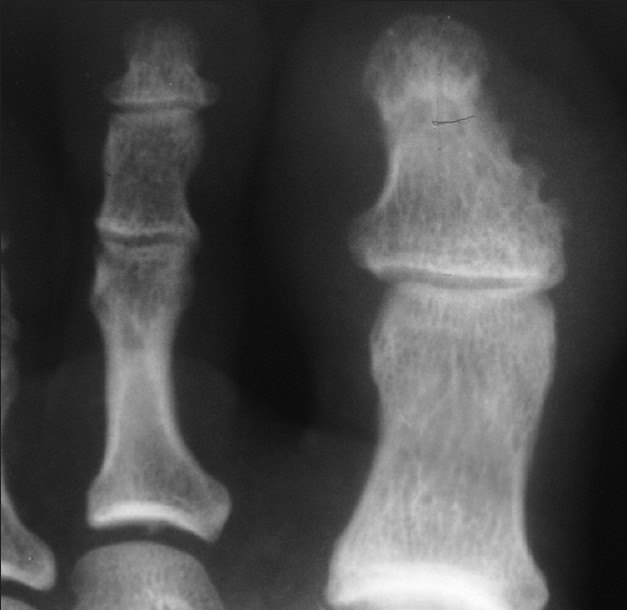 Figure 3: Periostitis of right great toe distal phalanx (medial aspect)
POPP was first described as a separate entity in 1989. It is now considered a rare form of psoriatic arthropathy, which is characterized by nail changes, soft tissue thickening of distal phalanx and bone reaction. The commonest form of nail dystrophy in POPP is onycholysis associated with longitudinal ridges and onychodystrophy of the nail plate. These nail, bone and accompanied soft tissue changes result in a drumstick like appearance of digits. Patients may rarely have associated pain and tenderness of the distal interphalangeal joints, resulting in functional impairment.
POPP is mostly considered as a kind of psoriatic arthritis though the pathophysiology is still poorly understood. It is, however, usually not associated with peripheral arthritis or with spondyloarthropathy. About 20 cases of POPP have been reported in literature so far. [2] HLA-B27 has been reported to be positive in most, suggesting that POPP may be part of seronegative spondyloarthropathies. [3] The proposed mechanisms of pathogenesis are analogous to the ossifying enthesopathies of seronegative arthritis. The inflammation is supposedly transmitted from the involved joint cartilage to the insertions of ligaments or tendons. The close anatomical relationships between nail and terminal phalanx may result in spread of inflammation of the psoriatic process from the subungual dermis to the terminal phalanx through the fibrous septae, which usually directly join them and are then only deeply inserted into bone.
Treatment of POPP is not easy. Therapy is usually similar to that of psoriatic arthritis. Response to both non-steroidal anti-inflammatory drugs and sulfasalazine is not consistent. Methotrexate 4 mg weekly has been reportedly found to be effective in one patient. [4] Clinical and radiologic improvement of POPP has also been reported anecdotally in patients who were prescribed adalimumab, etanercept, cyclosporine and retinoids [5]
This case is presented due to the rare unilateral involvement of only the right great toe by POPP and also because such a case has probably not been reported earlier from this country. The unilateral involvement of great toe could be an early marker for development of psoriatic arthritis at a later stage.
References
1.

Mahoney JM, Scott R. Psoriatic onychopachydermoperiostitis (POPP): A perplexing case study. J Am Podiatr Med Assoc 2009;99:140-3.

[Google Scholar]
2.

Bongartz T, Härle P, Friedrich S, Karrer S, Vogt T, Seitz A, et al. Successful treatment of psoriatic onycho-pachydermo periostitis (POPP) with adalimumab. Arthritis Rheum 2005;52:280-2.

[Google Scholar]
3.

McGonagle D, Conaghan PG, Emery P. Psoriatic arthritis: A unified concept twenty years on. Arthritis Rheum 1999;42:1080-6.

[Google Scholar]
4.

Ochiai T, Washio H, Shiraiwa H, Takei M, Sawada S. Psoriatic onycho-pachydermo-periostitis successfully treated with low-dose methotrexate. Med Sci Monit 2006;12:CS27-30.

[Google Scholar]
5.

Dans M, Hivnor C, van Voorhees AS. Psoriatic onycho-pachydermo-periostitis: Improvement with etanercept. Br J Dermatol 2005;153:858-9.

[Google Scholar]
Show Sections