Translate this page into:

Letter to the Editor
doi: 10.4103/0378-6323.72458
PMID: 21079326
Unusual presentation of cutaneous myiasis
Mohan H Kudur, M Pooja, Sudhir Nayak
Department of Dermatology and Venereology, Kasturba Medical College, Manipal, India

Correspondence Address:
Mohan H Kudur
Assistant Professor, Department of Dermatology, Kasturba Medical College, Manipal - 576104, Udupi Dist., Karnataka
India

How to cite this article:
Kudur MH, Pooja M, Nayak S. Unusual presentation of cutaneous myiasis. Indian J Dermatol Venereol Leprol 2010;76:712-714
Copyright: (C)2010 Indian Journal of Dermatology, Venereology, and Leprology
Sir,
A 38-year-old married female presented with pain, swelling and redness of the clitoral area of 5 days duration. Pain was sudden in onset, throbbing in nature and associated with crawling sensation. For the above complaints, she consulted a doctor in her village and was treated with analgesics and antibiotics. The pain increased in spite of 3 days of medication. She consulted the Department of OBG in our hospital, where no gynecological cause for pain was found. She was referred to dermatology to rule out any sexually transmitted infections. There was no past history of significant medical or surgical illness. On examination, the clitoris and surrounding area was erythematous, swollen and extremely tender to touch. No ulcer or vesicle was seen in the genitalia. On pulling the prepucial skin over the clitoris, two maggots were seen in the space between the clitoris and the prepuce [Figure - 1]. Both maggots were removed manually using forceps [Figure - 2]. The patient was relieved of symptoms immediately after removal of the maggots.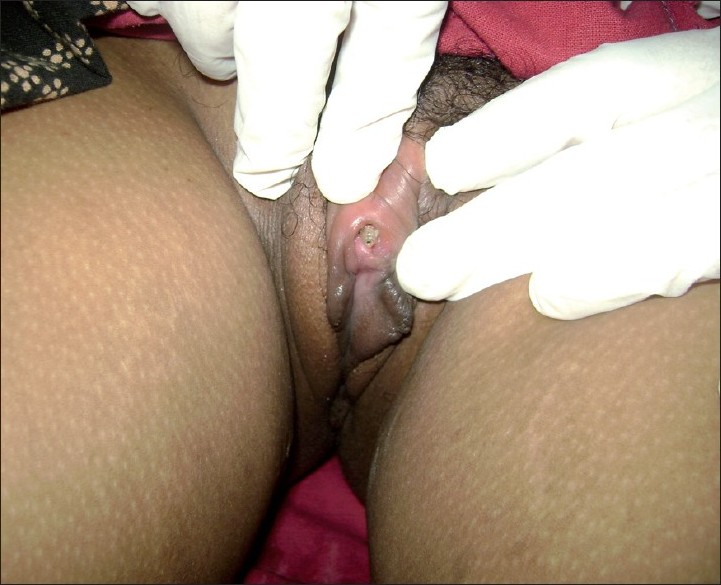 Figure 1: Maggots seen in the space between the clitoris and the prepuce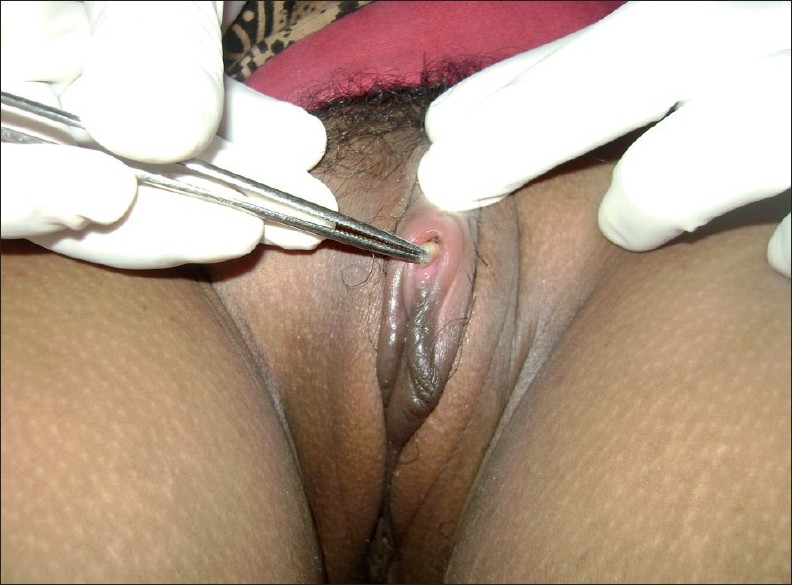 Figure 2: Maggots removed by forceps
Later, detailed history was taken to determine the etiology of myiasis. The patient used to go to the fields and forest area to collect wood for household purpose. At noon, she used to rest under the trees. She did not use undergarments. It is possible that flies must have laid their eggs on her genitalia and, after hatching, larvae must have lodged themselves in the space between the clitoris and the prepuce.
Myiasis (from the Greek "muia," meaning fly) is infestation of tissues of living vertebrates by the larvae of dipterous flies. Clinically, myiasis can be primary or secondary. Primary myiasis is caused by biophagus larvae (feed on living tissues) while secondary myiasis, more common type, is due to necrobiophagus flies (feed on dead tissues). Depending on the body parts involved, myiasis can be ophthalmic myiasis, nasopharyngeal myiasis, intestinal myiasis and cutaneous myiasis. Cutaneous myiasis is of three forms: creeping myiasis, [1] furuncular myiasis [2],[3] and traumatic or wound myiasis. [4] Myiasis of urogenital passages [5],[6] is rarely described, and species involved are chrysomyia (family Calliphoridae), sarcophagi (family Sarcophagidae), Cochliomyia, Wohlfartia, Piophila, Scenopinus, Scatopsidae and Anisopus. [7]
The aim of the treatment is to remove the larvae and treat any secondary infection with antibiotics. Symptoms improve immediately after removal of larvae. In wound myiasis, the larvae may be removed mechanically with forceps and, preferably, destroyed to prevent them from pupating. Occlusion of spiracles of larva using petrolatum, animal fat, beeswax, paraffin, butter and mineral oil can either kill them or induce them to move toward the skin surface. Maggots may be forced out by the lateral application of pressure or by injection of lidocaine beneath the lesion. When larvae are burrowed on to deeper tissues, they can be made to come out by application of gauze soaked in turpentine. In furuncular myiasis, under local anesthesia, the lesion should be incised and the larvae should be picked out without cutting them. In a creeping eruption, the larvae can be extracted with a needle. Systemic antihelminths like albendazole, thiabendazole, diethylcarbamazine [1] or Ivermectin can be used.
It is very important to examine the patient unbiased. High index of suspicion is necessary when history and clinical findings are not coinciding. In our case, pain, swelling and redness of genitalia can be easily mistaken for sexually transmitted infection.
References
1.

Pavithran K. Creeping eruption responding to Diethylcarbamazine therapy. Indian J Dermatol Venereol Leprol 1990;6:312- 4.

[Google Scholar]
2.

Smith D. Furuncular myiasis caused by Wohlfartia vigil (walker). Arch Dermatol 1984;117:119-20.

[Google Scholar]
3.

Sharma P, Pai HS, Pai GS. Furuncular myiasis mimicking pyoderma. Indian J Dermatol Venereol Leprol 2008;74:679-81.

[Google Scholar]
4.

Baskaran M, Jagan Kumar B, Geeverghese A. Cutaneous myiasis of face. J Oral Maxillofac Pathol 2007;11:70-2.

[Google Scholar]
5.

Passor MR, Carvalho AV, Dutra AL, Goulart Filho RA, Barreto NA, Salles RS, et al. Vulvar myiasis. Infect Dis Obstet Gynecol 1998;6:69-71.

[Google Scholar]
6.

Delir S, Handjani F, Emad M, Ardehali S. Vulvar myiasis due to Wohlfahrtia magnifica. Clin Exp Dermatol 1999;24:279-80.

[Google Scholar]
7.

Smith KG. Anisopus larvae (Diptera) in cases of intestinal and urino-genital myiasis. Nature 1966;210:852.

[Google Scholar]
Show Sections