Quiz
doi: 10.4103/0378-6323.30662
PMID: 17314457
Urticarial papules and plaques on the trunk
Tarun Narang1 , Amrinder Jit Kanwar1 , Sunil Dogra1 , Bishan Dass Radotra2
1 Department of Dermatology, Venereology and Leprology, Postgraduate Institute of Medical Education and Research, Chandigarh, India
2 Department of Pathology, Postgraduate Institute of Medical Education and Research, Chandigarh, India

Correspondence Address:
Amrinder Jit Kanwar
Department of Dermatology, Venereology and Leprology, Postgraduate Institute of Medical Education and Research, Chandigarh - 160 012
India

How to cite this article:
Narang T, Kanwar AJ, Dogra S, Radotra BD. Urticarial papules and plaques on the trunk. Indian J Dermatol Venereol Leprol 2007;73:63-64
Copyright: (C)2007 Indian Journal of Dermatology, Venereology, and Leprology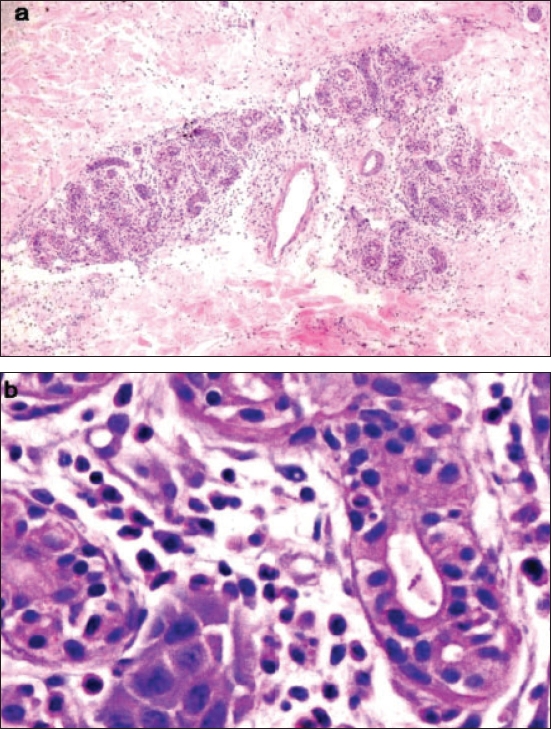 Histopathology showing a neutrophilic infiltrate around the sweat glands and degeneration of eccrine glands (H and E stain (a) 100x; (b) 1000x)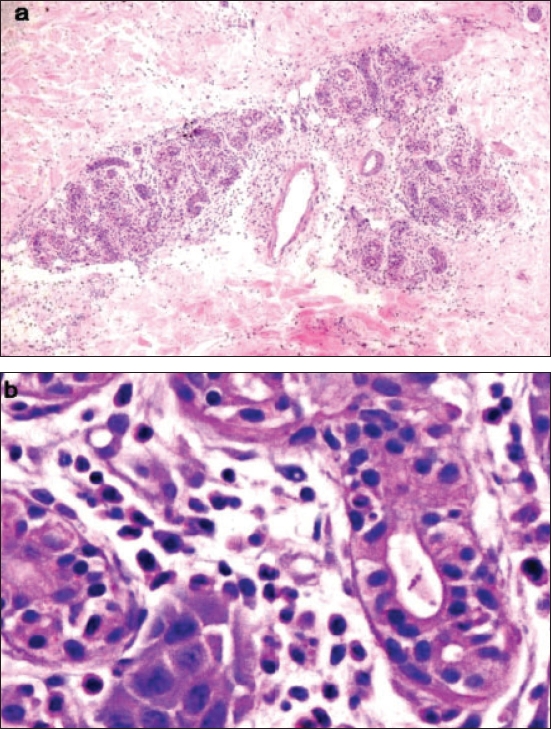 Histopathology showing a neutrophilic infiltrate around the sweat glands and degeneration of eccrine glands (H and E stain (a) 100x; (b) 1000x)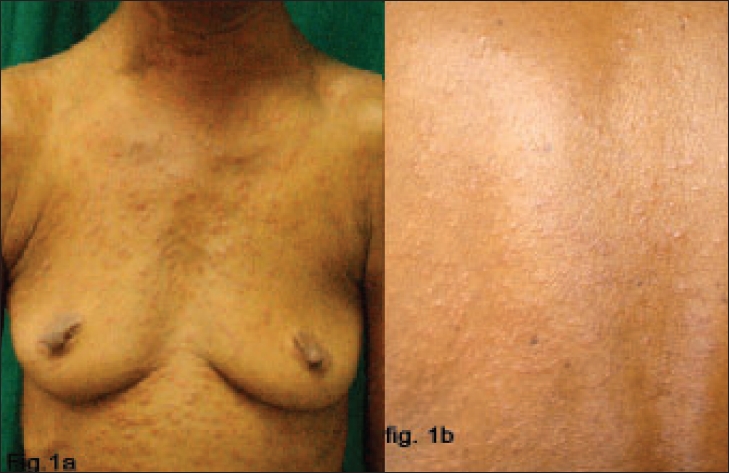 Erythematous plaques on the trunk and upper extremities of the patient after cyclophosphamide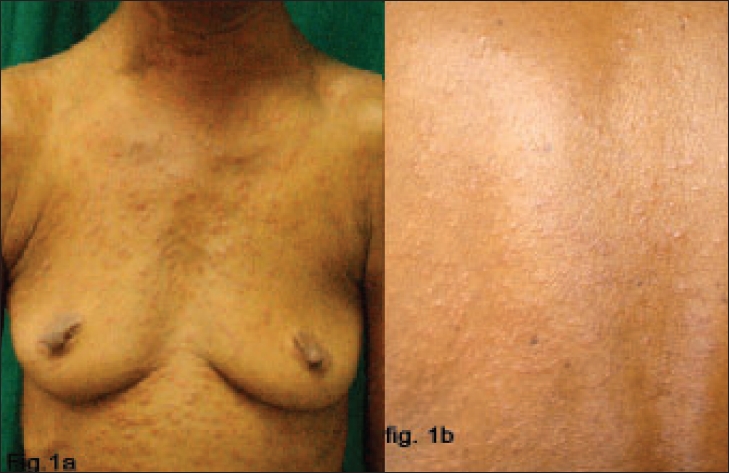 Erythematous plaques on the trunk and upper extremities of the patient after cyclophosphamide
A 65-year-old female was being treated with cyclophosphamide for follicular dendritic cell tumor of the cervical lymph nodes. She presented to us with erythematous painful eruption on the extremities and trunk that started approximately one week after starting the chemotherapy. She had been treated with chlorpheniramine followed by a course of prednisolone 30 mg OD for one week. This caused resolution of the lesions, but they recurred after the corticosteroids were stopped. The patient was otherwise fit and well with no other symptoms. She was on no other medication. Examination revealed numerous tender, erythematous and edematous papules and plaques on her trunk and proximal parts of extremities [Figure - 1]a and b. Her palms and soles were spared.
Complete blood count, renal and liver function tests, electrolytes and autoantibody screen were normal with the exception of an elevated neutrophil count (12.10 x 109/L). Skin biopsy taken from one of the lesions showed a polymorphous inflammatory reaction within and around some eccrine sweat ducts, consisting of many neutrophils and a few lymphocytes without red blood cells extravasation [Figure - 2]. Special stains with Perls and Rouge Congo were negative. Acid-fast bacilli, periodic acid-Schiff and Gomori methenamine silver stains and a tissue culture were all negative for infection. Cyclophosphamide was stopped and over the course of the next week, the eruption gradually resolved without any other intervention.
What is your diagnosis?
References
1.

Harrist TJ, Fine JD, Berman RS, Murphy GF, Mihm MC Jr. Neutrophilic eccrine hidradenitis. A distinctive type of neutrophilic dermatosis associated with myelogenous leukemia and chemotherapy. Arch Dermatol 1982;118:263-6.

[Google Scholar]
2.

Susser WS, Whitaker-Worth DL, Grant-Kels JM. Mucocutaneous reactions to chemotherapy. J Am Acad Dermatol 1999;40:367-98, 399-400.

[Google Scholar]
3.

Bachmeyer C, Aractingi S. Neutrophilic eccrine hidradenitis. Clin Dermatol 2000;18:319-30.

[Google Scholar]
4.

Greenbaum BH, Heymann WR, Reid CS, Travis SF, Donaldson MH. Chemotherapy-associated eccrine hidradenitis, neutrophilic eccrine hidradenitis reevaluated: The role of neutrophilic infiltration. Med Pediatr Oncol 1988;16:351-5.

[Google Scholar]
5.

Hurt MA, Halvorson RD, Petr FC Jr, Cooper JT Jr, Friedman DJ. Eccrine squamous syringometaplasia: A cutaneous sweat gland reaction in the histological spectrum of chemotherapy-associated eccrine hidradenitis and neutrophilic eccrine hidradenitis. Arch Dermatol 1990;126:73-7.

[Google Scholar]
6.

Bilic M, Mutasim DF. Neutrophilic eccrine hidradenitis in a patient with Behcet's disease. Cutis 2001;68:107-11.

[Google Scholar]
Show Sections