Translate this page into:

doi:
10.25259/IJDVL_14_2023
Use of Janus kinase inhibitors in atopic dermatitis – an update
Department of Pediatric Dermatology, Institute of Child Health

,

Kolkata, West Bengal

,

India
1
Department of Dermatology, Calcutta National Medical College

,

Kolkata, West Bengal

,

India
Corresponding author: Dr. Abhishek De, Department of Dermatology, CNMC, Kolkata, India. dr_abhishek_de@yahoo.co.in
Received: , Accepted: ,
© 2023 Indian Journal of Dermatology, Venereology and Leprology - Published by Scientific Scholar
Licence
This is an open-access article distributed under the terms of the Creative Commons Attribution-Non Commercial-Share Alike 4.0 License, which allows others to remix, transform, and build upon the work non-commercially, as long as the author is credited and the new creations are licensed under the identical terms.
How to cite this article: Datta S, Dhar S, De A. Use of Janus kinase inhibitors in atopic dermatitis – an update. Indian J Dermatol Venereol Leprol doi: 10.25259/IJDVL_14_2023
Abstract
Atopic dermatitis is among the cutaneous inflammatory disorders whose pathophysiology is thought to be influenced by the JAK-STAT intracellular signalling system. The effectiveness of systemic and topical Janus kinase (JAK) inhibitors in the treatment of atopic dermatitis has been shown in clinical trials and case studies. At present, oral abrocitinib (Cibinqo), oral upadacitinib (Rinvoq), oral baricitinib (Olumiant) and topical ruxolitinib (Opzelura) have approval from the US-FDA for their use in the treatment of atopic dermatitis. The efficacy and safety of oral and topical Janus kinase inhibitors for the treatment of atopic dermatitis have been reviewed in this article.
Keywords
Janus kinase inhibitors
atopic dermatitis
abrocitinib
upadacitinib
ruxolitinib
baricitinib
Introduction
Atopic dermatitis is a challenging, chronic, relapsing inflammatory skin condition that is often accompanied by additional atopic symptoms such as food allergies, allergic rhinitis and asthma. 1,2 Atopic dermatitis is assumed to include hereditary as well as environmental factors that precipitate the development and progression of this disease, however the exact aetiology of the disorder is still unclear. Among the immunologic factors contributing to the multifactorial aetiology of atopic dermatitis are alterations related to membrane malfunction, cellular-mediated immune responses and type 1 IgE malfunction. 3,4
Investigations have demonstrated that skin barrier breakdown and immunological imbalance lead to the development of atopic dermatitis. 5 It is primarily a T cell-driven illness since it has elevated levels of cytokines like interleukins and chemokine ligand 18 (CCL18). In addition, there is stimulation of cytokine pathways like Th22, Th17/IL-23 and Th1. DNA methylation is another potential factor that causes atopic dermatitis- [Figure 1].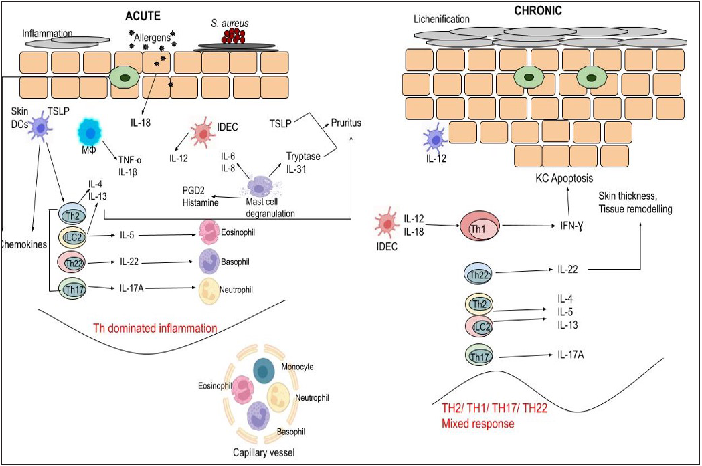 Epidermal abnormalities in individuals with atopic dermatitis were linked to altered gene transcript levels according to an epigenome-wide association analysis in adult atopic dermatitis patients. 6 Significant variations in DNA methylation were also found at a total of 19 CpG sites. By demethylating the promoters of the IL-13 and IL-4 genes, GATA3 transcription factor activation in Th2 cells causes the production of IL-4, IL-5 and IL-13 [Figure 2]. 7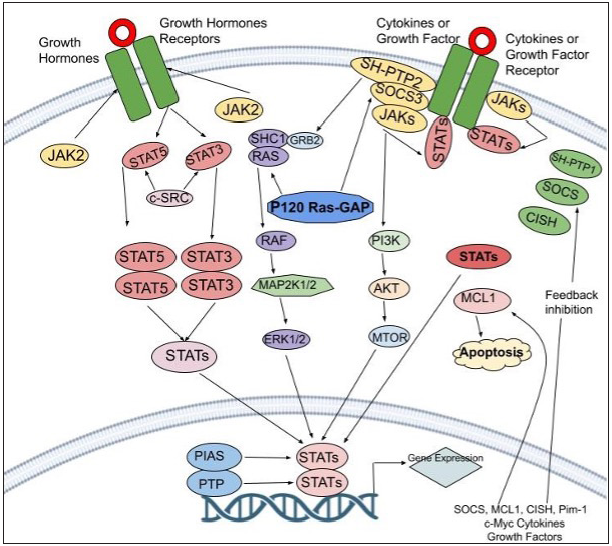 One of the distinctive features of this phenomenon is the propensity for CD4 cells to develop into cells belonging to the Th2 line. In peripheral blood and tissues, cytokines induce IgE antibodies and eosinophils. 8 This inflammation damages the epidermal barrier.
Mechanism of Action
The JAK-STAT pathway leading to downstream activation triggers the production of several cytokines. Interleukin [IL]-13, IL-4, IL-31 and IL-5 are examples of proinflammatory cytokines that work via this signal transduction channel which serves as a connector between the nucleus and the cell membrane. Mammals have four Janus kinases (JAK1, JAK2, JAK3 and tyrosine kinase 2) and seven STATs (STAT1, STAT2, STAT3, STAT4, STAT5a, STAT5b and STAT6) [Figure 3]. When ligands attach to cellular receptors leading to JAK-STAT activation, it stimulates genetic transcription in the nucleus. As a result, Janus kinase suppression may reduce pro-inflammatory cytokine signalling. In atopic dermatitis mouse model studies, Janus kinase inhibitors demonstrated an improvement in skin barrier functioning and a decrease in inflammatory IL levels [Table 1]. 9,10
Name
Target
Formula
Route of administration
Usage in dermatology
Side effects
Tofacitinib

JAK1

JAK3

JAK2

TYK2

C16H20N6O
Oral/topical

Psoriasis (oral, topical),

Alopecia areata (oral, topical), Atopic dermatitis (oral, topical),

Vitiligo (oral, topical), Hidradenitis suppurativa (oral) Lichen planus (oral) Dermatomyositis (oral),Cutaneous sarcoidosis (oral),Generalized granuloma annulare (oral),Pyoderma gangrenosum (oral)

Applications site pain and irritation,Upper respiratory tract infections
Ruxolitinib

JAK1

JAK2

C17H18N6
Oral/topical
Psoriasis (topical) Vitiligo (oral, topical),Alopecia areata (oral, topical),Atopic dermatitis (topical), Dermatomyositis (oral),Cutaneous lupus (oral),Pyoderma gangrenosum (oral)
Applications site pain and irritation
Baricitinib
JAK1
C16H17N7O2S
Oral
Psoriasis,Alopecia areata,Atopic dermatitis, Systemic lupus erythematosus
Nasopharyngitis and headache
Delgocitinib
JAK1
C16H18N6O
Topical
Atopic dermatitis Alopecia areata
Nasopharyngitis and application- site skin infections
Abrocitinib
JAK1
C14H21N5O2S
Oral
Atopic dermatitis Psoriasis
Upper respiratory tract infections, nausea,diarrhea, worsening of atopic dermatitis symptoms and headache
Gustacitinib
JAK (JAK1, JAK2, JAK 3, TYK2)/SYK
C24H28N8O2
Oral
Atopic dermatitis
Upper respiratory tract infection, headache, and nausea with headache and gastrointestinal symptoms
Upadacitinib
JAK1
C17H19F3N6O
Oral
Atopic dermatitis Psoriasis
Upper respiratory tract infections, acne and worsening of atopic dermatitis symptoms
Topical JAK Inhibitors
Tofacitinib
Tofacitinib (TOFA), a JAK1 and JAK3 inhibitor implicated in the Th1 and Th2 signalling pathways, was the first Janus kinase inhibitor to go through substantial human research. A 4-week, phase 2a, double-blind, randomized study involving 69 adults aged 18–60 years found that 2% tofacitinib applied twice daily significantly improved symptoms, leading to a decrease in Eczema area and severity index (EASI) scores of 81.7% as opposed to 29.9% with placebo. 11 Nevertheless, as opposed to 9% of control group patients, 17% of the tofacitinib group suffered treatment-emergent side effects, notably nasopharyngitis and upper respiratory tract infections. Another study involving six patients with atopic dermatitis who were resistant to standard therapy found that Scoring Atopic Dermatitis (SCORAD) decreased by 24.3% over 21 weeks (p < 0.05). No notable side effects were reported. 12
Ruxolitinib
Experiments involving transgenic IL-33 mouse models demonstrated the ability of ruxolitinib cream (p < 0.01) in decreasing both thymic stromal lymphopoietin (TSLP) and fluorescein isothiocyanate (FITC)-induced ear swelling (34% and 39%, respectively), abnormal grooming behaviours due to the inflammation and ear punch weight. Further research revealed that it was due to the inhibition of IL-33 and Th-2 proteins. It was coupled with substantial inhibition of the production of interferon signalling pathway mediators, such as IFITM3 (interferon-induced transmembrane protein 3). On histological investigation of tissue samples, ruxolitinib cream significantly reduced the number of mast cells in contrast to vehicle (placebo) cream, providing clear evidence for the drug's potent anti-inflammatory action. 13
There have been numerous studies to establish the role of ruxolitinib in treating atopic dermatitis. Under the registration number NCT03011892, 14 a phase 2 clinical research study enrolling 307 adult atopic dermatitis patients was carried out. An Investigator's Global Assessment (IGA) score of 2 or 3 (mild or moderate) and 3–20% affected body surface area were some of the inclusion parameters. Subjects were randomly assigned to receive RUX (ruxolitinib) cream, active control or vehicle control for 8 weeks. During the second week, more people using 1.5% RUX twice daily than those using 0.1% triamcinolone cream had reached Clinically relevant improvement (CRI) and by the fourth week, near-maximal improvement had been seen. Within 36 hours of starting therapy, over 42.5% of those in the 1.5% RUX group had a minimal clinically significant difference (MCID) in pruritus (vehicle, 13.6%; P < 0.01). Patients receiving 1.5% RUX cream BID demonstrated an increase in Skindex-16 overall scores of 63.5% and 73.2%, respectively, from baseline at weeks 2 and 8.
Kim et al., 15 in phase II research, administered ruxolitinib cream to 252 patients for 4 weeks at four different dosages (0.15% daily, 0.5% daily, 1.5% daily, or 1.5% twice daily), as opposed to triamcinolone 0.1% cream and placebo. All RUX regimens significantly alleviated the distressing symptoms by week 4 with the 1.5% BID group demonstrating the biggest improvement in EASI (71.6% vs. 15.5%; p < 0.0001). The investigation offered strong proof of ruxolitinib's effectiveness with no significant side effects associated with on-site treatment.
The topical ruxolitinib evaluation in atopic dermatitis studies involved 631 and 618 patients respectively who were randomly assigned to either apply 0.75% RUX cream, 1.5% RUX cream or vehicle cream on the affected areas twice daily continuously for 8 weeks. The primary endpoint of this study was an improvement in the IGA scores. The results obtained thus were highly favourable for ruxolitinib.
In these two phase III atopic dermatitis trials, the average serum concentrations of RUX were minimal and did not change any clinically important haematological parameters. On applying the RUX cream topically, it was reported that there is a relatively low bioavailability which aids in the controlled delivery of the active medication to atopic dermatitis skin lesions. This also reduces the safety concerns related to the oral administration of Janus kinase inhibitors. The responses seen imply that ruxolitinib might be useful in different clinical scenarios. Not only is it beneficial in a broad atopic dermatitis patient population with different racial characteristics, regardless of their baseline disease condition and severity level, but also offers to be an additional treatment option before contemplation of systemic therapy. Because of its effectiveness and safety, RUX cream may replace other topical non-steroidal therapies as the industry standard. 16
Delgocitinib
Delgocitinib, a pan-Janus kinase inhibitor, demonstrated promising results in non-clinical testing studies. The topical application of delgocitinib lessened inflammation and promoted the manufacture of terminal differentiation proteins, including filaggrin, to treat skin barrier abnormalities. In an animal model of dermatitis, it also decreased skin inflammation. Overall, atopic dermatitis symptom severity, as measured by the modified EASI (mEASI) and IGA scores, had improved dramatically by week 4 of a phase II study. It is hypothesised that the JAK-STAT pathway reduces IL-31 signalling. It can also be due to the inhibition of neural transmission of itch via JAK pathway suppression. These mechanisms are the most probable contributors to the improvement in pruritus that was seen on day 1. 17 Japanese patients with moderate-to-severe atopic dermatitis who were 16 years of age or older participated in the phase II long-term study with an accompanying extension study. 18 They received treatment for 4 weeks with either delgocitinib 0.5% ointment or vehicle ointment, according to a 2:1 randomization. A 24-week supply of the delgocitinib 0.5% ointment was provided to patients who fulfilled the criteria for Part 2. The main efficacy outcome was the per cent change in the modified EASI score from baseline. The key effectiveness goal for the delgocitinib group was considerably greater than the vehicle group's in Part 1 and the improvement continued in Part 2. 18
Nakagawa et al. 19 evaluated the efficacy and safety of delgocitinib ointment application in patients with moderate-to-severe atopic dermatitis using a variety of scales including modified EASI, EASI, pruritus numerical rating scale (NRS), % BSA impacted by atopic dermatitis and Skindex-16, 32, 33. There were only nine treatment-related adverse events, with one person discontinuing the therapy due to the side effects. Nasopharyngitis, acne, fever and Kaposi varicelliform eruptions were the ones most reported. At the end of the part 1 of the study (a 4-week double-blind period) the least-squares mean percent changes from baseline in the modified EASI were significantly greater in the delgocitinib group than in the vehicle group (-44.3% vs 1.7%, P < .001). The improvement was maintained in part 2 of he study (a 24-week extension period).
These results clearly outline the high safety ceiling for delgocitinib.
Conclusion
Various studies point to the fact that JAK inhibitors have progressed by leaps and bounds in not only creating and maintaining a disease-free state for atopic dermatitis patients but also in becoming an effective alternative to biologics. There are many advantages of using JAK inhibitors over conventional immunomodulators like precise targeting, long-term safety data, regulation of inflammatory cascade specific for atopic dermatitis, steroid-sparing potential, personalized treatment plans, and potential for combination therapy.
JAK inhibitors also have certain advantages over biologics, including, availability in oral formulations, the ability to target multiple cytokine signaling pathways, a lower cost of therapy, the potential for topical application, fewer immunogenicity concerns, efficacy and safety in pediatric populations, and greater availability.
However, it's important to acknowledge that, like any treatment, JAK inhibitors do carry potential side effects that require careful consideration. Available evidence suggests they may be useful in AD care, giving patients hope for effective and accessible medication.
Declaration of patient consent
Patient's consent not required as there are no patients in this study.
Financial support and sponsorship
Nil.
Conflicts of interest
There are no conflicts of interest.
Show Sections