Case Report
doi: 10.4103/0378-6323.140301
PMID: 25201843
Use of rituximab in pemphigus patients with chronic viral hepatitis: Report of three cases
Amrinder J Kanwar1 , Keshavamurthy Vinay1 , Kara Heelan2 , Scott Walsh2 , Neil H Shear2 , Radha K Dhiman3
1 Department of Dermatology, Venereology and Leprology, Postgraduate Institute of Medical Education and Research, Chandigarh, India
2 Department of Dermatology, Sunnybrook Health Sciences Centre, University of Toronto, Toronto, Canada
3 Department of Hepatology, Postgraduate Institute of Medical Education and Research, Chandigarh, India

Correspondence Address:
Amrinder J Kanwar
Department of Dermatology, Venereology and Leprology, Postgraduate Institute of Medical Education and Research, Sector 12, Chandigarh - 160 012
India

How to cite this article:
Kanwar AJ, Vinay K, Heelan K, Walsh S, Shear NH, Dhiman RK. Use of rituximab in pemphigus patients with chronic viral hepatitis: Report of three cases . Indian J Dermatol Venereol Leprol 2014;80:422-426
Copyright: (C)2014 Indian Journal of Dermatology, Venereology, and Leprology
Abstract
Use of rituximab in patients with chronic viral hepatitis can worsen pre-existing hepatitis or reactivate occult infection. There are no reports of use of rituximab in pemphigus patients with co-existing viral hepatitis. Herein, we report three pemphigus patients with co-existing chronic viral hepatitis (hepatitis C (
n
= 2), hepatitis B (
n
= 1)), who were treated successfully with rituximab under close supervision and concurrent antiviral drug administration. There was no derangement of the liver function tests or increase in viral load in any of the patients. By incorporating good collaboration with a hepatologist and close follow-up, such patients can be managed successfully with biologic therapies when the conventional treatment modalities have failed.
Keywords: Hepatitis B, hepatitis C, pemphigus, rituximab, viral hepatitis
INTRODUCTION
Pemphigus is a potentially fatal autoimmune blistering disorder with characteristic clinical, pathological and immunological findings. Rituximab, an anti-CD20 monoclonal antibody is increasingly being used in the treatment of pemphigus group of disorders in patients who fail conventional therapies. [1] However, because of its immunosuppressive effects, use of rituximab is associated with potential complications which includes worsening of pre-existing infections and/or reactivation of latent infections. Herein we report, for the first time, three patients with pemphigus and co-existing chronic viral hepatitis who were successfully treated with rituximab.
CASE REPORTS
Case 1
A 35-year-old Indian female was diagnosed with pemphigus vulgaris and commenced on azathioprine. Routine biochemical testing revealed alanine aminotransferase (ALT) and aspartate aminotransferase (AST) levels elevated by three and two-times above the normal level, respectively [Figure - 1]a. On discontinuation of azathioprine, her disease flared [pemphigus severity score 5 (adapted from Herbst et al. [2] )]. Further evaluation revealed the presence of anti-hepatitis C virus (anti-HCV) antibodies by enzyme immunoassay with a HCV viral load of 5.39 × 10 5 IU/ml. Liver biopsy showed grade 1-2 activity with a prominent plasma cell population with borderline interface inflammation composed of lymphocytes and plasmacytes. This was suggestive of an overlap autoimmune hepatitis. Four years later as her pemphigus had failed to respond to other therapies including intravenous immunoglobulin (IVIG) and mycophenolate mofetil, she was treated with two doses of 1g rituximab 15 days apart (comprising 1 cycle) with close monitoring. Following the first cycle she achieved partial remission (PR) on treatment as per the consensus statement from the International Pemphigus Committee [Figure - 2]. [3] After subsequent relapses she received two further cycles of rituximab. There was no derangement of liver function tests (LFT) [Figure - 1]a or increase in HCV viral load. The disease course and response has been summarized in [Table - 1] and [Figure - 2].

Table 1: Clinical features, disease course and response to treatment

Figure 1: Liver function tests during the disease course in patients with chronic hepatitis c (a) and hepatitis b (b) infection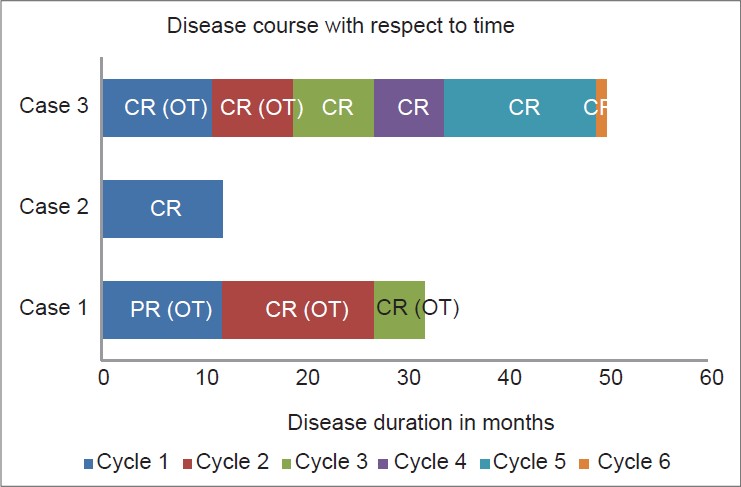 Figure 2: Disease course following rituximab administration. Each cycle consisted of 2 doses of 1 g rituximab administered at an interval of 15 days. Relapses were treated with additional cycles of rituximab. Case 1 received 3 rituximab cycles, case 2 received 1 rituximab cycle and case 3 received 6 rituximab cycles. The maximum clinical response achieved during each cycle is also mentioned [CR, complete remission off all treatment; CR (OT), complete remission on treatment; PR (OT), partial remission on treatment]
Case 2
A 60-year-old Indian male, who was a known case of pemphigus foliaceus with coexisting hepatitis C virus (HCV) infection, was referred to our institute for recalcitrant disease [Figure - 3]a. The patient had received six cycles of dexamethasone pulse therapy and daily oral corticosteroids (0.75-1 mg/kg/day) with only partial response. His baseline liver function tests were within normal limits [Figure - 1]a and serology for anti-HCV antibodies was positive with a viral load of 2.3 × 10 3 IU/ml. Elastography of the liver showed an elasticity score of 5.2 kilo Pascals, indicating absence of hepatic fibrosis. He was treated with one cycle of rituximab and achieved complete remission (CR) [Figure - 3]b. There was no rise in serum liver enzymes [Figure - 1]a or viral load. The disease course and response has been summarized in [Table - 1] and [Figure - 2].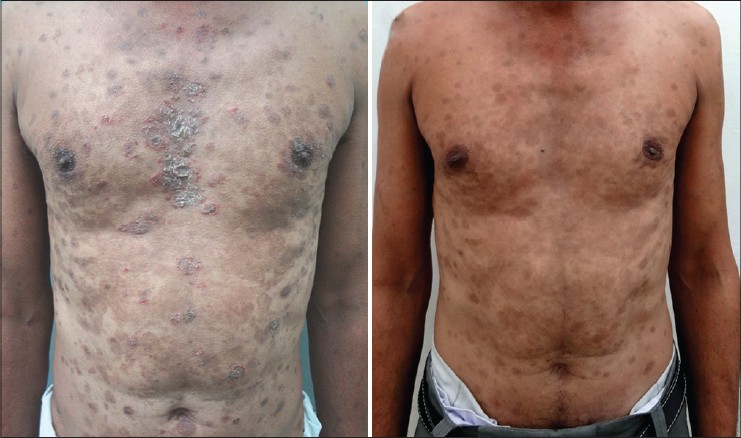 Figure 3: Case 2 (a) Prior to rituximab therapy showing active lesions over chest and abdomen. (b) One year after rituximab infusion showing complete remission
Case 3
A 47-year-old Chinese female with hepatitis B virus (HBV) carrier status (HBsAg positive, IgG anti-HBc positive, anti-HBs negative, HBeAg negative) was diagnosed with pemphigus vulgaris. She was commenced on azathioprine with close monitoring of liver function. After 6 months of starting azathioprine, her liver function was noted to be deranged with progressive increase in liver enzymes[Figure - 1]b. Computed tomography of abdomen revealed a cirrhotic liver and serum HBeAg was positive indicating active infection. She was started on lamivudine which led to an improvement in HBV-DNA levels and liver function tests. Six months after starting lamivudine, she was started on rituximab in consultation with a hepatologist. One year later her HBV-DNA was undetectable. She has had six cycles of rituximab with no complications. The disease course and response has been summarized in [Table - 1] and [Figure - 2].
DISCUSSION
Chronic viral hepatitis is one of the most common chronic infections world wide. Approximately one-third of the world′s population has serological evidence of past or present HBV infection and 350 million people worldwide have chronic HBV infection. [4] Approximately 3% of the world population, nearly 170 million people, are chronically infected by HCV. [4] Hence, a number of patients may have co-existence of viral hepatitis and autoimmune bullous disorders. Presence of such co-existing viral infection limits the available therapeutic options since use of immunosuppressive/immunomodulator agents for the treatment of autoimmune bullous disorders can worsen underlying viral hepatitis. Various studies and case series have clearly established the risk of worsening/reactivation of undetected chronic HBV infection following rituximab administration. [5] Paradoxically, rituximab can be used as a therapeutic modality for the treatment of HCV-associated rheumatic diseases including cryoglobulinemic vasculitis. [6] The current recommendations on the use of rituximab in autoimmune blistering disorders list active HBV or HCV infection as contraindications for its use. [7] However, when necessary, rituximab can be used with caution in patients with chronic viral hepatitis. Many expert groups have formulated guidelines in the oncology and rheumatology literature for pre-screening and treatment of viral hepatitis prior to the use of rituximab so as to prevent its flare. [8],[9] Although there are reports of use of rituximab in patients with chronic viral hepatitis in both the oncology and rheumatology literature, there are no previous reports of its use in pemphigus patients.
The current European Association for the Study of the Liver (EASL) guidelines recommend that all treatment-naïve patients with compensated disease due to HCV be considered candidates for antiviral therapy with pegylated interferon (IFN) and ribavirin when there are no contraindications. [10] Treatment is strongly recommended in patients with evidence of liver fibrosis, raised ALT and extra-hepatic manifestations of chronic HCV. However, uncontrolled autoimmune diseases are contraindications for the use of IFN-based therapy. [10] Both of our patients (cases 1 and 2) had a low viral load and were more likely to respond to pegylated IFN and ribavirin therapy. But given the autoimmune nature of the pemphigus and unclear effect of IFN therapy on this condition we wanted to be cautious in proceeding with treatment, especially in view of minimal hepatic fibrosis. As case 1 also had features of autoimmune hepatitis she was treated for pemphigus initially with mycophenolate mofetil as it is also reported to be useful in autoimmune manifestations of HCV infection and inhibits viral replication. [11] Since there was minimal improvement, monthly IVIG was added to her treatment regimen but without any benefit. So it was decided to administer rituximab for resistant pemphigus with close monitoring of LFTs and viral load. Case 2 had previously received intravenous steroid pulse therapy with no improvement. As this patient could not afford IVIG and because of the experience with the previous case it was decided to administer rituximab. Both the patients tolerated the treatment well without any significant derangements in liver function tests [Figure - 1]a or viral load.
There are conflicting reports regarding safety of rituximab in patients with chronic HCV infection. The current American Association for the Study of Liver Diseases (AASLD) and EASL recommendations on practice guidelines and management of HCV infection do not address this issue. [10],[12] However, at present, it is largely concluded that there is no evidence that rituximab therapy accelerates the course of HCV infection. [9],[13] The 2008 American College of Rheumatology guidelines recommend that rituximab is contraindicated in Child-Pugh class B and C chronic HCV infection. [14] The decision to treat such patients should be on an individual basis in close collaboration with a hepatologist or gastroenterologist. In contrast, it is largely agreed that patients with minimal or no hepatic fibrosis can be treated with rituximab with minimal risk of worsening of liver disease.
In contrast to chronic HCV infection, chronic HBV infection carries a significant risk of reactivation or worsening of viral hepatitis on administration of immunosuppressants. Such patients should have a complete serological evaluation to determine whether they are active or inactive carriers. [15] The current EASL guidelines recommend that patients with active hepatitis B (HBsAg positive and/or HBV-DNA positive) must undergo pre-emptive antiviral treatment before starting rituximab. [15] EASL recommends use of prophylactic lamivudine for patients with low baseline HBV-DNA levels (<2000 IU/ml) when a finite and short duration of immunosuppression is scheduled. In patients with high baseline HBV-DNA levels (>2000 IU/ml) and/or those likely to receive a prolonged duration of immunosuppression, entecavir or tenofovir is recommended. [15] Antiviral treatment must be continued for at least 12 months after stopping rituximab to prevent late reactivation of virus.
Particular attention should be paid to inactive carriers or patients with suspected occult or resolved HBV infection. Inactive carriers (HBsAg negative and anti-HBcAg positive with or without anti-HBs) demonstrate low grade viral replication in the liver. These patients carry a small but real risk of viral reactivation following rituximab administration which may even lead to fulminant hepatitis and death. Such patients should have HBV-DNA levels measured prior to rituximab therapy and those who show circulating HBV-DNA must undergo antiviral treatment prior to rituximab as for HBsAg positive patients. [9],[15] Patients with no circulating HBV DNA should be followed closely after rituximab administration with liver function tests and HBV DNA measured at regular intervals for early detection of reactivation. This is particularly true in men who are anti-HBs negative, as they carry a higher risk of viral reactivation. [16]
Our third patient, an active carrier of HBV, showed progressive derangement of liver function tests while on steroids and azathioprine. In consultation with a hepatologist, she was treated with lamivudine with progressive improvement in liver function [Figure - 1]b and viral load. Rituximab was administered according to the current EASL guidelines and there was no worsening of viral hepatitis.
As pemphigus patients with chronic viral hepatitis may occasionally show severe aggravation of hepatitis after immunosuppressive treatment, it is essential to have cohort studies of such cases. However, our study has certain limitations. Being a retrospective review of records, the data collection is not uniform. There is lack of objective disease parameters like desmoglein ELISA indices. However, all of our patients responded well clinically to rituximab therapy, substantiating the safety and efficacy of the drug in pemphigus patients with chronic viral hepatitis.It is emphasized that good collaboration with a hepatologist and close follow-up can allow pemphigus patients with chronic viral hepatitis to be managed successfully with biologic therapies when conventional treatment modalities have failed.
References
1.

Kanwar AJ, Tsuruta D, Vinay K, Koga H, Ishii N, Dainichi T, et al. Efficacy and safety of rituximab treatment in Indian pemphigus patients. J Eur Acad Dermatol Venereol 2013;27:e17-23.

[Google Scholar]
2.

Herbst A, Bystryn JC. Patterns of remission in pemphigus vulgaris. J Am Acad Dermatol 2000;42:422-7.

[Google Scholar]
3.

Murrell DF, Dick S, Ahmed AR, Amagai M, Barnadas MA, Borradori L, et al. Consensus statement on definitions of disease, end points, and therapeutic response for pemphigus. J Am Acad Dermatol 2008;58:1043-6.

[Google Scholar]
4.

Marcellin P. Hepatitis B and hepatitis C in 2009. Liver Int 2009;29 Suppl 1:1-8.

[Google Scholar]
5.

Hay AE, Meyer RM. Hepatitis B, rituximab, screening, and prophylaxis: Effectiveness and cost effectiveness. J Clin Oncol 2012;30:3155-7.

[Google Scholar]
6.

Ferri C, Cacoub P, Mazzaro C, Roccatello D, Scaini P, Sebastiani M, et al. Treatment with rituximab in patients with mixed cryoglobulinemia syndrome: Results of multicenter cohort study and review of the literature. Autoimmun Rev 2011;11:48-55.

[Google Scholar]
7.

Hertl M, Zillikens D, Borradori L, Bruckner-Tuderman L, Burckhard H, Eming R, et al. Recommendations for the use of rituximab (anti-CD20 antibody) in the treatment of autoimmune bullous skin diseases. J Dtsch Dermatol Ges 2008;6:366-73.

[Google Scholar]
8.

Artz AS, Somerfield MR, Feld JJ, Giusti AF, Kramer BS, Sabichi AL, et al. American Society of Clinical Oncology provisional clinical opinion: Chronic hepatitis B virus infection screening in patients receiving cytotoxic chemotherapy for treatment of malignant diseases. J Clin Oncol 2010;28:3199-202.

[Google Scholar]
9.

Buch MH, Smolen JS, Betteridge N, Breedveld FC, Burmester G, Dorner T, et al. Updated consensus statement on the use of rituximab in patients with rheumatoid arthritis. Ann Rheum Dis 2011;70:909-20.

[Google Scholar]
10.

European Association for the Study of the Liver.EASL Clinical Practice Guidelines: Management of hepatitis C virus infection. J Hepatol 2011;55:245-64.

[Google Scholar]
11.

Ramos-Casals M, Font J. Mycophenolate mofetil in patients with hepatitis C virus infection. Lupus 2005;14 Suppl 1:s64-72.

[Google Scholar]
12.

Ghany MG, Strader DB, Thomas DL, Seeff LB. American Association for the Study of Liver Diseases. Diagnosis, management, and treatment of hepatitis C: An update. Hepatology 2009;49:1335-74.

[Google Scholar]
13.

Ferri C, Govoni M, Calabrese L. The A, B, Cs of viral hepatitis in the biologic era. Curr Opin Rheumatol 2010;22:443-50.

[Google Scholar]
14.

Saag KG, Teng GG, Patkar NM, Anuntiyo J, Finney C, Curtis JR, et al. American College of Rheumatology. American College of Rheumatology 2008 recommendations for the use of nonbiologic and biologic disease-modifying antirheumatic drugs in rheumatoid arthritis. Arthritis Rheum 2008;59:762-84.

[Google Scholar]
15.

European Association for the Study of the Liver. EASL clinical practice guidelines: Management of chronic hepatitis B virus infection. J Hepatol 2012;57:167-85.

[Google Scholar]
16.

Yeo W, Chan TC, Leung NW, Lam WY, Mo FK, Chu MT, et al. Hepatitis B virus reactivation in lymphoma patients with prior resolved hepatitis B undergoing anticancer therapy with or without rituximab. J Clin Oncol 2009;27:605-11.

[Google Scholar]
Show Sections