Translate this page into:

Letter to the Editor
doi: 10.4103/0378-6323.107652
Using blue gel pen to mark freckles during Q-switched laser therapy
Xiu-jun Liu, Meng-hua Huo
Laser Center, Plastic Surgery Hospital, Peking Union Medical College, Beijing, China

Correspondence Address:
Meng-hua Huo
No. 33, Road Badachu, Beijing - 100 144
China

How to cite this article:
Liu Xj, Huo Mh. Using blue gel pen to mark freckles during Q-switched laser therapy. Indian J Dermatol Venereol Leprol 2013;79:247-248
Copyright: (C)2013 Indian Journal of Dermatology, Venereology, and Leprology
Sir,
Freckles, one of the common benign pigmented skin lesions, are small brown macules that appear on sun-exposed areas. [1] When requested for cosmetic purposes, the three Q-switched lasers (532 nm Nd:YAG, 694 nm ruby, and 755 nm Alexandrite) can be used to treat these lesions with excellent results. [2] The mechanism of Q-switched laser is based on the selective photothermolysis, [3] whereby selective absorption of high-power laser pulses causes selective removal of the abnormal pigment cells or vessels, without damaging other structures and without scarring.
During Q-switched laser irradiation, the localization of the macules is very important in treating the entirety of the macules appropriately, including smaller and lighter ones. When the practitioner wears laser safety glasses during treatment, the exact location of the macules can be difficult to visualize, especially in the smaller or lighter ones and insufficient light. In addition, as the laser treatment proceeds, there is often reactive vasodilatation, which can obscure the nearby untreated macules. A useful technique using a blue gel pen to mark freckles for Q-switched laser treatment is described.
Before Q-switched laser irradiation, all freckles′ location, including smaller and lighter macules, is exactly marked by a blue gel pen (M and G Tough Gel VGP-1220 0.5 mm blue pen, M and G Stationery Inc., Shanghai, China) without laser safety glasses. During laser irradiation, the blue gel is easily and totally disappear from the macules′ surface into the air by Q-switched laser microexplosion without increasing superficial cutaneous injury [Figure - 1].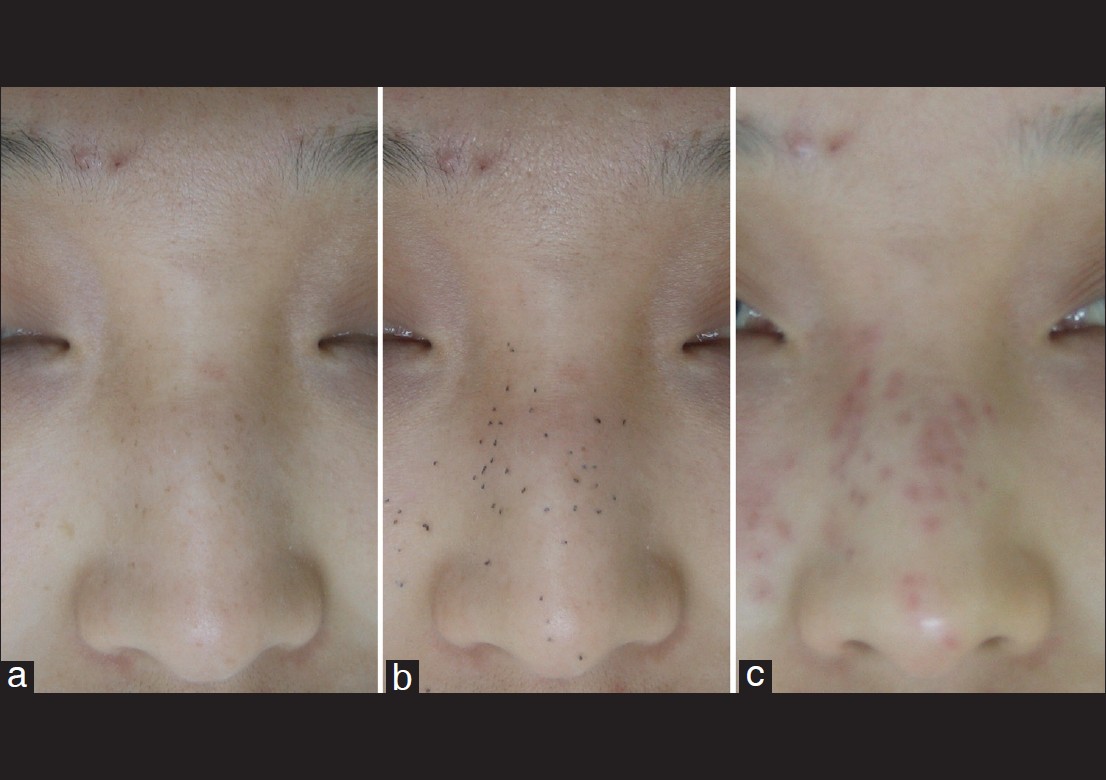 Figure 1: Freckles (a), after marking (b) with a blue gel pen and treatment (c) using a Q-switched laser
The technique can also be used to mark the margin of other pigmented lesions, such as lentigines, Café au lait spot, and nevus of Ota during Q-switched laser treatment.
References
1.

Polder KD, Landau JM, Vergilis-Kalner IJ, Goldberg LH, Friedman PM, Bruce S. Laser eradication of pigmented lesions: A review. Dermatol Surg 2011;37:572-95.

[Google Scholar]
2.

Goldberg DJ. Benign pigmented lesions of the skin. Treatment with the Q-switched ruby laser. J Dermatol Surg Oncol 1993;19:376-9.

[Google Scholar]
3.

Anderson RR, Parrish JA. Selective photothermolysis: Precise microsurgery by selective absorption of pulsed radiation. Science 1983;220:524-7.

[Google Scholar]
Show Sections