Net Quiz
doi: 10.4103/0378-6323.30666
Widespread induration of the skin
Vandana Mehta Rai, C Balachandran
Department of Skin and STD, Kasturba Medical College, Manipal, India

Correspondence Address:
Vandana Mehta Rai
Department of Skin and STD, Kasturba Medical College, Manipal-576 104, Karnataka
India

How to cite this article:
Rai VM, Balachandran C. Widespread induration of the skin. Indian J Dermatol Venereol Leprol 2007;73:66
Copyright: (C)2007 Indian Journal of Dermatology, Venereology, and Leprology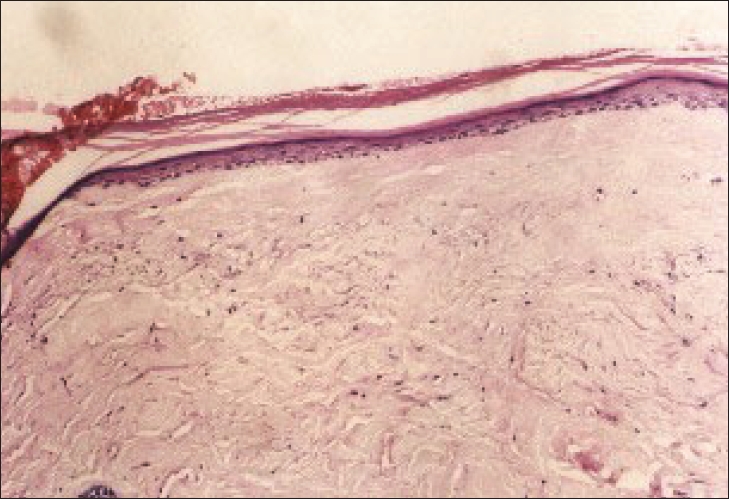 Homogenisation of collagen bundles in the dermis (100x)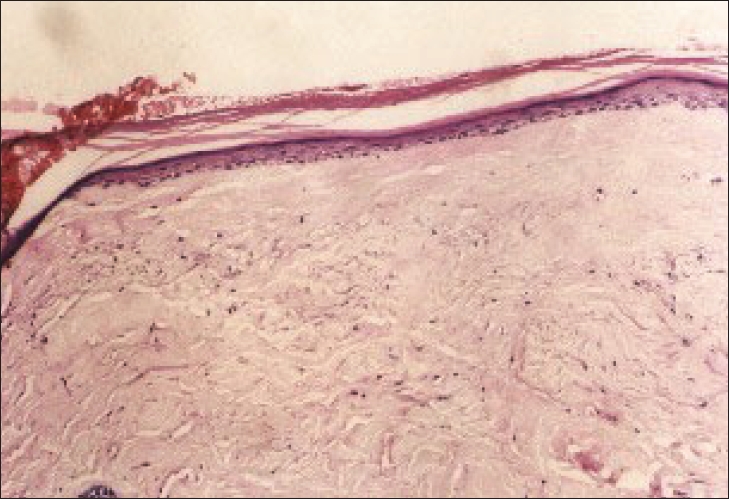 Homogenisation of collagen bundles in the dermis (100x)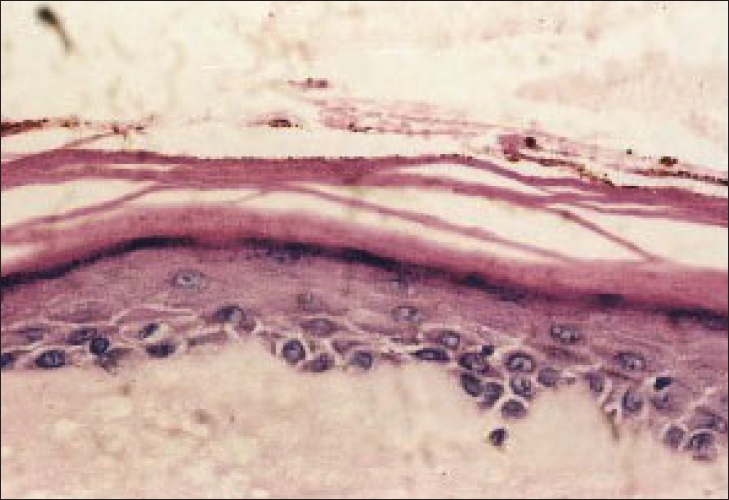 Basal cell degeneration (400x)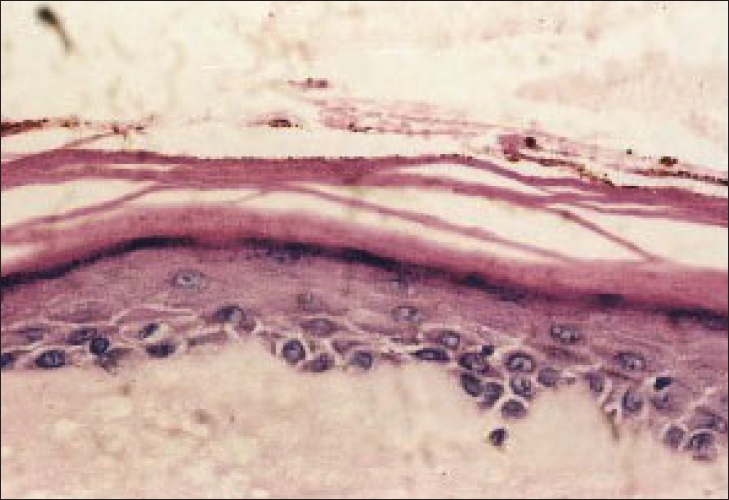 Basal cell degeneration (400x)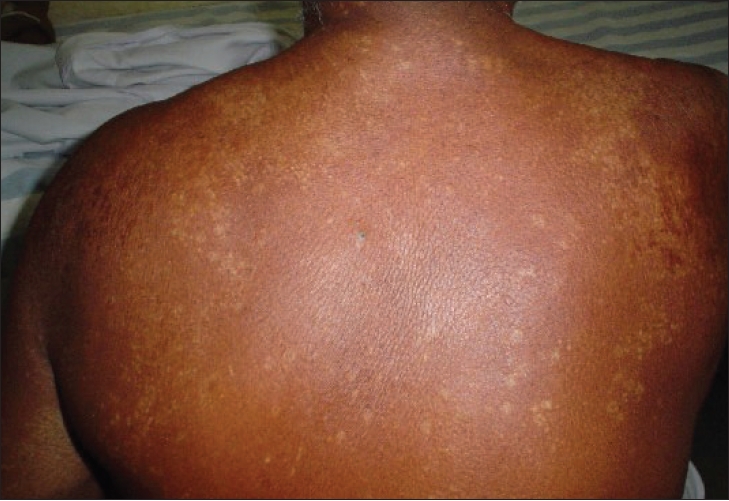 Hypopigmented macules on the back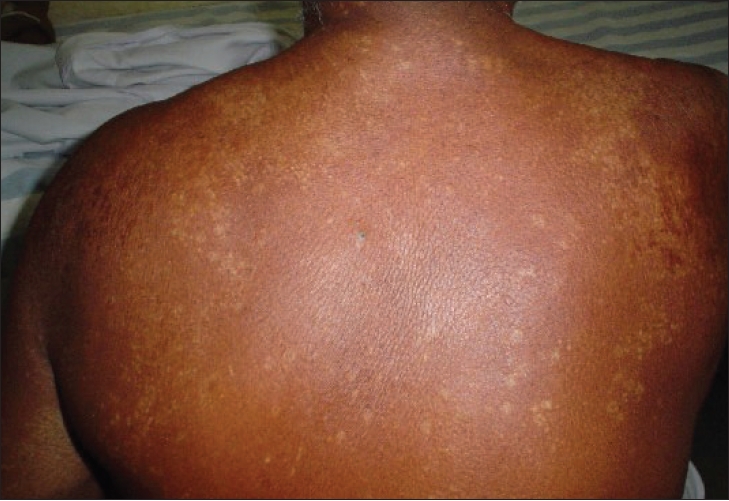 Hypopigmented macules on the back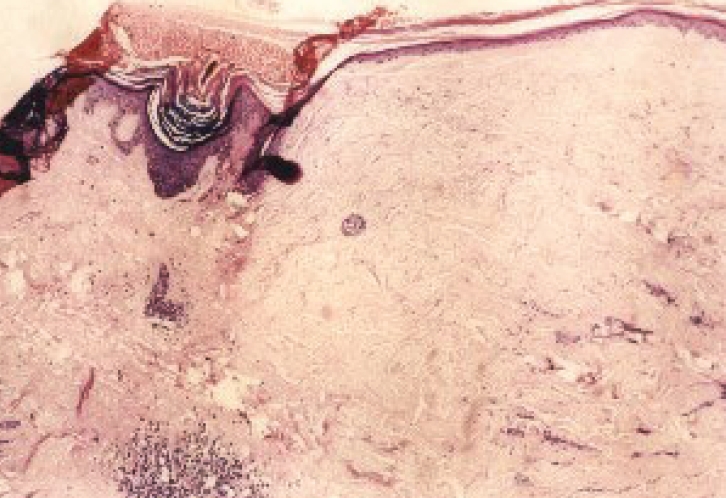 Thinning of the epidermis with follicular plugging, scanty dermal infiltrate with homogenisation of collagen in the dermis (x50)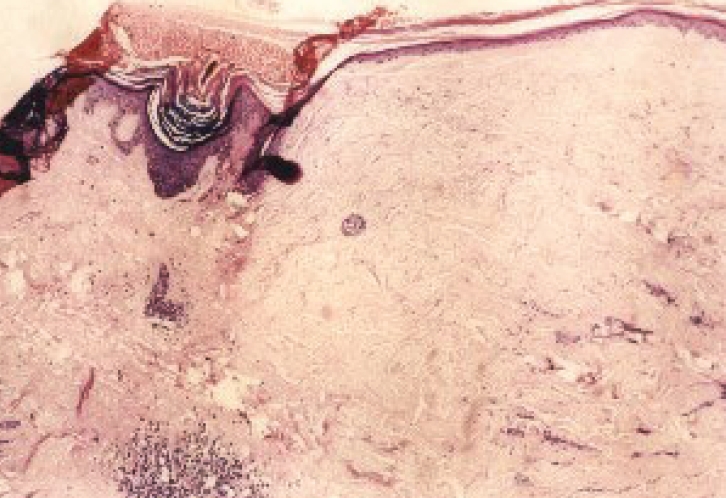 Thinning of the epidermis with follicular plugging, scanty dermal infiltrate with homogenisation of collagen in the dermis (x50)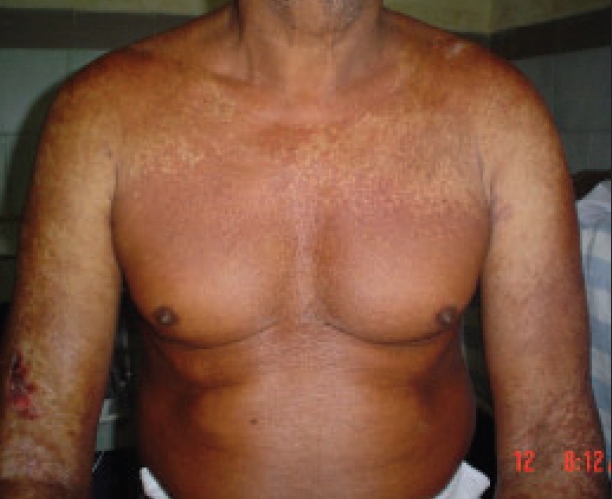 Multiple hypopigmented macules on the chest along with an ulcer on the right forearm overlying the hypopigmented plaque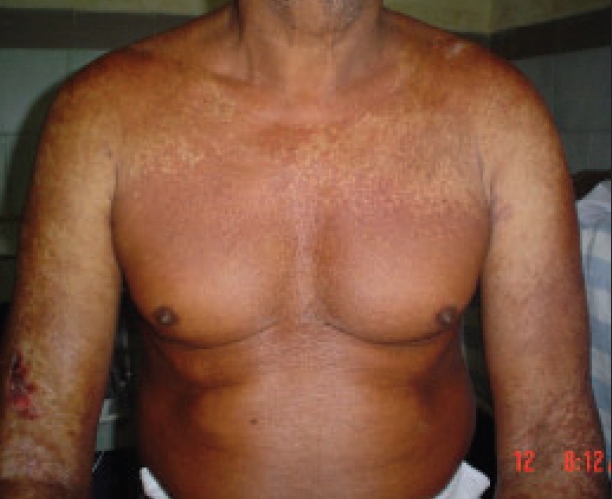 Multiple hypopigmented macules on the chest along with an ulcer on the right forearm overlying the hypopigmented plaque
A 63-year-old male farmer presented with thickening and whitish discoloration of skin of the arms, forearms, upper chest and back of six months duration. Complaints started with itching over the right arm, which over a period of time became indurated. Skin tightness soon progressed to involve both upper limbs, chest and the back. At the same time the patient also gave history of multiple asymptomatic hypopigmented papules which coalesced to form atrophic plaques over the upper chest, forearms and back. There was no history of fever, joint pain, insect bites, circumcision, drug intake prior to the onset of lesions. There was no history of similar skin tightness over the face, hands or any other systemic complaints. Cutaneous examination revealed widespread induration of the skin of the upper back, chest, arms and both forearms. The skin of the right forearm appeared shiny because of induration [Figure - 1],[Figure - 2],[Figure - 3],[Figure - 4],[Figure - 5]. The lower limbs and face were not affected.
Multiple hypopigmented atrophic papules and plaques were seen on the back, chest and arms. Hypopigmented plaques with prominent follicular plugging were seen on the right arm. Palms, soles, nails and genitalia showed no abnormality. Systemic examination was normal. All the routine hematological and biochemical parameters were normal. The antinuclear antibody (ANA) profile showed a weak positive reaction to Sm and SS-A antibodies. Findings of the skin biopsy done from the indurated lesion on the right arm are shown in [Figure 6],[Figure 7],[Figure 8],[Figure 9]. A biopsy performed from the shiny lesion on the right forearm showed flattened epidermis with homogenization of the dermal collagen and a patchy perivascular infiltrate in the dermis.
What is your diagnosis?
References
1.

Wallace HJ. Lichen sclerosus et atrophicus. Trans St Johns Hosp Derm Soc 1971;57:9-30.

[Google Scholar]
2.

Hart WR, Norris HJ, Helwig EB. Relation of lichen sclerosus et atrophicus of the vulva to development of carcinoma. Obstet Gynecol 1975;45:369-77.

[Google Scholar]
3.

Bainbridge DR, Whitaker RH, Shepheard BG. Balanitis xerotica obliterans and urinary obstruction. Br J Urol 1971;43:487-91.

[Google Scholar]
4.

Meffert JJ, Davis BM, Grimwood RE. Lichen sclerosus. J Am Acad Dermatol 1995;32:393-416.

[Google Scholar]
5.

Disilverio A, Serri F. Generalized bullous and haemorrhagic LSEA. Br J Dermatol 1975;93:215-7.

[Google Scholar]
6.

Mowas CM, Guzzo CA. A 14 year old girl with hyperkeratotic plaques. Dermatol Today 1994;4:2-5.

[Google Scholar]
7.

Borda JM, Abulafia J, Jaimovich L. Circumscribed sclero-atrophic syndrome. Arch Argent Dermatol 1967;17:89-119.

[Google Scholar]
8.

Pures J, Krull EA. Lichen sclerosus et atrophicus involving the palms. Arch Dermatol 1971;104:68-9.

[Google Scholar]
9.

Foulds IS. Lichen sclerosus et atrophicus of the scalp. Br J Dermatol 1980;103:197-200.

[Google Scholar]
10.

Helm KF, Gibson Le, Muller SA. Lichen sclerosus et atrophicus in children and young adults. Pediatr Dermatol 1991;8:97-101.

[Google Scholar]
11.

Ronnen M, Subster S, Kahana M, Schewach-Millet M. Bilaterat Koebner phenomenon in lichen sclerosus et atrophicus. Int J Dermatol 1987;26:117-8.

[Google Scholar]
12.

Patel RI, Reed WB. Annular atrophic plaques of the face and upper body. Cutis 1979;24:90-3.

[Google Scholar]
13.

Goodfield MJ, Jones SK, Veale DJ. The 'Connective Tissue Diseases'. In : Burns T, Breathnach S, Cox N, Griffiths C, editors. Rook's Textbook of Dermatology. 7th ed. Blackwell Science: Oxford; 2004. p. 56.1-56.147.

In : Burns T, Breathnach S, Cox N, Griffiths C, editors. Rook's Textbook of Dermatology. 7th ed. Blackwell Science: Oxford; 2004. p. 56.1-56.147.'>[Google Scholar]
Show Sections