Quiz
doi: 10.4103/0378-6323.31914
PMID: 17456931
A large asymptomatic lesion on buttock since birth
Rashmi Kumari1 , Devinder Mohan Thappa1 , S Jayanthi2
1 Department of Dermatology and STD, Jawaharlal Institute of Postgraduate Medical Education and Research (JIPMER), Pondicherry - 605 006, India
2 Department of Pathology, Jawaharlal Institute of Postgraduate Medical Education and Research (JIPMER), Pondicherry - 605 006, India

Correspondence Address:
Devinder Mohan Thappa
Department of Dermatology and STD, JIPMER, Pondicherry - 605 006
India

How to cite this article:
Kumari R, Thappa DM, Jayanthi S. A large asymptomatic lesion on buttock since birth. Indian J Dermatol Venereol Leprol 2007;73:143-144
Copyright: (C)2007 Indian Journal of Dermatology, Venereology, and Leprology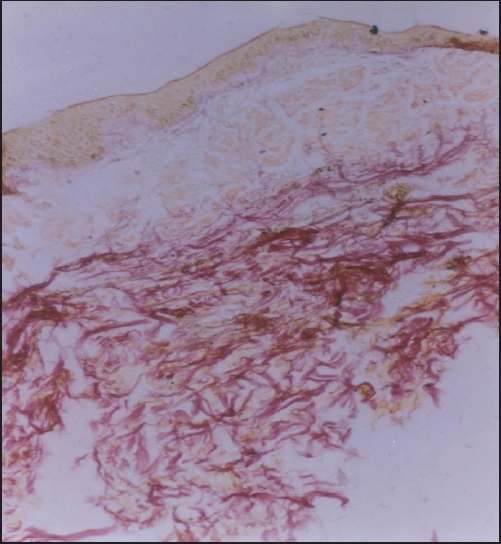 Verhoeff-van Gieson stain (X 1000)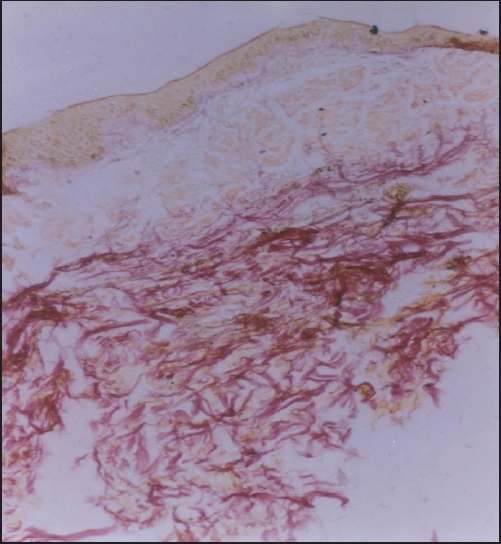 Verhoeff-van Gieson stain (X 1000)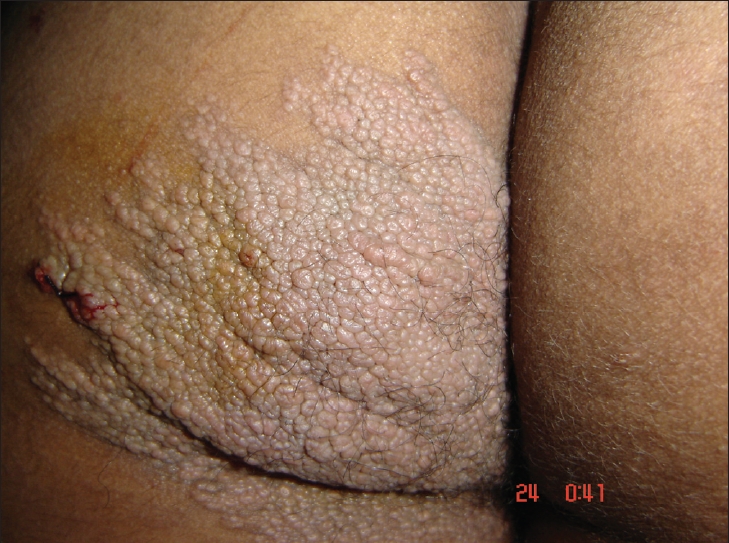 Zosteriform, fl esh coloured, well- defi ned plaque with mammillated surface in the S3 dermatome over the left buttock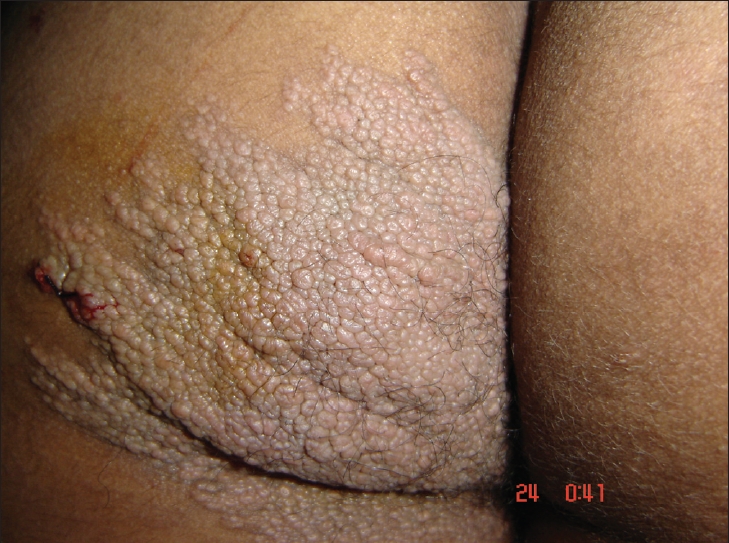 Zosteriform, fl esh coloured, well- defi ned plaque with mammillated surface in the S3 dermatome over the left buttock
A 20-year-old Indian male had a large asymptomatic lesion on his right buttock since birth. The lesion started growing in size at puberty and eventually attained the current size. There was no history of a similar lesion in his family.
On physical examination, there was a large 15 x 10 cm, firm, solitary, flesh colored, well - defined plaque with mammillated surface in the S3 dermatome over the left buttock extending onto the inner side of the thigh in a zosteriform distribution [Figure - 1]. The rest of the physical and systemic examination ruled out any other phakomatoses. Skin biopsy was done from the edge of the plaque. On hematoxylin and eosin staining, no apparent histopathological abnormality was seen. Findings of special stain are given in [Figure - 2]. Elastic fibers appeared widely spaced and there was no increase in mucopolysaccharides. His skeletal survey, however, was unremarkable.
What is your Diagnosis?
References
1.

Atherton DJ, Moss C. Nevi and other developmental defects. In: Champion RH, Burton JL, Burns DA, Breathnach SM, editors. Rook/Wilkinson/Ebling Textbook of Dermatology. 6th ed. Blackwell Science: Oxford; 1998. p. 543-6.

[Google Scholar]
2.

Lewandowsky F. Uber einem eigentumlichen Neuus der Brustgegend. Arch Dermatol Syphilol 1921;131:90-94.

[Google Scholar]
3.

Gutmann C. Zur Frage der Bindegewebsnaevi. Dermatol Ztschr 1926;47:26-42.

[Google Scholar]
4.

Uitto J, Santa Cruz DJ, Eisen AZ. Connective tissue of the skin. Clinical, genetic and histopathologic classification of hamartomas of the collagen, elastin and proteoglycan type. J Am Acad Dermatol 1980;3:441-61.

[Google Scholar]
5.

Pierard GE, Lapiere CM. Nevi of connective tissue. A reappraisal of their classification. Am J Dermatopathol 1985;7:325-33.

[Google Scholar]
6.

Steiner K. Connective tissue nevus. Arch Dermatol Syphilol 1944;50:183-90.

[Google Scholar]
7.

Kozminsky ME, Bronson DM, Barsky S. Zosteriform connective tissue nevus. Cutis 1985;36:77-8.

[Google Scholar]
8.

Yeh SW, Magalhaes AM, Vasconcellos MR, Michalany NS, Tomimori Yamashita J. Zosteriform connective tissue nevus: A case report. Int J Dermatol 2003;42:720-2.

[Google Scholar]
Show Sections