Quiz
doi: 10.4103/0378-6323.110808
PMID: 23619461
Asymptomatic conchal papules
Rajat Kandhari1 , V Ramesh1 , Avninder Singh2
1 Department of Dermatology and STD, Vardhaman Mahavir Medical College and Safdarjung Hospital, New Delhi, India
2 Department of Pathology, National Institute of Pathology, Indian Council of Medical Research, New Delhi, India

Correspondence Address:
Rajat Kandhari
11 Munirka Marg, Vasant Vihar, New Delhi 110 057
India

How to cite this article:
Kandhari R, Ramesh V, Singh A. Asymptomatic conchal papules. Indian J Dermatol Venereol Leprol 2013;79:445-447
Copyright: (C)2013 Indian Journal of Dermatology, Venereology, and Leprology
A 42-year-old woman presented with multiple, asymptomatic, dark, raised lesions involving both her ears. The lesions appeared 1 year ago in her left ear and subsequently involved her right ear. There was no history of arthralgia, oral ulcers, photosensitivity, or alopecia. Review of the systems was unremarkable. On examination, the lesions were bilateral, discrete to confluent, monomorphic, 1-2 mm in diameter, firm, hyperpigmented, and papular involving the auricular conchae and the external auditory meatus. The helix and the crura of the antihelices were spared [Figure - 1]. There was no obstruction of the canals on otoscopic examination. Biopsy from the right ear revealed a hyperplastic epidermis and globular masses in the dermal papillae. No evidence of interface dermatitis was demonstrated [Figure - 2]. Routine laboratory investigations including complete blood count, blood sugar levels, renal and hepatic and urinary analysis were within normal limits.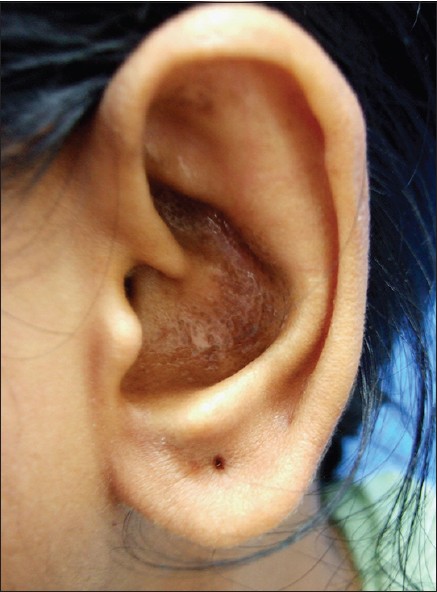 Figure 1: Monomorphic, papular lesions involving the auricular concha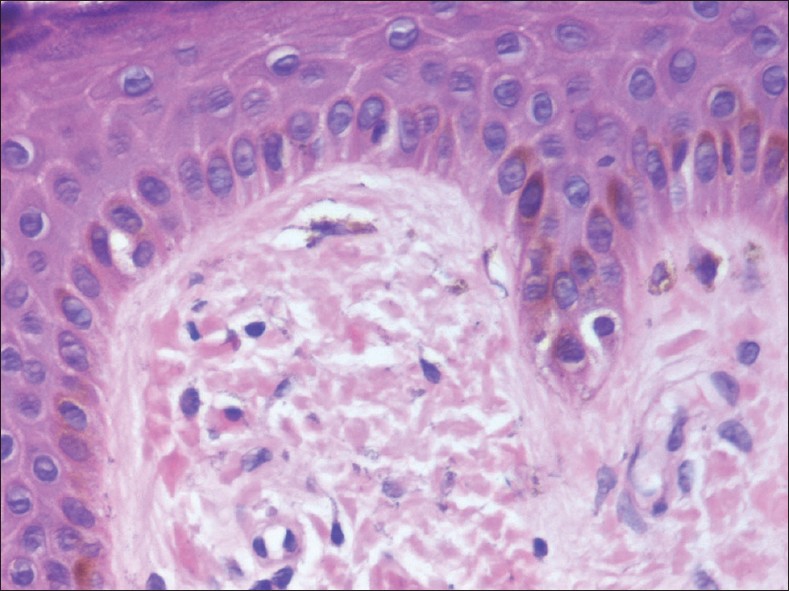 Figure 2: Eosinophilic globules lying in the dilated dermal papilla (H and E, ×400)
What is Your Diagnosis?
References
1.

Black MM, Upjohn E, Albert S. Amyloidosis. In: Bolognia JL, Jorizzo JL, Rapini RP, editors. Dermatology. 2 nd ed. Missouri, USA: Mosby Elsevier Publishing; 2009. p. 623-31.

[Google Scholar]
2.

Habermann MC, Montenegro MR. Primary cutaneous amyloidosis: Clinical, laboratorial and histopathological study of 25 cases. Identification of gammaglobulins and C3 in the lesions by immunofluorescence. Dermatologica 1980;160:240-8.

[Google Scholar]
3.

Barnadas MA, Pérez M, Esquius J, Curell R, de Moragas JM. Papules in the auricular concha: Lichen amyloidosus in a case of biphasic amyloidosis. Dermatologica 1990;181:149-51.

[Google Scholar]
4.

Hicks BC, Weber PJ, Hashimoto K, Ito K, Koreman DM. Primary cutaneous amyloidosis of the auricular concha. J Am Acad Dermatol 1988;18:19-25.

[Google Scholar]
5.

Wang WJ, Huang CY, Chang YT, Wong CK. Anosacral cutaneous amyloidosis: A study of 10 Chinese cases. Br J Dermatol 2000;143:1266-9.

[Google Scholar]
6.

Gagel RF, Levy ML, Donovan DT, Alford BR, Wheeler T, Tschen JA. Multiple endocrine neoplasia type 2a associated with cutaneous lichen amyloidosis. Ann Intern Med 1989;111:802-6.

[Google Scholar]
7.

Sanchez JL. Collagenous papules on the aural conchae. Am J Dermatopathol 1983;5:231-3.

[Google Scholar]
8.

Bakos L, Weissbluth ML, Pires AK, Müller LF. Primary amyloidosis of the concha. J Am Acad Dermatol 1989;20:524-5.

[Google Scholar]
9.

Errol C. Lichen amyloidosis of the auricular concha: Report of two cases and review of the literature. Dermatol Online J 2006;12:1.

[Google Scholar]
10.

Shimauchi T, Shin JH, Tokura Y. Primary cutaneous amyloidosis of the auricular concha: Case report and review of published work. J Dermatol 2006;33:128-31.

[Google Scholar]
11.

Aoki M, Kawana S. Lichen amyloidosis of the auricular concha: Successful treatment with electrodesiccation. J Dermatol 2009;36:116-7.

[Google Scholar]
12.

Dupré A, Lassére J, Bonafé JL, Viraben R, Gorguet B. Collagenous papules of the external ear. Micropapular hyalinosis of the external ear with transepithelial elimination. Relation to primary localized cutaneous amyloidosis Ann Dermatol Venereol 1984;111:913-7.

[Google Scholar]
13.

Echevarria De MJ, Nanita de Esteve F. Liquen amiloide de pabellon auricular, reporte de ocho casos. Rev Domin Dermatol 1980;14:59-63.

[Google Scholar]
14.

Noojin RO, Arrington TS. Unusual cutaneous findings in primary systemic amyloidosis: Report of a case. Arch Dermatol 1965;92:157-9.

[Google Scholar]
15.

El-Sayed I, Busaba NY, Faquin WC. Otologic manifestations of amyloidosis. Otol Neurotol 2002;23:158-9.

[Google Scholar]
16.

Ambrosone L, Mansi L, Salvatore T, Marino F, Orabona P, Rambaldi A, et al. An unusual case of primary systemic amyloidosis. J Eur Acad Dermatol Venereol 1998;10:53-7.

[Google Scholar]
17.

Wenson SF, Jessup CJ, Johnson MM, Cohen LM, Mahmoodi M. Primary cutaneous amyloidosis of the external ear: A clinicopathological and immunohistochemical study of 17 cases. J Cutan Pathol 2012;39:263-9.

[Google Scholar]
Show Sections