Translate this page into:

doi:
10.25259/IJDVL_760_2021
Candidal granuloma in a renal allograft recipient
Corresponding author: Dr. Gopikrishnan Anjaneyan, Department of Dermatology, Amrita Institute of Medical Sciences & Research Center, Amrita VishwaVidyapeetham, Ponekkara, Kochi, Kerala, India. drgopikrishnana@gmail.com
Received: , Accepted: ,
© 2023 Indian Journal of Dermatology, Venereology and Leprology - Published by Scientific Scholar
Licence
This is an open-access article distributed under the terms of the Creative Commons Attribution-Non Commercial-Share Alike 4.0 License, which allows others to remix, transform, and build upon the work non-commercially, as long as the author is credited and the new creations are licensed under the identical terms.
How to cite this article: Anjaneyan G, Gowda V, Kumar A, Eapen M. Candidal granuloma in a renal allograft recipient. Indian J Dermatol Venereol Leprol 2023;89:99-102.
Sir,
The incidence of candidiasis has increased considerably over the past four decades with the surge of HIV/AIDS, diabetes, cancer and frequent use of chemotherapeutic agents, broad-spectrum antibiotics, steroids, immunosuppressive medications and indwelling medical devices. Although Candida albicans is historically the most prevalent species causing human candidiasis, non-albicans Candida species such as Candida glabrata, Candida tropicalis and Candida parapsilosis are being increasingly identified globally. This is attributed to the advances in diagnostics and availability of molecular identification techniques.1 Candidal granuloma is an uncommon presentation of candidal infection, and here we report such a case caused by Candida parapsilosis.
A 58-year-old male presented with a slowly enlarging warty growth over the upper lip for 1 month. Examination revealed a solitary verrucous plaque of size 3x4 cm located over the right lateral aspect of the upper lip at the mucocutaneous junction extending into the mucosa [Figures 1 and 2]. The clinical differentials included verrucous squamous cell carcinoma, cutaneous tuberculosis and deep fungal infections like chromoblastomycosis and blastomycosis. The patient had undergone renal transplant for diabetic nephropathy four years ago and was currently receiving 5mg/d of oral prednisolone and 250 mcg/d of oral tacrolimus. All routine laboratory investigations were normal except for elevated serum creatinine (2 mg/dl) and HbA1c (9%). Serology for the human immunodeficiency virus was non-reactive. A potassium hydroxide mount from a scraping of the skin lesion did not show any fungal spores or hyphae.
Histopathological examination of the growth revealed epithelioid cell granulomas with Langhans type giant cells admixed with inflammatory infiltrate in the dermis, suggestive of an infective granuloma [Figures 3 and 4]. Acid-fast staining was negative for organisms; however, periodic acid–Schiff stain demonstrated fungal elements as budding yeasts within the Langhans giant cells within the granuloma [Figures 5 and 6]. Mantoux test and bacterial and mycobacterial tissue cultures were negative. Tissue fungal culture grew Candida parapsilosis on Sabouraud agar which was susceptible to fluconazole, voriconazole, amphotericin B and itraconazole [Figure 7].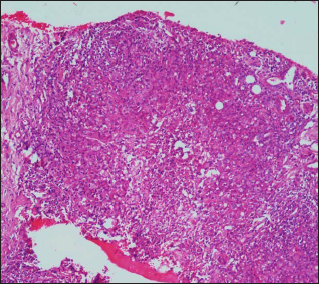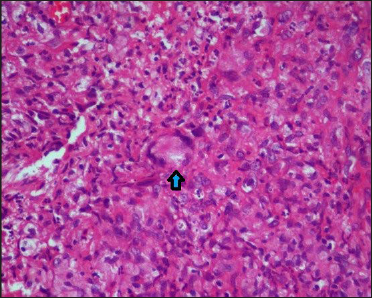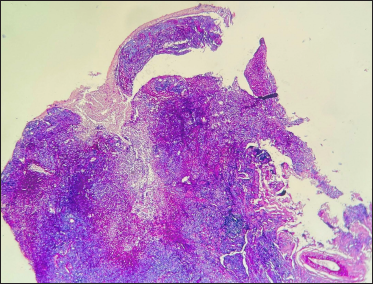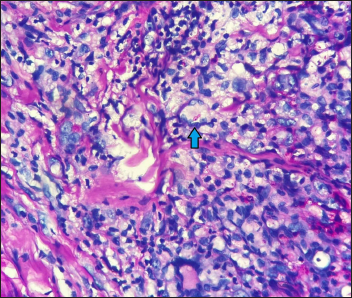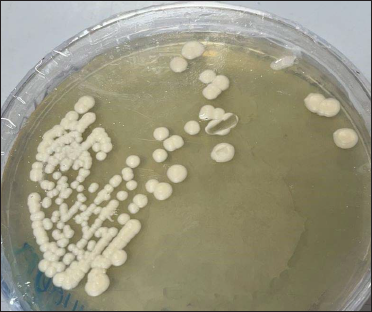 Based on the antifungal susceptibility, fluconazole was started at a dose of 100 mg daily for one week. A significant improvement was observed, so fluconazole was continued at an alternate day regimen for the next three weeks which resulted in a near-complete resolution with no relapse at the end of three months [Figures 8 and 9]. Fluconazole can potentially increase the blood levels of tacrolimus and prednisolone augmenting their side effects. A nephrology consultation was taken before starting fluconazole and dose adjustment was not deemed necessary for any drug. Serum creatinine was monitored during treatment and no worsening was noted.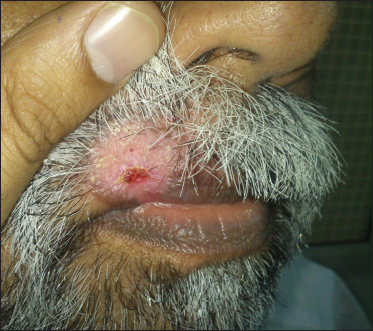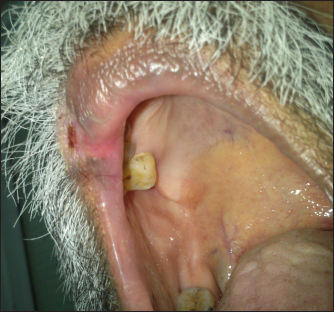 Candidal granuloma, a rare form of cutaneous candidiasis, was first reported by Hauser and Rothman in 1950; occurring in a chronic, recurrent form mostly in children and mainly involving face, scalp and oral mucosa.2 It is an acute inflammatory process involving the epidermis, dermis and mucosa resulting in profound granulomatous reaction histologically and hyperkeratotic lesions clinically.3
Disequilibrium between cell-mediated and humoral immunity along with defective phagocytic activity is the possible immunological basis of Candida granuloma formation.4
Non-albicans Candida species of late are gaining notoriety as the causative agents of varied forms of candidiasis from superficial to systemic. Recent studies show Candida parapsilosis as the commonest isolated non-albicans Candida species mainly causing superficial candidiasis, with no reports so far of candidal granulomas.1,5
Diversity among Candida species in terms of virulence and variable susceptibility to antifungals makes species identification crucial for therapeutic decisions. The factors attributed to the virulence of Candida parapsilosis are adherence to the host cells, formation of potent biofilms, secretion of enzymes aspartic proteinases, phospholipases and lipases, and higher avidity for buccal epithelial cells causing aggregates on epithelial surfaces.1 A recent study reported that the global incidence of Candida parapsilosis isolates' susceptibility to oral fluconazole is 96.5%.5
Although chronic mucocutaneous candidiasis is widely prevalent, candidal granulomas are seldom described and the present case illustrates one such instance in a renal allograft recipient who responded well to fluconazole. In immunocompromised individuals, atypical presentations of infections are not uncommon and as the underlying diseases are also associated with increased morbidity, favourable outcomes depend on early diagnosis and treatment.
Declaration of patient consent
Patient's consent not required as patient's identity is not disclosed or compromised.
Financial support and sponsorship
Nil.
Conflict of interest
There are no conflicts of interest.
Show Sections