Translate this page into:

Letter to the Editor
doi: 10.4103/0378-6323.140323
PMID: 25201857
Combined planar and eruptive xanthoma in a patient with type lla hyperlipoproteinemia
Varadraj V Pai, Pankaj Shukla, Mayur Bhobe
Department of Dermatology, Goa Medical College, Goa, India

Correspondence Address:
Varadraj V Pai
Department of Dermatology, Goa Medical College, Goa - 403 202
India

How to cite this article:
Pai VV, Shukla P, Bhobe M. Combined planar and eruptive xanthoma in a patient with type lla hyperlipoproteinemia . Indian J Dermatol Venereol Leprol 2014;80:467-470
Copyright: (C)2014 Indian Journal of Dermatology, Venereology, and Leprology
Sir,
Lipoproteins are soluble compounds formed by the combination of insoluble circulating lipids (cholesterol, cholesterol esters, triglycerides and phospholipids) and proteins. [1] Any disorder of lipoprotein metabolism (dyslipidemia) [Table - 1] confers on an individual, an increased risk of cardiovascular disease, pancreatitis or xanthoma. [1]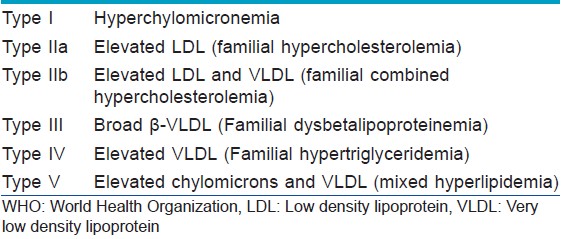 Table 1: WHO/Fredrickson's classification of hyperlipoproteinemia/hyperlipidemia
Xanthomas are the characteristic cutaneous presentation in hyperlipoproteinemia. Type IIa hyperlipoproteinemia or familial hypercholesterolemia usually presents with tendinous, tuberous or planar xanthomas (xanthelesma or intertriginous type). We were unable to find previous reports of eruptive xanthomas occurring in association with a planar xanthoma in Type IIa hyperlipoproteinemia.
A 4-year-old girl, adopted from distant relatives, born out of a nonconsanguinous marriage presented skin lesions for one year. The lesions appeared as skin colored papules around the ankle and natal cleft one year back. They were progressive in nature, with a sudden eruption of new lesions over the buttocks, knees and thighs for four weeks. The child was developmentally normal for her age. Cutaneous examination revealed multiple skin colored to yellowish flat topped plaques over the ankle, first metatarsophalyngeal joint, natal cleft and gluteal fold. Yellowish papules arranged in a linear fashion were noted over the ankle [Figure - 1] and [Figure - 2]. Grouped skin colored papules were also seen over the thighs, knees and buttocks [Figure - 3]. The general physical examination was normal. Hematological investigations were as follows: hemoglobin 8.8 gm/dL, total leucocyte count 10,300 cells/mm 3 , differential count neutrophils: 51, lymphocytes: 30, eosinophils: 13, basophils: 1, monocytes: 5. The results of serum lipid assay appear in [Table - 2]. The cardiovascular and the ophthalmological examinations were normal. Other biochemical parameters like blood sugar, renal and hepatic function tests were within normal limits. Radiography of the chest and ultrasound of abdomen and pelvis was normal. The histopathological examination revealed a diffuse dense nodular infiltrate of foamy histiocytes involving the dermis. The histiocytes were large and polygonal, at places touching each other and at other places extending interstitially into the surrounding reticular dermis [Figure - 4]. A diagnosis of hypercholesterolemia (WHO type IIa) in association with planar and eruptive xanthoma was made and the child was treated with atorvastatin, 10 mg daily along with iron and folic acid supplementation. There was moderate flattening of lesions over the ankle after one month.

Table 2: Lipid profile of the patient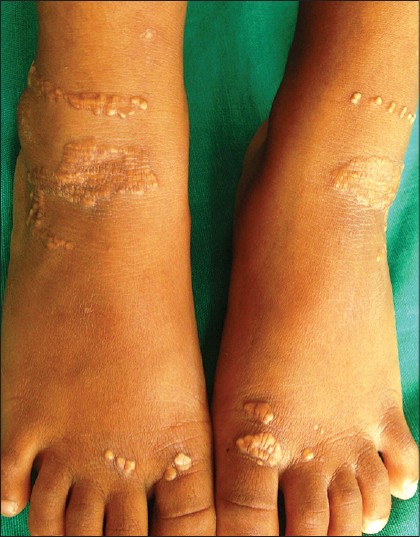 Figure 1: Yellowish flat topped plaques over the ankle and first metatarsophalangeal joint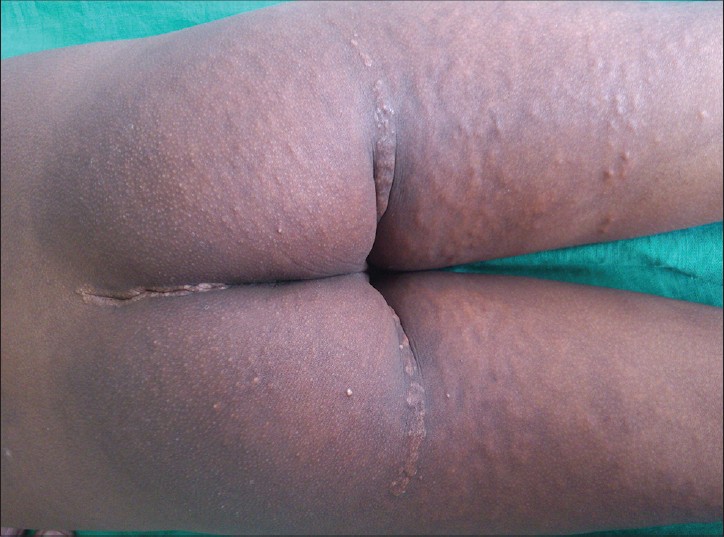 Figure 2: Yellow flat topped plaques over the natal cleft with skin colored papules over the buttocks and thighs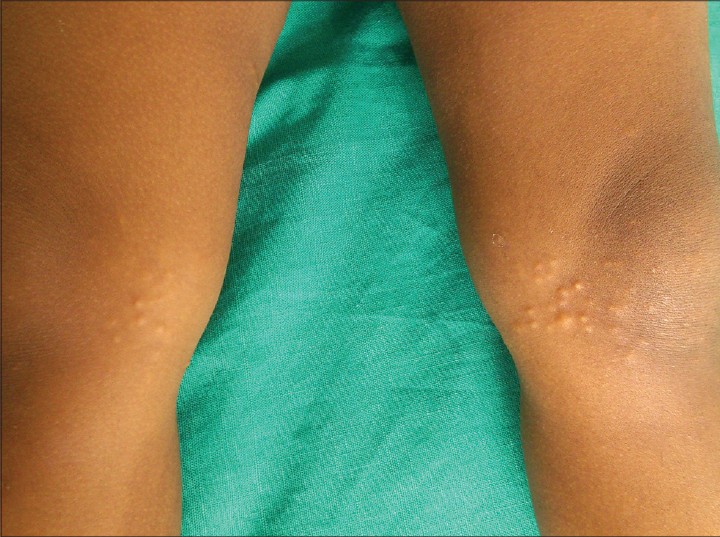 Figure 3: Skin colored papules over the knees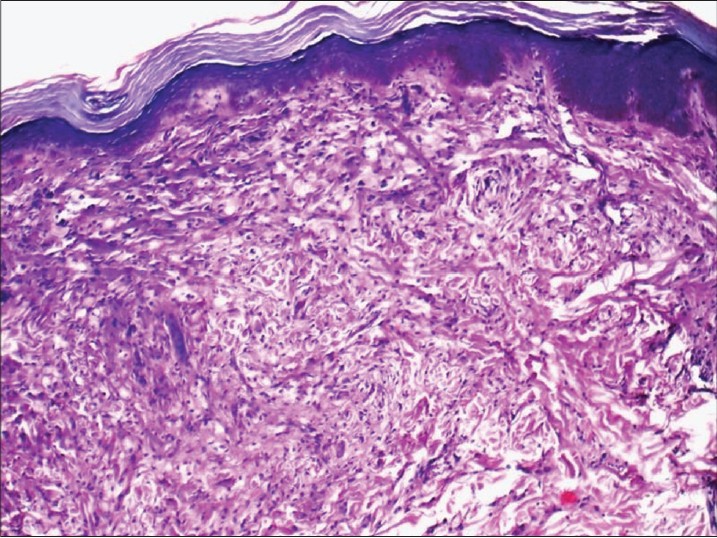 Figure 4: Diffuse dense nodular infiltrate of foamy histiocytes involving the dermis. The histiocytes are large and polygonal at places touching each other and at other places extending interstitially into the surrounding reticular dermis. H and E, ×40
Xanthomas are plaques or nodules consisting of accumulation of lipid-rich macrophages known as foam cells. [1],[2] They do not represent a disease but rather are symptoms of different lipoprotein disorders or arise without an underlying metabolic defect. Clinical presentations of xanthomas include eruptive, tuberous, tubero eruptive, tendinous, planar, verruciform and papular forms. [2]
Planar xanthomas are wide-based yellowish macules or plaques found commonly on the upper eyelids (xanthelasma palpebrum/xanthelasma), palms (xanthoma striatum palmare), intertriginous regions, and diffuse planar xanthomas. [3] Xanthoma striatum palmare is the characteristic cutaneous feature of dysbetalipoproteinemia (WHO type III). [3] About 60% of patients with xanthelasma palpebrum have an association with hypercholesterolemia. [1] An intertriginous planar xanthoma is pathognomonic of homozygous (type IIa) familial hypercholesterolemia). [2] A similar finding was seen in our case. In addition, lesions were also seen in areas of trauma (Koebner′s phenomenon). Diffuse planar xanthomas are associated with monoclonal gammopathies and cholestasis. [3]
In eruptive xanthomas, small yellow papules arising from a slightly wider red base develop over the buttocks and thighs and the extensor surfaces of the arms and legs. They are usually associated with hypertriglyceridemia (WHO type IV and type V) but also can be seen in patients with obesity, uncontrolled diabetes, lipoprotein lipase deficiency, pregnancy, hypothyroidism, intravenous miconazole, retinoids, olanzapine and ritonavir therapy. [2],[3]
Type IIa hyperlipoproteinemia is usually associated with tuberous xanthoma, tendinous xanthoma and planar xanthoma (intertriginous and xanthelesma-like lesions). Type IIb hyperlipoproteinemia can be also associated with tuberous xanthoma and tendinous xanthoma. [1],[3],[4]
Xanthomas develop either through increased uptake of lipids transported through the capillaries or increased lipid synthesis in the dermal macrophages which result in the production of foam cells. [3] The presence of increased numbers of E-selectin-positive endothelial cells and a decrease in the intracellular cell adhesion molecule (ICAM)-1 cells promotes macrophage migration into xanthoma lesions. [2] The extravasated low density lipoprotein (LDL) can also recruit more macrophages and in association with factors like heat, movement and friction increase capillary leakage of LDL. These local factors help explain the location of tuberous xanthomas, tendinous xanthomas, and xanthelasmata. [3]
Histologically, eruptive xanthoma is characterised by infiltration of the dermis with neutrophils, eosinophils and histiocytes with foam cells along with extravascular lipid deposits in the form of lace-like eosinophilic material between the collagen bundles. Planar xanthomas are composed of small groups and streaks of foam cells in the upper dermis and sometimes around pilosebaceous follicles with some inflammatory cells. [2] The differential diagnosis of eruptive xanthomas are sarcoidosis, granuloma annulare or xanthoma disseminatum. [3]
Statins are effective in the treatment of Type IIa hyperlipoproteinemia. They inhibit HMG CoA reductase, a rate-limiting enzyme in cholesterol synthesis. The other treatment modalities include lifestyle modifications like regular exercise and avoidance of smoking. [1],[3]
In conclusion, though specific patterns of xanthomas are associated with different types of hyperlipoproteinemias, overlap in the clinical patterns can occur as seen in our patient.
References
1.

Flynn PD. Xanthomas and abnormalities of lipid metabolism and storage. In: Burns T, Breathnach S, Cox N, Griffiths C, editors. Rook's Textbook of Dermatology. 8 th ed. Oxford: Blackwell Science; 2010. p. 59.81-59.103.

th ed. Oxford: Blackwell Science; 2010. p. 59.81-59.103.'>[Google Scholar]
2.

Weedon D. Weedon's Skin Pathology. 2 nd ed. London: Churchill Livingstone Elsevier; 2010. p. 961-5.

nd ed. London: Churchill Livingstone Elsevier; 2010. p. 961-5.'>[Google Scholar]
3.

White LE. Xanthomatoses and lipoprotein disorders. In: Wolff K, Goldsmith LA, Katz SI, Gilchrest BA, Paller AS, Leffell DJ, editors. Fitzpatrick's Dermatology in General Medicine. 7 th ed. New York: McGraw-Hill; 2008. p. 1272-81.

th ed. New York: McGraw-Hill; 2008. p. 1272-81.'>[Google Scholar]
4.

Bhagwat PV, Tophakhane RS, Kudligi C, Noronha TM, Thirunavukkarasu A. Familial combined hypercholesterolemia type II b presenting with tuberous xanthoma, tendinous xanthoma and pityriasis rubra pilaris-like lesions. Indian J Dermatol Venereol Leprol 2010;76:293-6.

[Google Scholar]
Show Sections