Translate this page into:

Letter to the Editor - Case Letter
doi: 10.4103/ijdvl.IJDVL_864_18
PMID: 32415051
Facial nodulocystic eruption induced by sorafenib in a patient with hepatocellular carcinoma
Carlos Duran-Vian1 , Cristina Gómez-Fernández1 , Iñigo Navarro-Fernández1 , Leandra Reguero del Cura1 , Lucia Alonso-Buznego2 , M Carmen González-Vela3 , Marcos A González-López1
1 Department of Dermatology, University Hospital Marqués of Valdecilla, Santander, Cantabria, Spain
2 Department of Oncology, University Hospital Marqués of Valdecilla, Santander, Cantabria, Spain
3 Department of Pathology, University Hospital Marqués of Valdecilla, Santander, Cantabria, Spain

Correspondence Address:
Carlos Duran-Vian
Av. Valdecilla, 25, 39008 Santander, Cantabria
Spain

How to cite this article:
Duran-Vian C, Gómez-Fernández C, Navarro-Fernández I, del Cura LR, Alonso-Buznego L, González-Vela M C, González-López MA. Facial nodulocystic eruption induced by sorafenib in a patient with hepatocellular carcinoma. Indian J Dermatol Venereol Leprol 2020;86:409-411
Copyright: (C)2020 Indian Journal of Dermatology, Venereology, and Leprology
Sir,
Sorafenib is a multitarget kinase inhibitor used in the treatment of hepatocellular carcinoma, renal cell carcinoma and thyroid cancer. Cutaneous toxicity is very frequent in patients receiving sorafenib. The most common skin-related adverse effects are hand-foot skin syndrome, alopecia, mucositis, xerosis and an erythematous eruption on the trunk. We present the case of a patient who developed nodulocystic lesions on the face during sorafenib treatment. To our knowledge, a nodulocystic eruption to sorafenib has been reported only once.
A 63-year-old man was diagnosed with advanced hepatocellular carcinoma due to alcoholic liver cirrhosis in July 2017. Sorafenib at a dose of 400 mg twice daily was prescribed starting on August 1st. One month later, the patient was referred to the dermatology department with large and painful nodules on the face and painful lesions on palms and soles.
Dermatological examination showed several inflammatory nodulocystic lesions located on the right ear, preauricular region, chin [Figure - 1] and left infraorbital region [Figure - 2]. In addition, the patient presented a characteristic hand-foot skin syndrome consisting of peeling, blistering and erosions of the distal fingertips. Additionally noted was a symmetrical diffuse tender erythema and edema over the palms and hyperkeratotic plaques on the plantar pressure areas of both feet.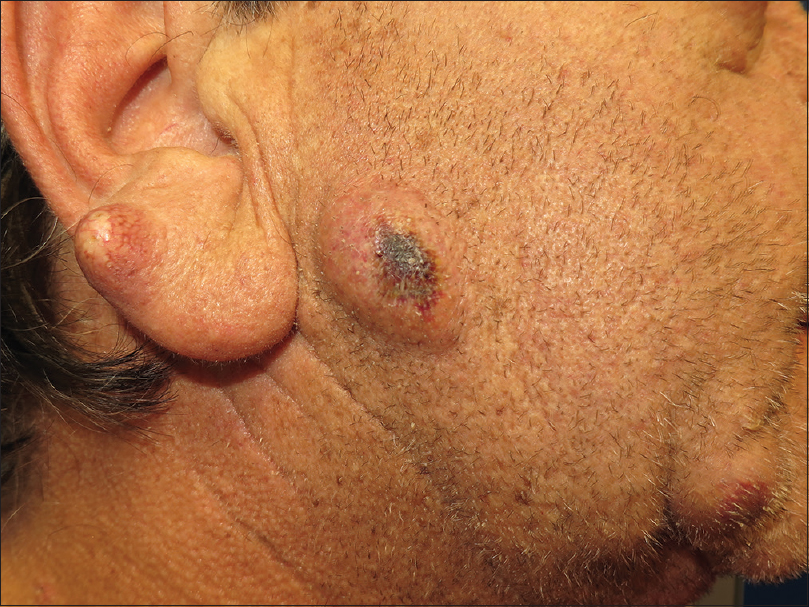 Figure 1: Several inflammatory nodulocystic lesions were observed on the right ear, preauricular region and chin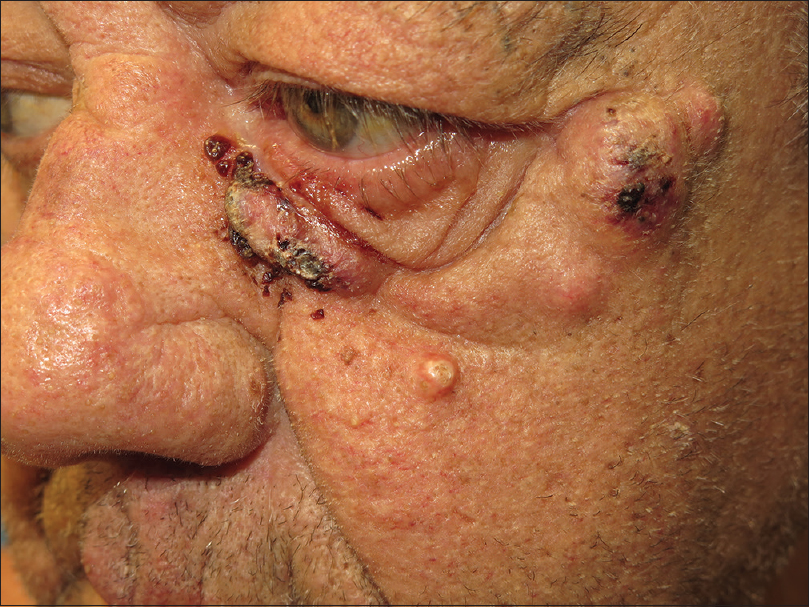 Figure 2: Left infraorbital region was also affected by crusted nodules
A skin biopsy specimen from the nodules on the face for bacterial and fungal culture revealed normal skin microbiota. Histopathology demonstrated dilated follicular infundibula filled with cornified cells and neutrophils, and perifollicular mixed inflammatory cells (neutrophils, lymphocytes and some eosinophils). There were no evidence of excessive proliferation of Demodex folliculorum.
The patient was treated with oral doxycycline (100 mg daily). He was also instructed to generously apply emollients on hands and feet. In agreement with hepatology, the dose of sorafenib was reduced to 400 mg daily. However, because of the severity of his hand-foot skin syndrome, sorafenib was discontinued on September 15th, 2017. Fifteen days after sorafenib withdrawal, his hand-foot skin syndrome nearly resolved and the nodulocystic lesions had significantly improved. Sorafenib 400 mg daily was reintroduced and, two months later the patient developed a comedogenic facial eruption [Figure - 3]. Six months later, the patient succumbed to tumor progression.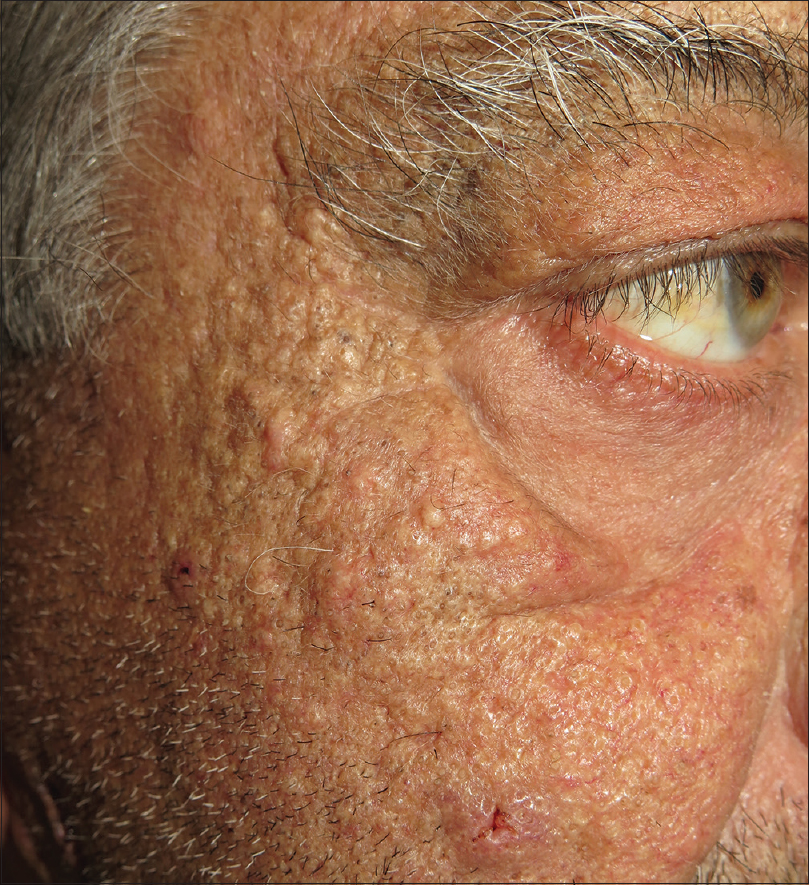 Figure 3: Numerous closed and opened comedones on malar cheeks and preauricular area, appeared 2 months after sorafenib re-initiation
Sorafenib is an oral multi-target kinase inhibitor that targets vascular endothelial growth factor receptors 2 and 3, platelet-derived growth factor receptor ß, B-Raf, Raf-1, Flr3, C-Kit and RET signaling pathways. The resultant effect of this medication is the blockade of tumor proliferation and angiogenesis. It has been estimated that up to 90% of patients receiving sorafenib experience at least one cutaneous side effect.[1] Several studies have suggested that the appearance of skin toxicity during treatment may indicate successful antitumor activity.[2]
The patient we report herein developed a typical case of hand-foot skin syndrome and also an inflammatory nodulocystic eruption on face during sorafenib treatment. The skin toxicity of the pilosebaceous unit has been rarely reported in patients receiving sorafenib. We found only six cases of sorafenib-associated acneiform eruptions described in detail.[3] In two of those patients, the acneiform lesions appeared as papules and pustules and in four as comedonal lesions. Moreover, anecdotal cases of epidermal cysts,[1],[4] perforating folliculitis, keratosis pilaris-like eruption, follicular hyperkeratosis and acne inversa-like lesions[5] have also been reported. Recently, Borgia et al. reported the case of a patient with sorafenib therapy who developed painful, inflamed nodulocystic lesions in both pubic and axillary regions. In this context, our case is unique and distinctive, because the inflammatory nodulocystic lesions were predominantly located on the face.
The exact mechanism by which sorafenib may trigger the development of nodulocystic and other follicular lesions requires further exploration. Nevertheless, it has been hypothesized that follicular damage may be the result of a complex mechanism including a possible toxic effect on follicular cells via activation RAS/RAF/MAPK pathway and other kinases with concomitant inhibition of the platelet-derived grow factor pathway, normally involved in human follicle cycle.
In summary, we report the second case of a nodulocystic eruption induced by sorafenib and we suggest monitoring for this rare but occasionally severe adverse cutaneous side effect.
Declaration of patient consent
The authors certify that they have obtained all appropriate patient consent forms. In the form, the patient has given his consent for his images and other clinical information to be reported in the journal. The patient understands that name and initials will not be published and due efforts will be made to conceal the identity, but anonymity cannot be guaranteed.
Financial support and sponsorship
Nil.
Conflicts of interest
There are no conflicts of interest.
References
1.

Lee WJ, Lee JL, Chang SE, Lee MW, Kang YK, Choi JH, et al. Cutaneous adverse effects in patients treated with the multitargeted kinase inhibitors sorafenib and sunitinib. Br J Dermatol 2009;161:1045-51.

[Google Scholar]
2.

Shomura M, Kagawa T, Shiraishi K, Hirose S, Arase Y, Koizumi J, et al. Skin toxicity predicts efficacy to sorafenib in patients with advanced hepatocellular carcinoma. World J Hepatol 2014;6:670-6.

[Google Scholar]
3.

Cohen PR. Sorafenib-associated facial acneiform eruption. Dermatol Ther (Heidelb) 2015;5:77-86.

[Google Scholar]
4.

Robert C, Mateus C, Spatz A, Wechsler J, Escudier B. Dermatologic symptoms associated with the multikinase inhibitor sorafenib. J Am Acad Dermatol 2009;60:299-305.

[Google Scholar]
5.

Pichler M, Carriere C, Mazzoleni G, Kluge R, Eisendle K. Acne inversa-like lesions associated with the multi-kinase inhibitor sorafenib. Clin Exp Dermatol 2014;39:232-3.

[Google Scholar]
Show Sections