Translate this page into:

doi:
10.25259/IJDVL_694_20
Folliculitis decalvans with exclusive beard involvement
Department of Health Sciences

,

Section of Dermatology, University of Florence, Florence

,

Italy
1
Department of Health Sciences

,

Section of Pathological Anatomy, University of Florence, Florence

,

Italy
Corresponding author: Dr. Stefano Senatore, Viale Michelangiolo 41, Florence, Italy. stef.senatore@gmail.com
Received: , Accepted: ,
© 2021 Indian Journal of Dermatology, Venereology and Leprology - Published by Scientific Scholar
Licence
This is an open-access article distributed under the terms of the Creative Commons Attribution-Non Commercial-Share Alike 4.0 License, which allows others to remix, tweak, and build upon the work non-commercially, as long as the author is credited and the new creations are licensed under the identical terms.
How to cite this article: Senatore S, Maglie R, Maio V, Montefusco F, Antiga E. Folliculitis decalvans with exclusive beard involvement. Indian J Dermatol Venereol Leprol 2021;87:569-71.
Sir,
Folliculitis decalvans is an inflammatory chronic disease of the hair which evolves irreversibly in atrophy and scarring alopecia. It represents approximately 11% of all the cases of primary scarring alopecia and usually occurs in young- and middle-aged adults.1 Clinically, it presents with pustules, erosions and scaly-crusty lesions localized to the scalp. Anecdotally, folliculitis decalvans can affect other hairy body areas as well. Herein, we report a case of folliculitis decalvans with exclusive involvement of the beard.
A 45-year-old man was referred for erythematous-pustular lesions which appeared bilaterally on the cheeks, in the beard area. The lesions appeared 6 months ago and were associated with scarring alopecia [Figures 1a and b]. Similar lesions were not observed elsewhere on the body. Trichoscopy of the beard area showed tufted hair, perifollicular scales and few follicular pustules.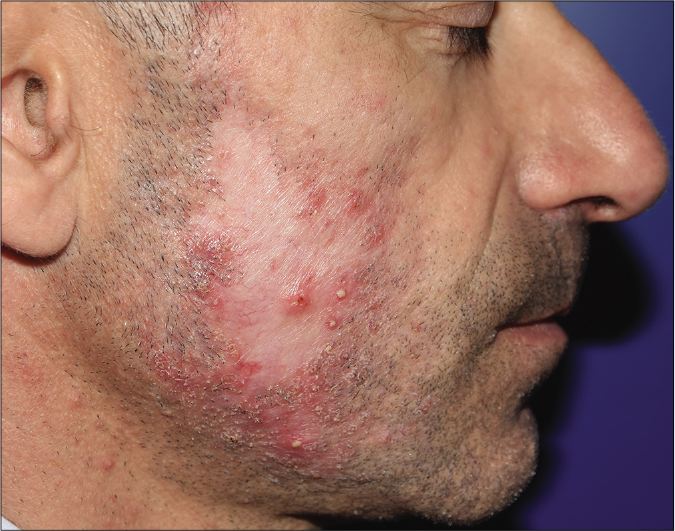 Considering a clinical suspicion of dermatophytic infection, he had previously been empirically treated with with terbinafine 250 mg per day, itraconazole 50 mg per day and topical antiseptics with no response. To exclude a fungal etiology, we performed a direct and cultural mycological examination that yielded negative result.
Moreover, a skin biopsy for histopathological evaluation showed exudative-necrotic and angiogenic inflammation together with epidermal erosion, folliculitis and perifolliculitis, as well as an intraepidermal pustule. The infiltration was mainly composed of neutrophils, eosinophils and plasma cells [Figures 2a and b]. Histochemical periodic acid-Schiff (PAS) staining was negative for fungal infection.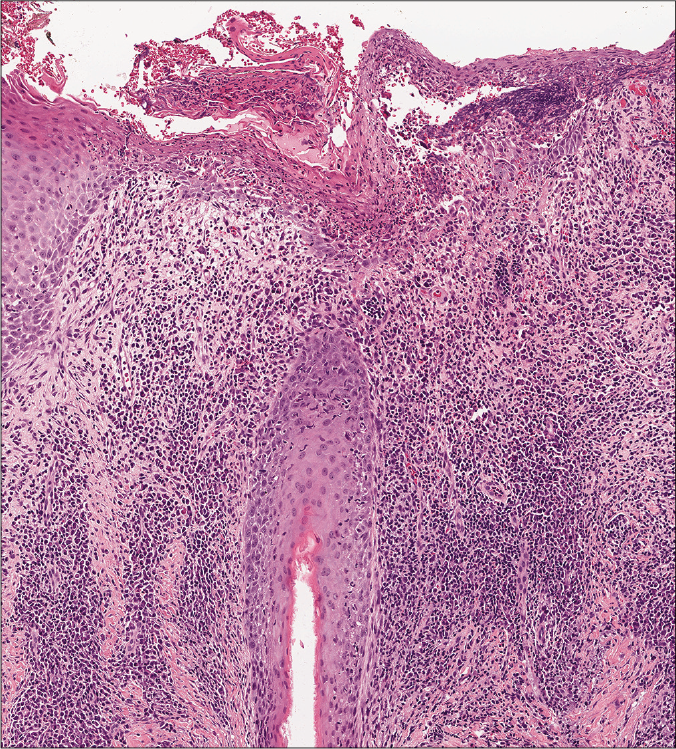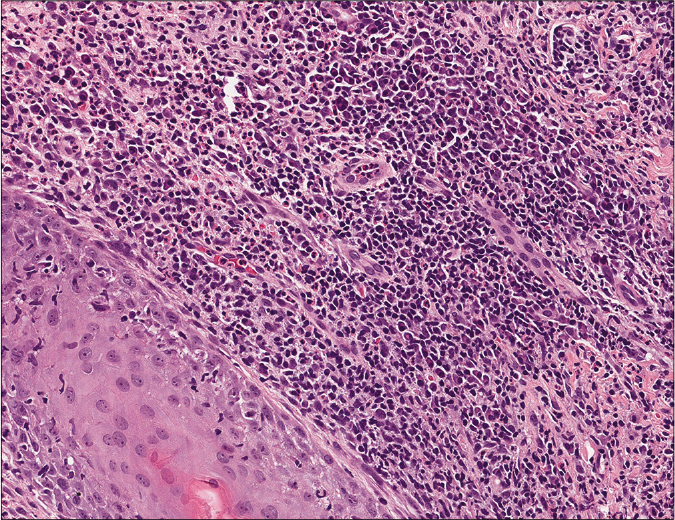 Based on the clinical features and histologic findings, a diagnosis of folliculitis decalvans of the beard was made and oral doxycycline 200 mg daily was started, alongwith topical antiseptic treatment. After six weeks of treatment, no signs of inflammatory lesions nor extension of scarring were observed and the patient remained disease free for the following four months of follow-up.
Folliculitis decalvans is a form of scarring alopecia primarily involving the scalp. Histologic features show an acute suppurative folliculitis with a dense perifollicular lymphocytic and neutrophilic infiltrate which leads to abscesses formation and fibrotic replacement. The etiology is not fully understood, but S. aureus, and a genetic predisposition, seem to play a pivotal pathogenic role.2
In literature, cases of folliculitis decalvans involving unusual sites such as groin, axillae and beard were anedoctically reported; in particular, only two cases of folliculitis decalvans of the beard have been reported, both in association with scalp involvement.2-4 Cases of folliculitis decalvans with exclusive involvement of the beard have not been reported yet. The differential diagnosis of cases with isolated beard involvement, as the one described herein, includes pseudofolliculitis barbae, sycosis barbae, dermatitis cruris pustulosa et atrophicans, eosinophilic folliculitis and fungal infection, among others [Table 1].2,5 Histopathologic examination is mandatory to achieve a clear-cut diagnosis, thus avoiding empirical and ineffective treatments.6
| Diseases | Morphology of the lesions | Sites of involvement | Histopathological features |
| --- | --- | --- | --- |
| Folliculitis decalvans | Follicular pustules surrounding oval patches | Scalp; rarely beard, axillae, pubis, thighs | Follicular neutrophilic abscesses; granulomatous folliculitis with lymphocytes, plasma cells and giant cells |
| Tinea barbae | Papules, follicular pustules with exudation and crusts | Beard | Parakeratosis, spongiosis, perivascular neutrophilic and eosinophilic infiltration |
| Sycosis barbae | Follicular papules or pustules centered on hair, raised plaques, crusts and scales | Beard, scalp; rarely axillae, pubis and limbs | Neutrophilic infiltration of follicle wall, chronic granulomatous perifollicular infiltration by lymphocytes, plasma cells, histiocytes and foreign body giant cells |
| Pseudofolliculitis barbae | Papules, pustules, post-inflammatory hyperpigmentation | Beard; rarely other areas with terminal hairs | Neutrophilic perifollicular infiltration, epidermal microabscesses; infiltration of lymphocytes, plasma cells, histiocytes and foreign body giant cells |
| Eosinophilic folliculitis | Follicular pustules and erythematous plaques with centrifugal extension | Face, trunk, limbs | Inflammatory dermal and follicular infiltration composed of eosinophils, neutrophils and mononuclear cells |
| Dermatitis cruris pustulosa et atrophicans | Follicular pustules, scales, shiny edema, follicular atrophy | Usually lower third of legs; rarely thighs, forearms, face | Parakeratosis, neutrophilic infiltration of hair follicle ostium, subcorneal pustule containing neutrophils and lymphocytes |
To conclude, folliculitis decalvans of the beard is a very rare entity, but more likely underdiagnosed. Awareness of this variant of the disease is important to provide an early diagnosis and an effective treatment and preventing disfiguring sequelae in a very sensitive area like the face.
Declaration of patient consent
The authors certify that they have obtained all appropriate patient consent.
Financial support and sponsorship
Nil.
Conflicts of interest
There are no conflicts of interest.
Show Sections