Letter to the Editor
doi: 10.4103/0378-6323.93647
PMID: 22421660
Hyperhidrosis of face and scalp: Repeated successful treatment with botulinum toxin type A
Peter Komericki1 , Navid Ardjomand2
1 Department of Environmental Dermatology and Venereology, Medical University of Graz; Private Practice for Dermatovenereology and Ophthalmology, Graz, Austria, Europe,
2 Department of Ophthalmology, Medical University of Graz; Private Practice for Dermatovenereology and Ophthalmology, Graz, Austria, Europe,

Correspondence Address:
Peter Komericki
Department of Environmental Dermatology and Venereology, Medical University of Graz, Auenbruggerplatz 8, 8036 Graz, Austria, Europe


How to cite this article:
Komericki P, Ardjomand N. Hyperhidrosis of face and scalp: Repeated successful treatment with botulinum toxin type A. Indian J Dermatol Venereol Leprol 2012;78:201-202
Copyright: (C)2012 Indian Journal of Dermatology, Venereology, and Leprology
Sir,
Hyperhidrosis means sweat production by the eccrine glands in excess of the amounts necessary for physiologic thermal homeostasis. [1] Localized variants of hyperhidrosis are mostly primary and affect typically the axillae, palms, soles and forehead. [2] Hyperhidrosis of other facial areas is less common, but a considerable problem for affected subjects.
We present a patient whose hyperhidrosis of face and scalp was sufficiently treated by intradermal injections of botulinum toxin type A (BTX). There are few reports of BTX treatment of single parts of the face, e.g. the forehead or the nasal region. To the best of our knowledge, hyperhidrosis treatment of the whole face including middle and lower parts with BTX has never been described.
A 52-year-old man with stage VII male pattern baldness according to Hamilton-Norwood was seen for extensive faciocranial hyperhidrosis in 2005. No etiologic factors were found. Topical treatment with 20% aluminum chloride (AlCl) was ineffective. Endoscopic thoracic sympathectomy was suggested by the neurosurgeon, but refused by the patient.
We proposed treatment with BTX, even if this has only been described for forehead, the nasal region or scalp. To avoid effects on mimic muscles of centrofacial areas (perioral and nasolabial area, nose, eyebrows and lower forehead), very small amounts of BTX were strictly applied intradermal with 5 mm distance between the injection points. Upper forehead and scalp were treated by injections with 10-20 mm distance. A 100-unit vial of BTX (Botox™, Allergan, Vienna, Austria) was reconstituted in 5 ml of physiological saline and applied in about 300 injections in total. Calculation revealed an average dose of 0.33 units per injection, but the real dose per injection was noticeably lower in the middle and lower parts of the face. The very low-dosed injections 5 mm apart should avoid diffusion into the musculature, but ensure treatment of all skin areas without gaps. This regimen was performed twice a year until now. Apart from some inevitable discomfort associated with multiple injections, no other side-effects were observed. Mimic musculature was always unaffected. Subjective and objective efficacy was very high. Starch-iodine test was performed prior to and after the first treatment in 2005. Sweating had completely stopped after treatment. Starch-iodine test was not repeated afterwards due to the subjectively perfect outcome. The required dosage remained the same over the years. Recurrences were seen 5-6 months after treatment.
In 2007, the patient suffered a myocardial infarction and was treated by coronary stents. He was advised to take clopidogrel and acetylsalicylic acid (ASS) 100 mg daily. A 5-day interruption of this treatment was recommended before BTX injections, but the patient refused to stop clopidogrel and ASS treatment as he was scared of myocardial reinfarction. However, BTX treatment was performed despite platelet inhibitor treatment. Under the influence of clopidogrel and ASS, the patient showed only slight bleeding in the BTX injection areas [Figure - 1], which disappeared within 5 days. The efficacy of treatment was identical, and retreatment was again necessary every 6 months.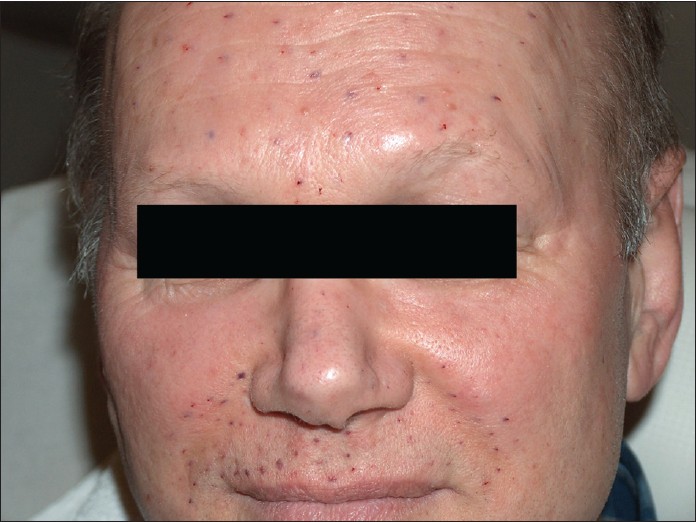 Figure 1: Bleeding in injection sites immediately after treatment. The patient was on clopidogrel and acetylsalicylic acid 100 mg, which did not influence the outcome
A therapeutic protocol for focal hyperhidrosis includes an individualized treatment plan for each site of involvement. For facial hyperhidrosis, BTX becomes the second-line treatment after AlCl. [3] Minimizing the area of BTX diffusion is important to minimize the potential for adverse effects. [4] This is particularly important when the injection sites are close to the muscles, like the centrofacial area. The degree of diffusion can be influenced by the dose and site of injection, the injection volume and the injection technique. In aesthetic indications, it is recommended for beginners to focus on the basic indications in the upper third of the face. The middle and lower parts of the face should only be treated after gaining adequate experience. [5] Hyperhidrosis treatment of central areas of the face should therefore only be performed by experienced BTX handlers.
Our technique of injections of very small amounts with very short distances between the injection sites was highly successful. The intake of clopidogrel and ASS 100 mg did not influence the outcome.
BTX A represents an effective and secure treatment option for hyperhidrosis even of the middle and lower parts of the face, when a special injection technique is used.
References
1.

Atkins JL, Butler PE. Hyperhidrosis: A review of current management. Plast Reconstr Surg 2002;110:222-8.

[Google Scholar]
2.

Lear W, Kessler E, Solish N, Glaser DA. An epidemiologic study of hyperhidrosis. Dermatol Surg 2007;33: S69-75.

[Google Scholar]
3.

Murray CA, Cohen JL, Solish N. Treatment of focal hyperhidrosis. J Cutan Med Surg 2007;11:67-77.

[Google Scholar]
4.

Trindade de Almeida AR, Marques E, de Almeida J, Cunha T, Boraso R. Pilot study comparing the diffusion of two formulations of botulinum toxin type A in patients with forehead hyperhidrosis. Dermatol Surg 2007;33: S37-43.

[Google Scholar]
5.

Shetty MK. Guidelines on the use of botulinum toxin Type A. Indian J Dermatol Venereol Leprol 2008;74:13-22.

[Google Scholar]
Show Sections