Translate this page into:

doi:
10.25259/IJDVL_867_19
Langerhans cell histiocytosis presenting as blueberry muffin baby with associated mediastinal mass
Department of Dermatology Venereology and Leprology

,

Geetanjali Medical College and Hospital, Udaipur, Rajasthan

,

India
Corresponding author: Dr. Kapil Vyas, B 3 Teachers, Quarters, Geetanjali Medical College, Udaipur, Rajasthan, India. kapilvyas23@gmail.com
Received: , Accepted: ,
© 2021 Indian Journal of Dermatology, Venereology and Leprology - Published by Scientific Scholar
Licence
This is an open-access article distributed under the terms of the Creative Commons Attribution-Non Commercial-Share Alike 4.0 License, which allows others to remix, tweak, and build upon the work non-commercially, as long as the author is credited and the new creations are licensed under the identical terms.
How to cite this article: Menghani G, Kaur N, Gupta K, Vyas K. Langerhans cell histiocytosis presenting as blueberry muffin baby with associated mediastinal mass. Indian J Dermatol Venereol Leprol 2021;87:701-3.
Sir,
Langerhans cell histiocytosis (LCH) is an abnormal growth of immature dendritic antigen presenting cells positive for S100 and CD1a on immunostaining and characterized by Birbeck granules on electron microscopy. It is one of the rare causes presenting as blueberry muffin baby, which is characterized by purple, erythematous macular, or papulonodular lesions reflecting dermal hematopoiesis.1
A term newborn, delivered through caesarean section, was referred to the department of dermatology at Geetanjali Medical College, Udaipur, with multiple red-brown papulonodular lesions of varying sizes over the face, trunk, and extremities [Figure 1]. General condition of the neonate was well, with birth weight of 2.6 kgs and Apgar score of nine at one minute. The antenatal records revealed a mediastinal mass on fetal ultrasound of mother at 28 weeks of gestation. The baby was delivered through caesarean section anticipating the respiratory distress at the time of parturition due to mediastinal mass. The intranatal and postnatal period was uneventful without any complications. Antenatal records of mother were non-reactive for human immunodeficiency virus (HIV) and Toxoplasma gondii, other agents, rubella, cytomegalovirus, and herpes simplex virus (TORCH) infections.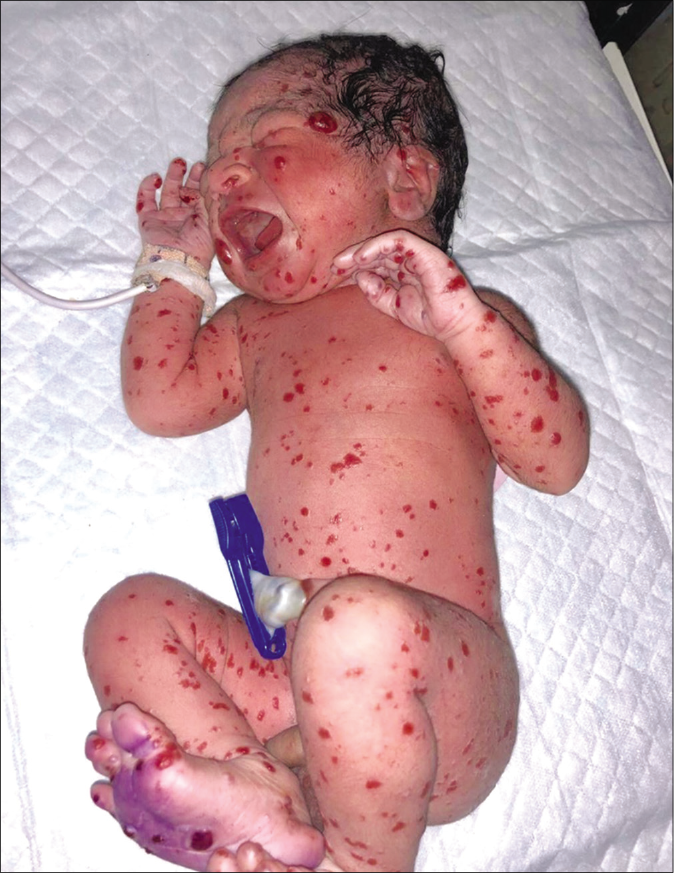 The child was screened negative for birth anomalies, ophthalmic, and auditory defects. Radiological and histopathological evaluation of cutaneous and mediastinal lesions of the neonate was planned but parents deferred for histopathological examination of mediastinal mass. Chest X-ray and computed tomography of thorax revealed a mass in the anterior mediastinum with approximate size of 3.5 × 6.7 cm [Figure 2]. Regional ultrasound of abdomen and brain was normal. Routine laboratory investigations including hematological, urinary, and metabolic profile were normal. Serology for Venereal Disease Research Laboratory (VDRL), HIV and TORCH infections were found non-reactive.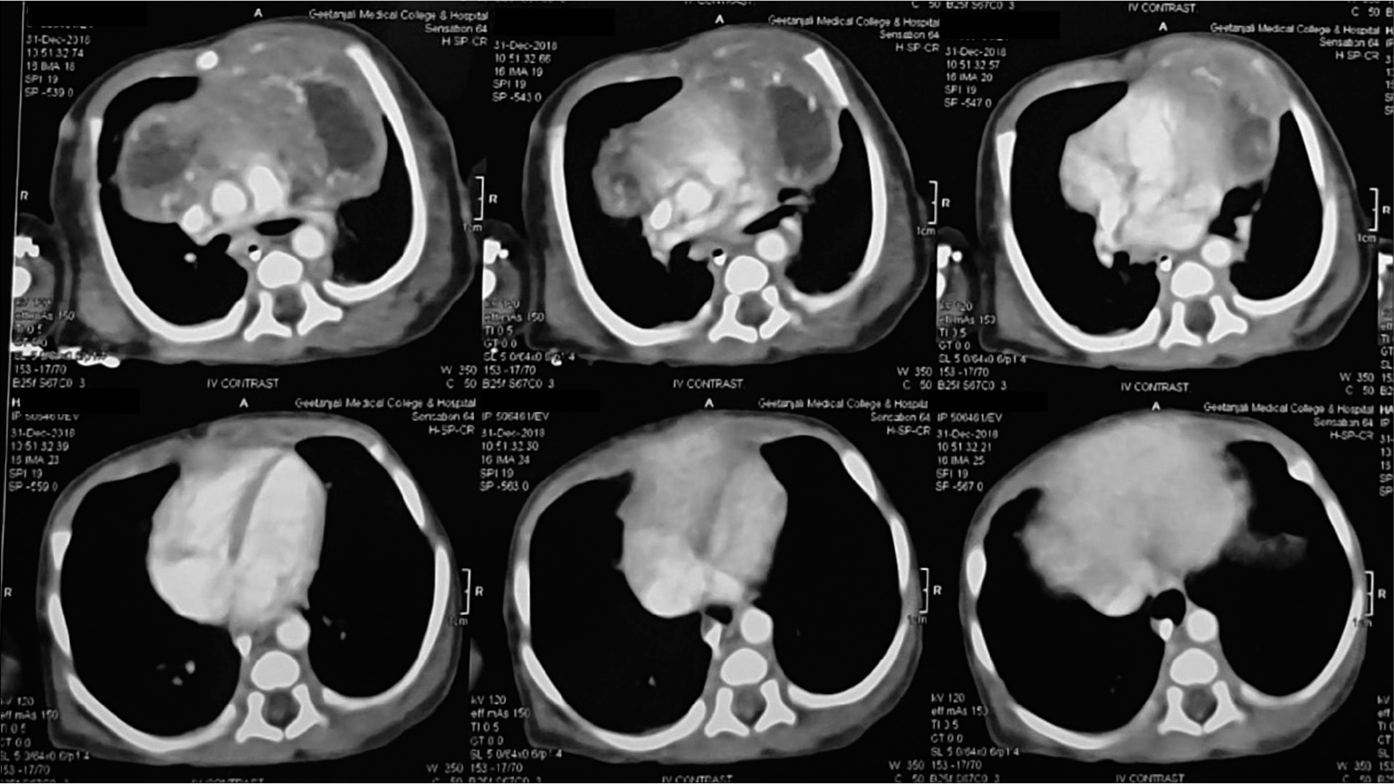 Histopathological examination from the skin nodule revealed multiple large cells with eosinophilic cytoplasm and reniform nucleus akin to dermal histiocytes and epidermal Langerhans cells [Figures 3a and b]. Immunohistochemical evaluation showed positivity for S100 [Figure 4] and CD1a [Figure 5] confirming the diagnosis of Langerhans cell histiocytosis.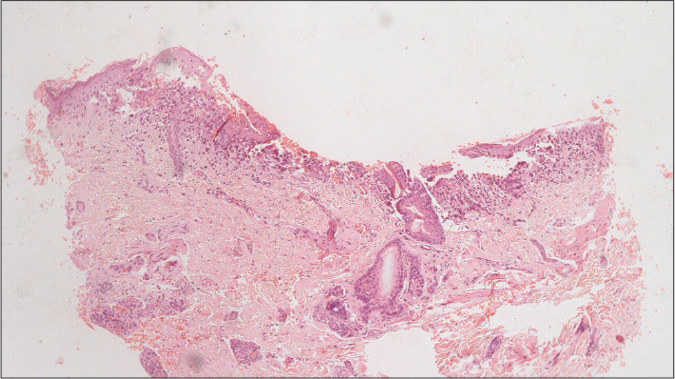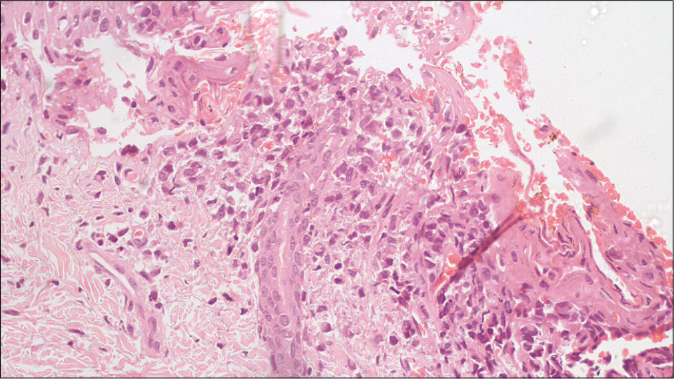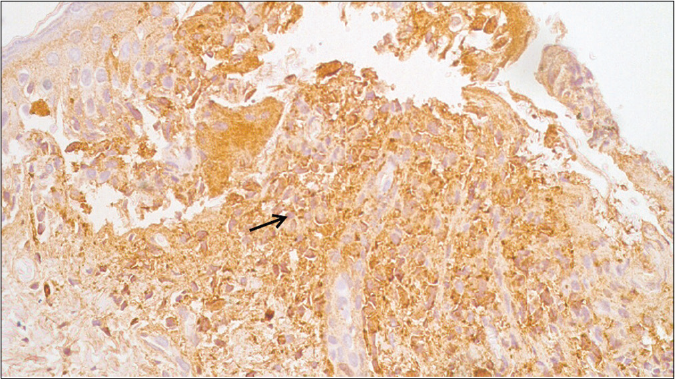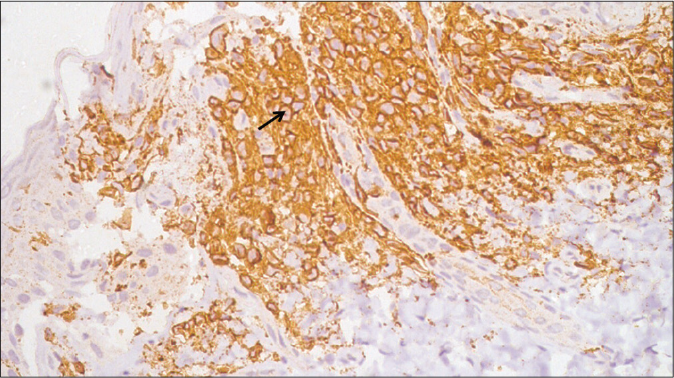 The neonate was managed with supportive care but failed to thrive with intermittent episodes of fever and inability to gain weight over a period of three months. On subsequent investigations, pancytopenia was apparent with immature leukocytes on peripheral smear. Clinical profile of the child was reminiscent of aggressive form of Langerhans cell histiocytosis and treatment was started with vinblastine and systemic prednisolone. After two cycles of chemotherapy, the child succumbed to death due to myelosuppression.
Langerhans cell histiocytosis encompasses a heterogeneous clinical profile and may be subdivided into single system and multisystem disease. Bone and skin are commonly involved in single system disease. Multisystem disease can involve different organs including skeletal, skin, pituitary gland, liver, spleen, lungs, and the hematopoietic system. Our case emphasizes the rare presentation of multisystem variant as blueberry muffin baby with prenatal evidence of mediastinal mass, which was confirmed postnatally by imaging. Although common causes of anterior mediastinal mass in neonates are lymphomas, ectopic thymus, thymoma, and teratomas, Langerhans cell histiocytosis presenting as an isolated anterior mediastinal mass has been described rarely in the literature.2 Although we failed to obtain the biopsy from the mediastinal mass, we presumed it to be reactive Langerhans cell histiocytosis due to concurrent presence of cutaneous lesions diagnosed histopathologically as histiocytosis.
All forms of Langerhans cell histiocytosis, whether benign or malignant, are indistinguishable under microscope and reveal a reactive proliferation of CD1a and S100 protein-positive cells.3 Skin involvement is observed in about 40% of cases. It is reported that skin lesions are the first manifestation in 80% of patients.4 Cutaneous manifestation of Langerhans cell histiocytosis may range from erythematous maculopapular lesion to red-brown plaques, vesicles, purpura, nodules, and cyst. Secondary skin changes such as crust, scab, and ulcers are also not uncommon. The clinical presentation is helpful in guiding appropriate treatment and assigning prognosis. Varying etiology and presentation of Langerhans cell histiocytosis emphasize the importance of reporting every atypical presentation of this disease in clinical settings. Our case, presenting as anterior mediastinal mass, adds to the gamut of unknown atypical presentations of Langerhans cell histiocytosis.
Declaration of patient consent
The authors certify that they have obtained all appropriate patient consent.
Financial support and sponsorship
Nil.
Conflicts of interest
There are no conflicts of interest.
Show Sections