Translate this page into:

Letter to the Editor
doi: 10.4103/0378-6323.79725
PMID: 21508583
Phenol application to distal nail matrix for the treatment of nail thickening
Ercan Caliskan1 , Mustafa Tunca2 , Hakan Erbil2 , Ahmet Akar2
1 Golcuk Navy Hospital, Izmit, Turkey
2 Department of Dermatology, Gulhane School of Medicine, Ankara, Turkey

Correspondence Address:
Mustafa Tunca
GATA Dermatoloji AD. Etlik, Kecioren, Ankara 06018
Turkey

How to cite this article:
Caliskan E, Tunca M, Erbil H, Akar A. Phenol application to distal nail matrix for the treatment of nail thickening. Indian J Dermatol Venereol Leprol 2011;77:344-346
Copyright: (C)2011 Indian Journal of Dermatology, Venereology, and Leprology
Sir,
Nail thickening is a common disorder caused by various factors including biomechanical problems, impaired peripheral circulation, neglect or inflammatory disorders of the nail unit. [1] To date, several medical and surgical methods such as keratolytic agents and mechanical abrasives have been proposed in the treatment. With these modalities however, permanent results cannot be achieved, since the origin of the pathology, namely nail matrix is not addressed. Baran [2] described a surgical technique in which one-third of the distal matrix, parallel to the borders of the lunula is excised. Instead of surgical excision of matrix, we have successfully treated a patient with thickened nail by the application of phenol solution to the distal matrix, avoiding any potential complications associated with the surgery and preserving proximal nail matrix so that a normal nail plate has grown.
A 47-year-old man presented with nail thickening of the left great toe for more than five years [Figure - 1] which caused discomfort and pain. His medical and family history did not reveal any associated disorder. He stated that, over the past five-year-period he was treated once with oral terbinafine for 6 months and his nail plate was avulsed three times, but the problem persisted. Physical examination revealed a thickened nail plate on his left great toe. KOH tests and fungal cultures of the affected nail and the other nails were negative.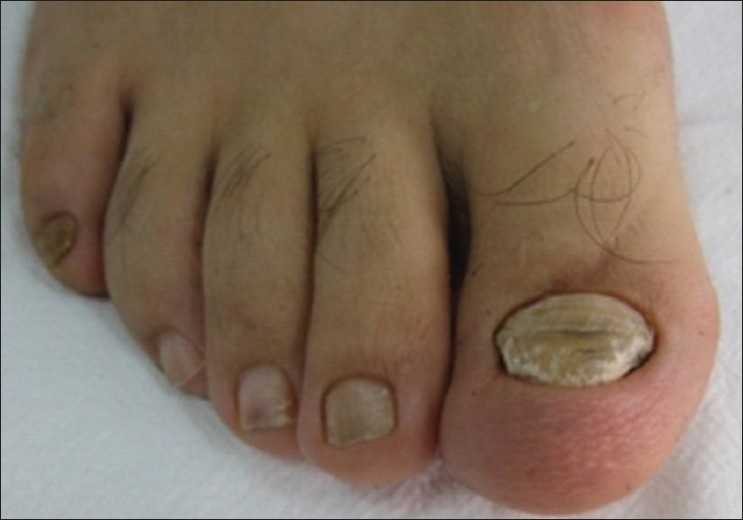 Figure 1: Prominent thickening of the toenail preoperatively
After utilizing a distal wing block with lidocaine, the nail plate of the great toe was removed. As the thickness of the nail plate increases with the length of the matrix, we denaturated the distal part of the matrix extending from the proximal nail fold, with a popular chemical agent, 88% phenol solution [Figure - 2]. After the application of full-strength phenol solution for three minutes, the surgical site was closed and the wound was left to heal with secondary intention. After the procedure the nail grew normally, matching the finger and surrounding nails [Figure - 3].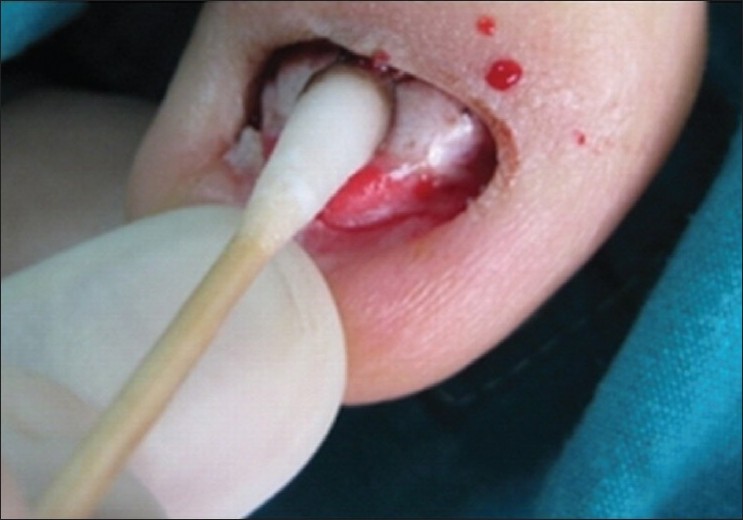 Figure 2: Application of phenol to the distal matrix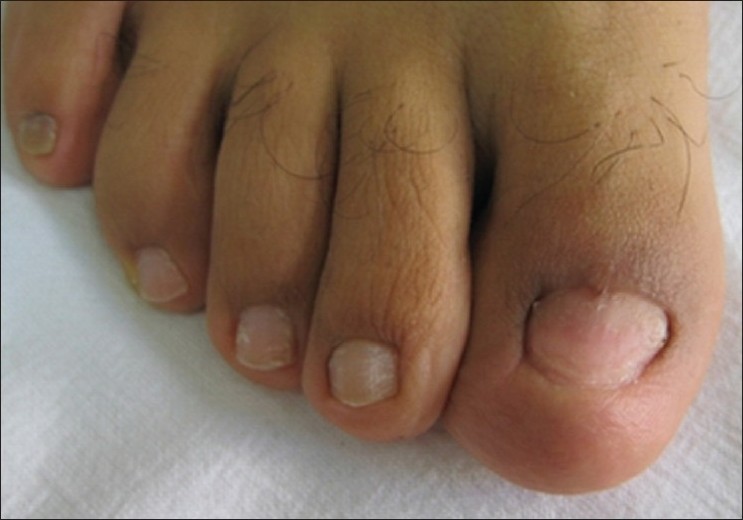 Figure 3: Newly formed thinner nail plate after the operation. (This photo was taken 11 months after the operation)
Several medical and surgical methods have been proposed in the treatment of nail thickening. Apart from the nail bed hyperkeratosis (apparent thickening), real thickening of the nail plate exists as a result of changes in the matrix. Keratolytic agents and mechanical abrasives can be used to reduce the nail plate thickness, but permanent results cannot be achieved with these modalities. For long-term satisfactory results nail matrix should be treated.
Baran [2] described a surgical technique in the treatment of chronic nail thickening of idiopathic or hereditary origin. He excised one-third of the distal matrix, parallel to the borders of the lunula. This procedure should be done with care by the experienced physicians. In our experience, as a result of the fragile structure of nail matrix, crush artifact can be seen. Especially laterally oriented nail spicules from retained matrix tissue is a major problem. Dermatologists are familiar with phenol cauterization, especially in the treatment of ingrown nails. [3],[4] Recent studies show that phenol chemical matricectomy is an effective method in the treatment of ingrown nails. [5],[6] It has better safety profile compared to surgical matricectomy with less postoperative pain and shorter recovery times. [7] Phenol is usually applied with a cotton-tipped swab. [4],[5],[6],[7] But use of gauze was also proposed for this purpose. [8]
Proximal matrix produces more than 50% of the nail plate and additional care must be paid, because dorsal surface is the end product. [9] In our technique, distal matrix extending from the proximal nail fold is chemically denaturated and most important part of the matrix has been protected. Surgical instruments are not used in the matrix destruction, so that crush artifact risk is minimized.
The most commonly used anesthesia techniques for the surgical procedures of the nails are the distal wing block and traditional digital ring block with or without epinephrine. [6],[9] We preferred distal wing block which involves direct anesthesia infusion into the periungual tissues. It takes effect almost immediately while digital ring block may require a few minutes to achieve full anesthesia. Another advantage is that it aids hemostasis by volume load, without use of epinephrine. [9]
In conclusion, distal matricectomy with phenol solution can be an alternative method for the treatment of thickened nails with its simplicity and excellent cosmetic outcome. However, further studies with larger number of patients are needed to reach a definitive conclusion and these studies may also provide detailed data about the advantages and disadvantages of this technique.
References
1.

de Berker D, Bristow I, Baran R, Dawber R. Nails: Appearance and Therapy, 2 nd ed. London: Martin Dunitz; 2002. p. 16-7.

[Google Scholar]
2.

Baran R. An effective surgical treatment for nail thickening in Darier's disease. J Eur Acad Dermatol Venereol 2005;19:689-91.

[Google Scholar]
3.

Bostancý S, Ekmekci P, Gurgey E. Chemical matricectomy with phenol for the treatment of ingrowing toe nail: A review of the literature and follow-up of 172 patients. Acta Derm Venereol 2001;81:181-3.

[Google Scholar]
4.

de Berker DA. Phenolic ablation of the nail matrix. Australas J Dermatol 2001;42:59-61.

[Google Scholar]
5.

Di Chiacchio N, Belda W Jr, Chiacchio NG, Kezam Gabriel FV, de Farias C. Nail matrix phenolization for treatment of ingrowing nail: Technique report and recurrence rate of 267 surgeries. Dermatol Surg 2010;36:534-7.

[Google Scholar]
6.

Altinyazar HC, Demirel CB, Koca R, Hosnuter M. Digital block with and without epinephrine during chemical matricectomy with phenol. Dermatol Surg 2010;36:1568-71.

[Google Scholar]
7.

Hassel JC, Hassel AJ, Löser C. Phenol chemical matricectomy is less painful, with shorter recovery times but higher recurrence rates, than surgical matricectomy: A patient's view. Dermatol Surg 2010;36:1294-9.

[Google Scholar]
8.

Becerro de Bengoa Vallejo R, Losa Iglesias ME, Sanchez Gomez R, Jules KT. Gauze application of phenol for matrixectomy. J Am Podiatr Med Assoc 2008;98:418-21.

[Google Scholar]
9.

Jellinek NJ. Nail surgery: Practical tips and treatment options. Dermatol Ther 2007;20:68-74.

[Google Scholar]
Show Sections