Translate this page into:

Net Quiz
doi: 10.4103/ijdvl.IJDVL_345_18
PMID: 30719993
Pigmented nipple-like nodule on the neck
Sabha Mushtaq1 , Saurabh Singh1 , Sudeep Khera2 , Anand Bardia2
1 Department of Dermatology, All India Institute of Medical Sciences, Jodhpur, Rajasthan, India
2 Department of Pathology, All India Institute of Medical Sciences, Jodhpur, Rajasthan, India

Correspondence Address:
Saurabh Singh
Department of Dermatology, All India Institute of Medical Sciences, Jodhpur - 342 005, Rajasthan
India

How to cite this article:
Mushtaq S, Singh S, Khera S, Bardia A. Pigmented nipple-like nodule on the neck. Indian J Dermatol Venereol Leprol 2019;85:235
Copyright: (C)2019 Indian Journal of Dermatology, Venereology, and Leprology
A 22-year-old man presented with a 4-year history of an asymptomatic nodule on the right side of the neck which had gradually increased in size, over the past 3 months. Cutaneous examination revealed an 8 mm × 8 mm solitary, hyperpigmented, nontender, firm, hairless nodule, about 1 inch below and behind the right ear. The nodule had a central dimple-like projection, and a hyperpigmented collar of raised skin around its rim. Surrounding this was a small area of skin-colored nodular swelling, that extended beyond the pigmented margin. The lesion bore a morphological resemblance to an accessory nipple [Figure - 1] and it was excised completely.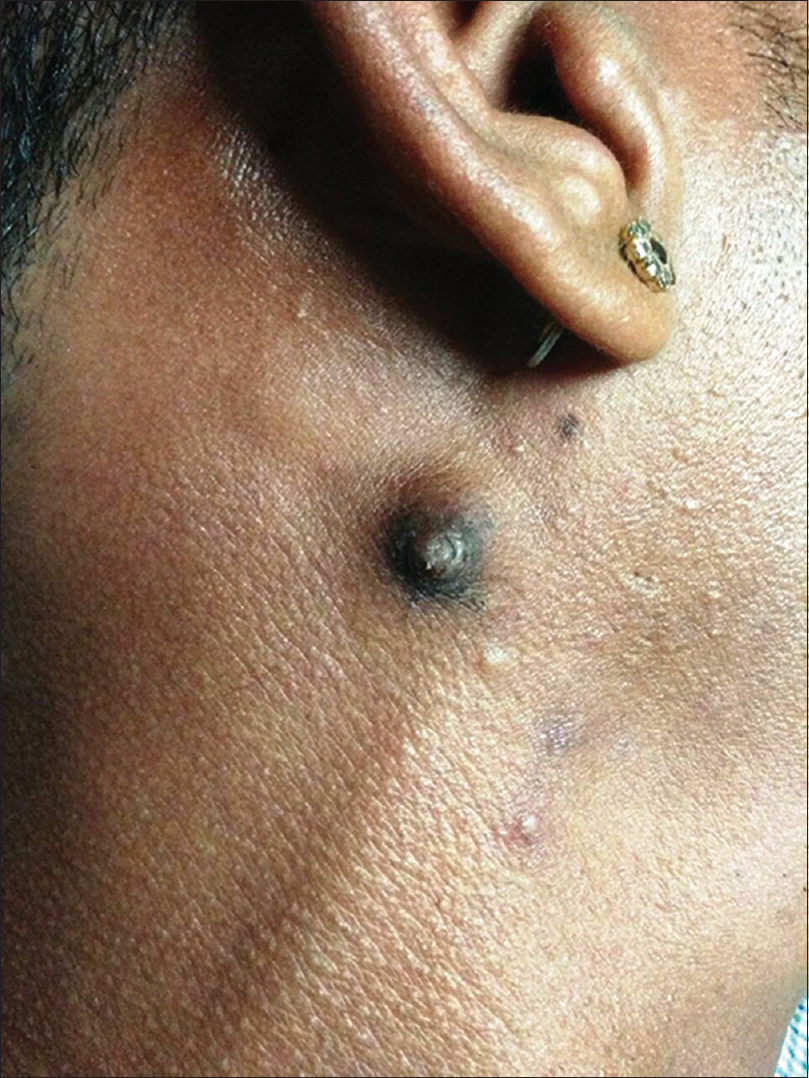 Figure 1: Hyperpigmented non-hairy nodule with central portion showing a dimple and a collarette of raised skin encircling it near the margins
Histopathology revealed a dilated cystic space in the center of the dermis, lined by stratified squamous epithelium. Multiple sebaceous lobules were seen arranged in a radial fashion attached to the epithelium, some of which emptied into the cavity. The surrounding stroma was fibrotic with numerous dilated capillaries and spindle cells [Figure - 2] and [Figure - 3].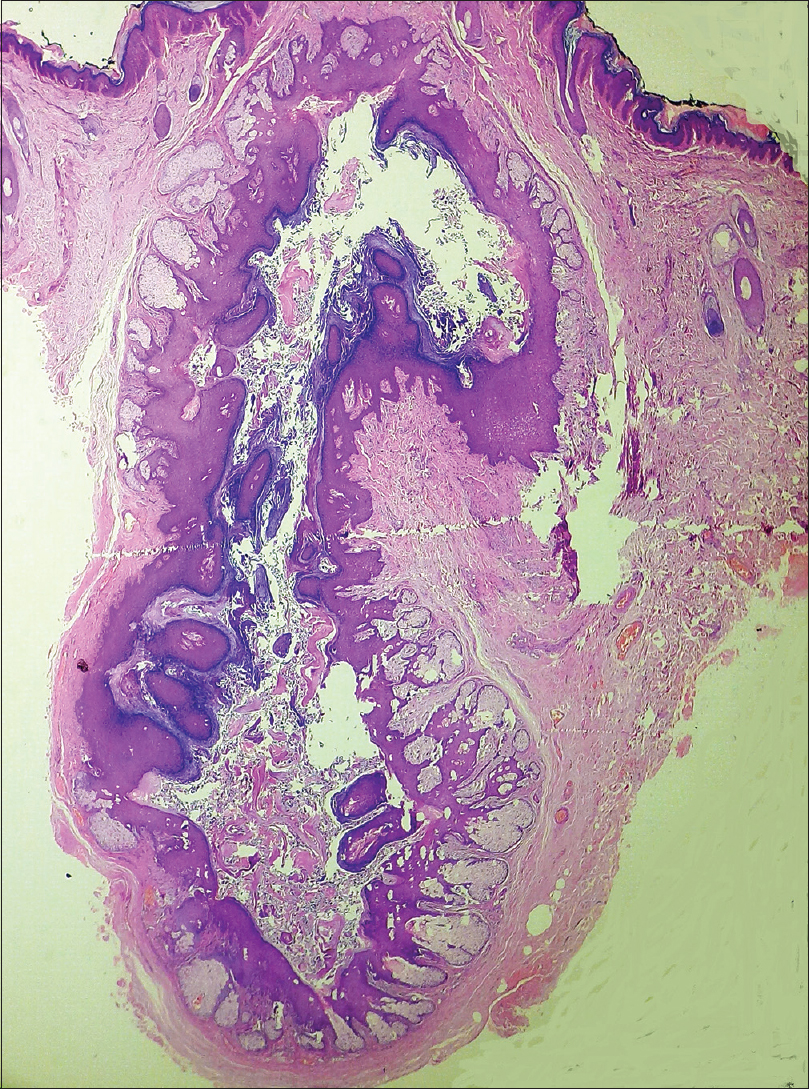 Figure 2: Dilated cystic space in the dermis lined by stratified squamous epithelium with multiple sebaceous lobules arranged radially and surrounded by fibrovascular stroma (hematoxylin and eosin, ×20)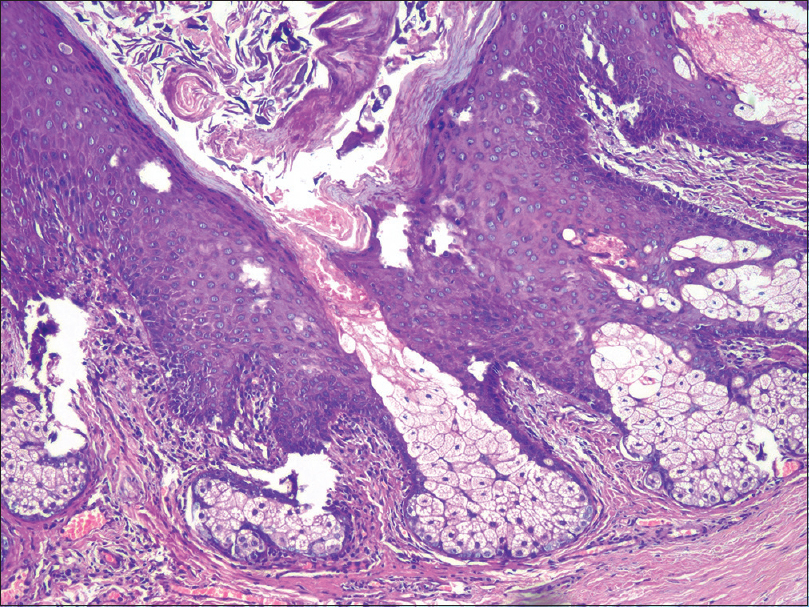 Figure 3: A sebaceous lobule is seen emptying into the cavity. Spindle cell proliferation is seen, both around the sebaceous lobules and the dilated capillaries (hematoxylin and eosin, ×100)
What is Your Diagnosis?
Answer
Folliculosebaceous cystic hamartoma.
Discussion
Benign appendageal tumors are a vast and heterogeneous group, characterized by some clinically distinguishable entities and, more often than not, require histopathological confirmation. The term folliculosebaceous cystic hamartoma was coined and defined by Kimura et al. (1991).[1] Folliculosebaceous cystic hamartoma is a rare, benign cutaneous hamartoma with follicular, sebaceous and mesenchymal components. It is considered by some authors to be a variant of trichofolliculoma in a late stage of development. A folliculosebaceous cystic hamartoma usually presents as a solitary sessile or pedunculated papule or nodule with normal overlying skin.[2] The lesions of folliculosebaceous cystic hamartoma are slow-growing and change little over time. The most common site of predilection is the face, but cases with extra-cephalic folliculosebaceous cystic hamartoma have been described, involving upper back, nipple, periauricular skin, external auditory canal and genital region.[3]
Folliculosebaceous cystic hamartoma needs to be differentiated from close mimics, such as trichofolliculoma and sebaceous trichofolliculoma. Clinically, trichofolliculoma presents as a papule or nodule with a central umblication and a protruding hair in contrast to folliculosebaceous cystic hamartoma which usually presents as a skin-colored papule or nodule without any central umblication or opening.[2] In our case, the patient had a hyperpigmented nodule with a central dimple surrounded by a hyperpigmented collarette of raised skin (resembling a nipple) which is clinically distinct from the folliculosebaceous cystic hamartoma cases reported previously.
The key histopathological features distinguishing folliculosebaceous cystic hamartoma from trichofolliculoma and sebaceous trichofolliculoma are the lack of secondary follicle and presence of characteristic stromal mesenchymal components in the former.[4] The exact origin of folliculosebaceous cystic hamartoma remains unclear. Del Río et al.(1998) proposed the role of stroma in the induction of a follicular germ resulting in a variety of follicular tumors.[5] The perifollicular stroma may be responsible for the induction of prominent infundibular and sebaceous differentiation in folliculosebaceous cystic hamartomas or, the lower segment focally resulting in a secondary follicle, forming a trichofolliculoma, and both secondary follicle and prominent sebaceous differentiation in sebaceous trichofolliculomas.[3] But a recent study by Misago et al argues that trichofolliculoma and folliculosebaceous cystic hamartoma are distinct entities that share a similar pathogenesis differing in the direction of fundamental differentiation.[6] In addition, Alegría-Landa et al proposed that hamartomas with folliculosebaceous differentiation should be regarded as a spectrum of lesions where strict distinction between them is difficult to establish.[3] Therefore, be it trichofolliculomas, sebaceous trichofolliculomas or folliculosebaceous cystic hamartomas, whether they represent a part of the same spectrum or distinct entities is still a matter of debate.
Declaration of patient consent
The authors certify that they have obtained all appropriate patient consent forms. In the form, the patient has given his consent for his images and other clinical information to be reported in the journal. The patient understands that name and initials will not be published and due efforts will be made to conceal identity, but anonymity cannot be guaranteed.
Financial support and sponsorship
Nil.
Conflicts of interest
There are no conflicts of interest.
References
1.

Kimura T, Miyazawa H, Aoyagi T, Ackerman AB. Folliculosebaceous cystic hamartoma. A distinctive malformation of the skin. Am J Dermatopathol 1991;13:213-20.

[Google Scholar]
2.

El-Darouty MA, Marzouk SA, Abdel-Halim MR, El-Komy MH, Mashaly HM. Folliculo-sebaceous cystic hamartoma. Int J Dermatol 2001;40:454-7.

[Google Scholar]
3.

Alegría-Landa V, Jo-Velasco M, Prieto-Torres L, Requena L. Genital folliculo-sebaceous cystic hamartoma: A claim of the stroma as a clue in the diagnosis of proliferations with follicular differentiation. J Cutan Pathol 2017;44:504-8.

[Google Scholar]
4.

Wu YH. Folliculosebaceous cystic hamartoma or trichofolliculoma? A spectrum of hamartomatous changes inducted by perifollicular stroma in the follicular epithelium. J CutanPathol 2008;35:843-8.

[Google Scholar]
5.

del Río E, Sánchez Yus E, Simón P, VázquezVeiga HA. Stimulation of folliculo-sebaceous proliferations by neurofibromas: A report of two cases. J Cutan Pathol 1998;25:228-32.

[Google Scholar]
6.

Misago N, Kimura T, Toda S, Mori T, Narisawa Y. A revaluation of folliculosebaceous cystic hamartoma: The histopathological and immunohistochemical features. Am J Dermatopathol 2010;32:154-61.

[Google Scholar]
Show Sections