Translate this page into:

Book Review
Sexually Transmitted Infections
N Usman
2/6, Bharathi Avenue, Mangammal Nagar, Koyambedu, Chennai - 600 107, Tamilnadu, India

Correspondence Address:
N Usman
2/6, Bharathi Avenue, Mangammal Nagar, Koyambedu, Chennai - 600 107, Tamilnadu
India

How to cite this article:
Usman N. Sexually Transmitted Infections. Indian J Dermatol Venereol Leprol 2012;78:523
Copyright: (C)2012 Indian Journal of Dermatology, Venereology, and Leprology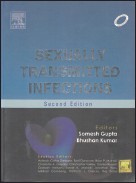 Editors: Somesh Gupta and Bhushan Kumar
Publisher: Elsevier, a Division of Reed Elsevier
India Private Limited.
Edition: Second Edition, 2012
Pages: 1395 Price: INR 3750/-
The second edition of the book, Sexually Transmitted Infections, edited by Somesh Gupta and Bhushan Kumar is an excellent reference book which should be read by all Dermatologists and Post Graduate students of Dermatology and other specialities.
The Section Editors, Antonio Carlos Gerbase, Basil Donovan, Brian P. Mulhall, Charlotte A. Gaydos, Christopher Fairley, Darren Russell, Graham Neilsen, Janak K. Maniar, Jonathan Ross, Mikhail Gomberg, Patricia J. Garcia and Jaj Patel have done wonderful job in bringing out the book in good shape.
The contributors of different chapters are most renowned personalities in National and International level.
The book contains sixteen sections dealing with many aspects of sexually transmitted infections in detail. Clinical pictures are given in the same page in which the infection is dealt which avoids the reader to turn to other page where pictures are given in many text books. Recent statistics of Indian scenario of sexually transmitted infections is the most appreciable one. Syndromic management of STI which is a National policy in Indian primary health care set up is also included in chapter nine. The chapters on social and legal issues, sexual abuse and sexual dysfunction are the need of hour in present days.
HIV/AIDS being a sexually transmitted infection is explained in detail in chapter eleven. This chapter describes biology, laboratory aspects, pharmacology, therapeutics and clinical aspects in part A and B.
All chapters contain a long list of references which will be of much use for researchers. This book appears like encyclopedia of STI/HIV/AIDS and thus becomes a must in the list of books of all Medical, Dental and Nursing institutions in addition to the Non Government Organizations doing intervention programs of STI/AIDS.
Show Sections