Textbook of Laser and Light Dermatology in the Asian Skin
Maya Vedamurthy
Consultant Dermatologist and Cosmetologist, AB-76, 1st Street, Anna Nagar, Chennai - 600 040, Tamil Nadu, India

Correspondence Address:
Maya Vedamurthy
Consultant Dermatologist and Cosmetologist, AB-76, 1st Street, Anna Nagar, Chennai - 600 040, Tamil Nadu
India

How to cite this article:
Vedamurthy M. Textbook of Laser and Light Dermatology in the Asian Skin. Indian J Dermatol Venereol Leprol 2012;78:232
Copyright: (C)2012 Indian Journal of Dermatology, Venereology, and Leprology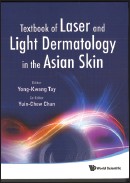 Yong -Kwang Tay (Editor), Yuin-Chew Chan (Co-editor)
Publisher: World Scientific, First Edition, 2011
For Price and details
visit www.worldscientific.com
This book on use of laser and light on Asian skin is a comprehensive textbook for any dermatologist involved in the treatment of dark skin types. The basics of laser and introduction to the subject have been made simple and easy to understand. Use of lasers in a wide variety of dermatological conditions such as pigmentation, vascular lesions, and photoaging are well described with necessary parameters, precautions, and post-procedural instructions. However, some authors have failed to mention the trade name of the laser machines used in their illustrations, as the parameters suggested for the indications depend on the machine used. Safety issues concerning lasers are covered adequately.
Each chapter is well illustrated with relevant laser physics and clinical photographs to make reading simple and meaningful. Some clinical photographs are of poor quality and need improvement. There is more scope for representative photographs of darker skin types, especially types V and VI.
A large volume of information on lasers and lights has been made precisely concise and well presented to make reading informative and enjoyable. It is the most useful book for any novice entering laser practice.
Show Sections