Translate this page into:

Resident's Page
doi: 10.4103/ijdvl.IJDVL_1019_16
PMID: 29243672
The tricky "trichs" in dermatology!
Vidya Kuntoji1 , Chandramohan Kudligi1 , Pradeep Vittal Bhagwat1 , Dinesh Prasad Asati2 , Arika Bansal3
1 Department of Dermatology, Venereology and Leprosy, Karnataka Institute of Medical Sciences, Hubli, Karnataka, India
2 Department of Dermatology, Venereology and Leprosy, All India Institute of Medical Sciences, Bhopal, Madhya Pradesh, India
3 Consultant Dermatologist and Trichologist, Eugenix Skin and Hair Sciences, Gurgaon, Haryana, India

Correspondence Address:
Chandramohan Kudligi
Department of Dermatology, Venereology and Leprosy, Karnataka Institute of Medical Sciences, Hubli, Karnataka
India

How to cite this article:
Kuntoji V, Kudligi C, Bhagwat PV, Asati DP, Bansal A. The tricky "trichs" in dermatology!. Indian J Dermatol Venereol Leprol 2018;84:109-113
Copyright: (C)2018 Indian Journal of Dermatology, Venereology, and Leprology
The word "trich" is derived from the Greek word "thrix" which means pertaining to hair. Hence, terminologies or medical words starting with "trich" are related to hair more often than not. However, there are also "trichs" which are unrelated to hair. Since the terminologies are extensive and are spread across the literature related and unrelated to hair, authors have attempted to arbitrarily classify and club these into various groups for the sake of convenience.
Classification [Table - 1]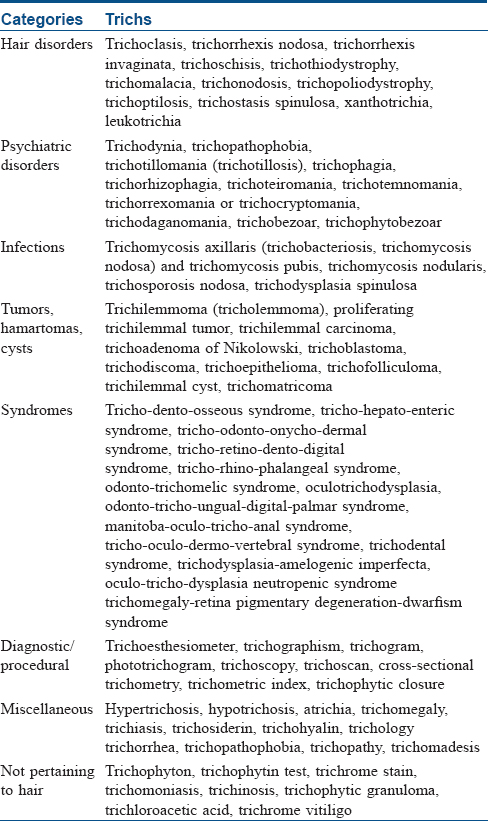 Table 1: Arbitrary classification of various terminologies comprising of "trich"
Hair disorders
Psychiatric Disorders [Table - 2]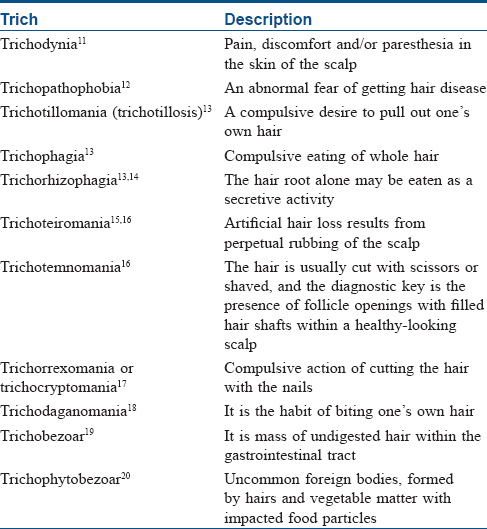 Table 2: Terminologies of psychiatric disorders containing "trich"
Infections
Tumors, hamartomas, cysts[26],[27],[28],[29]
Trichilemmoma (tricholemmoma) – A benign tumor derived from external root sheath epithelium of a hair follicle, consisting of cells with pale-staining cytoplasm containing glycogen. Multiple trichilemmomas are present on the face in Cowden's disease.
Proliferating trichilemmal tumor – A tumor of external root sheath derivation usually arising in a preexistent pilar cyst. Malignant change has been rarely reported.
Trichilemmal carcinoma – A rare malignant neoplasm of external root sheath with low metastatic potential, usually arising in sun-exposed skin of elderly. It may arise from a trichoblastoma or nevus sebaceous.
Trichoadenoma of Nikolowski – It is a rare benign tumor with multiple cystic structures closely resembling the infundibular portion of the hair follicle. It is thought to originate from pluripotent stem cells present within cutaneous appendageal structures and show follicular differentiation.
Trichoblastoma – It is a small benign hair follicle tumor originating from follicular germinative cells. Trichoepithelioma and giant trichoepithelioma (including its variant giant melanotrichoblastoma) represent the more mature end of the spectrum of trichoblastoma.
Trichodiscoma – It is a tumor of hair disc. Multiple trichodiscomas, trichofolliculomas and acrochodon-like lesions as well as perifollicular fibromas have been described as a part of the Birt–Hogg–Dube syndrome.
Trichoepithelioma – A hamartoma of the hair germ composed of immature islands of basaloid cells with focal primitive follicular differentiation and induction of a cellular stroma. Multiple trichoepitheliomas, cylindromas and spiradenomas constitute Brooke–Spiegler syndrome.
Trichofolliculoma – It is regarded as a hamartoma of the pilosebaceous follicle which results in several hairs being formed within the follicular opening and all protruding onto the epidermal surface from a single pilosebaceous orifice.
Trichilemmmal cyst (pilar cyst) – Trichilemmal cysts are common intradermal or subcutaneous cysts; >90% of which occur on the scalp. They contain keratin and its breakdown products and are lined by walls resembling the external (outer) root sheath of the hair.
Trichomatricoma (pilomatricoma, pilomatrixoma, calcifying epithelioma of Malherbe) – It is a tumor derived from hair matrix cells. It presents as a solitary, skin colored or bluish, firm, cystic nodule on head, neck or proximal upper extremities. It displays a "tent-sign" and "teeter totter sign." Multiple lesions are seen in Gardner's syndrome, myotonic dystrophy, Rubinstein–Taybi and Turner syndrome.
Syndromes
Diagnostic/procedural
Miscellaneous [Table - 3]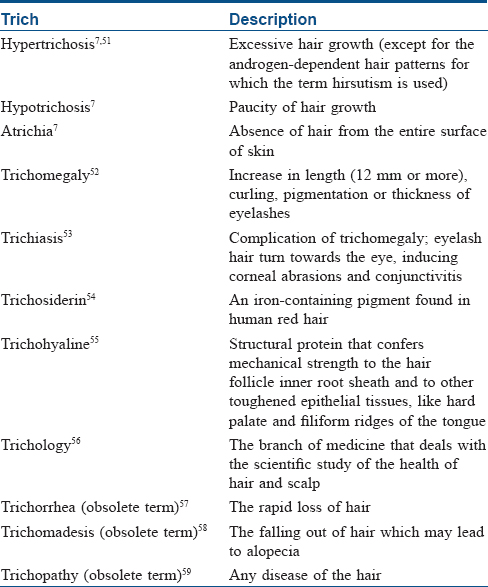 Table 3: Compilation of miscellaneous terminologies (related to hair) containing the word "trich"
"Trichs" not pertaining to hair
Financial support and sponsorship
Nil.
Conflicts of interest
There are no conflicts of interest.
References
1.

Otberg N, Shapiro J. Hair growth disorders. In: Goldsmith LA, Katz SI, Gilchrest BA, Paller AS, Leffell DJ, Wolff K, editors. Fitzpatrick's Dermatology in General Medicine. 8th ed. New York: McGraw Hill; 2012. p. 1002-3.

[Google Scholar]
2.

Runger TM, DiGiovanna JJ, Kraemer KH. Hereditary disorders of genome instability and DNA repair. In: Goldsmith LA, Katz SI, Gilchrest BA, Paller AS, Leffell DJ, Wolff K, editors. Fitzpatrick's Dermatology in General Medicine. 8th ed. New York: McGraw Hill; 2012. p. 1665-7.

[Google Scholar]
3.
[Google Scholar]
4.

Joshi R. 'Swiss cheese' appearance of dilated follicular infundibula in trichotillomania. Indian J Dermatol Venereol Leprol 2014;80:257-8.

[Google Scholar]
5.

Kumaresan M, Deepa M. Trichonodosis. Int J Trichology 2014;6:31-3.

[Google Scholar]
6.

Dobrescu O, Larbrisseau A, Dubé LJ, Weber ML. Trichopoliodystrophy or Menkes disease. Can Med Assoc J 1980;123:490-7.

[Google Scholar]
7.

Messenger AG, Sinclair RD, Farrant P, de Berker DA. Acquired disorders of hair. In: Griffiths CE, Barker J, Bleiker T, Chalmers R, Creamer D, editors. Rook's Textbook of Dermatology. 9th ed. Oxford: Wiley Blackwell; 2016. p. 2275

[Google Scholar]
8.

Prevost N, English JC 3rd. Xanthotrichia (yellow hair) due to selenium sulfide and dihydroxyacetone. J Drugs Dermatol 2008;7:689-91.

[Google Scholar]
9.

Martí Fajardo N, García Llopis P, Ibánez Ramón R, Ortega Monzó C. [Probable iatrogenic xanthotrichia] Actas Dermosifiliogr 2014;105:722-3.

[Google Scholar]
10.

Birlea SA, Spritz RA, Norris DA. Vitiligo. In: Goldsmith LA, Katz SI, Gilchrest BA, Paller AS, Leffell DJ, Wolff K, editors. Fitzpatrick's Dermatology in General Medicine. 8th ed. New York: McGraw Hill; 2012. p. 795.

[Google Scholar]
11.

Kivanç-Altunay I, Savas C, Gökdemir G, Köslü A, Ayaydin EB. The presence of trichodynia in patients with telogen effluvium and androgenetic alopecia. Int J Dermatol 2003;42:691-3.

[Google Scholar]
12.

Mewborn AD. Trichopathophobia. Fear of disease of the hair. JAMA 1908;1:19-23.

[Google Scholar]
13.

Bewley A, Taylor RE. Psychodermatology and psychocutaneous disease. In: Griffiths CE, Barker J, Bleiker T, Chalmers R, Creamer D, editors. Rook's Textbook of Dermatology. 9th ed. Oxford: Wiley Blackwell; 2016. p.[p2153-2154]

[Google Scholar]
14.

Kumar PN, Rajmohan V. Trichotillomania with trichorhizophagia in a schizophrenic patient: Case report and review of literature. Indian J Psychiatry 2012;54:196-7.

[Google Scholar]
15.

Banky JP, Sheridan AT, Dawber RP. Weathering of hair in trichoteiromania. Australas J Dermatol 2004;45:186-8.

[Google Scholar]
16.

Orgaz-Molina J, Husein-Elahmed H, Soriano-Hernández MI, Arias-Santiago S. Trichotemnomania: Hair loss mediated by a compulsive habit not admitted by patients. Acta Derm Venereol 2012;92:183-4.

[Google Scholar]
17.

Pereira JM. Tricoses compulsivas. An Bras Dermatol 2004;79:609-18.

[Google Scholar]
18.

Jafferany M, Feng J, Hornung RL. Trichodaganomania: The compulsive habit of biting one's own hair. J Am Acad Dermatol 2009;60:689-91.

[Google Scholar]
19.

Kinoo SM, Singh B. Gastric trichobezoar: An enduring intrigue. Case Rep Gastrointest Med 2013;2013:1-3.

[Google Scholar]
20.

Scorpio R, Sharma D. Terminal ileal trichophytobezoar with perforation: A rare presentation with review. J Indian Assoc Pediatr Surg 2008;13:38-40.

[Google Scholar]
21.

Craft N. Superficial cutaneous infections and pyodermas. In: Goldsmith LA, Katz SI, Gilchrest BA, Paller AS, Leffell DJ, Wolff K, editors. Fitzpatrick's Dermatology in General Medicine. 8th ed. Amsterdam: McGraw Hill; 2012. p. 2147.

[Google Scholar]
22.

Guiotoku MM, Ramos PM, Miot HA, Marques SA. Trichobacteriosis: Case report and dermoscopic study. An Bras Dermatol 2012;87:315-6.

[Google Scholar]
23.

Hay RJ, Morris-Jones R. Bacterial infections. In: Griffiths CE, Barker J, Bleiker T, Chalmers R, Creamer D, editors. Rook's Textbook of Dermatology. 9th ed. Oxford: Wiley Blackwell; 2016. p. 707.

[Google Scholar]
24.

Hay RJ, Ashbee HR. Infections and infestations. In: Griffiths CE, Barker J, Bleiker T, Chalmers R, Creamer D, editors. Rook's Textbook of Dermatology. 9th ed. Oxford: Wiley Blackwell; 2016.P. 937-39.

[Google Scholar]
25.

Chu CA, Teixeira F. Acquired disorders of epidermal keratinisation. In: Griffiths CE, Barker J, Bleiker T, Chalmers R, Creamer D, editors. Rook's Textbook of Dermatology. 9th ed. Oxford: Wiley Blackwell; 2016. p. 2192-94.

[Google Scholar]
26.

Calonje E. Tumours of skin appendages. In: Griffiths CE, Barker J, Bleiker T, Chalmers R, Creamer D, editors. Rook's Textbook of Dermatology. 9th ed. Oxford: Wiley Blackwell; 2016. p. 3801-11.

[Google Scholar]
27.

Lear JT, Madan V. Cutaneous cysts. In: Griffiths CE, Barker J, Bleiker T, Chalmers R, Creamer D, editors. Rook's Textbook of Dermatology. 9th ed. Oxford: Wiley Blackwell; 2016. p. 3679.

[Google Scholar]
28.

Srivastava D, Taylor S. Appendage tumors and hamartomas of the skin. In: Goldsmith LA, Katz SI, Gilchrest BA, Paller AS, Leffell DJ, Wolff K, editors. Fitzpatrick's Dermatology in General Medicine. 8th ed. New York: McGraw Hill; 2012. p. 1337-98.

[Google Scholar]
29.
[Google Scholar]
30.

Wright JT, Roberts MW, Wilson AR, Kudhail R. Tricho-dento-osseous syndrome. Features of the hair and teeth. Oral Surg Oral Med Oral Pathol 1994;77:487-93.

[Google Scholar]
31.

Fabre A, Martinez-Vinson C, Goulet O, Badens C. Syndromic diarrhea/tricho-hepato-enteric syndrome. Orphanet J Rare Dis 2013;8:5.

[Google Scholar]
32.

Kantaputra P, Kaewgahya M, Jotikasthira D, Kantaputra W. Tricho-odonto-onycho-dermal dysplasia and WNT10A mutations. Am J Med Genet A 2014;164A:1041-8.

[Google Scholar]
33.
[Google Scholar]
34.

Lüdecke HJ, Schaper J, Meinecke P, Momeni P, Gross S, von Holtum D, et al. Genotypic and phenotypic spectrum in tricho-rhino-phalangeal syndrome types I and III. Am J Hum Genet 2001;68:81-91.

[Google Scholar]
35.
[Google Scholar]
36.
[Google Scholar]
37.

James WD, Elston DM, Berger TG, editors. Andrews' Diseases of the Skin Clinical Dermatology. 11th ed. Amsterdam: Elsevier; 2011. p. 564.

[Google Scholar]
38.

Slavotinek AM, Baranzini SE, Schanze D, Labelle-Dumais C, Short KM, Chao R, et al. Manitoba-oculo-tricho-anal (MOTA) syndrome is caused by mutations in FREM1. J Med Genet 2011;48:375-82.

[Google Scholar]
39.
[Google Scholar]
40.
[Google Scholar]
41.
[Google Scholar]
42.
[Google Scholar]
43.
[Google Scholar]
44.
[Google Scholar]
45.
[Google Scholar]
46.

Dhurat R. Phototrichogram. Indian J Dermatol Venereol Leprol 2006;72:242-4.

[Google Scholar]
47.

Jain N, Doshi B, Khopkar U. Trichoscopy in alopecias: Diagnosis simplified. Int J Trichology 2013;5:170-8.

[Google Scholar]
48.

Hoffmann R. TrichoScan: A novel tool for the analysis of hair growth in vivo. J Investig Dermatol Symp Proc 2003;8:109-15.

[Google Scholar]
49.

Wikramanayake TC, Mauro LM, Tabas IA, Chen AL, Llanes IC, Jimenez JJ. Cross-section trichometry: A clinical tool for assessing the progression and treatment response of alopecia. Int J Trichology 2012;4:259-64.

[Google Scholar]
50.

Rose PT. Hair restoration surgery: Challenges and solutions. Clin Cosmet Investig Dermatol 2015;8:361-70.

[Google Scholar]
51.

Messenger AG, Sinclair RD, Farrant P, de Berker DA. Acquired disorders of hair. In: Griffiths CE, Barker J, Bleiker T, Chalmers R, Creamer D, editors. Rook's Textbook of Dermatology. 9th ed. Oxford: Wiley Blackwell; 2016. p. 2325.

[Google Scholar]
52.

Kaur S, Mahajan BB. Eyelash trichomegaly. Indian J Dermatol 2015;60:378-80.

[Google Scholar]
53.

Fearfield L, Natkunarajah J. Cutaneous side effects of chemotherapy and radiotherapy. In: Griffiths CE, Barker J, Bleiker T, Chalmers R, Creamer D, editors. Rook's Textbook of Dermatology. 9th ed. Oxford: Wiley Blackwell; 2016. p. 3372.

[Google Scholar]
54.
[Google Scholar]
55.
[Google Scholar]
56.

Mysore V, Khopkar U. Check if your trichologist is a doctor: Need for educating the public. Indian J Dermatol Venereol Leprol 2007;73:147-8.

[Google Scholar]
57.
[Google Scholar]
58.

Shellow H. Trichomadesis (falling hair). Arch Derm Syphilol 1937;36:1225.

[Google Scholar]
59.
[Google Scholar]
60.
[Google Scholar]
61.

Coulson IH, Benton EC, Ogden S. Diagnosis of skin disease. In: Griffiths CE, Barker J, Bleiker T, Chalmers R, Creamer D, editors. Rook's Textbook of Dermatology. 9th ed. Oxford: Wiley Blackwell; 2016. p. 150.

[Google Scholar]
62.

Calonje E, Bhogal BS. Histopathology of the skin: General principles. In: Griffiths CE, Barker J, Bleiker T, Chalmers R, Creamer D, editors. Rook's Textbook of Dermatology. 9th ed. Oxford: Wiley Blackwell; 2016. p. 93.

[Google Scholar]
63.

Downing C, Tyring S. Parasitic diseases. In: Griffiths CE, Barker J, Bleiker T, Chalmers R, Creamer D, editors. Rook's Textbook of Dermatology. 9th ed. Oxford: Wiley Blackwell; 2016. p.1040-41.

[Google Scholar]
64.

Hann SK, Kim YS, Yoo JH, Chun YS. Clinical and histopathologic characteristics of trichrome vitiligo. J Am Acad Dermatol 2000;42:589-96.

[Google Scholar]
65.

Sehgal VN, Srivastava G. Vitiligo: Compendium of clinico-epidemiological features. Indian J Dermatol Venereol Leprol 2007;73:149-56.

[Google Scholar]
66.

Margolis DJ, Weinberg JM, Tangoren IA, Cheney RT, Johnson BL Jr. Trichophytic granuloma of the vulva. Dermatology 1998;197:69-70.

[Google Scholar]
67.

Ueda-Furukawa M, Kitano Y, Hashimoto K. Trichophytic granuloma associated with bullous pemphigoid. J Dermatol 1988;15:339-41.

[Google Scholar]
68.

Goh C, Lim JT. Chemical peels. In: Griffiths CE, Barker J, Bleiker T, Chalmers R, Creamer D, editors. Rook's Textbook of Dermatology. 9th ed. Oxford: Wiley Blackwell; 2016. p.4218.

[Google Scholar]
Show Sections