Letter to the Editor
doi: 10.4103/0378-6323.74996
PMID: 21220889
Treatment of severe nail psoriasis with etanercept
Joana Dias Coelho, Filipa Diamantino, Sara Lestre, Ana Macedo Ferreira
Department of Dermatology, Hospital dos Capuchos, Lisbon, Portugal

Correspondence Address:
Joana Dias Coelho
Department of Dermatology, Hospital dos Capuchos, Alameda Santo António dos Capuchos, 1169-050 Lisbon
Portugal

How to cite this article:
Coelho JD, Diamantino F, Lestre S, Ferreira AM. Treatment of severe nail psoriasis with etanercept. Indian J Dermatol Venereol Leprol 2011;77:72-74
Copyright: (C)2011 Indian Journal of Dermatology, Venereology, and Leprology
Sir,
Nail involvement is common in psoriasis and has been reported to occur in up to 50% of patients. [1] It can cause significant physical impairment, severe distress and pain. [1],[2] There is a broad spectrum of nail dystrophies associated with psoriasis, ranging from the common pitting and loosening of the nail plate to the less frequent discoloration and splinter hemorrhages seen in the nail bed. [1] It is frequently refractory to treatment and there is no standardized therapy regimen. [3] Etanercept is a fully humanized, soluble tumor necrosis factor (TNF)-alpha receptor approved for the treatment of plaque psoriasis. It has been shown to be safe and to have long-term efficacy for treatment of moderate to severe psoriasis resistant to other modes. Some reports show that etanercept may have significant benefit in the treatment of psoriatic nail disease, although not approved for its treatment (as only manifestation). [1],[2],[3],[4]
We describe two cases of improvement of nail psoriasis with etanercept treatment. The severity of nail psoriasis was based on the Nail Psoriasis Severity Index (NAPSI). [5]
Case 1: A 59-year-old man with a 25-year history of plaque psoriasis, who after one episode of erythroderma and several systemic therapies (acitretin, methotrexate, cyclosporine), entered stabilization of the disease with Psoriasis Area Severity Index (PASI): 5 for the last 13 years. He was referred to our department because of severe nail psoriasis that was causing psychological distress. There was no improvement with topical application and intralesional injection of corticosteroids. All fingernails had psoriatic lesions (onycholysis, subungual hyperkeratosis, pitting and leukonychia) with NAPSI: 56. No symptoms of psoriatic arthritis were present. He was put on etanercept 50 mg twice a week (12 weeks), followed by etanercept 50 mg once a week (36 weeks), with NAPSI: 4 at week 48 (improvement of 92.9% of the nails′ alterations) [Figure - 1].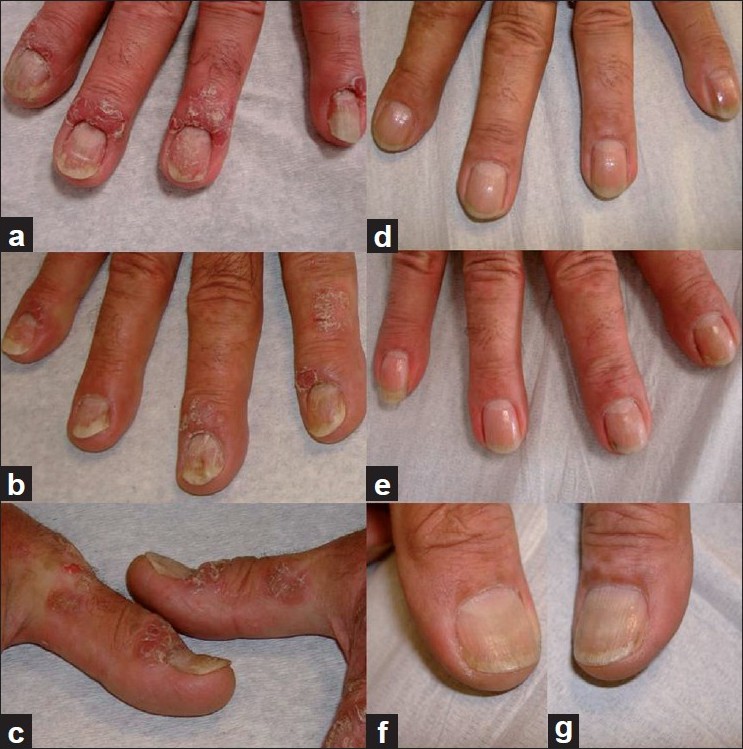 Figure 1 :(a– c) NAPSI: 56 at week 0 of treatment with etanercept; (d– g) NAPSI: 4 at week 48
Case 2:0 A 43-year-old man with a 15-year history of plaque psoriasis recalcitrant to traditional systemic therapies was put on efalizumab, with significant clinical improvement of cutaneous psoriasis. After 20 months of efalizumab administration, he had PASI:1 but maintained onycholysis, subungual hyperkeratosis and pitting of all fingers (NAPSI: 53). No symptoms of psoriatic arthritis were noted. We decided to switch from efalizumab to etanercept 50 mg twice a week. At week 12, he was placed on a regimen of etanercept 25 mg twice a week. A significant improvement in nail psoriasis was noted after 1 year of etanercept treatment, with NAPSI: 30 at week 48 (56.6% improvement of the nail psoriasis) [Figure - 2].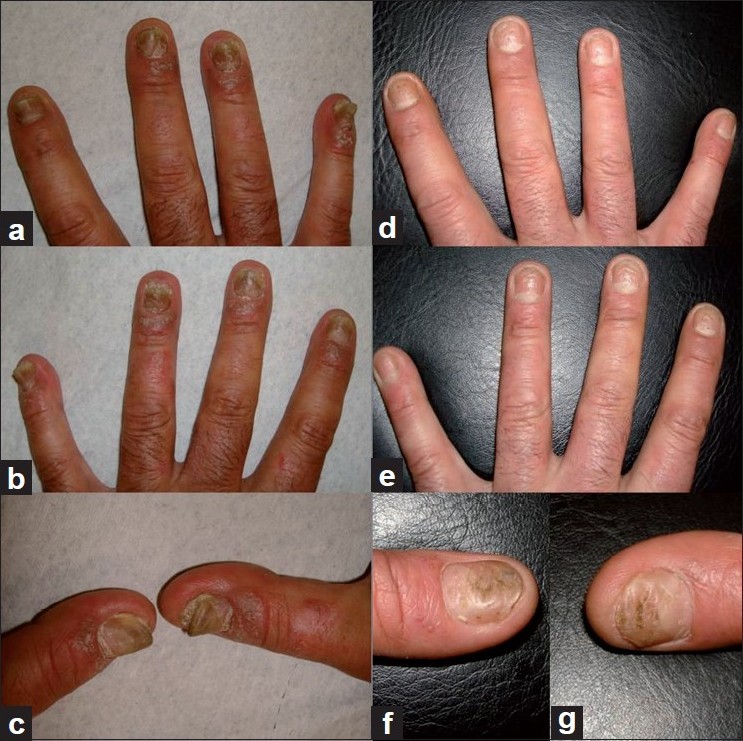 Figure 2 :(a– c) NAPSI: 53 at week 0 of treatment with etanercept; (d– g) NAPSI: 30 at week 48
In both the patients, treatment was monitored closely. No side effects were present.
Recent studies have revealed that joint pain and nail psoriasis are responsible for impairment in quality of life. Etanercept therapy provided rapid improvement among patients with nail symptoms at baseline. [4]
In our two cases, the patients had been treated with several systemic therapies for psoriasis without improvement of nail manifestations. At week 48 of etanercept treatment, a good response was obtained with NAPSI improvement (92.9% and 56.6%, respectively). Both the patients were very much satisfied with the outcome.
References
1.

Jiaravuthisan M, Sasseville D, Vender RB, Murphy F, Muhn CY. Psoriasis of the nail: Anatomy, pathology, clinical presentation, and a review of the literature on therapy. J Am Acad Dermatol 2007;57:1-27.

[Google Scholar]
2.

Lawry M. Biological therapy and nail psoriasis. Dermatol Ther 2007;20:60-7.

[Google Scholar]
3.

Rallis E, Stavropoulou E, Rigopoulos D, Verros C. Rapid response of nail psoriasis to etanercept. J Rheumatol 2008;35:544-5.

[Google Scholar]
4.

Luger TA, Barker J, Lambert J, Yang S, Robertson D, Foehl J, et al. Sustained improvement in joint pain and nail symptoms with etanercept therapy in patients with moderate-to-severe psoriasis. J Eur Acad Dermatol Venereol 2009;23:896-904.

[Google Scholar]
5.

Rich P, Scher RK. Nail psoriasis severity index: A useful tool for evaluation of nail psoriasis. J Am Acad Dermatol 2003;49:206-12.

[Google Scholar]
Show Sections