Translate this page into:

doi:
10.25259/IJDVL_502_2021
Uncommon variants of fixed drug eruption
Department of Dermatology, Institute of Medical Sciences and SUM Hospital

,

Bhubaneswar, Odisha

,

India
1
Department of Dermatology, KPC Medical College and Hospital

,

Kolkata, West Bengal

,

India
2
Department of Dermatology, Katihar Medical College

,

Katihar, Bihar

,

India
Corresponding author: Dr. Anupam Das, Department of Dermatology, KPC Medical College and Hospital, Kolkata, West Bengal, India. anupamdasdr@gmail.com
Received: , Accepted: ,
© 2023 Indian Journal of Dermatology, Venereology and Leprology - Published by Scientific Scholar
Licence
This is an open-access article distributed under the terms of the Creative Commons Attribution-Non Commercial-Share Alike 4.0 License, which allows others to remix, transform, and build upon the work non-commercially, as long as the author is credited and the new creations are licensed under the identical terms.
How to cite this article: Agarwal A, Das A, Panda M, Kumar P. Uncommon variants of fixed drug eruption. Indian J Dermatol Venereol Leprol 2023;89:475-81.
Fixed drug eruption is a fairly common dermatological condition, presenting to us. It is a distinct cutaneous allergic reaction, presenting as single or multiple hyperpigmented patches with an erythematous border appearing after exposure to the culprit drug. However, in many situations, the presentation is not classical and the diagnosis is often missed by clinicians. Herein, we provide a comprehensive list of uncommon variants of a fixed drug eruption. The drugs implicated are listed in [Table 1].
1. Psoriasiform fixed drug eruption
Nimesulide,1,2 ibuprofen3
2. Cellulitis-like fixed drug eruption
Topotecan,4 paracetamol5,6
3. Erythema dyschromicum perstans like fixed drug eruption
Theophylline7,8
4. Papular fixed drug eruption
Paracetamol9
5. Non-pigmenting fixed drug eruption
Cotrimoxazole,10 pseudoephedrine, tetrahydrozoline, piroxicam, thiopental, radio-opaque contrast media (iothalamate), diflunisal, ephedrine, prazinone, sorafenib, tadalafil, esomeprazole, triclofos sodium, betahistine, ibuprofen,11 acelofenac and fluoroquinolones12
6. Localised bullous fixed drug eruption
Nonsteroidal anti-inflammatory drugs (ibuprofen and mefenamic acid), antibiotics (doxycylline and cotrimoxazole),13 loxoprofen, mesalazine, levofloxacin, azithromycin, celecoxib, chlorthalidone, etoricoxib, etc.
Human papilloma virus vaccine14
7. Generalised bullous fixed drug eruption
Antibiotics15,16 (metronidazole, trimethoprim sulfamethoxazole, rifampicin, ciprofloxacin,17 doxycycline and cefotaxime), analgesics (ibuprofen and naproxen), fluconazole, phenytoin, cetirizine, hydroxyzine, trazodone,18 radio-contrast dye19 and influenza vaccine20
8. Annular fixed drug eruption
Phenobarbitol21
9. Transitory giant fixed drug eruption
Allopurinol22
10. Erythema multiforme-like fixed drug eruption
Mefenamic acid23
11. Linear fixed drug eruption
Cephazolin, trimethoprim, levofloxacin,24 naproxen, azithromycin25 and carbamazepine26
Based on location
1. Subungual fixed drug eruption
Sparfloxacin and amoxicillin27
2. Vulvar fixed drug eruption
Fluconazole, paracetamol and ibuprofen28,29
3. Wandering fixed drug eruption
Paracetamol30 and cotrimoxazole31
4. Oral mucosal fixed drug eruption
Cotrimoxazole (most commonly on dorsum of tongue), naproxen, mefenamic acid and ornidazole32,33
Histopathological variants
1. Vasculitis-like fixed drug eruption
Paracetamol34 and ornidazole35
2. Neutrophilic fixed drug eruption
Amoxicillin-clavulinic acid, naproxen, cotrimoxazole, fluconazole, metronidazole,36 gabapentin37 and etoricoxib38
Special variants
1. Chronic fixed drug eruption
Paracetamol39
2. Post-coital fixed drug eruption
Cotrimoxazole40,41,42,43 and paracetamol44
3. Fixed alcohol eruption
Ethanol and annexing agents of spirits such as aliphatic and aromatic hydrocarbons45
4. Fixed food eruption
Cashew nuts, almonds, walnut, pistachio, strawberry, kiwi and cheese crisps46
5. Fixed sunlight eruption
Ultraviolet rays
The Uncommon Variants
Based on morphology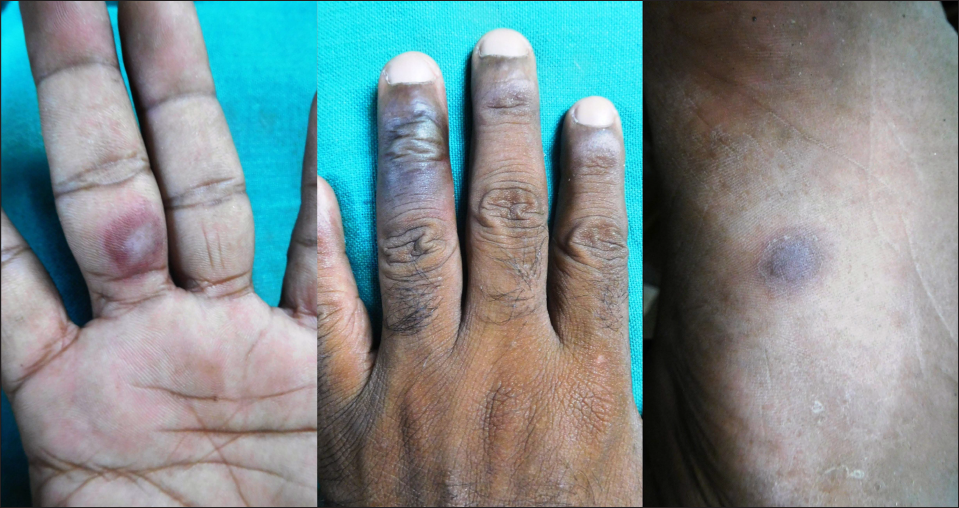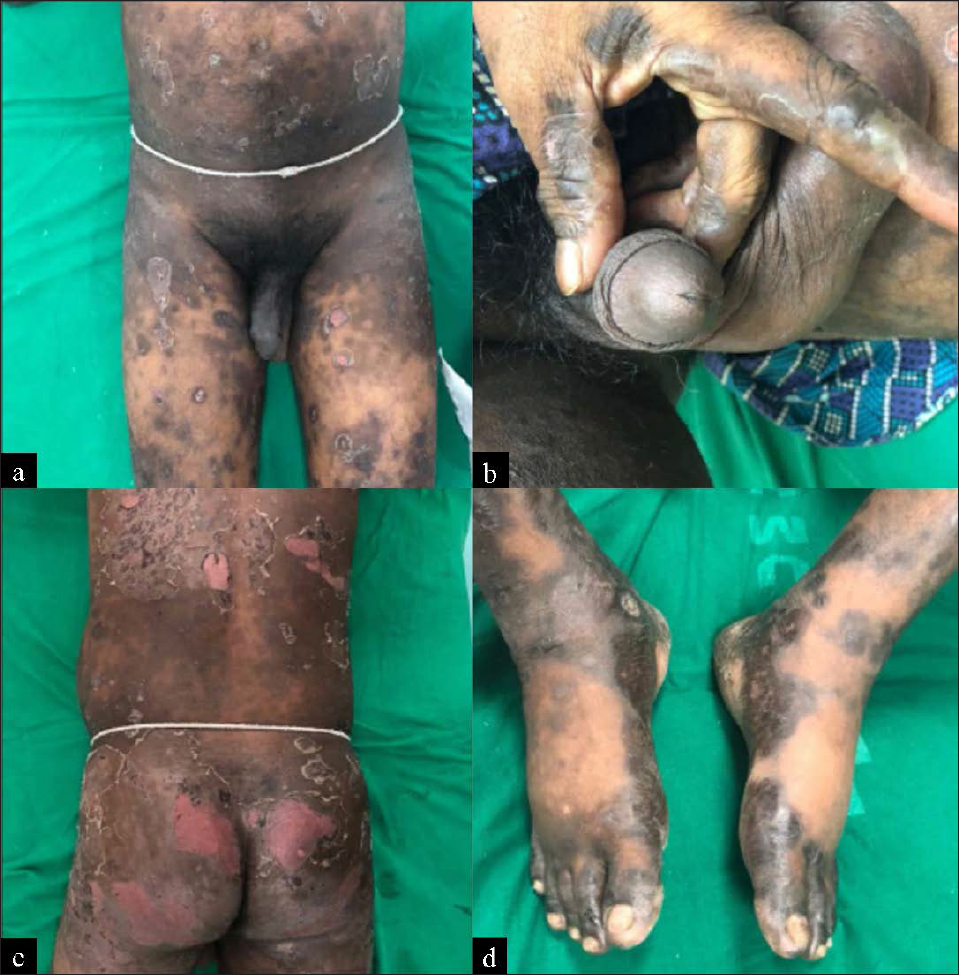 | | Generalised bullous fixed drug eruption | Stevens-Johnson syndrome-toxic epidermal necrolysis |
| --- | --- | --- |
| Onset from drug exposure | • Within hours | • 1-4 weeks |
| History of previous episodes | • Multiple episodes | • Absent |
| Mucosa | • Minimally involved | • Major involvement |
| Systemic involvement | • Minimal | • Definite |
| Mortality | • Low | • High |
| Serum granulysin | • Low | • High |
| Histopathology | • Necrotic keratinocytes with numerous macrophages and eosinophils and lowered granulysin positive cells | • More necrotic keratinocytes with minimal macrophages and eosinophils and increased granulysin positive cells |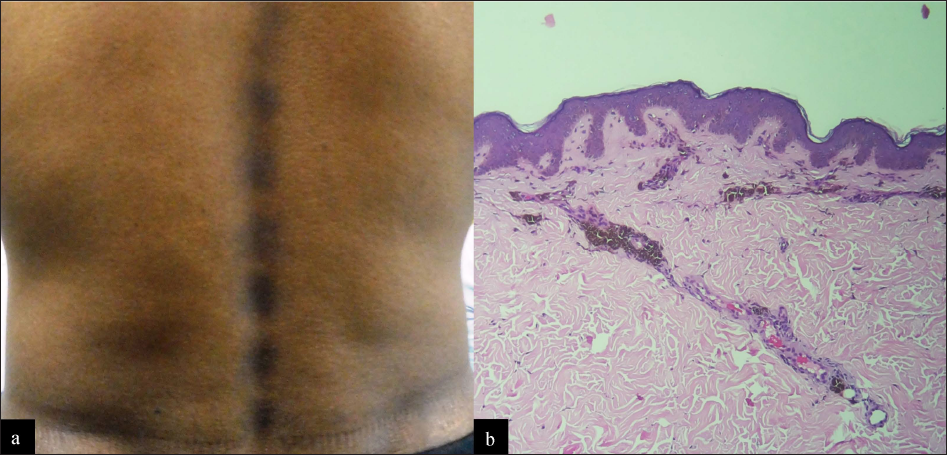 Based on location
Subungual fixed drug eruption: Nail pigmentation affecting few nails appearing on a recurrent basis after intake of a culprit drug should raise suspicion of subungual fixed drug eruption. Many drugs are known to cause nail pigmentation but, in that case, all nails are affected simultaneously.27

Vulvar fixed drug eruption: Fixed drug eruption involving the vulva may present as chronic erosive vulvitis or primarily as pruritus vulvae.28,29 Concomitant lesions in the skin and oral ulcers may give hint toward a diagnosis of fixed drug eruption along with the history of ingestion of culprit drug.

Wandering fixed drug eruption: As the name suggests, this variant of fixed drug eruption has lesions which tend to vary from one location to another with successive episodes. Classically only some lesions tend to be inflamed and many lesions turn refractory due to multiple episodes of drug re challenge.30,31 Pathogenesis implicated is increased frequency of drug administration due to patient being unaware of culprit drug and daily consumption for prolonged periods.

Oral mucosal fixed drug eruption:
Based on histopathology
Vasculitis-like fixed drug eruption: refers to fixed drug reaction presenting as purpuric lesions having a history of recurrent episodes and histopathologic finding of leukocytoclastic vasculitis.34,35 The differential diagnosis to be considered is urticarial vasculitis.

Neutrophilic fixed drug eruption: A recently described variant wherein the morphological presentation is that of fixed drug eruption with histopathological features of classical fixed drug eruption along with a perivascular and intestitial neutrophilic infiltrate in the dermis.36 There is still discordance concerning whether this represents an early phase in the histopathological progression of all fixed drug eruptions or it is a separate entity in itself. Histopathological differentials to be considered are Sweet's syndrome, autoinflammatory urticaria and acute generalised exanthematous pustulosis. Generalised neutrophilic fixed drug eruption has been described due to gabapentin37 and etoricoxib.38
Declaration of patient consent
The authors certify that they have obtained all appropriate patient consent.
Financial support and sponsorship
Nil.
Conflicts of interest
There are no conflicts of interest.
Show Sections