Translate this page into:

Letter to Editor
doi: 10.4103/0378-6323.116748
PMID: 23974592
Verrucous growth arising over hypertrophic lichen planus
Ramesh M Bhat1 , Namitha Chathra1 , Sukumar Dandekeri1 , Sumanth Devaraju2
1 Department of Dermatology, Father Muller Medical College, Kankanady, Mangalore, India
2 Department of Pathology, Father Muller Medical College, Kankanady, Mangalore, India

Correspondence Address:
Ramesh M Bhat
Dermatology, Venereology and Leprosy, Father Muller Medical College, Kankanady, Mangalore - 575 002
India

How to cite this article:
Bhat RM, Chathra N, Dandekeri S, Devaraju S. Verrucous growth arising over hypertrophic lichen planus. Indian J Dermatol Venereol Leprol 2013;79:711-713
Copyright: (C)2013 Indian Journal of Dermatology, Venereology, and Leprology
Sir,
A 57-year-old male presented to our dermatology out-patient department with complaints of raised, verrucous growth of 2 years duration over his right leg. Six months prior to the appearance of this lesion, patient had itchy voilaceous lesions over both his legs, which were diagnosed as hypertrophic lichen planus (HLP) and treated accordingly. He reported that the present growth appeared over pre-existing violaceous lesion and was initially pea-sized. The lesion enlarged and attained its present size within the next 3 months. Occasionally, the lesion was associated with pain and bleeding. He did not give any history of trauma or contact with an irritant prior to the appearance of the lesion. There was no history of photosensitivity, loss of weight or any other systemic symptoms.
Cutaneous examination revealed a solitary, well-circumscribed, exophytic growth measuring 6 cm × 6 cm, seen over middle one-third of right shin. Its surface was papillated with a few hemorrhagic crusts. There was no local tenderness, easy friability or bleeding on manipulation. The lesion was mobile and without induration. The surrounding skin showed hyper-pigmented, scaly plaques interspersed with de-pigmented macules [Figure - 1]. Violaceous reticulated plaques were seen over buccal mucosa. A single lymph node of the right inguinal group was enlarged, mobile and non-tender. With these clinical features, we speculated the lesion to be squamous cell carcinoma (SCC) arising over HLP.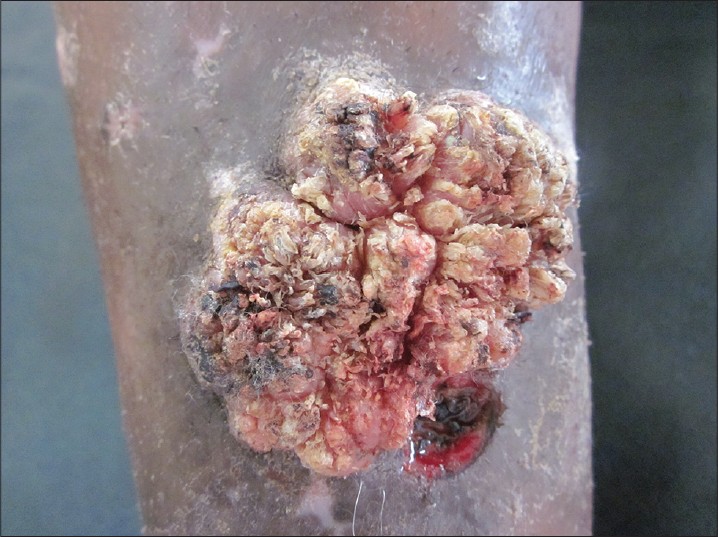 Figure 1: Solitary hyperkeratotic growth seen over the anterior surface of the right leg. A few lichen planus lesions are seen surrounding the growth. Ulcerated area is the site of biopsy
Histopathology of a wedge biopsy specimen from the lesion showed downward proliferation of the epidermis, numerous keratin horns and chronic inflammatory infiltrate in the dermis. A large irregularly shaped crater filled with keratin typical of keratoacanthoma was seen [Figure - 2]a. Also, seen were dyskeratotic cells with keratinization giving the tumor islands a glassy appearance [Figure - 2]b. In view of these findings and the absence of deeper invasion, a histopathological diagnosis of giant keratoacanthoma was made by the dermatopathologist.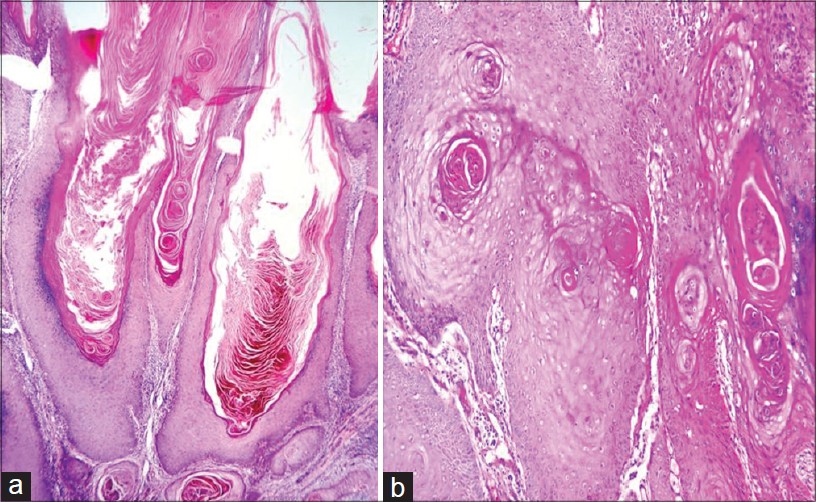 Figure 2: (a) A central, keratin-filled crater with irregular epidermal proliferations extending both upward and downward from the base of the crater (H and E, ×10), (b) Dyskeratotic cells with keratinization giving the tumor islands a glassy appearance (H and E, ×40)
Patient then underwent wide local excision plus split thickness skin grafting, histopathological examination of the excised specimen confirmed the diagnosis of giant keratoacanthoma. On follow-up for 1 year there was no recurrence of the lesion.
HLP is a subacute or chronic variant of lichen planus characterized by hypertrophic or warty lesions, most often found on the pretibial area of the lower limbs. [1] Neoplastic transformation in cutaneous LP is very rare, although the incidence of cancer in oral LP is about 1.3%. [2] The underlying mechanism of this malignant conversion is not exactly known but speculatively, chronic inflammatory processes show an overdrive of growth factors that constantly stimulate epithelial cell proliferation into neoplastic conditions. The majority of reported neoplasms have been histologically well-differentiated SCCs. Two cases of keratoacanthoma, both occurring on the lower legs in association with HLP have been reported.
Keratoacanthomas are fast-growing, solitary, cutaneous neoplasms that usually show spontaneous regression. The most common locations include the face, forearms, and hands; its peak incidence is usually in the fifth decade. Clinically, lesions larger than 20-30 mm are classified as giant keratoacanthomas and they exhibit more aggressive and infiltrative behavior.
A major challenge in dealing with these neoplasms is the difficulty of clinically and histologically differentiating them from SCC. [3] Histopathology of a fully developed lesion shows, in its center a large, irregularly shaped, keratin filled crater with the epidermis extending like a buttress over the sides. Irregular epidermal proliferations extend downward from the base of the crater into the dermis but do not extend below the level of the sweat glands, in contrast to SCC. [4]
These tumors may have an unpredictable and aggressive course; some may spontaneously regress while others may behave like invasive SCC.
Therapeutic modalities for keratoacanthomas include surgical excision, intralesional corticosteroids, topical and intralesional 5-fluorouracil, systemic retinoids, podophyllin, radiation therapy interferon and methothrexate. [5] Most investigators are of the opinion that each case merits a thorough investigation, in accordance with which treatment has to be given. Giant keratoacanthoma arising over HLP is a rare occurrence, nevertheless, to a clinician knowledge about this entity is essential as it demands prompt intervention.
References
1.

Sigurgeirsson B, Lindelöf B. Lichen planus and malignancy. An epidemiologic study of 2071 patients and a review of the literature. Arch Dermatol 1991;127:1684-8.

[Google Scholar]
2.

Katz RW, Brahim JS, Travis WD. Oral squamous cell carcinoma arising in a patient with long-standing lichen planus. A case report. Oral Surg Oral Med Oral Pathol 1990;70:282-5.

[Google Scholar]
3.

Giesecke LM, Reid CM, James CL, Huilgol SC. Giant keratoacanthoma arising in hypertrophic lichen planus. Australas J Dermatol 2003;44:267-9.

[Google Scholar]
4.

Schwartz RA. Keratoacanthoma: A clinico-pathologic enigma. Dermatol Surg 2004;30:326-33.

[Google Scholar]
5.

Garcia-Zuazaga J, Ke M, Lee P. Giant keratoacanthoma of the upper extremity treated with mohs micrographic surgery: A case report and review of current treatment modalities. J Clin Aesthet Dermatol 2009;2:22-5.

[Google Scholar]
Show Sections