Translate this page into:

Net Letter
doi: 10.4103/0378-6323.165542
PMID: 26515863
Vesicular lesions in lichen amyloidosis
Resham J Vasani
Anand Polyclinic, Mumbai, Maharashtra, India

Correspondence Address:
Resham J Vasani
C-1, Karmakshetra, Near Shanmukhananda Hall, Sion, Mumbai - 400 037, Maharashtra
India

How to cite this article:
Vasani RJ. Vesicular lesions in lichen amyloidosis. Indian J Dermatol Venereol Leprol 2015;81:655
Copyright: (C)2015 Indian Journal of Dermatology, Venereology, and Leprology
Sir,
A 60-year-old female presented with multiple fluid filled and raised solid lesions over both her legs for four months associated with severe itching. She had a history of multiple, pruritic, pigmented keratotic papules over these areas for the past 17 years [Figure - 1].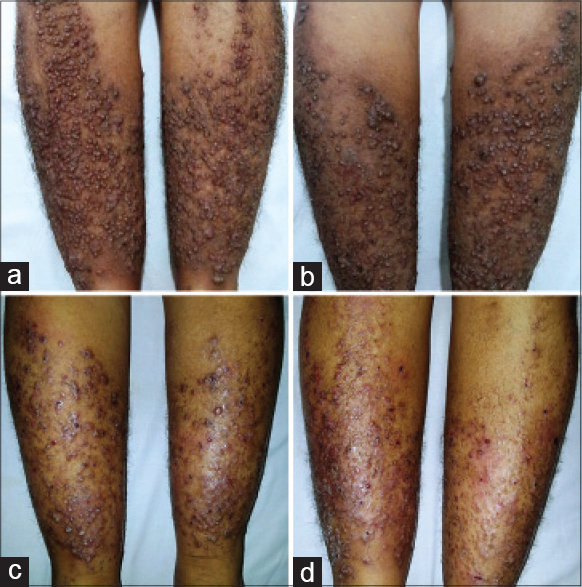 Figure 1: Initial presentation of multiple hyperkeratotic and hyperpigmented papules over the (a) anterior and (b) posterior aspect of the legs, suggestive of classical lichen amyloidosis.Current presentation of multiple vesicles, pustules, erosions, and crusted lesions interspersed among the pigmented hyperkeratotic papules on the (c) anterior and (d) posterior aspect of the legs
A skin biopsy done 1½ years earlier showed amorphous eosinophilic deposits in the papillary dermis confirming the diagnosis of lichen amyloidosis [Figure - 2]. She was treated with oral acitretin, 25 mg and topical 0.05% halobetasol propionate with salicylic acid ointment in tapering doses over five months following which she achieved complete clearance and remission of symptoms for a period of eight months. The present episode began with intense itching over the legs followed by the appearance of tense vesicles interspersed between the hyperpigmented and hyperkeratotic papules [Figure - 3]. The vesicles ruptured upon scratching to leave behind hemorrhagic crusts. She had no systemic complaints. She had hypertension since 8 years and was on regular medications for this problem. She had no personal or family history of atopy. There were no similar complaints in the family.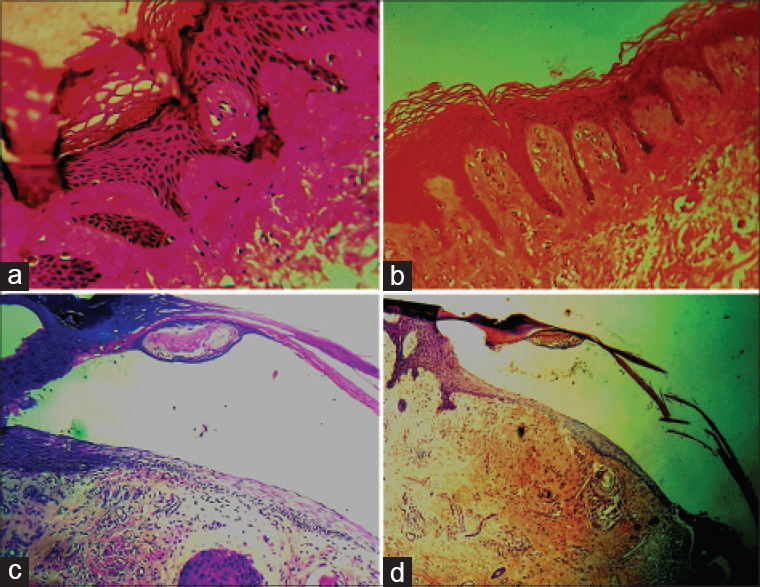 Figure 2: Initial histopathological findings of (a) Hyperkeratosis, acanthosis with amorphous eosinophilic deposits in the papillary dermis and (b) Positive Congo red staining of the deposits in the papillary dermis. Current histopathological findings of (c) Intraepidermal bulla with the presence of eosinophilic amorphous deposits in the dermis (d) Positive Congo red staining of the deposits in the dermis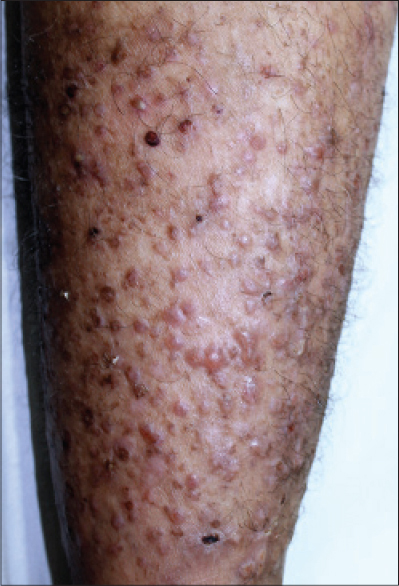 Figure 3: Close-up view of the affected leg showing vesicles, erosions, and crusted lesions
We considered a differential diagnosis of chronic prurigo presenting with erosive papular and vesicular lesions, which was ruled out based on the clinical and histopathological characteristics. Irritant and allergic contact dermatitis were ruled out as the patient denied any application of topical substances. There was no erythema or eczematous change on cutaneous examination and the histopathology did not show evidence of spongiosis or eosinophils. The histopathological appearance of Congo red positive amyloid deposits in the papillary dermis with an overlying intraepidermal blister confirmed the diagnosis of vesicular lichen amyloidosis.
Laboratory investigations including the hemogram, serum and urine electrophoresis, liver and renal function tests, thyroid function tests and lipid profile of the patient were within normal limits. The serum IgE levels were markedly elevated (1127 ku/L, normal range: 0–114 ku/L). Biopsy of a vesicle showed an intraepidermal cleft with the presence of globular eosinophilic deposits in the papillary dermis that stained positive with Congo red [Figure - 2]. This confirmed the transition of a classic case of lichen amyloidosis to the vesicular variant of lichen amyloidosis. She was treated with acitretin, 25 mg once daily along with topical 0.05% halobetasol propionate lotion for a period of four months following which the lesions subsided.
Lichen amyloidosis is a form of primary localized cutaneous amyloidosis characterized by the accumulation of amyloid in the papillary dermis of previously normal skin without any associated deposits in the internal organs. The exact etiology is unknown but environmental and genetic factors are implicated. Repeated mechanical trauma due to scratching and use of nylon scrubbers is thought to incite keratinocyte degeneration. In lichen amyloidosis, an immunological tolerance develops towards the filamentous masses of degenerating epidermal cells which allows amyloid material to be laid around them by the fibroblasts. Shearing forces induced by trauma causing the amyloid deposits to break is postulated to be a reason for blister formation. The bulla seen in bullous lichen amyloidosis can be either intraepidermal or subepidermal and are possibly induced by trauma.[1]
Although our patient showed significantly elevated serum IgE levels, there was no evidence of tissue eosinophilia or any features suggestive of atopic dermatitis. Elevated IgE levels have been reported in a case of bullous lichen amyloidosis earlier, the significance of which remains uncertain.[2]
Epidermolysis bullosa pruriginosa has been reported to occur in association with lichen amyloidosis.[3] This condition was ruled out considering the age of the patient, the absence of trauma-induced blisters, scars and nail dystrophy. Histopathological appearance of an intraepidermal cleft and absence of dermal scarring also helped to rule out this diagnosis.
Our case resembles the one reported by Kuroda and Mizoguchi, where vesicles and erosions were seen intermingled within the itchy keratotic papules and plaques over the trunk and extremities of a 74-year-old man with no other systemic involvement.[2] The biopsy in that case demonstrated a subepidermal blister with amyloid deposits in the papillary dermis. Subepidermal blistering has been demonstrated in other cases reports as well.[4],[5],[6] Although the exact mechanism of vesicle formation is unclear, rubbing or scratching due to persistent pruritus appeared to be the precipitating factor in our case. While other cases have reported a poor response to topical corticosteroids, our patient responded well to oral acitretin.
References
1.

Johnson TM, Rapini RP, Hebert AA, Lowe L, Verani R, Evanoff G. Bullous amyloidosis. Cutis 1989; 43:346-52.

[Google Scholar]
2.

Kuroda K, Mizoguchi M. Lichen amyloidosus with subepidermal blister formation. Eur J Dermatol 2004; 14:262-3.

[Google Scholar]
3.

Aoki M, Niimi Y, Ishiko A, Kawana S. Pretibial dystrophic epidermolysis bullosa with localized cutaneous amyloidosis: Coincidental or secondary amyloidosis? J Dermatol 2010;37:259-63.

[Google Scholar]
4.

Khoo BP, Tay YK. Lichen amyloidosus: A bullous variant. Ann Acad Med Singapore 2000;29:105-7.

[Google Scholar]
5.

Chow C, Burns RE. Bullous amyloidosis. A case report. Arch Dermatol 1967;95:622-5.

[Google Scholar]
6.

Ruzicka T, Schmoeckel C, Ring J, Linke RP, Braun-Falco O. Bullous amyloidosis. Br J Dermatol 1985;113:85-95.

[Google Scholar]
Show Sections