Translate this page into:

doi:
10.25259/IJDVL_552_20
Linear trichilemmomas: An unusual clinical presentation
Divya Sparsh Skin & Hair Clinic

,

Mumbai, Maharashtra

,

India
1
Skin Vogue Clinic

,

Mumbai, Maharashtra

,

India
Corresponding author: Dr. Chirag Desai, Divya Sparsh Skin & Hair Clinic, Dadar (E), Mumbai, Maharashtra, India. 83.chirag@gmail.com
Received: , Accepted: ,
© 2022 Indian Journal of Dermatology, Venereology and Leprology - Published by Scientific Scholar
Licence
This is an open-access article distributed under the terms of the Creative Commons Attribution-Non Commercial-Share Alike 4.0 License, which allows others to remix, tweak, and build upon the work non-commercially, as long as the author is credited and the new creations are licensed under the identical terms.
How to cite this article: Desai CA, Shah N. Linear trichilemmomas: An unusual clinical presentation 2022;88:104-6.
Sir,
Trichilemmomas are benign cutaneous neoplasms characterized by cells showing differentiation toward the outer root sheath of hair follicle. We describe a rare clinical variant of this condition.
A 41-year-old female patient presented with multiple, asymptomatic lesions over the posterior aspect of the left pinna and retroauricular area for six to eight months. On examination, there were multiple mildly erythematous to hyperpigmented papular lesions with a verucous surface arranged in a linear pattern on the above-mentioned sites. There was no oozing and the lesions were non-tender. The other ear was spared. Systemic examination was unremarkable. Provisional clinical differential diagnoses included viral warts, epidermal nevus and squamous cell carcinoma [Figure 1].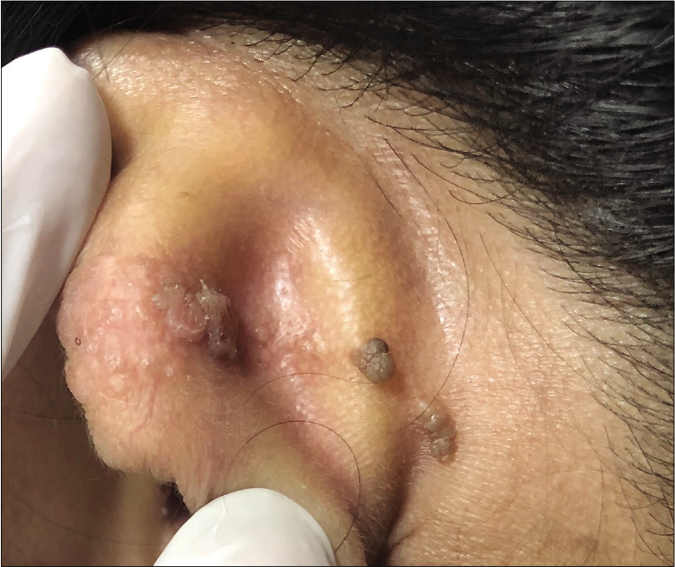 A shave biopsy was taken which showed irregular circumscribed lobular proliferations connected with overlying epidermis [Figure 2]. These proliferations were composed of squamoid and basaloid cells. A thickened and hyalinized basement membrane surrounded the proliferation in most parts. Squamoid cells showed abundant pale and vacuolated cytoplasm whereas the basaloid cells at the periphery showed a palisaded appearance resting on the thickened basement membrane reminiscent of outer root sheath of hair follicle [Figures 3 and 4]. Surrounding stroma showed a sparse lymphoplasmacytic infiltrate. The surface epidermis showed mild papillomatosis and hyperkeratosis. Based on these features, a final diagnosis of trichilemmoma was made. Treatment could not be initiated, as the patient was lost to follow-up.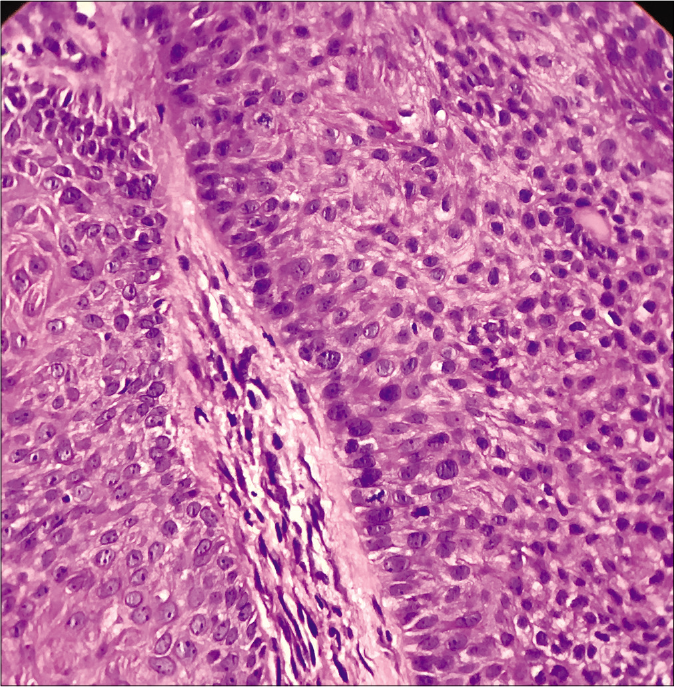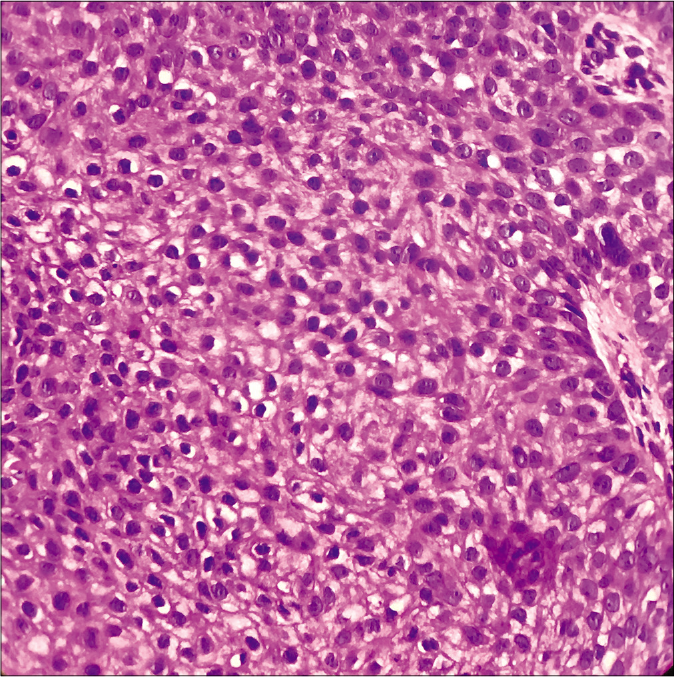 Trichilemmoma was first described by Headington and French in 1962, as a neoplasm showing differentiation toward the outer root sheath of a hair follicle.1 Ackerman and Wade in 1977 and 19802 contented that trichilemmomas are just aged viral warts, however, this was not supported by many dermatopathologists.
Trichilemmomas are either solitary or multiple. Linear pattern in blaschkoid distribution has also been reported previously on the nose3 and ankle.4 Lesions are usually skin colored, verrucous surfaced or smooth, small papular lesions which sometimes coalesce to form small plaques. Usual location is on the head-and-neck region of older individuals. Solitary lesions may arise in naevus sebaceous either singly or it may be associated with other neoplasms. Multiple lesions are a cutaneous marker for Cowden disease, which is a multisystem disorder characterized by occurrence of multiple hamartomas and neoplasia with a high incidence of thyroid and breast malignancies. It is an autosomal dominant condition having a female preponderance and with a mutation in the PTEN gene on chromosome 10q23.31. Here, multiple facial trichilemmomas are associated with acral keratoses, palmar pits and mucocutaneous papillomatous papules. Furthermore, vitiligo, lipomas, hemangiomas, neurofibromas, schwannomas and xanthomas may be variably present. Visceral manifestations such as carcinomas of thyroid, breast and endometrium, macrocephaly, dysplastic cerebellar gangliocytomas and renal cell carcinomas have been reported.4,5
Classical histopathology of trichilemmomas depicts well-circumscribed lobular neoplasm connected to the epidermal or follicular epithelium at multiple points and comprising of pale to clear vacuolated cells centrally with peripheral cuboidal cells arranged in palisade and resting on a thick glassy basement membrane. Clear or pale cells contain glycogen. Squamous eddies may be seen. Sometimes, partly this tumor may have pseudo-infiltrative pattern with epithelial cords or islands interspersed with a thick, fibrous stroma. Such a variation is called desmoplastic trichilemmoma.
Histological mimickers of this tumor include trichilemmal carcinoma, clear cell variants of basal cell carcinoma and squamous cell carcinoma. However, absence of atypia, mitoses, necrosis, deep infiltrative margins and other features of malignancy sufficiently rules these out. Peripheral palisade of cells resting on a thickened basement membrane and absence of ductal differentiation rules out the possibility of hidroacanthoma simplex. Inverted follicular keratosis can also be excluded as it has more number of squamous eddies, a resemblance to irritated seborrheic keratosis, some spongiosis and absence of typical feature of palisade of cuboidal cells resting on a thick basement membrane. Trichilemmomas are CD34 positive which can also be used when in doubt.5 Treatment is usually by surgical excision or carbon dioxide laser ablation.
In our case, typical histopathology excluded all other clinical and histological differentials. We report this case for its uncommon linear pattern of presentation following a blaschkoid distribution.
Declaration of patient consent
The authors certify that they have obtained all appropriate patient consent.
Financial support and sponsorship
Nil.
Conflicts of interest
There are no conflicts of interest.
Show Sections