Translate this page into:

Net Letter
doi: 10.4103/ijdvl.IJDVL_635_18
PMID: 31975700
Subcutaneous panniculitis-like T-cell lymphoma
Kalgi D Baxi, Santoshdev P Rathod, Raju G Chaudhary, Ashish Jagati
Department of Dermatology, Smt N.H.L. Medical College, V.S. General Hospital, Ahmedabad, Gujarat, India

Correspondence Address:
Santoshdev P Rathod
Associate Professor, Department of Dermatology, Smt N.H.L. Medical College, V.S. General Hospital, Ahmedabad - 7, Gujarat
India

How to cite this article:
Baxi KD, Rathod SP, Chaudhary RG, Jagati A. Subcutaneous panniculitis-like T-cell lymphoma. Indian J Dermatol Venereol Leprol 2020;86:606
Copyright: (C)2020 Indian Journal of Dermatology, Venereology, and Leprology
Sir,
We would hereby like to report a case of subcutaneous panniculitis-like T-cell lymphoma (SPTCL), presenting as a persistent swelling over face.
The World Health Organization–European Organisation for Research and Treatment of Cancer classification defines SPTCL as a tumor confined to the subcutaneous fat composed of αβ CD8 cytotoxic lymphocytes, having an intermediate prognosis.[1]
A 25-year-old, Hindu, married male, resident of central India, presented with the chief complaint of intermittent swelling over face for 10 months, persistent since 6 months, occurring initially over both lips, which then spread to involve both cheeks, front and sides of neck, and bilateral periocular areas. The patient also developed progressive hoarseness of voice, for the last 6 months associated with inability to close the eyes fully. Cutaneous examination revealed bilaterally symmetrical, woody hard facial swelling extending from the forehead up to the submandibular and submental regions and laterally up to the ears. After about 3 months, the swelling became persistent and was associated with appearance of linear purpura predominantly noted over the forehead and front and sides of neck [Figure - 1]. There was no palpable cervical lymphadenopathy. The patient was treated as recurrent angioedema by other dermatologists, before presenting to our center, with initial partial response to treatment.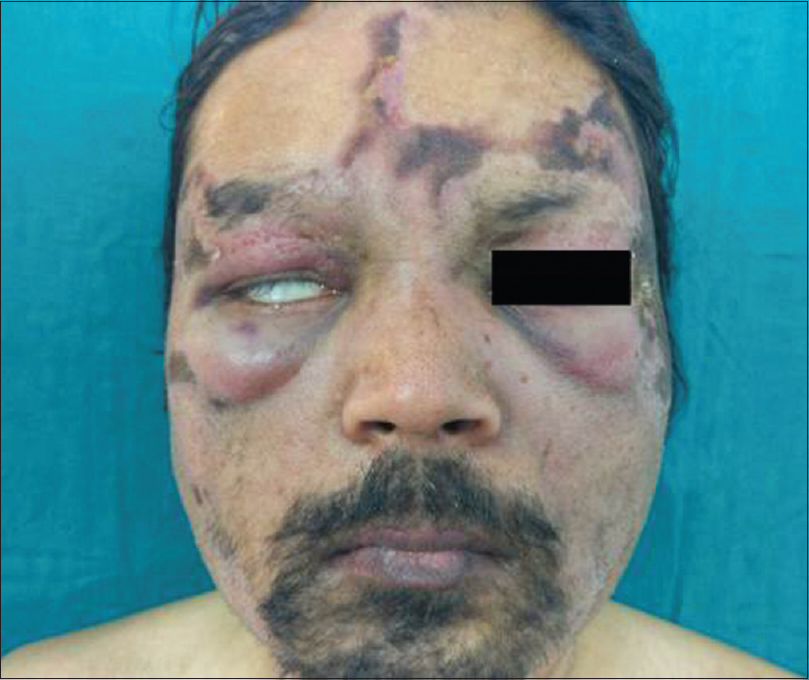 Figure 1: Bilaterally symmetrical swelling with woody hard induration and purpuric plaques overlying the skin, involving the face. Bell's phenomenon visible in the right eye
The laboratory and radiological investigations that were conducted have been briefly outlined in [Table - 1]. [Figure - 2] shows the histopathological and immunohistochemical findings.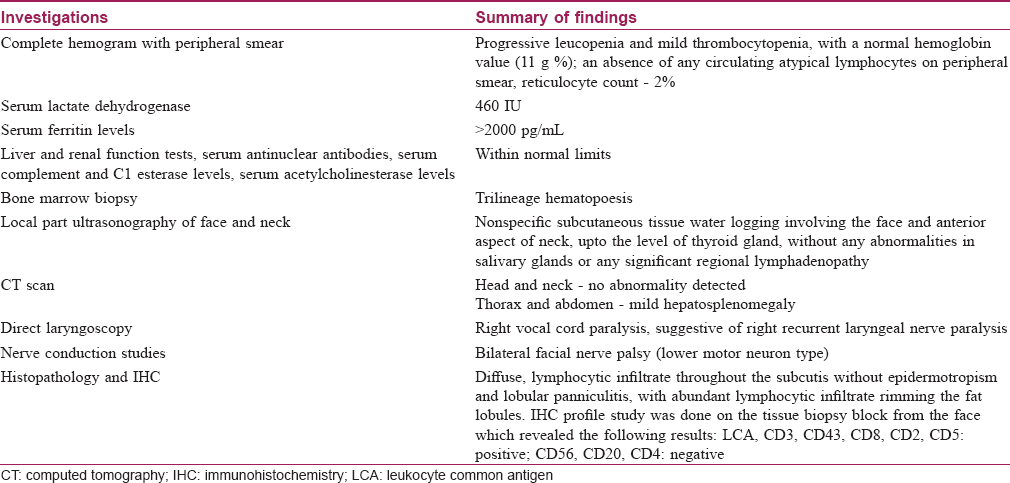 Table 1: Investigations summary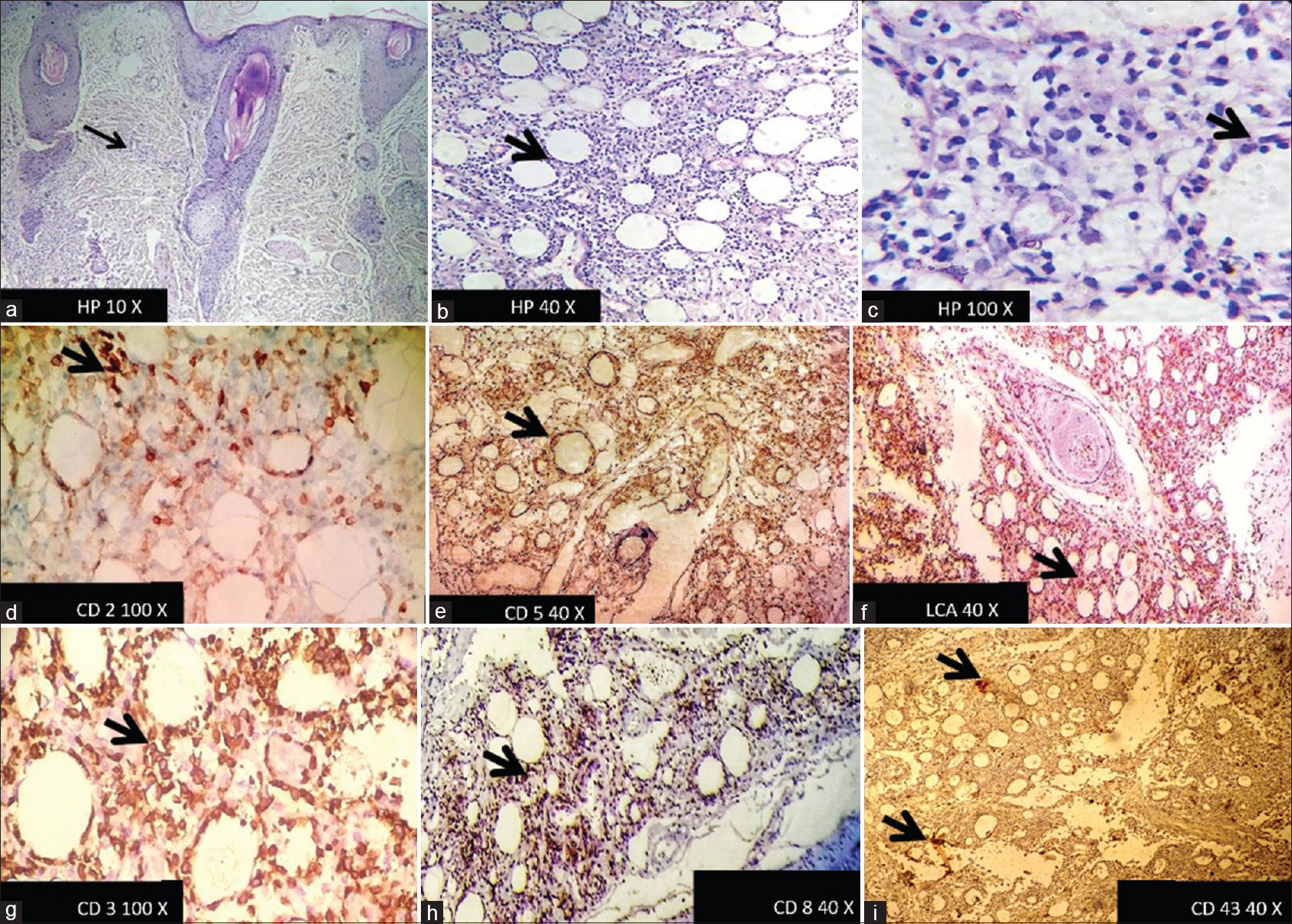 Figure 2: (a-c) Histopathology ×10, ×40, ×100 magnification respectively showing A lobular panniculitis with lymphocytes rimming the fat lobules. (d) Positive staining by CD2 IHC marker on ×100 magnification, (e and f) Positive staining by CD5 & LCA on ×40 magnification, (g) Positive staining by CD3 on ×100 magnification, (h and i) Positive stain by CD8 & CD43 markers respectively
A persistent, progressive leucopenia and thrombocytopenia, raised reticulocyte count and serum ferritin levels accompanied with hepatosplenomegaly and fever were suggestive of hemophagocytosis. Taking this into consideration along with the histopathological and immunohistochemical profile, a diagnosis of SPTCL was confirmed.
A stepwise diagnostic approach was followed to rule out cellulitis, deep fungal infection, solid facial edema, Melkersson-Rosenthal syndrome and acute sarcoidosis, as other causes of persistent facial swelling.
The patient was started on intramuscular methotrexate 15 mg/week and tapering doses of prednisolone, leading to a resolution of facial swelling and apparent lipoatrophy [Figure - 3] and return of all the hematological parameters to near normal values by 12 months.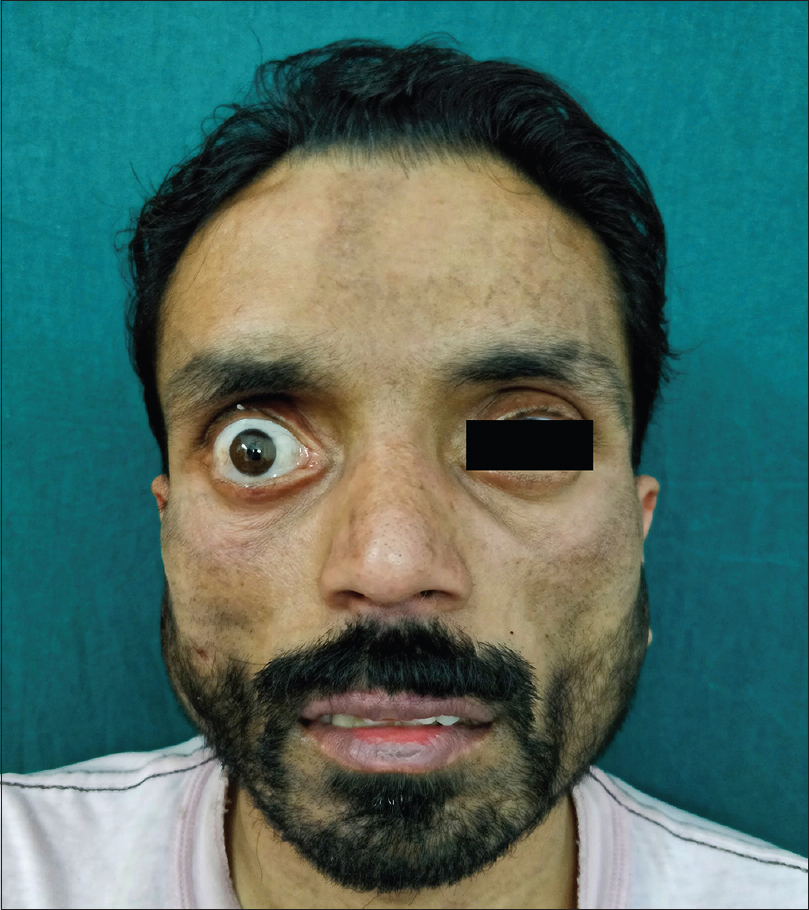 Figure 3: Posttreatment (1 year): complete resolution of the swelling along with clinically apparent lipoatrophy; persistent facial nerve palsy
Several cases of cutaneous lymphomas presenting as facial plaques, nodules and facial nerve palsies, as well as cases presenting with facial swelling, have been published so far. A comparative analysis is summarized in [Table - 2].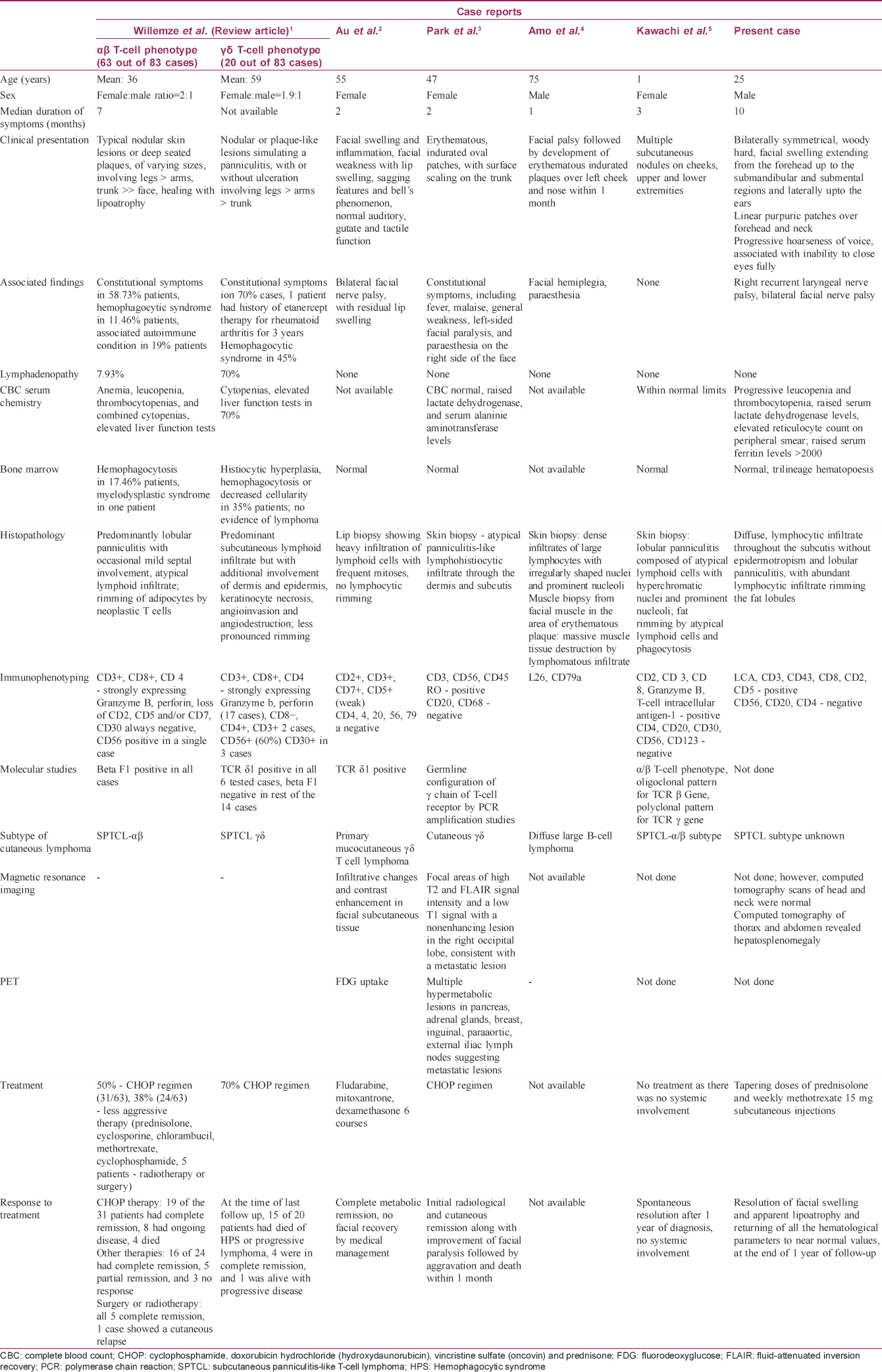 Table 2: Review of Literature
Our limitation in this case is the lack of T-cell receptor gene rearrangement studies for molecular subtyping of this case into α/β or γ/δ types, as well as absence of positron emission tomography studies, due to a resource-poor setup.
The gradual clinical course of the disease in our case coupled with an excellent response to less aggressive systemic therapy favor the relatively indolent nature of SPTCL. However, involvement of cranial nerves has usually been noted in the more aggressive forms of this disease. The rare, but unique diagnosis of SPTCL should definitely be kept in mind while assessing any case of facial swelling.
Declaration of patient consent
The authors certify that they have obtained all appropriate patient consent forms. In the form, the patient has given his consent for his images and other clinical information to be reported in the journal. The patient understands that name and initials will not be published and due efforts will be made to conceal identity, but anonymity cannot be guaranteed.
Financial support and sponsorship
Nil.
Conflicts of interest
There are no conflicts of interest.
References
1.

Willemze R, Jansen PM, Cerroni L, Berti E, Santucci M, Assaf C, et al. Subcutaneous panniculitis-like T-cell lymphoma: Definition, classification, and prognostic factors: An EORTC cutaneous lymphoma group study of 83 cases. Blood 2008;111:838-45.

[Google Scholar]
2.

Au WY, Yeung CK, Loong F, Li GK. A γ-δ T cell lymphoma with a mask face. Leuk Lymphoma 2012;53:728-9.

[Google Scholar]
3.

Park J, Park KY, Li K, Seo SJ, Hong CK. Cutaneous γδ T-cell lymphoma presenting as facial palsy. Br J Dermatol 2011;164:205-7.

[Google Scholar]
4.

Amo Y, Tanei R, Yonemoto K, Katsuoka K, Mori M. Diffuse large B-cell lymphoma associated with skin, muscle and cranial nerve involvement. Eur J Dermatol 2000;10:306-8.

[Google Scholar]
5.

Kawachi Y, Furuta J, Fujisawa Y, Nakamura Y, Ishii Y, Otsuka F. Indolent subcutaneous panniculitis-like T cell lymphoma in a 1-year-old child. Pediatr Dermatol 2012;29:374-7.

[Google Scholar]
Show Sections